Nowshera is a district of province Khyber Pakhtunkhwa, Pakistan, with 34'0'55' to the north and 71'58'29' to the east. The district has a border with District Peshawar in the west, District Mardan in the north, District Charsadda in the northwest, District Orakzai in the southwest, District Sawabi in northeast and District Attock in the east.
The City is the capital of the district that covers 1,748 square kilometres, comprising three Tehsils and forty-seven Union Councils, 153 Mauzas, 4 Municipal Committees, one town committee, and three cantonment boards. It became a district in 1988 as it was a tehsil of District Peshawar before.
The region has fertile land, and the primary source of people's income of District is agriculture. 52,540 hectares is the total agricultural area of the district. This article comprises every detail about the district, including Nowshera History.
| Title | Description |
| --- | --- |
| Information | |
| Location: | Pakistan |
| City Council: | Government of Punjab |
| Type: | Town and sub-Tehsil of Khushab District |
| Local Language Name: | Pashto |
| Province: | Punjab Province |
| Coordinates : | 32°34'08 |
| District: | Khushab District |
| Region: | Punjab |
| Language | |
| Official Language: | Urdu |
| Native Language: | Punjabi |
| Other Languages: | Urdu, Punjabi, English |
| Government | |
| Type: | Government of Punjab |
| Area | |
| City: | Nowshera |
| Population | |
| Total Population: | 103,1,000( 2006) |
| Time zone | |
| Time zone: | PST (UTC+5) |
| Codes | |
| Postal code: | 24100 |
| Dialling code: | 454 |
| Vehicle registration: | Three letters beginning with N and random four numbers |

Nowshera History
The early history of the region goes back to Sultan Shahab-Ud-din Ghori and Sultan Mehmood Ghaznavi. They occupied the mountainous area and settled in the region after defeating Gakhars, Janjuas and other tribes of Rajpoot. The region was developed by the Durrani Empire.
In 1823, the battle of this district was fought between Pakhtuns and Ranjit Singh's Khalsa Army. The Sikhs defeated Pakhtuns and occupied Peshawar Valley. It was a tehsil and cantonment of District Peshawar. The Railway Bridge and Iron road opened in 1903. The region was a tehsil of District Peshawar and became a district in 1988.
Culture
The people of District follow Islamic traditions and culture. Different festivals and ceremonies held under Islamic rules. The marriage ceremony of Nikah usually takes place at mosques. Females often use Hijab/ Burqa (veil), while male use Shalwar and Kameez.
Shrines
The region was home of different Sufi Saints. Some of them are as follow:
Shrine of Kaka Saib (Kastir Gul)

Shrine of Akhun Panju

Sheikh Baba's Shrine

Shrine of Mast Baba (Sheikh Bahadur Baba)

Pir Sabaq Baba Jee's Shrine
Sports
The people love to play cricket, football, volleyball and different other games.
Nowshera Population
According to 2017 census of Pakistan, the district had a population of 1,518,540.
Administration
The district has five seats in provincial Assembly of KPK while two seats in National Assembly of Pakistan. The district is further divided into three Tehsils which are as follow:
Tehsil of Nowshehra

Tehsil of Jehangira

Pabbi Tehsil
Union Councils
The district is further divided into forty-seven union councils. Tehsil of Nizampur is considered the largest tehsil by area, while tehsil is the smallest tehsil by area. Tehsils of District Nowshehra are as follow;
Nowshehra

Pabbi

Tarkha

Chowki Town

Dagi Banda

Chowkai

Akbarpura

Taru Jabba

Aman Kot

Mohib Banda

Dag Behsud

Kurvi

Saleh Khana

Dag Ismail Khel

Kheshgi Bala

Nizampur

Shah Kot

Kheshgi Payan

Gandheri

Risalpur

Aza Khel

Rashakai

Pir Piai

Aman Garh

Pahari Kati Khel

Manki Sharif

Kahi

Badrashi

Ziarat Kaka Saib

Zara Miana

Pirsabaq

Mughalki

Misri Banda

Akora Khattak

Jehangira

Adamzai

Shaidu

Inzari

Khairabad

Chashmai

Mandoori

Nawan Killi
Cantonments
  There are three cantonment boards in the district created by the British Rulers.
Risalpur Cantonment

Nowshehra Cantonment

Cherat Cantonment
Transport
The district is linked with the other regions with other districts and other provinces through roads railway line and airports. The Airports of Peshawar and Islamabad are situated at a distance of two hours from the district. The railway stations of Kabul River and Nowshehra junction connects the district with other cities of Pakistan.
It is linked with Peshawar, Punjab, Karachi, Quetta and almost all Pakistan cities through National Highways. The historical Grand Trunk Road also passes through the district.
Rivers
Three rivers which flow through the district are;
Kabul River

Kal Pani River

Bara River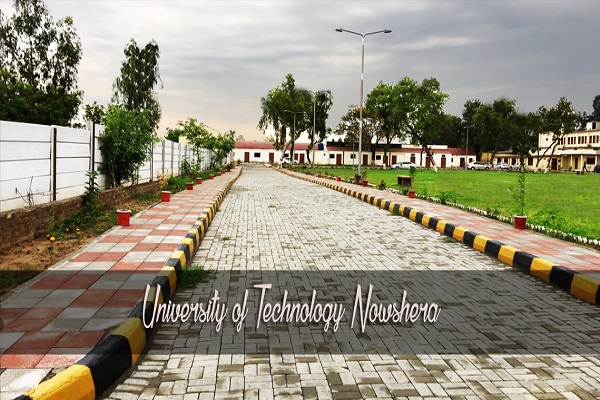 Education
It ranked 71/155 districts in providing quality education, while it is ranked 14 out of 155 for infrastructure and facilities. The district has a lot of public and private educational institutions among which some are as follow:
University of Technology

Abdulwali Khan University, Mardan

Northern University

University of Engineering and Technology, Jalozai

Nowshera Medical College

Government Home Economics College

Govt. Post Graduate College

Govt. College Akbarpura

Govt. Girls Degree College, Pabbi

Govt. Degree College, Pabbi
Parks
The most famous parks are:
Jinnah Park

Kund Park

Aza Khel Park

Mangloot Wild Life Park

Cherat Chapri Wildlife Park
Nowshera Climate
The climate is hot and dry. The average temperature in summer season is 33-35 degrees centigrade, while the lowest temperature in winter is 4-6 degrees centigrade.
Nowshera Postal Code and Area Code
Postal Code: 24100
Area Code: 454
Notable People
Mian Jamshaid ud din

Abdul Haq

Ajmal Khattak

Lt. General Alam Khattak

Gul Hassan Khan

Syed Abdul Razak

Qazi Husain Ahmad

Naseer Ullah Khan Babar

Syed Rasool Rasa

Prof. Dr Johar Ali

Pervez Khattak

Syed Bahadur Baba

Syed Nader Shah

Saad Ullah Jan Baq

Sami ul Haq

Shams ul Mulk

Sher Zaman Taizi

Sartaj Aziz

Nasr Ullah Khan Khattak

Zarsanga

Samandar Khan Samandar

Muaulana Muhammad Mukhtar Hassan

Haji Akram Shah

Fayaz Khan
Nowshera Language
The district's most widely spoken language is Pashto, spoken by 91 per cent people of the region. Other languages rarely spoken in the district are Urdu, Punjabi and Hindko.