Taj Haider is a Pakistan-based renowned politician, playwright, nationalist, versatile scholar, and mathematician.  He is among the founders of a political party PPP (Pakistan People's Party) and is serving as PPP's general secretary since 2010.
Professionally he is a scientist and mathematician and contributed his leadership skills in constructive years of secretive atomic bomb programs in the 1970s. He authored political plays for PTV (Pakistan Television) from 1979-1985. This article has detailed information about him, including Taj Haider Biography.
| | |
| --- | --- |
|               Name |            Description |
| Name: | Taj Haider |
| Nationality: | Pakistani |
| Religion: | Islam |
| Date of Birth: | 8th March 1942 |
| Residence: | Karachi/Islamabad |
| Profession: | Politician, Actor, Scholar, Playwriter |
| Political Party: | Pakistan Peoples Party |
| Served As: | Senator |
| Social Media Handle: | |

Taj Haider Biography
He is a man of deeds, wisdom, and principles. He is an ideal example of courage and patriotism, as he had played his role brilliantly in Pakistan's Nuclear Weapons. Being a multi-talented personality, he has marked his name in different fields including politics, writing, and development projects.
He openly supported the democracy and the nuclear program of Pakistan and contributed his part in the formulation of policy regarding nuclear weapons projects. Besides political activities, he also authored many political scripts for TV dramas and writes articles for newspapers.
In recognition of his splendid services to Pakistan, he received PTV Awards in the category of 'Best Playwright Serial' that he received in 2006 in a TV ceremony. He is also the recipient of Sitara-i-Imtiaz that he received for his part in projects related to nuclear weapons.
Taj Date of Birth
He opened his eyes on 8th March 1942 in Kotah (now Kota), Rajasthan.
Education of Taj
He completed his graduation from a high school in the area and in 1959 got enrolled at the University of Karachi and studied Mathematics there. In 1962 he received his degree of BSc (Hons) Mathematics. From the same institute, he completed his MSc in mathematics and adopted the teaching profession at DJ Science College.
Later he moved to the University of Karachi. During his service at the University of Karachi, he mainly focused on and taught multivariate calculus and ODE (ordinary differential equations).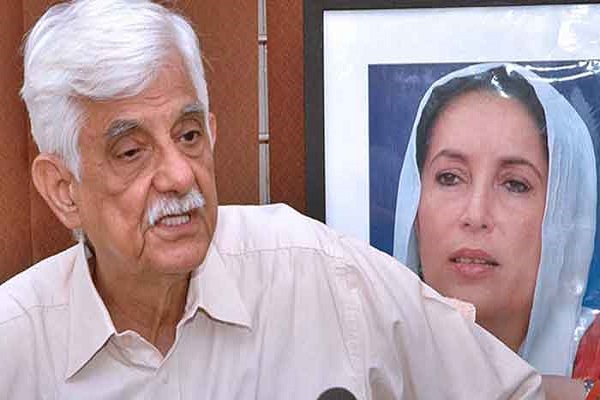 Taj Haider Family
He belongs to an enlightened and educated family. After partition in 1947, his parents emigrated to a newly formed separate homeland Pakistan. At the age of 75, he tied the knot with TV anchor Naheed Wassi.
Career
Founder of PPP
Haider was among the founders of PPP (Pakistan People's Party) and devoted himself as powerful support of Zulfiqar Bhutto's left-wing philosophy.
Contribution to Nuclear Program
He contributed his part in the formulation of policy regarding nuclear weapons projects. He expertly handled the moral stances on atomic bombing initiatives on several occasions at diplomatic conferences. Taj stated that Pakistan's program of developing nuclear weapons should not be portrayed aggressively, as the purpose behind this program is the safety of the country only.
Literary Activities
He separated himself from politics but served as a dedicated and active member of PakMS (Pakistan Mathematical Society) and started authoring political scripts for PTV dramas in 1979. The Pakistan Television Corporation broadcasted several political plays authored by him until 1985. He again associated himself with PPP.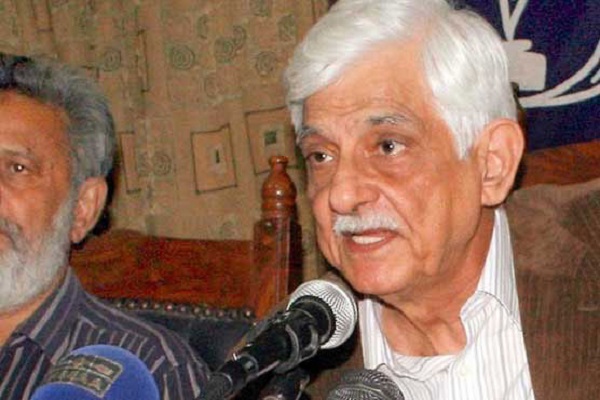 Participation in Industrial projects
From 1990 to 2000 he played his part in industrial projects like the set-up of HMC (Heavy Mechanical Complex), Hub Dam, and several other programs. In 2001 he rejoined PTV and started his literary work by writing political scripts for PTV that were broadcasted in 2003.
Rejoined Politics
He again appeared in politics in 2004 and opposed then-President Gen Pervaiz on the issue of proliferating nuclear weapons. Taj Haider harshly criticized the USA over the ratification of Khan Research Labs (KRL). He defended A.Q Khan's case on nuclear proliferation in public and criticized the statement of Rashid Ahmed then Information Minister about acquitting ex-PM Benazir in case of proliferation of nuclear weapons.
Served as Media Coordinator
Eventually, he demanded parliamentary investigation over these issues questioning the involvement of General Pervaiz in the expansion case. He was designated at the post of media coordinator for Sindh's provincial government.
Served as Senator
In July 1995 he got elected to Pakistan Senate on the seat that ex-Senator Kamal-Ud-din Azfar vacated on his designation as Sindh Governor. His tenure as a Senator expired in 2000.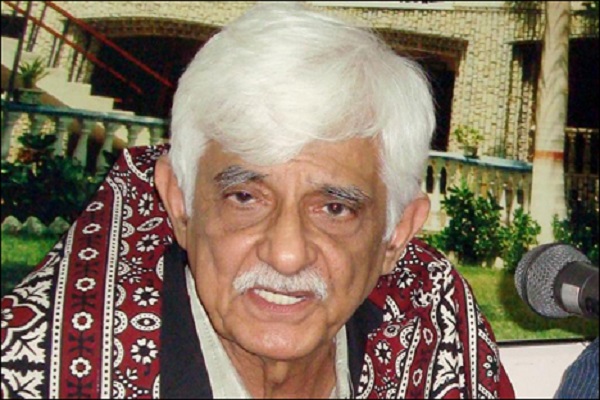 Membership of Senate Standing-Committees
He is a member of the following Senate Committees:
Industries & Production
Water &Power
Education
Scientific & Technological Research
Functional Committee formed on Less-Developed Regions
As an Author
He wrote on matters regarding nuclear policy, political and literary philosophy, and left-wing schemes. He also authored about the benefit of balancing power in every institute and promoting social democracy in Pakistan. In the category of political and literary writings, he wrote against military rule particularly enforcement of policies by President Gen Zia-ul-Haque in the 1980s.
Taj Tried Child Adoption
In Feb 2015 he tried to adopt a child but Rawalpindi's Child Protection and Welfare Bureau (CPBW) gave child custody to the person having corruption charges. He once told to media that after watching an ad on TV about a 3.5-year-old baby girl who was moved to CPWB from Attock. He began bringing that girl to his house and she became comfortable in their house but later CPWB administration handed over the girl to a child protection female officer.
Criticized Altaf for Using Word Muhajir
In 2013 he passed a statement criticizing MQM leader Altaf Hussain who stated that the government of Sindh had started a movement against Muhajirs. Taj stated we aren't Muhajirs, we are Urdu-speaking natives of Sindh. Urdu is our 1st and official language and it's degrading and wrong to consider us Muhajirs or lesser inhabitants.
Taj Haider Writings
Why PPP is boycotting the presidential election
Setting PPP record straight
CTBT (Comprehensive Test Ban Treaty)Security Perspectives
Pot Calling Kettle Black?
Let the Democracy Breathe
The Census Methodology
Dual Nationality & Allegiances
TV Plays
Lab-e-Darya
Jinhain Rastay Main Khabar Hue
Social media Handles
His social media account include