Sheikhupura, on the outskirts of Lahore, is a famous district of Punjab, Pakistan. It is commonly known for its worth-seeing historical places, industrial and agriculture surroundings and best export-quality rice. It also owns Shakespeare of Punjabi poetry, famous sufi poet Waris Shah whose Heer is an imperishable legend of divine love.[1] Sheikhupura, outskirts In 2005 one of its subdivisions was split off to form the new Nankana Sahib District.[2] Sheikhupura – Punjab Portal The name of the town and its fort was changed by him to Sheikhupura from earlier Virkgarh, deriving from a nickname of Jahangir, who was known as Sheikhu by his father Akbar the Great. The city is the headquarters of Sheikhupura District.The founder of Sikhism Gurunanak could have been founded here preaching and helping the needy in Talwandi (Nankana Sahib). An important town of Sheikhupura District Sanglahhill which is at a distance of 59km, historians has said that the famous Chinese tourist Hwen Thsang came to Hindustan (Pakistan and India) in 633A.D. during his journey he came to Rajwari from Kashmir, from here he crossed the River Chinab while moving towards south east. The he moved to She-ye-pu which could be the present Hafizabad and then he moved to Sanglahhill.
| Title | Description |
| --- | --- |
| Information | |
| Location: | Pakistan |
| In Urdu : | شَيخُوپُورہ |
| City Council: | Government of Punjab |
| Type: | Capital of Sheikhupura District |
| Local Language Name: | Urdu is the first language of 1.1% |
| Province: | Punjab |
| Coordinates : | 31.715°N 73.985°E |
| District: | Sheikhupura District |
| Region: | Punjab |
| Elevation: | 236 m (774 ft) |
| Union councils: | 51 |
| Language | |
| Official Language: | Urdu |
| Native Language: | Punjabi |
| Other Languages: | Urdu.Punjabi.English |
| Government | |
| Government Type: | Government Of Punjab |
| District Coordination Officer: | Arqam Tariq |
| Area | |
| Total Area: | 5,960 km2 (2,300 sq mi) |
| Population | |
| Total Population: | 3,321,029 (1998) |
| Time zone | |
| Time zone: | PST (UTC+5) |
| Codes | |
| Postal code: | 39350 |
| Dialing code: | 56 |
| Vehicle registration: | Three letters beginning with S and random four numbers |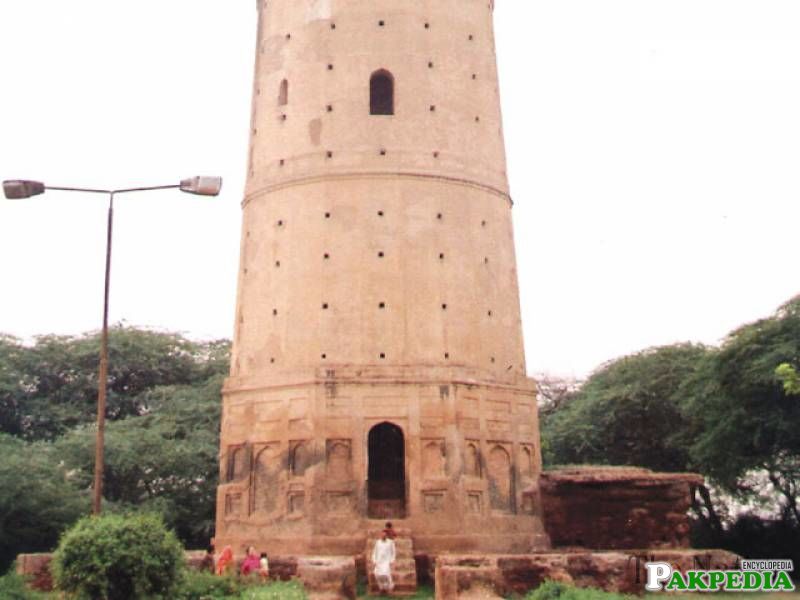 Detail
Era of Mughal Emperor
Sheikhupura was constructed in 1607. It was one of Mughal Emperor Nor-u-Din Muhammad Jahangir's princely dominions during his father Akbar's reign. It is also called Qila Sheikhupura because of a historical fort constructed by Jahangir. Emperor Jahangir, whose nick name was Sheikhu, laid the foundation of Jahangirpura. Afterwards the city was named Sheikhupura.Just north of Sheikhupura lies a hunting complex, a landmark of Mughal architecture… a Minaret of Antelope on the bank of an artificial lake here known as Hiran Minar.[3] Era of Mughal Emperor 
Hiran Minar is one of the best known and beautiful sites. During Emperor Jahangir's reign, Sheikhupura had the status of royal hunting ground. Sheikhu (Emperor Jahangir), who was a great patron of architecture and apparent lover of wild life, used to come here frequently from Lahore for hunting & to relax. He captured a unique Deer named Mansraj, within one month the deer left his jungle habits and soon became the king of the Royal Deer. In the love of his darling pet Deer, Sheikhu ordered that no more wild deer will be hunted. In 1606, in memory of his departed Mansraj, a Minaret and a mausoleum were built here.
From1605 to 1627
During the reign of Emperor Jahangir (1605 to 1627), Sheikhupura had the status of royal hunting ground. In Tuzke-Jahangiri, Jahangir wrote during the events in the 1607:
On Tuesday, I reside in Jahangirpura, my hunting ground. According to my order, a Minar and a grave for my deer, Mansraj, were constructed here.
Tuzkarah-ul-Sheikh-ul-Kidham is that book which has described about the Hiran Minar. This book was completed in 1057 (Hijrih). Total numbers of verses in this book are 6188. The name of writer of this book was Khawajah Surut Sigh.[4] From  1605 to 1627 
In the middle 18th century
In the middle of the 18th century, Sikhs were ruling this area. In the last decade of the 18th century, Arbail Sigh and Amer Singh were the rulers of Sheikhupura. Both of these were involved in robberies in this area. People from Sheikhupura requested Maharajah Ranjeet Singh to defeat them which the maharaja accepted.[5] middle 18th century 
In the end both Arbial and Amer singh were forced to evacuate the Sheikhupura Fort and all their property were taken by the Maharajah. After this win, the Maharajah gave this area to Khawar Karrak Singh. After the death of Karrak Singh (1840), Rani Jandah became the ruler. She was a very clever woman. She went to under surveillance by the English in August 1847 along with her brother in Sheikhupura Fort.
After British rule
After British rule in Sheikhupura, people started to get the basic necessities of life. Many schools and colleges were built here. In 1889, a private Post Office was built here. In April 1907, Sheikhupura and Shadrah were connected through train.[6] After British rule 
In 1920, Tahsil Sheikhupura was upgraded to District Sheikhupura. In the Beginning, courts were arranged in the Qila Sheikhupura but then in 1922, under the supervision of Sir Ganga Ram District Courts and and hospitals were constructed here.
From 1924 to 1940
In 1924, in the meeting of Municipal Committee, its was decided to construct a new town between the Civil Quarters and Civil Hospital. This newly constructed town was named as Gurunanakpura which was replaced with Jinnah Park after Partition.[7] From 1924 to 1940 
In 1930, Muslim league was introduced here. In November-December 1931, the city was provided with the electricity.
In the 21st annual meeting of Muslim League held on March 22, 1940, seven people represented the District Sheikhupura in the meeting.
Climate
The District has extreme climate; the summer season starts from April and continues till October. During the summer season, temperature ranges from 30 to 45 degrees Celsius. The winter season starts from November and continues till March. December and January are the coldest months with a mean minimum temperature of 5 degrees.[8] Climate –  Climate  The dust storms occur occasionally during the hot season, during June, July and August. Rainy weather alternates with oppressive weather. The rainfall is 635 mm per year. The mean minimum and maximum humidity during winter is 37% and 84%.
Hiran Minar
Hiran Minar or (Minate of Deer) is situated in Sheikhupura, Pakistan. It was constructed by Emperor Jehangir as a monument to Mansraj, one of his pet deers.The structure consists of a large, almost-square water tank with an octagonal pavilion in its center, built during the reign of Mughal emperor Shah Jahan; a causeway with its own gateway connects the pavilion with the mainland and a 100-foot-high minar, or minaret.
At the center of each side of the tank, a brick ramp slopes down to the water, providing access for royal animals and wild game. The minar itself was built by Emperor Jahangir in 1606 to honor the memory of a pet hunting antelope named Mansraj.Looking north from the top of the minar, one can see a patch of forest which is similar to the scrub forest vegetation of Mughal times, while to the west are extensively-irrigated fields, a product of the late nineteenth and early twentieth centuries, but similar in size and appearance to the well-irrigated fields of the Mughal period.[9] Hiran Minar 
Bounderies of Sheikhupura

Sheikhupura is bounded by 6 other districts of Pakistani Punjab:[10] Bounderies of Sheikhupura 
Lahore
Nankana Sahib
Hafizabad
Faisalabad
Gujranwala
To the east is the international boundary of Amritsar – Punjab, India.
Famous Personalties
Sheikh Salim Chishti, Sufi saint of the Chishti Order during the Mughal Empire
Jahangir, Fourth Mughal Emperor, ruled from 1605-1627
Waris Shah, A Great Punjabi Sufi Poet
Zulfiqar Ahmad Dhillon, retired brigadier in the Pakistani army
Zaka Ullah Bhangoo, Pakistani army aviator
Aaqib Javed played as fast bowler for Pakistan cricket team.
Muhammad Javed Buttar, is a former justice of Supreme Court of Pakistan
Choudhry Bilal Ahmed, politician
Kulwant Singh Virk, author
Nawab Kapur Singh, one of the pivotal figures of the Sikh Confederacy and founder of the Singhpuria Misl.
Mohammad Asif a right arm medium fast bowler in cricket
Rana Naved-ul-Hasan, player for the Pakistan National Cricket Team[11] cricket – archive.com