Nankana Sahib is a holy place where the founder of Sikh religion Guru Nanak Dev was born early in the morning to Mata Tripta Ji and Mehta Kalu Ji on 15th April, 1469. The township of Nankana Sahib was earlier known as Raipur and later on as Rai-Bhoi-di-Talwandi but after the birth of Guru Nanak, [1] Nankana Sahib is a holy place  it began to be known as Nankian Sahib/Nankana Sahib.The city has a population of approximately 70,000.[2] Archived –   original In October 1920 A.D., a congregation was held at Dharowal, District Sheikhupura for reform in Gurdwara Nankana Sahib in which the leaders revealed to the gathering of devotees, the misdeeds being committed inside the Gurdwara. Gurdwara Nankana sahib was highly revered as it is the birth place of Guru Nanak, a city named Nankana Sahib came up around the Gurdwara which is now in Pakistan. At meeting ,it was unanimously resolved that the Mahant be asked to mend his ways. When Mahant Narian Dass was asked to reform himself, he started making preparations to oppose the Panth (Sikh community) instead. He did not feel it necessary to pay heed to the suggestions of the Committee. He was the owner of the estate attached to the Gurdwara with an income of one hundred thousand rupees besides the offerings of the Gurdwara.[3] Information – history
| Title | Description |
| --- | --- |
| Information | |
| Location: | Pakistan |
| In Urdu : | ننكانہ صاحِب‎ |
| City Council: | Government of Punjab |
| Type: | Capital of Nankana Sahib District |
| Local Language Name: | Urdu was the native language of 0.41% |
| Province: | Punjab |
| Coordinates : | 31°27′0″N 73°42′24″E |
| District: | Nankana Sahib District |
| Region: | Punjab |
| First settled: | May 2005 |
| Elevation: | 187 m (614 ft) |
| Union councils: | 3 |
| Language | |
| Official Language: | Urdu |
| Native Language: | Punjabi |
| Other Languages: | Urdu.Punjabi.English |
| Government | |
| Government Type: | Government Of Punjab |
| Area | |
| Total Area: | 2,960 km2 (1,140 sq mi) |
| Time zone | |
| Time zone: | PST (UTC+5) |
| Codes | |
| Postal code: | 39100 |
| Dialing code: | 056 |
| Vehicle registration: | Three letters beginning with N and random four numbers |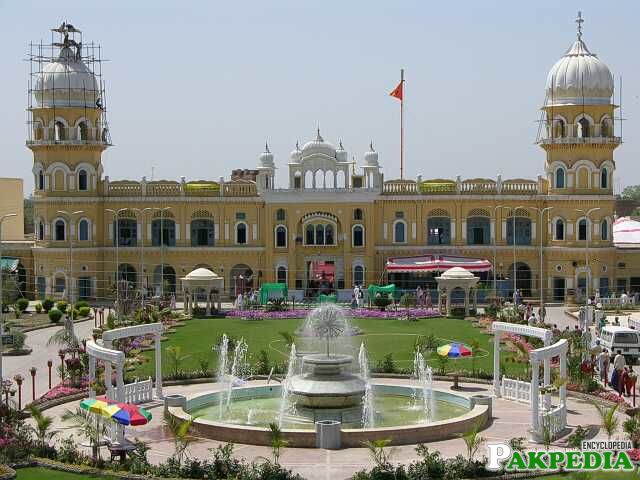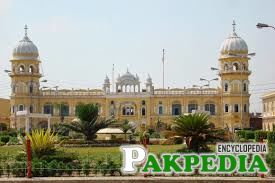 Detail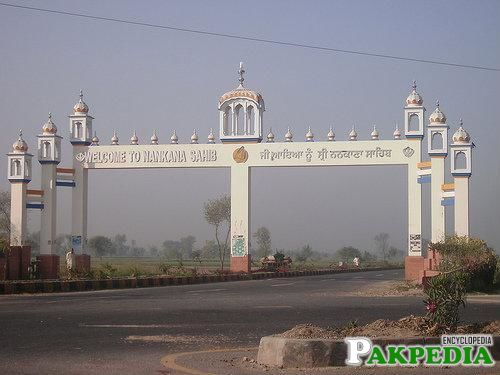 Location
It is situated at a distance 48 miles on the west from Lahore. Guru Nanak dev ji passed his whole childhood and young age in Nankana Sahib.  Nankana is the site of several historic gurdwaras built to commemorate miraculous occurrences during Guru Nanak's life. The gurdwaras are surrounded by 18,750 acres of land bestowed to Guru Nanak by Rai Bular Bhatti, the Muslim headman of Talwandi village. His descendants have revered Guru Nanak through the centuries.[4] Location –  Location 
Brief History
Nankana Sahib is a city in the Pakistani province of Punjab, Earlier known as "Rai Bhao di Talwandi". It is names after the first Guru of the Sikhs, Guru Nanak Dev, the first guru of the Sikhs and the founder of Sikhism who was born here in 1469, so Nankana Sahib is a city of high historical and religious value and is a popular pilgrimage site for Sikhs from all over the world. Nankana Sahib is located about 80 kilometers south west of Lahore and about 75 kilometers east of Faisalabad, with a population of approximately 70,000. Nankana Sahib City is also the capital of Nankana Sahib District and Tehsil.[5] History –  History 
During the 20 February 1921
During the Akali movement, on 20 February 1921, Narain Das, the Udasi mahant (clergy) of the gurdwara at Nankana Sahib, ordered his men to fire on Akali protesters, leading to the Nankana massacre. The firing was widely condemned, and an agitation was launched until the control of this historic Janam Asthan Gurdwara was restored to the Sikhs.[6] making – revolutionary Again in the 1930s and 40's the Sikhs added more buildings and more architectural design.Migration between India and Pakistan was continuous before independence. By the 1900s Western Punjab was predominantly Muslim and supported the Muslim League and Pakistan Movement. After the independence in August 1947, the minority Hindus and Sikhs migrated to India while the Muslim refugees from India settled in the Western Punjab and across Pakistan.[7] "Bhagat Singh – Tribune The area around Nankana Sahib was formerly a tehsil of Sheikhupura District.
In November of 1999
In 1999, the Pakistani government organized restorative to be work done on many gurdwaras of historical importance throughout Pakistan which had suffered neglect during the Sikhs 50 years absence. For several weeks in November of 1999, the borders opened to welcome Sikhs. Bus tours took Sikhs around the country side to visit the newly restored gurdwaras. At the end of the month, Nankana hosted week long gurpurab festivities celebrating the anniversary of Guru Nanak's birth. [8] In November of 1999
In May 2005
In May 2005, the provincial government decided to raise the status of Nankana Sahib to that of a district [9] Nankana becomes – district as a way of promoting development in the area.In 2007, the Pakistan government announced a plan to set up a university on Sikh religion and culture at Nankana Sahib, the birthplace of Guru Nanak. "The international Guru Nanak University planned at Nankana Sahib would have the best architecture, curricula and research centre on Sikh religion and culture", Chairman of Pakistan's Evacuee Trust Property Board (ETPB), Gen (Retd) Zulfikar Ali Khan, said.
Development
The possibility of the development of a university, named after Guru Nanak, has been raised.[10] Guru Nanak – varsity The Punjab government decided to link Nankana Sahib District with the provincial capital, Lahore. With these plans the Punjab government is completing "Khanqah Dogran Interchange" (on the M-2) very swiftly, which is a helpful project to develop the newly created District of Nankana Sahib. This will also give access to the Grand Trunk Road, which leads to the Indian Punjab from the Wagah border. Recently, a Nankana Sahib-Amritsar bus was inaugurated by Prime Minister Manmohan Singh of India.[11] Department Transport 
Gandhiin NankanaSahib
Mahatama Gandhi visited Nankana Sahib on March 3, 1921. Addressing the gathering, Mahatama said: "I have come to share your anguish and grief. It is interesting indeed to note that the Sikhs in this drama remained peaceful and non-violent from the start to the end. This (the behaviour of the Sikhs) has greatly added to the glory and prestige of India…" "All indications point to the fact that the cruel and barbaric action is the second edition of Jallianwala Bagh massacre; rather more evil and more invidious than even Jallianwala". The Mahatama further spoke: "the action of these dimensions could not be perpetrated by Mahant alone. The government officers are also involved in this heinous crime. Where had the authorities gone when the Mahant was making preparations
for murderous plans"
Gurudwara Asthan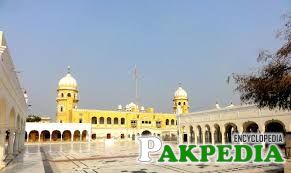 This shrine representing the home of Baba Kalo and Mata Tripta, father and mother respectively of Guru Nanak Dev, where the Guru was born, was established by Baba Dharam Chand (1523-1618) son of Baba Lakhmi Das and grandson of Guru Nanak Dev. The shrine must have been established before the end of the sixteenth century because Guru Arjan Dev (1563-1606) is believed to have visited it. Its present building comprising a square, domed sanctum with a rectangular pavilion attached to it within a vast walled compound was built by Maharaja Ranjit Singh (1780-1839).[12] Gurudwara Asthan 
Education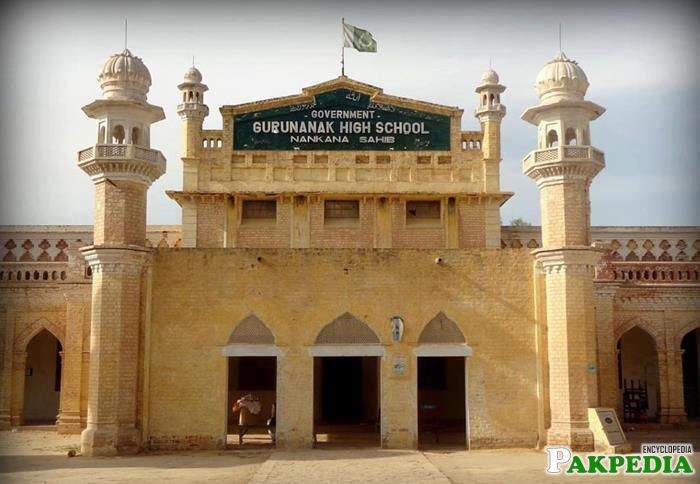 UniversitiesHigher Education Institutes
Virtual University of Pakistan Nankana Sahib Campus
Baba Guru Nanak University TBA
Colleges
Government College Nankana Sahib
Schools
Hira Public School Nankana Sahib
Dar-e-Arqam Schools
Allied Schools (Pakistan)
Government Guru Nanak School Nankana Sahib