Sindh High-Court is Sindh's highest judicial institute that was founded in 1906 and is located in Karachi. Besides being the highest Appeal Court for province Sindh in criminal and civil matters, this Court was session court and district court in Karachi. This article has every detail about the court, including Sindh High Court History.
| Title | Description |
| --- | --- |
| Basic Information | |
| Formed: | 1906 |
| Details | |
| Court Name: | Sindh High Court |
| In Urdu: | سندھ عدالت عالیہ |
| Established: | 1906 |
| Country : | Pakistan |
| Location: | Principal Seat: Karachi, Sindh Circuit Benches: Hyderabad, Sukkur & Larkana |
| Composition Method: | Presidential with confirmation of Chief Justice of Pakistan and Governor of Sindh. |
| Authorized By: | Constitution of Pakistan |
| Decisions are Appealed to: | Supreme Court of Pakistan |
| Judge Term Length: | Till 62 years of age |
| Number of Positions: | 40 |
| Current Executive: | Justice Ahmed Ali M. Sheikh |
| Since: | 14 Dec 2015 |
| Website: | http://www.shc.gov.pk/ |

Sindh High Court History
The Sindh Courts-Act (VII-1926) was passed on 21st August 1926 to the 'Law-Making' provision for establishing a chief-court for Sindh. When Part-3 of the Indian Govt Act-1935 came into operation on 1st April 1937, Sindh got a separate province's status. Appointment of judges for the Court of Judicial-Commissioner of Province Sindh was handed over to the British Government.
When West Pakistan's High-Court was established initially, the strength of judges was Fifteen. When Baluchistan and Sindh High-Courts were separated, twelve judges were appointed in Sindh High-Court, and three judged in Baluchistan High-Court. Currently, the approved number of judges is twenty-eight.
Jurisdiction
H.C. has Supervisory, Civil, and Constitutional Jurisdiction and is bestowed with a practical, comprehensive, and vast jurisdiction. An individual in custody within Court's territorial jurisdiction may appear before the Court, so it may get satisfied that the individual is held in custody with lawful authority and in a lawful manner.
It requires that an individual who holds the office or intends to hold an office within the territory of the Court should show the law authority under which he claims to have that office.
The High Courts hold the authority to give directions or orders to any person, Government, and authority exercising power or performing functions related to Court jurisdiction or within court territory to enforce fundamental rights bestowed by Constitution.
Supervisory Jurisdiction
H.C. exercises 2-types of the 'Supervisory Jurisdictions' including Administrative and Judicial. H.C. control and supervise all the sub-ordinate courts. Judicial supervision is held by hearing and entertaining revisions and appeals against sub-ordinate courts' judgments/orders. While in Administrative supervision, H.C. inter-alia:
Post and recruit judicial officials for sub-ordinate courts.
Ensure the effective and smooth working of sub-ordinate courts by monitoring them.
Issues instructions and inspects the sub-ordinate criminal and civil courts.
Make rules for the standardized process and procedure for the effective functioning of courts subordinate to H.C.
Conducts disciplinary actions including the departmental inquiry
Complaints filed against Judicial Officials.
ACR
Civil-Original Jurisdiction
Sindh High Court's Principal seat has 'Civil-Original Jurisdiction' in civil cases that includes admiralty cases and company cases etc., in which a relief claim exceeds Rupees 1.5 Crore. A limit in the Banking affairs, however, exceeds Five crores.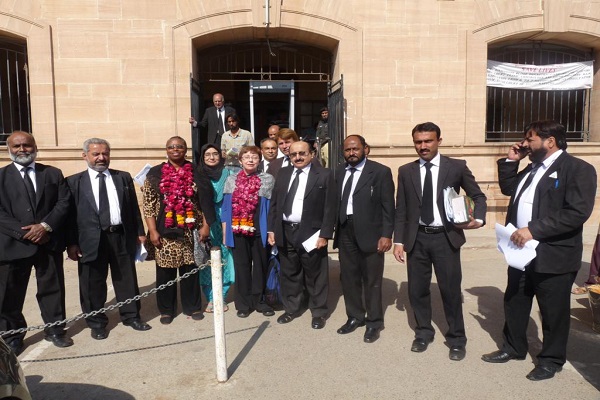 Building Complex
In 1923, the present main-building commenced estimating the expenses to be Rupees 39, 75, 248 but it got completed on 22nd November 1929 at the cost of Rupees 30,35,000. Currently, this building accommodates courtrooms, benches, and chambers of eighteen judges.
Some judges hold legal proceedings in their chambers. The building is also providing accommodation for the offices of Deputy Attorney General, Attorney General, Sindh Advocate General, High-Court Bar Library, Sindh Additional Advocate General, and Sindh Assistant Advocate General.
An Annexe Building was set up on High Court's North-East side at the expense of Rupees 4.4 Million. This Annexe didn't provide much ease. It accommodates court offices and gives office-accommodation for the Ministry of Justice & Parliamentary Affairs, Official Assignee, Federal-Shariat Court Registry, Secretary, Sindh Bar Council, and Standing Counsel. So, it would be observed that there is an accommodation shortage.
Bench
Sindh high-court comprises twenty-seven judges and chief justice. After consulting Pakistan Chief Justice, province governor, and high-court chief justice, President appoints the high court judge. Criteria for becoming a high court judge include Pakistani nationality, forty years old, remained High-Court advocate or had held judicial office for 10-years and, or who has worked as District Judge for a minimum of three years.
High court judge holds his position until he becomes sixty-two years old unless he resigns sooner or Constitution removes him from office. The Sindh High Court's principal seat in Karachi having benches at Larkana, Sukkur, and Hyderabad.
Sindh High Court Judges
Chief-Justice heads the Sindh High Court, and the bench includes additional judges and justices. Retirement age is sixty-years for both justices and chief justice. Initially, the additional-judges are appointed for 1-year, and after a year, their tenure could be confirmed, extended, or may retire. Currently, Justice Ahmad Ali Sheikh is serving as Chief Justice Sindh High-Court.
Current and Former Registrars
Mr. Ghulam Rasool is serving as current registrar of Sindh High Court. Some of the former registrars include Mr. Ashhad Ali, Mr. Wajahat, Mr. Haider, Mr. Ali Muhammad, Mr. Hamid, Mr. Nazim, Mr. Shabeer, Mr. Ghous, Mr. Abdul Ghani, and Mr. Zaheer.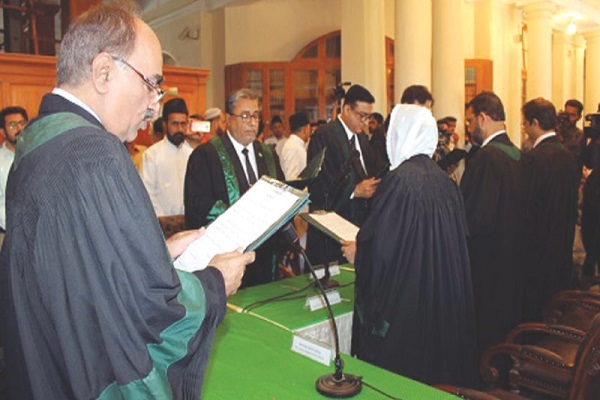 Sitting Judges
Chief Justice Ahmad Ali Sheikh, Puisne Judge Justice Irfan Saadat, Justice Aqeel Ahmad, Justice Nadeem Akhtar, Justice Muhammad Shafi, Justice Hassan Rizvi, Justice Aziz-ur-Rehman, Justice Abdul malik, Justice Zafar Ahmad, Justice Naimatullah, Justice Faheem, Justice Umer Sial and Justice Amjad Ali are some of the sitting judges of Sindh High-Court.
Former Judges
Former judges include Justice Durab, Justice Muhammad Haleem, Justice Abdul Qadir, Justice Ghous Ali, Justice Zafar Hussain, Justice Agha Ali, Justice Abdul Hafeez, Justice G.M Shah, Justice Faisal, Justice Sadiq Hussain, Justice Iqbal, Justice Muneeb, and Justice Khadim Hussein. They served from January 1976-October 2020 at Sindh High Court.
Judges Re-appointment
After the general election and General Pervaiz's resignation, the People's Party-led Government made a re-appointment of judges under the Constitution 1973 and took a fresh oath; some judges took the new oath and were re-appointed on the 27th August 2008and on 6th September 2008.
Re-Appointed in Aug 2008
Anwar Zaheer-Chief Justice
Ameer Hani
Khilji Arif
Sajjad Shah
Faisal Arab
Salman Ansari
Abdul Rasheed
Zafar Ahmed Khan Sherwani
Re-Appointed on 6th September 2008
Sarmad Jalal Usmani
Sabih-ud-din Ahmad
Muhammad Athar Saeed
Gulzar Ahmad
Department of Information Technology (I.T.)
I.T. Committee or Automation and Court Technologies of Sindh High Court monitor the automation of Sindh High-Court and all sub-ordinate Sindh Courts.
List of I.T. Chairmen
Justice Muhammad Ali, Justice Ahmad Ali, Justice Sajjad Shah, Justice Faisal, Justice Muneeb Akhtar, Justice Mushir Alam, Justice Shahid Anwar, Justice Sarmad Jalal, Justice Shabir Ahmad, Justice Ahmad Sarwana have served as chairmen of I.T. department of Sindh Court.
Complaint Cell
Contact Information
Email: www.sindhhighcourt.gov.pk
Fax: (021) 99203221
Phone # (021) 99203151-9