Shahid Karimullah is a retired four star rank admiral, diplomat.He a defence columnist who briefly tenured as the Chief of Naval Staff from 2002 until 2005.He also served as the Pakistan Ambassador to Saudi Arabia from 2005 until retiring from the foreign service in 2009.
| Title | Description |
| --- | --- |
| Personal | |
| Name: | Shahid Karimullah |
| In Urdu: | شاهد كريم الله |
| Famous As: | Retired Four-Star Rank Admiral, Diplomat and a Defence Columnist |
| Nationality: | Pakistani |
| Education: | Graduated |
| Alma Mater: | Naval War College, National Defence University |
| Religion: | Islam |
| Profession: | Admiral (S/No. PN 1126) |
| Awards : | 8 |
| Allegiance : | Pakistan |
| Service/branch : | Naval Jack of Pakistan.svg Pakistan Navy |
| Years of Service : | 1965–2005 |
| Unit : | Naval Operations Branch |
| Commands : | Commander Pakistan Fleet 25th Destroyer Squadron DCNS (Operations) Chief Instructor at NDU Islamabad ACNS (Personnel) |
| Battles/Wars: | Indo-Pakistani War of 1965, Indo-Pakistani War of 1971,Bangladesh Liberation War 2001–02, Indo-Pakistani Standoff |
| Born | |
| Date: | 14 February 1948 |
| Place: | Karachi Sindh Pakistan |
| In Office | |
| Preceded by: | Adm. Abdul Aziz Mirza |
| Dates: | 3 October 2002 – 6 October 2005 |
| Role: | Chief of Naval Staff |
| Succeeded by : | Adm. Afzal Tahir |
| In Office 2 | |
| Role: | Pakistan Ambassador to the Saudi Arabia |
| Dates: | 29 January 2005 – 21 March 2009 |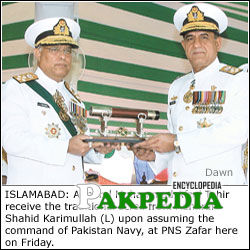 Biography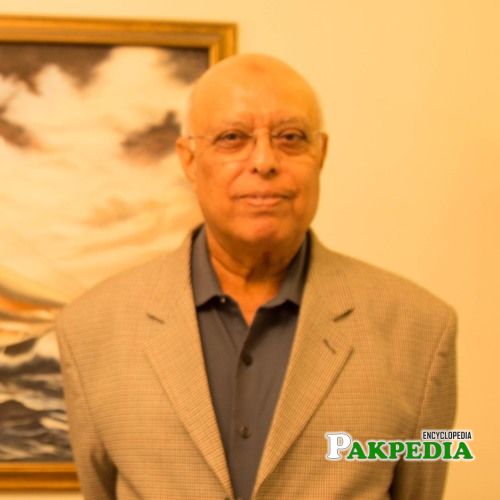 Admiral Shahid Karimullah was born in Hyderabad Deccan.He migrated to Pakistan as an infant before joining the Navy in 1965 and rose to become Chief of Naval Staff in 2002. In this podcast, he talks about when he got seriously injured in the line of action during the 1971 war that left his life endangered.He was later awarded the Sitara-e-Jurat for his bravery.[1]  Biography 
Family
He Belongs to Urdu speaking family.He comes from a military family and his father, Lieutenant-Commander Muhammad Karimullah also served in the Royal Indian Navy and later the Pakistan Navy.[2]  Family Married Spouse name Nasreen Shahid and have three sons Ahmar, Azfar and Affar.
Education
After graduating from a local high school in 1963, he was admitted and studied at the famed D. J. Science College before joining the Pakistan Navy on October 1965.He was trained at the Pakistan Military Academy but later sent to United Kingdom to attend the Royal Navy's HMS Mercury where he graduated with a communication courses and gained military commission as a Midshipman in the Navy on October 1965. His S/ No. was 1126 issued by the Defence ministry and later promoted as Sub-Lieutenant in the Navy in 1971.
Career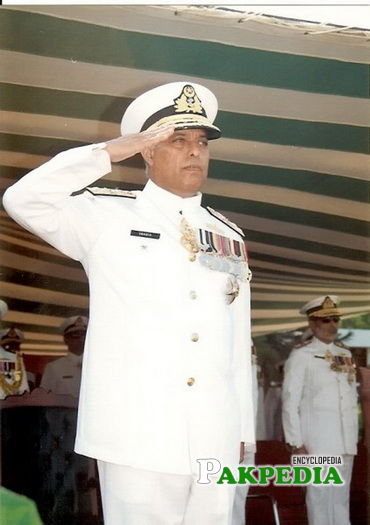 As a young sub-lieutenant he was appointed as Commanding Officer of a Gun-boat during the war with their neighbours in 1971, in then East Pakistan. Towards the end of war he was seriously wounded in action. In acknowledgement of his performance he was awarded Sitara-e-Jurrat for gallantry in action . It took him almost 2 years to completely recover from his injuries and then continued in service to finally achieve the highest rank of an Admiral and assume charge of Navy as the Chief of Naval Staff in October 2002. He retired after 3 years as Chief of Naval Staff in 2005 and was appointed as Ambassador of Pakistan to Saudi Arabia where he is presently serving.[3]  Career 
Appointed New Chief Of Navel Staff
4th October 2002, Vice Admiral Shahid Karimullah was appointed as new Chief of Naval Staff and promoted to the rank of Admiral from the date he assumes his new office.Currently posted as Commander Pakistan Fleet, Admiral Karimullah was replaced Admiral Abdul Aziz Mirza. At that time former president General Pervez Musharraf made the prestigious appointment[4] Former President Pervez Musharraf  and in the process one senior naval officer -Vice Chief of Naval Staff Vice Admiral Taj Khattak was superseded, though it is not yet known whether he would continue or resign in line with tradition of the armed forces.The change of command was held October 7 at PNS Zafar ground, Naval Complex Islamabad. It was expected that at lest two rear admirals would soon be promoted to the rank of vice admiral.[5]  Appointed New Chief Of Navel Staff 
Experience
He is a communication specialist.He has a number of distinguished assignments to his credit both ashore and afloat. He commanded two destroyers, a major training establishment, the 25th Destroyer Squadron and the Fleet.
1971 Indo-Pak War
He fought the 1971 Indo-Pak War while commanding a gunboat in erstwhile East Pakistan where he was seriously wounded in action and awarded Sitara-e-Jurrat for exceptional gallantry.
Appointments
His major staff appointments include Additional Secretary at Ministry of Defence, Deputy Chief of Naval Staff (Operations) and Director Signals at the Naval Headquarters. He has also served as Chief of Staff Officer to Commander Pakistan Fleet and Directing Staff at the National Defence College. He was promoted to the rank of Vice Admiral while holding the present appointment as Commander Pakistan Fleet. 
Awards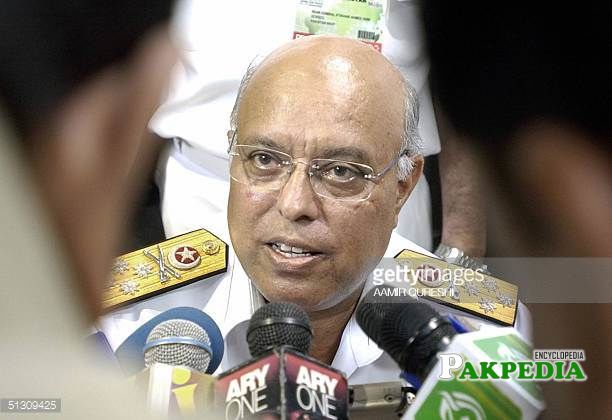 Gallant Commander (2005)
Legion d'honneur (2005)
Legion of Merit (2004)
Nishan-e-Imtiaz (2002)
Hilal-e-Imtiaz (2001)
Sitara-e-Imtiaz (2001)
Tamgha-e-Imtiaz (2000)
Sitara-i-Jurat (1971)