Shahid Karimullah is a diplomat, defense columnist, and a 4-star rank admiral. He served as C.N.S. (Chief of Naval Staff) from 2002-2005. He completed his education at renowned educational institutes. Before that, he worked as Ambassador of Pakistan to Saudi-Arabia from 2005 until he retired from Pakistan's Foreign Service in 2009. This article has every detail about him, including Shahid Karimullah Biography.
| Title | Description |
| --- | --- |
| Personal | |
| Name: | Shahid Karimullah |
| In Urdu: | شاهد كريم الله |
| Famous As: | Retired Four-Star Rank Admiral, Diplomat and a Defence Columnist |
| Nationality: | Pakistani |
| Education: | Graduated |
| Alma Mater: | Naval War College, National Defence University |
| Religion: | Islam |
| Profession: | Admiral (S/No. PN 1126) |
| Awards : | 8 |
| Allegiance : | Pakistan |
| Service/branch : | Naval Jack of Pakistan.svg Pakistan Navy |
| Years of Service : | 1965–2005 |
| Unit : | Naval Operations Branch |
| Commands : | Commander Pakistan Fleet 25th Destroyer Squadron DCNS (Operations) Chief Instructor at NDU Islamabad ACNS (Personnel) |
| Battles/Wars: | Indo-Pakistani War of 1965, Indo-Pakistani War of 1971,Bangladesh Liberation War 2001–02, Indo-Pakistani Standoff |
| Born | |
| Date: | 14 February 1948 |
| Place: | Karachi Sindh Pakistan |
| In Office | |
| Preceded by: | Adm. Abdul Aziz Mirza |
| Dates: | 3 October 2002 – 6 October 2005 |
| Role: | Chief of Naval Staff |
| Succeeded by : | Adm. Afzal Tahir |
| In Office 2 | |
| Role: | Pakistan Ambassador to the Saudi Arabia |
| Dates: | 29 January 2005 – 21 March 2009 |

Shahid Karimullah Biography
He is a highly-educated and brave military officer who attended and belonged to an army background. His father served as Lieutenant-Commander in RIN and Pakistan-Navy. Shahid served at various posts in Pakistan Navy and also served as a Pakistani diplomat to Saudi Arabia.
In 2004 President Musharraf bypassed him for chairman of J.C.S.C. post and appointed his junior Ehsan-ul-Haq at this post. After he retired from the Army, he was designated as ambassador to Saudi Arabia by Musharraf.  He received prestigious laurels, including Legion d'honneur, Nishan-e-Imtiaz, Legion of Merit, Hilal-e-Imtiaz, Sitara-e-Jurat, Tamgha-e-Imtiaz, and Sitara-e-Jurat.
Shahid Date of Birth
He opened his eyes on 14th Feb 1948 in Karachi, Pakistan.
Education of Shahid
He completed his graduation in 1963 from a local high school and enrolled at reputed D.J. (Dayaram Jethamal) Science College. He got training at P.M.A. and later went to the U.K. to attend R.N.'s (Royal Navy) H.M. S Mercury and graduated in a communication course.
In Oct 1965, he got commissioned in the Navy as a midshipman. Defense Ministry issued him service number 1126, and later, he was promoted to sub-lieutenant rank in 1971 in the Navy. After participation in the war, he became engaged in his studies.
He moved to Newport, Rhode Island, U.S.A. to enroll in N.W.C. (Naval War College) and secured a Master's degree in 'War-Studies.' Later, he attended N.D.U. (National Defense University) and secured another Masters's degree in I.R. (International Relations).
Shahid Karimullah Family
He opened his eyes in Karachi, Pakistan on 14th Feb 1948 to a family belonging to Hyderabad Deccan, India. He belongs to a military family, and his father, Lieutenant Commander Mohammad Karim-Ullah, served in Pakistan Navy & RIN (Royal-Indian Navy). His parents left India after its partition in 1947.
Career
Early Career
He was posted in East-Pakistan and participated in the civil war and then in battle with Indian forces in the East. Karimullah was promoted to the rank of Lieutenant and performed as gunboat's commanding officer, and participated in several operations against Mukti Bahini and Indian Forces.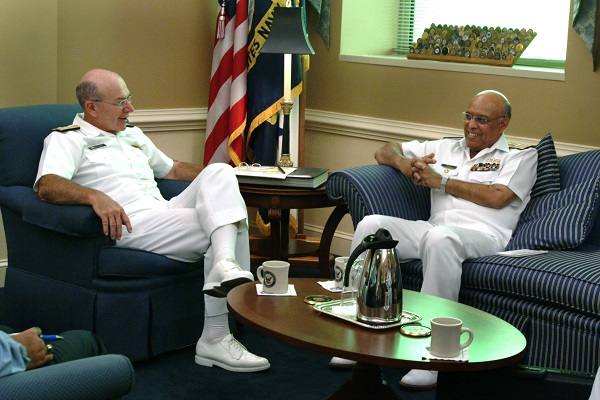 After the announcement of the surrender of an Eastern Command, he was taken as a war-prisoner and got severe wounds. His brave acts won him 'Sitara-e-Jurat' in 1972, and were repatriated. His injuries took years to recover.
Staff and Command Appointments
He worked as an 'aide-de-camp' to C.J.C. (Chairman Joint-Chiefs) to Admiral Karamat Rehman (ex-chief of the Naval Staff) and Admiral Muhammad Shareef. He got a promotion to Commodore rank in 1995-1996 and commanded 25th Destroyer-Squadron as its F.O.C. (Flag Officer-Commanding). He also worked as Instruction Staff in the faculty of War Studies at N.D.U. Islamabad.
Appointment as Director Signals
In 1997 he was appointed 'Director Signals' but later appointed at N.H.Q. (Navy Head Quarter) in Islamabad for a 1-star staff assignment.
Designation as A.C.N.S.
He was designated as A.C.N.S. (Assistant Chief of Naval Staff), but later his posting was made as D.C.N.S. (Deputy Chief of Navy) under the Naval Staff Chief Faisal Bukhari. After Bukhari's resignation, he was designated as 'Rear-Admiral' and served as D.C.N.S. in 1999. From 2000 to 2001, he got promotion as Vice-Admiral and commanded Pakistan-Fleet as Fleet-Commander.
Naval Staff Chief
In 2002 he was designated C.N.S. (Chief of Naval Staff) and promoted 4-star admiral in Navy. He suspended senior Naval officials Vice-Admiral Gul Zaman Malik, and Vice-Admiral Taj Khattak, the V.C.N.S. (Vice-Chief of Naval Staff). He started negotiations with 'Chinese Navy' to transfer technology to create advanced warships in Karachi.
In response to 'Agni-1 missile testing in 2002, he started advocation of Nuclear-Powered capability but refused to deploy nuclear weapons on Agosta Class submarines. In 2003 he again pushed for '2nd-strike capability' in Government but reiterated in public on nuclear-weapons and declared that he has no immediate plans. Still, he pressurized that Pakistan wouldn't stop from taking such measures if it would be compelled.
Successful Negotiation with U.S. Navy
He negotiated with U.S.A. Navy successfully in 2004 to induct the Navy in C.M.F. (Combined-Maritime Force) to cooperate in security affairs and regional maritime.
Superseded by a Junior
General Pervaiz notably bypassed him for the post of chairman of J.C.S.C. (Joint-Chiefs of Staff Committee) in Oct 2004. Despite being a competent and senior officer, his junior Ehsan-ul-Haq, the Lieutenant General, superseded him.
An advocate of Sea Border Extension
Shahid Karimullah started vigorously lobbying and pushing in Govt for Pakistan's seaborne-border extension from Two-Hundred to Three-Hundred and Fifty miles. A claim was submitted in May 2009 provisions of 'UN-Conventions on Laws of Seas' of 1982.
In 2015 borders were spread that pushed Pakistani sea-border area to Fifty-Thousand square kilometers. He got retired in 2005 from the Navy and gave the Navy Command to Admiral Afzal.
Diplomat to Saudi-Arabia
Then-President Pervaiz Musharraf appointed him as Pakistani Ambassador to Saudi Arabia. He completed his tenure and left the office of a diplomat in 2009 and returned to Sindh.
Post Retirement and Honors
He received Sitara-e-Imtiaz, Hilal-e-Imtiaz, and Nishan-e-Imtiaz during his services in the military. He also received 'Legion of Merit by the U.S.A., awarded to him by Vern Clerk, the CNO Admiral of U.S. Navy in 2004. He received 'French Legion d'Honneur' for fostering 'Pak-France Naval-Collaboration' in several fields at various positions he served during his career.
On 21st Sep 2005, he was bestowed with 'Honorary Malaysian Armed-Forces Order' for courage laurel as the 'Gallant-Commander' in the realization of his splendid extended services.
Joined Think-Tank
After retirement from Foreign-Services,' he joined a Think-Tank 'Progress' and served on an advisory board. He also held the post of Chairperson of 'Karachi-Council' on Foreign relations. He remained associated with Karachi Bahria University and favored C.P.E.C. developmental-projects in Pakistan.