Pakpattan is the city of the great Saint Baba Farid of Chistia legacy.Word Pakpattan is made of two words PAK and PATTAN meaning clean docland(Pattan means a dockland or place where ships or boats stop).[1] Google –   Maps The city is given this name by Saint Farid.It is said, once Saint Farid having ablution on the bank of the River Sutlej,one local man told Saint this water is unclean and place is dirty then Saint Farid replied to him "no its clean water and place' in local language "Pak Pattan"Pakpattan is the famous district of Province Punjab, also known as the city of saints. Many Muslim sofi saints worked here for the glory of Islam. Other then Muslims, Sikh spritual leaders also did meditation in this region. The old name of pakpattan was Ajodhan.[2] pakpattan- dc.lhc  
| Title | Description |
| --- | --- |
| Information | |
| Location: | Pakistan |
| In Urdu : | پاکپتّن‎ |
| City Council: | Government of Punjab |
| Type: | Capital city of the Pakpattan District |
| Local Language Name: | Urdu,Punjabi |
| Province: | Punjab |
| Coordinates : | 30.345°N 73.385°E |
| District: | Pakpattan District |
| Region: | Punjab |
| Elevation: | 156 m (512 ft) |
| Language | |
| Official Language: | Urdu |
| Native Language: | Punjabi |
| Other Languages: | Urdu.Punjabi.English |
| Government | |
| Government Type: | Government Of Punjab |
| District Coordination Officer: | District Co-ordination Officer Under Provincial Government |
| Area | |
| Total Area: | 821.11 km2 (317.03 sq mi) |
| Population | |
| Total Population: | 1,584,285 (2010) |
| Time zone | |
| Time zone: | PST (UTC+5) |
| Codes | |
| Postal code: | 57400 |
| Dialing code: | 0457 |
| Vehicle registration: | Three letters beginning with P and random four numbers |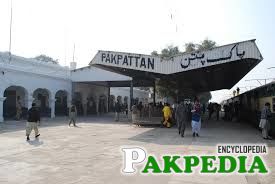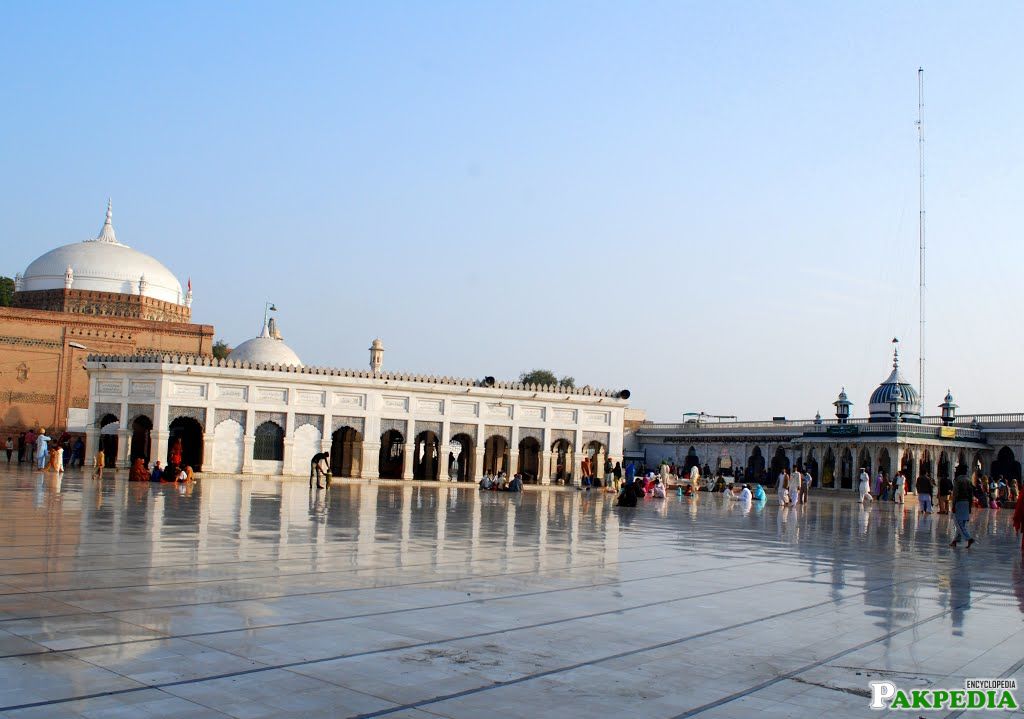 About
History
In 997 CE, Sultan Mahmud Ghaznavi, took over the Ghaznavid dynasty empire established by his father, Sultan Sebuktegin, In 1005 A.D. he conquered the Shahis in Kabul in 1005, and followed it by the conquests of Punjab region. The Delhi Sultanate and later Mughal Empire ruled the region. The Punjab region became predominantly Muslim due to missionary Sufi saints whose dargahs dot the landscape of Punjab region.The fort defending the city was once captured by Seb¼ktegin in 97778 and by Ibrahim Ghaznavi in 1079-80.[3] Imperial – Gazetteer The town was besieged by Shaikha; the Khokhar, in 1394, and in 1398 was visited by Timur, Mughal Emperor who spared much of the inhabitants that had not fled, out of respect for the shrine of the saint Hazrat Baba Farid. The old name of Pakpattan was Ajudhan. In 997 CE, Sultan Mahmud Ghaznavi, took over the Ghaznavid dynasty empire established by his father, Sultan Sebuktegin, In 1005 he conquered the Shahis in Kabul in 1005, and followed it by the conquests of Punjab region. The Delhi Sultanate and later Mughal Empire ruled the region. The Punjab region became predominantly Muslim due to missionary Sufi saints whose dargahs dot the landscape of Punjab region.During British rule, Pakpattan Town was the headquarters of the tehsil of the same name in the Montgomery District, 29 miles south-east of Montgomery station on the North-Western Railway. The municipality was created in 1867, the population in 1901 was 6,192. During the ten years ending 1902-3 the income averaged Rs. 7,200, and the expenditure Rs. 7,000. The income in 1903-4 was Rs. 8,400, chiefly derived from octroi; and the expenditure was Rs. 7,300.[4] Pakpattan – Imperial
Commercial importance
Pakpattan is a town of some commercial importance, importing wheat, cotton, oilseeds, and pulses from the surrounding villages, gur and refined sugar from Amritsar, Jullundur, and the United Provinces, piece-goods from Amritsar, Delhi, and Karachi, and fruits from Afghanistan. The exports consist principally of cotton, wheat, and oilseeds. The town has a local manufacture of silk lungis and lacquer-work. It contains a vernacular middle school and a dispensary. From 1849 to 1852 it was the headquarters of the District.Pakpattan is also quite famous throughout South Asia, for a number of Sufi shrines, of which the most renowned is that of Hazrat Shaykh Farid ud Din Ganj Shakar, of the Chishti Order. It is venerated equally by Muslims, Sikhs and Hindus.[5] Commercial importance 
Groo Nanak also visited here
The great saint sofi Baba Groo Nanak of Sikh faith also visited here. The Baba Faried ud din qutab (Al Masood) also stayed here for the preaching of Islam, By the virtue of his preach and his great deeds, thousands of local population (Hindus) of his time accepted the teachings of Islam. Still the Mureedin of Baba Farid comes from all over the sub-continent and many came and pass through the Bab-e-Baheest (Just a local ritual of passing through the gate in Pakpattan). Near the Pakpatan, Mlaka Hans is situated where Punjabi philosophar and known poet all over Punjab, Warris Shah wrote his famous book of love story "Heer Waris ShahPakpattan – the name is enough to start the travelers, cautiously curious and devoted faithful dreaming.[6] Groo Nanak also visited 
Original citadel of Pakpattan
Already the magic words like sultans and saints are stirring in the head. Let your gaze slip over the dhaki – original citadel of Pakpattan – and the town will suddenly appear. The antiquity is its own message: the town is heritage, and heritage permeates the town.Enter the once walled inner-city through one of the existing gates and you will find yourself in archetypal form of an ancient town – crooked and narrow streets, dense housing, intricate woodwork on Jharokas, bay windows and doors. So many historic cities have developed losing much of their original character in the process during modern times, but Pakpattan has survived remarkably in tact.It is the entire urban fabric of the place that is historic. Though, the major portion of the fortification wall has disappeared. At places, the wall has even been utilized as a part of the residences. Four gates (Shahedi, Rehimun, Abu and Mori) have survived out of six but they are all crumbling. Now extensive suburbs stretch from the foot of the wall all around.[7] Original citadel of Pakpattan 
Etymology
Word Pakpattan is made of two words PAK and PATTAN which means clean dockland (Pattan meaning dockland or place where boats and ships ).According to Imperial Gazetteer of India,from a very early date it was a place of importance, as the principal ferry across the Sutlej River and the meeting-place of the great western roads from Dera Ghazi Khan and Dera Ismail Khan.It is said that in old times once Saint Farid was having ablution at the bank of Sutlej River and a local man told Saint Farid this area is dirty and water is not clean, then Saint Farid replied "no its a clean water and area' in local language a word Pak Pattan. Once Pakpattan was situated at River Sutlej, as other world cities flourished on the banks of rivers. By the passage of time Sutlej River has changed its course and now flowing three miles away from today's city areas.[8] Etymology –  Etymology 
Agriculture
The Pakpattan District is known for the fertility of its soil and most of the population of Pakpattan district makes a living on agriculture. The main crops are wheat, rice, cotton, maize (corn), sugar cane, etc. The primary fruits and vegetables that are harvested are mango, guava, carrots, potatoes, oranges and okra.[9] Information – blogspot
Language
According to the 1998 census, the predominant fist language[10] Pakpattan.- Census is Punjabi, spoken by 95.9% of the population, followed by Urdu with 3.7%. 17 Haryanvi, also called Rangari, is spoken among Ranghar, Rajput, while the Meo Rajputs have their own language which is called Mewati.Punjabi is the native spoken language [11] Explorer – pakistan but Urdu is also widely understood. Haryanvi also called Rangari is spoken among Ranghar, Rajputs. Meos have their own language which is called Mewati.
Educational Institutes
Govt. Girls High School, Pakpattan
Govt. High School (for Boys), Pakpattan
Govt. Faridia Post Graduate College
University of Lahore(Baba Farid Campus)
Allama Iqbal Institute Of Management Sciences (AIMS)
Virtual University of Pakistan(Pakpattan campus)
Punjab College(Punjab Group of Colleges)
Pakpattan Poly Technical (Techinal College)
Faran School System Pakpattan
Current Conditions
Nowadays Pakpattan is one of the poorest/non-industrial areas in the region. The only big industry is one Sugar mill that is called "Itefaq Sugar Mills' which employes some dozens workers from Pakpattan and surrounding areas. Most of city is unplanned and un-urbanised. Small houses and unpaved roads, full of pitfalls are its symbol of the day. There is no any intercity transport system, only transportation is by Rickshaw (Qinqi rickshaw). Before the advent of rickshaws, transportation was done by horse drawn carriage called Tanga. Once there was a big industry of Tonga's and its accessories developed in the city area and hundreds of the workers were employed by this industry. Once Pakpattan was recorded as a city with most Tanga Carriages in the country. Now only few Tanga carriages can be seen on the roads. Today most of the people are employed in shopkeeping business. Old city area called Dhaki has old and unique designed houses with carved work on its doors, and small and narrow streets. There is no any modern housing colony or urbanised housing structure in city. A small Public Library is run by Local Municipal Committee with few hundred books. A few year back, there was a big Public library that had thousands of books, was destroyed by lack of Municipal Authorities' interests. Pakpattan is situated at the borders of the south and north Punjab. It is the last district of south Punjab and start of north Punjab. Local language is Punjabi and its accent is nearer to Lahore accent but has some Saraiki impression as well. People are courteous and hospitable. A small Christian community also lives here and a small Protestant Church is as well there. Most of the Christian community is employed in sanitory department of local Municipal Committee.[13] Current Conditions
Politics
Pakpattan proved barren in the field of politics. It could not give birth to any significant national political leader except some turncoats.Some local politicians are Ghulam Muhammed Maneka, Ch.Javed Ahmad Advocate, Dr.Farrukh Javaid, Ghulam Farid Chisti (Late) and Manzoor Wattoo,Mansab Dogar.Pakpattan remained under the heavy influence of the local Gadi/Sajada Nasheen Of Shrine Baba Fareed, for centuries. These Gadi/Sajada Nasheen's were mostly bogeymen and worked as agents of the rulers from Mughals to Britishers. But all of these rulers, kings and government executives had respect for the Saint Fareed. Many of them visited the shrine, and given charity and lands for shrine. King Balban and Mughal King Akbar along with his son came themselves. Sikh ruler Ranjit Singh had much respect for the Saint Fareed and always was sending money and gifts for shrine and its caretakers. Mian Nawaz Sharif (Ex. Prime Minister) and Benazir Bhuto (Ex. Prime Minister), Musharaf (Ex. President of Pakistan) also visited the shrine of Baba Farid ud Din Ganj-e-Shakar.[14] Politics –  Politics 
Eatery Food Hotels Resturants
Pakpattan is also home of milk and Butter (Desi Ghee). Neeli Bar cows are famous all over the world for milk production. Sweets made of desi ghee are the speciality of this city. Pukoorian, a dish (made of corn flour), is widely liked in the area and is famous all over the country for its great and novel taste. There is a special sweet called Tosha which is only found in Pakpattan and it is very tasty. There is no any fine resturant or eatery place in the city area except a some average resturant cum hotels such as Mehran Hotel, and Farhan restaurant.
Government Offices
Because of district headquarters, all major government offices located there such as District & Sessions Judge courts and its offices, District Co-ordination Officer and its offices, District Police Officer and its Offices, District Nazim, High ways Deptt.,District Health Officer,District Education Officer and branches of major banks such as Habib Bank, UBL, National Bank of Pakistan, Bank Alfalah, MCB, Allied Bank as well.[15] Government Offices 
District Bar
Pakpattan has a very reputable bar in the country. It has given the birth to many famous lawyers. There is a grand Bar room and law library, adjacent to lawyers offices.Around 400 lawyers including some ladies are members of the District Bar Association,Pakpattan.
Markets and Bazaars
There are many business marktes and bazars such as Shaheedi Bazar, Sahiwal Road, Dargah Bazar, Mandi Bazar etc. Shaheedi Bazar is one of the busiest business centre where clothes, jewellery and shoes shops are in abundace.[16] Markets and Bazaars 
Festivals urs and mela
In Pakpattan and surrounding areas many urs and mela(s) are celebrated every year such as urs of Baba Farid and mela of Chan pir etc. Urs of Baba farid attracts more than 500,000 people every year between 1st to 10th of Moharram (Islamic month of Hijri Calender), so is the case with mela Chan pir which is held every year in the beginning of summer in the outskirt of Pakpattan, at Chan pir (Located in south side of city about 3km far where shrine of Chan Pir and Sakhi Ghulam Qadir. The village is named Chan Pir or Basti Sakhi Ghulam Qadir).