Dera Ghazi Khan , is a geographically central city of Pakistan at the junction of all four provinces of Pakistan. The city is head quarter of Dera Ghazi Khan Division, which consists of the Dera Ghazi Khan, Rajanpur, Muzaffargarh and Layyah districts. Presently there are four revenue sub-division or tehsils of Dera Ghazi Khan District i.e. Dera Ghazi Khan Tehsil, Taunsa Sharif, Kot Chutta , and a tribal belt/political area spread along with western side of the district.[1] dgkhan – gop.pk Dera Ghazi Khan is located near the center of Pakistan, in Punjab Province. Due to its location, it was once proposed as the capital of Pakistan. It has beautiful and unique landscape including the Indus River, Green Fields, Pachad Desert and the Sulemaan Mountains.The Delhi Sultanate and later Mughal Empire ruled the region. The Multan region became predominantly Muslim due to missionary Sufi saints whose dargahs/shrines dot the landscape of Punjab region. The city was founded in 1476 on the western bank of the Indus River and named after Nawab Ghazi Khan Mirani, son of Nawab Haji Khan Mirani, a Balochi chieftain, who had declared independence from the Langah Dynasty Sultans of Multan. Together with two other Deras, Dera Ismail Khan and Dera Fateh Khan, it gave its name to Derajat. After the decline of the Mughal Empire, the Sikh invaded and occupied Dera Ghazi Khan District. The Muslims faced severe restrictions during the Sikh rule. During the period of British rule, Dera Ghazi Khan district increased in population and importance.[2] History – gop.pk
| Title | Description |
| --- | --- |
| Information | |
| Location: | Pakistan |
| Name: | Dera Ghazi Khan |
| In Urdu: | ڈیرہ غازی خان |
| City Council: | Government of Punjab |
| Nickname: | Ghazi Khan |
| Type: | Central city of Pakistan |
| Local Language Name: | Punjabi,Urdu |
| Province: | Punjab |
| Coordinates : | 30°03 |
| District: | Dera Ghazi Khan District |
| Region: | Punjab |
| First settled: | 1910 |
| Founded by: | 1474 |
| Website: | http://dgkhan.gop.pk/ |
| Union councils: | 2 |
| Language | |
| Official Language: | Urdu |
| Native Language: | Punjabi |
| Other Languages: | Urdu.Punjabi.English |
| Government | |
| Government Type: | Government Of Punjab |
| Population | |
| Total Population: | 190,542 (1998) |
| Time zone | |
| Time zone: | PST (UTC+5) |
| Summer (DST): | +6 (UTC) |
| Codes | |
| Postal code: | 32200 |
| Dialing code: | 064 |
| Vehicle registration: | Three letters beginning with D and random four numbers |
History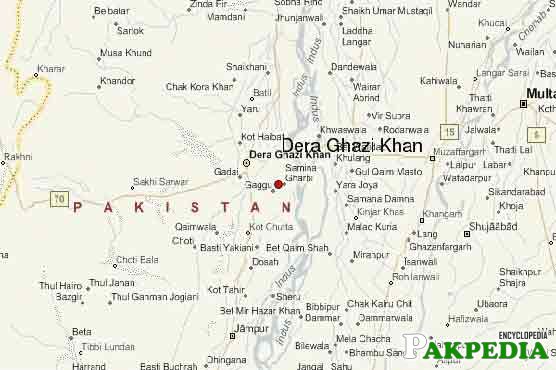 British era
Derajat eventually came into the possession of the British Raj after the Sikh War in 1849 and was divided into two districts: Dera Ghazi Khan and Dera Ismail Khan. General Courtland was appointed as first Deputy Commissioner of this District. Presently there are four revenue sub-division or tehsils of Dera Ghazi Khan District i.e. Dera Ghazi Khan Tehsil, Taunsa Sharif, Kot Chutta , and a tribal belt/political area spread along with western side of the district. Following flash floods in 1908 which partially destroyed the original city, in 1910, the present-day city was established around 10 miles (16 km) away from the old town near Drahma.The new town was planned in a grid plan, consisting of 66 city blocks with wide roads. Each alternative street join the main street of block to form chowks or town squares for social gatherings, and each block has two such chowks (northern and southern). The town suffered decrease in population due to the move- in 1909, there were 23,731 inhabitants, whereas in 1911 there were 18,446. In the year 1913, the Municipal Committee came into existence. At that time, the area of the town was very small. Physical growth continued and now the area was about 4 square miles (10 km2). During British periods, canals were dug in the region. Dera Ghazi Khan is in the province of Punjab.The predominantly Muslim population supported Muslim League and Pakistan Movement. After the independence of Pakistan in 1947, the minority Hindus and Sikhs migrated to India while the Muslims refugees from India settled down in the Dera Ghazi Khan.[3] Information – archive
Post-independence
After the independence of Pakistan in 1947, the minority Hindus and Sikhs migrated to India while many Muslims refugees from India settled down in the Dera Ghazi Khan District. Many Hindus and Sikhs from Dera Ghazi Khan settled in Delhi found Derawal Nagar along with the migrants from Dera Ismail Khan.  Similarly, Muslims from different parts of India  to Pakistan and settled in different cities of Pakistan including Dera Ghazi Khan. This further increased the cultural diversity of Dera Ghazi Khan.[4] Independence – history The major growth of the town has taken place since 1947. The town has largely spread to the north and south; it could not expand to the west due to the danger of flooding torrents such as affected the town in 1955. However, growth has also taken place in the eastern side. Almost all of the new developments in north and east of the planned town are haphazardly built. The development in the town from 1947 to 1958 remained slow, due to lack of transportation and communication facilities. Only a boat bridge on the river Indus in winter season and steamer service for summer season linked Dera Ghazi Khan with the rest of the Punjab. The Taunsa Barrage on the river Indus was completed in 1953 and the pace of development has since gained momentum. Keeping in view the rapidly increasing population, district D. G. Khan was further divided in two districts in 1982 i.e. Dera Ghazi Khan District and Rajanpur District. During the last 5 years, 72 industrial units were established. The Ghazi Textile mills are an attempt to establish a heavy industrial complex to raise the economic base of the town.[5] Colonies – NCR Tribune
Geography
Climate
Dera Ghazi Khan is located at 30'03″N and 70'38″E. The overall climate of the city is dry with little rainfall. The winter is relatively cold and the climate is hot during the remaining part of the year, but it is very hot in summer. The temperature during summer is usually about 115 °F (46°C), while during winter season the temperature is as low as 40 °F (4 °C). The prevailing wind direction is North-South. Due to the barren mountains of Koh- Suleman (Sulaiman Mountains) and the sandy soil of the area, windstorms are very common in the summer. During summer, the temperatures are generally amongst the highest in Pakistan. Fort Munro, located on the edge of Punjab Province, has relatively cooler weather. In winter, scattered snowfall is also reported in this area.[6] www – dgkhan
Floods
The area is also vulnerable to floods from the Indus River in the East and from the Rod Koh coming from Sulaiman Mountains in the West. In 1957 flood water entered in the city and almost after 60 years second time in history water entered in the city on 9 September 2012 due to heavy rains in Koh-e-Sulaiman.[7] Floods – archive
Parks of the City
Nawaz Sharif Park is at Quetta road near Virtaul University Campus with a beautiful scenery and covering vast area. Its exact location is between the grid station and the cricket stadium. Its main gate is on Dera-Gadai road in front of the Model Town.
D.C. Garden has an area of 81 canals and 3 marlas. Divisional Public School and Wild Life Park was also the part of D.C. Garden. Although it is an administrative and residential area, it has natural greenery. Dera Ghazi Khan administration has made the Dera Ghazi Khan officers club inside the D.C. Garden, where the officers play games such as squash, badminton, and tennis. Government employees, advocates, politicians, journalists and local people are also members of this club.
Company Bagh is called the second garden of the city. The East Indian Company made the company bagh in every district. This is known as company bagh. Its area is 162 canals and 12 Marlas. In 1948 a friends club was made in this area. Company Bagh is used to play football, hockey, volleyball, badminton and table tennis, amongst other games
Ghazi Park is a decent sized theme park, and is the largest theme park in the city. It is located at the North-West outskirts of Dera Ghazi Khan. Exhibitions are arranged through part of the year since 1999, which attract many more visitors than on other days when there are usually only a handful. The exhibitions are held between February and March.
Festivals
Sangh Mela, is a Vaisakhi fair during March and April, is celebrated in Sakhi Sarwar by people coming from Jhang and Faisalabad for centuries. This festival is celebrated by Hindus and Muslims especially at the time of wheat harvesting. In some places it is known as Basant. Throughout history, a large number of followers coming from different religions became the followers of Sakhi Sarwar. Max Arthur Macauliffe, a colonial office appointed in Punjab, observed in 1875 that not only Muslims but Hindus also visited the shrines during the . In the 1911 census of India, 79,085 Sikhs reported to be the follower of Sakhi Sarwar.[8] Vol. XIV, – Punjab
Education
Universities
The government has established a state-of-the-art Ghazi University in Dera Ghazi Khan since 2011 near airport.For this purpose 1000 acre land has been acquired for next 50 yeares requirement of the university.The foundation stone for Ghazi University and Ghazi Medical College was laid in December 2011.[9] The Express – Tribune The Govt. Postgraduate College,FAU Agriculture College and Ghazi Medical College will work under this university.Vice Chancellor of Islamia University Bahawalpur Dr.Mukhtar Ahmed has given additional charge of Ghazi University v.c since 11.06.2014. The Virtual University of Pakistan has established its campus here since 2004 which is providing both campus based and distance learning education primarily based on IT tools and technology. Another prominent educational organisation is the Allama Iqbal Open University campus. The government has approved Akhuwat University of Engineering and Technology in Dera Ghazi Khan since 2012.[10] "Cabinet – approves The university will be established on 351 kanals and will offer courses in Engineering, Veterinary Science, Computer Science, Information Science, Communication Science and Management Science.
Ghazi Khan Medical College
Ghazi Khan Medical College: The government decided to establish a medical college in Dera Ghazi Khan to improve the facilities in southern part of the province.[11] Resource – Pakistan Ghazi Khan Medical College classes were started in 2010 in Q.M.C Bahawapur. The foundation stone for Ghazi University and Dera Ghazi Khan Medical College was laid in December 2011.[12] foundation   The Express Classes shifted from Q.M.C Bahawalpur to Ghazi Khan Medical College in March 2012. Niaz Ahmed Baloch was appointed as a first principal of the Medical College. The Medical and Dental College has been developed as a state-of-the-art medical institution imparting accredited and approved medical education and research. The D.H. Hospital and Research Institute, which will be a research oriented teaching hospital, will fulfill the requirement of training and research of medical students. The curriculum of the Medical and Dental College will be in line with the PM&DC regulations and international health standards.
Commerce
Government Post Graduate College of Commerce (Urdu: گورنمنٹ پوسٹ گریجویٹ کالج آف کامرس )   is a college in Dera Ghazi Khan city in Punjab state in Pakistan. It is one of the five constituent colleges of Ghazi University. The college offers undergraduate, graduate and postgraduate courses in commerce. It is situated on Block No. 38, Dera Ghazi khan . The college is also known as University Commerce College.
Historical Interesting Placesspan classtooltip-cn ref-link idref-link-13a hrefref-link-dt-13 sup13supaspan classtooltiptextHistorical a hrefhttpdgkhan.dc.lhc.gov.pkPublicPagesHistoryOfDistrict.aspx classexternal-link target_blank Interesting Placesaspanspan
Tomb of Hazrat Sakhi Sarwar
Tomb of Hazarat Sakhi Sarwar was built in the 13th century in Sulaman mountain, 35 km from Dera Ghazi Khan city. This is presently in a small village named Muqam. Thousands of people from all over subcontinent come here on the Annual Celebrations of Birth of Sakhi Sarwar in March every year. It is a unique building of Mughal architecture.
Tomb of Ghazi Khan
The Tomb of Ghazi Khan was built in the beginning of 15th century. This seems like the tomb of Shah Rukn-e-Alam in Multan. This is present in the Mulla Qaid Shah Graveyard. Its main gate is from eastern side and two small doors are in side of north and south. In it there are 11 graves, which are of the family of Ghazi Khan. Every side of the tomb is 13 feet (4.0 m) and 3 inches (76 mm) from inner side and which are conical minarets from out side. Its circular distance from the earth is 17 feet (5.2 m) and half. The half diameter of the conical minarets remains 34 inches (860 mm) on the highest of 19 feet (5.8 m). There are 28 ladders from northern side in the internal side. The Graveyard came into being due to the tomb of Ghazi Khan. This is the oldest building of the city Dera Ghazi Khan.
Church Yard
In front of central jail there is a unique church yard which is situated in the walls on its four sides. This church yard could not spread because of minority of the Christian in the local area. This was came into being in the year 1910.
Shah Bag Mosque
After the destruction of the old Dera Ghazi Khan when the people of Dera Ghazi Khan shifted in the new city, this was the first Mosque where they performed their first Jumma Namaz. It is in the Block No. 7. In the city people performed their first Jumma Namaz behind the Mutawali of the Mosque named Syed Bagh Ali Shah. So it named after the Imam of that time.
Jamia Masjid
This is the biggest Masjid of the city. Which was constructed in year 1916. There is a large pool in the Masjid which is used for making ablution. It has a big hall whose length is 100 feet (30 m) and width is 45 feet (14 m), in which 3,000 persons can say their prayer at one time. Its courtyard is also wide in which 10,000 men can say their prayer. The minarets of the Masjid are 85 feet (26 m) high in which there are 100 ladders.
Fort Munro
Fort Munro is a hill station in Dera Ghazi Khan which lies on the Quetta Road at 85 km from Dera Ghazi Khan city in the Sulaiman Mountains Range. Its altitude is 1800 meters (6,470 feet) above sea level and attracts many people for short stays during the summer. It is also a good picnic point. Many school trips and families use to go for recreation. Families from south punjab cities like Multan, Muzzafar garh, Rajan pur, Jampur Layyah, Taunsa, Kot addu, Lodhran, Bahawalpur and Kot Mithan make trips to this beautiful hill station during summer. In summer when temrature reaches 48 degree in south Punjab, people rush to this cold place where temperature remains 20 degree in summer.
Taunsa Barrage
Taunsa Barrage is situated in the northern side of the city Dera Ghazi Khan at the distance of 60 km. It is worth seeing place. It is also a good picnic point. Many school trips and families use to go for recreation.