Okara (Punjabi, Urdu:اوکاڑہ), is the capital city of Okara District in the Punjab province of Pakistan.[1] Unions – District The name Okara is derived from Okaan, the name of a type of tree. The city is located southwest of the city of Lahore and Faisalabad is 100 km by passing away Ravi River. It is famous for its agriculture-based economy and cotton mills. The nearest major city to Okara is Sahiwal,formerly known as Montgomery.Okara has the largest storage capacity in Asia and is a fairly large district in Pakistan in terms of population. There are famous Pakistan military dairy farms, especially famous for their cheese, situated in Okara. These farms were established before the creation of Pakistan in 1947. Mitchels farms also are located in the nearest town, Renala Khurd, in the Okara District. Okara's postal code is 56300.
| Title | Description |
| --- | --- |
| Information | |
| Location: | Pakistan |
| Name : | Okara |
| In Urdu : | اوکاڑہ |
| City Council: | Government of Punjab |
| Type: | Capital city of Okara District |
| Local Language Name: | Punjabi,Urdu |
| Province: | Punjab |
| Coordinates : | 30.80909°N 73.447723°E |
| District: | Okara District |
| Region: | Punjab |
| Elevation: | 105 m (344 ft) |
| Union councils: | 10 |
| Language | |
| Official Language: | Urdu |
| Native Language: | Punjabi |
| Other Languages: | Urdu.Punjabi.English |
| Government | |
| Government Type: | Government Of Punjab |
| Area | |
| Total Area: | 4,377 km2 (1,690 sq mi) |
| Population | |
| Total Population: | 1,887,915 |
| Time zone | |
| Time zone: | PST (UTC+5) |
| Codes | |
| Postal code: | 56300 |
| Dialing code: | 0442 |
| Vehicle registration: | Three letters beginning with O and random four numbers |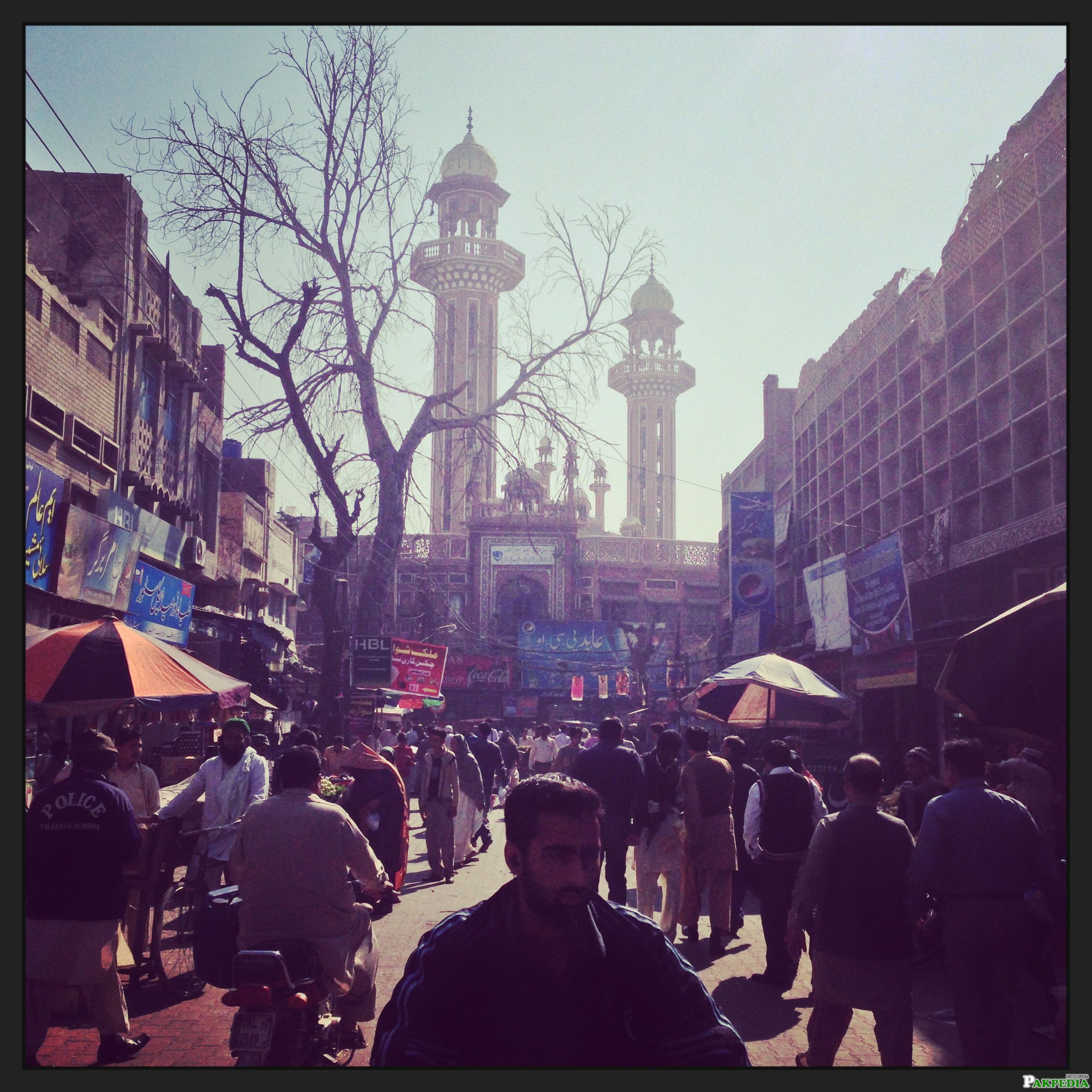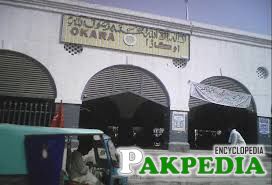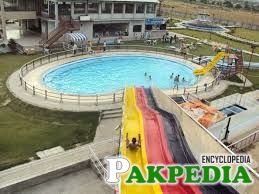 Detail
History
During the period of British rule there was a forest of Okaan where the city has been built, and from this the name of the city was derived.[2] Okara – neglectedDuring British rule, the area was part of Montgomery District and contained a large saltpeter refinery.A large number of textile mills are located in Okara. The predominantly Muslim population supported Muslim League and Pakistan Movement. After the independence of Pakistan in 1947, the Muslim refugees settled in the Okara District. In 1982, the city became the headquarters of the newly created Okara District. Okara has had a railway line since 1892.In 997 CE, Sultan Mahmud Ghaznavi, took over the Ghaznavid dynasty empire established by his father, Sultan Sebuktegin, In 1005 he conquered the Shahis in Kabul in 1005, and followed it by the conquests of northern Punjab region. The Delhi Sultanate and later Mughal Empire ruled the region. The Punjab region became predominantly Muslim due to missionary Sufi saints whose dargahs dot the landscape of Punjab region.After the decline of the Mughal Empire, the Sikh Empire invaded and occupied Sahiwal. The Muslims faced restrictions during the Sikh rule. During the period of British rule there was a forest of Okaan where the city has been built. The city is a relatively new agricultural city. The word "Okara" for this district was actually originated from word "Okan" (a lush green tree with needle like leaves). The tree Okan gave birth to word Okanwali (Land of Okan)which ultimately finalized into Okara.During British rule the area was part of Montgomery District and contained a large saltpeter refinery.[3] Dawn –   Newspaper At independence in 1947, one of the two textile mills that Pakistan got was in Okara. The mill was known as Sutlej textile mill and it was Asia's biggest textile mill at that time but at present it is closed down. In 1982 the city became the headquarters of the newly created Okara District. Okara has had a railway line since 1892.
Infrastructure
Okara have all the basic physical and organizational structures, services and facilities needed and necessary in a city. There are two stadiums of Okara district, in which one of them includes Football ground, Basketball court and Swimming pool for Sports. A new international hockey stadium is being constructed in Renala khurd Tehsil of Okara, which would be completed by 2013. This stadium will develop a strong infrastructure for hockey in the country.There are also many small and considerable big parks for general public. The three main recreational parks are Ladies Park, Bagh-e-Jinnah and District Park.Educational institutes include Education University, Cadet College, Government College for Boy, two Government Colleges for Women. There are also many privately owned colleges and schools, which are nationally recognised, well built, big and their standard of education is also high as compared nationally. The District Public School and College, Okara (DPSC Okara) is a well known institute in the City, province and also the Country. These institutes include Modern science and computer labs, libraries, playgrounds and canteens.There are various numerous public & private hospitals and clinics providing the health services. The popular and well equipped hospitals are District Government hospital, surgical hospital and C.M.H Okara Cantt. There is also a Social welfare health society which is being operated under the Government of Punjab. Every hospital has more than two ambulances. Located in the village of Rehmpur the Rosary Christian Hospital also provides medical services to Okara and surrounding areas.[4] Information – Dawn On 31 May 2005, the Ex-President General Pervez Musharraf inaugurated the Okara Bypass (30.786887° 73.459238°), length of 12.7 km, on GT road (N-5). This project was commenced on 5 September 2003, due to the great demand of the people of the area. It was completed at the cost of 62.817 Crore Rupees. This interchange proved very helpful in the smooth flow of national highway traffic, particularly between Lahore and Multan and to reduce the national traffic in the city. This bypass connects the Karachi-Lahore-Peshawar national highway which is the economic lifeline of Pakistan.
Agriculture
The city of Okara is renowned in producing of Maize and Potato, Okara is known as Pakistan's largest city for production of these commodities.[5] Agriculture – DepartmentOkara District is famous for its fertile lands, peaceful natural environment and green fields of Potato, tomato, sugarcane, wheat, rice and maize crops. Oranges and Mangoes orchards are famous. The area of district Okara is the gold mine for history seekers, spiritual and curious travellers. One can find archaeological remains of different dynasties of prehistory, Indus Valley Civilisation, Persians, Ghaznavids, Sultanates, the Mugal Empire, the Sikh Confederacy and the British Raj.There is a central ridge, in the centre of Okara District, which marks the old river bed of the Beas, and the boundary b/w the eastern and western half of the district. The ridge descends from Kasur, all the way to Chunian, and then Shergarh in Okara. As you go west of the ridge, into Okara & Renala Khurd, the subsoil water is brackish, therefore the area is dependent on canals for irrigation. However, after you cross the ridge east into Depalpur Tehsil, the subsoil water is sweet and good for agricultureOkara District is also famous for the lemon, guava & grapefruit orchards, belonging to the food processing company, Mitchell's Fruit Farms Limited. The orchard runs for about 6 miles, along the LBDC, from Renala Khurd all theI way up to the Okara bypass.
Education
Schools
Government MC Model High School,Government Islamia High School(City Campus),Government Islamia High School(New Campus),Government CMR High School,Government Sutlej High School
Colleges
Government Degree College Okara,Suffa Educational Complex School and College Okara,DPS School and College Okara,Punjab College Okara.Falcon Public School Okara.Superior College Okara.Cadet College Okara[6] Okara – cco.edu.
Others
Culture
It is also known for the wide variety of culture reflecting the traditions and customs of the area. Melas (fairs) in the month of 'Saawan' are notable among these traditions where different types of games are played on the drum-beat and shops of sweets and toys etc. are decorated. The population mostly relies on agriculture as their main source of livelihood, although a number of people work in factories and offices as well. Dairy and fruit products are the identical mark of the area.There are many tribes aand clans settled in the Okara District. The majority of the population of Okara are Punjabi speaking Muslims. The main tribes and clans include: Jats, Rajputs, Shaikhs, Lodhis, Kharals, Kamyanas, Wattus, Kambohs, Khanzadas, Noons Arains and the Chaudhary are prominent. However, the Jat population is less compared to other communities.There are many Syed clans settled in the district, who have been in the area for a long time, and have a great impact & history in the district. The main Syed families are the Kirmanis of Shergarh, the Gilanis of Hujra Shah Muqeem, Satghara, Shaikhu and Depalpur, & the Mashdis of Mustafabad. All these towns are in Depalpur Tehsil except Satghara Sharif and Shaikhu Sharif, these are in Okara Tehsil. Their ancestors were Sufis, all of whom migrated from Iran, and converted many tribes of the area to Islam. They are revered as saints by the people of the region, and thousands attend the respective shrines daily. The ancestor of the Saadat of Shergarh, Hazrat Daud Bandagi, a renowned follower of the Qadiri Order is revered by millions all around Punjab, and his urs is attended by many in March.The ancestor of Sadaat Gilani of Depalpur and Satghara, is Muhammad Ghaus Bala Peer, a renowned Shaikh Ghousiyah Qadiriyyah Order is revered by unaccountable people throughout Pakistan and India. The town of Balakot in Azad Kashmir is named after him. His Urs is on first Naochandi Thursday of every lunar month, it is a miracle of the time. His shrine is near Satghara, about 8 km and 10 to 15 minutes journey on own car or motor bike.The Raos, are a Rajputs tribe, after independence of Pakistan, the East Punjab/Haryana Rao families have settled down mainly in the districts of Okara, Lahore, Sheikhupura, Bhakkar, Bahawalnagar, Rahim yar Khan District (specially in Khanpur tehsil), Layyah, Vehari, Sahiwal and Multan of Punjab. They speak a Haryanvi dialect which is often called Ranghari. In districts of Okara, Pakpattan and Bahawalnagar which have the densest concentrations of Rao, they consist to be brave, with many serving in the army, police and Civil Services. They maintain an overarching tribal council (panchayat), which deals with a number of issues, such as punishments for petty crime or co-operation over village projects.
Hazrat Karmanwala Sharif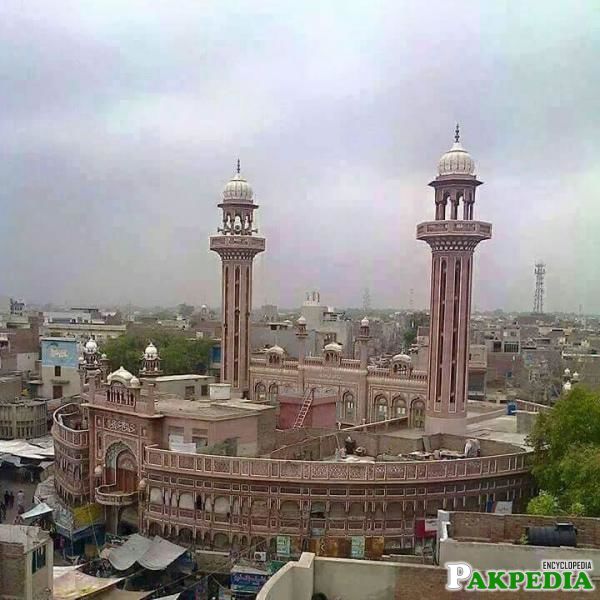 The Sufi dargah noble mausoleum (mazar-i-sharif) (also formally known as "Darbar Mubarak") of Syed Ismael Ali Shah Bukhari (formally: Ghose-e-Zaman Hazrat Sahib Pak Karmanwaleh), is situated on GT road Okara in the direction of Renala Khurd leading to Lahore. This mausoleum is formally known as 'Aastana Alia Hazrat Karmanwala Sharif'. Along with the dargah (tomb) or mazar-e-sharif (shrine), there is a main Mosque, Masjid, both of which were constructed under the supervision and according to the guidance of Hazrat Syed Mohammed Ali Shah Bhukari Naqshbandi Sahib, in honour of their late mentor, master, spiritual and biological father, Hazrat Syed Mohammed Ismael Ali Shah Bhukari, Naqshbandi Sahib, who is respectfully referred to as "Hazrat Sahib Pak Karmanwaleh".Date of Urs: The main Urs Mubarak is held annually on 26-27–28 February, and on & 10,11,12 of Islamic month of Rabi-Ul-Awal Sharif, annually, Salana (yearly) Khatam Sharif of Ahl-e-bait on 10 Muharram (every year) and program of AITEKAF on every last 10 days of Ramzan al Kareem.Wisaal Mubarak: Syed Muhammad Ismael Ali Shah Bukhari Naqshbandi Sahib, known as Hazrat Sahib Pak Karmanwala – 27 Ramzan 1385 Hijri, Syed Usman Ali Shah Bukhari Naqshbandi Sahib – 15 July 1978 and Syed Mohammed Ali Shah Bhukari, Naqshbandi sahib, 1st Sajjada Nasheen 10 June 1993[7] Info – karmanwala
Language
The predominant first language[8] tongue – definedaccording to the 1998 census was Punjabi, spoken by 96% of the population, while Urdu accounted for 3.5%[9] Stat – pakpost The national language Urdu and official language English is taught in all schools. The varieties spoken are standard Punjabi (Majhi) and Jhangvi (Rachnavi) dialects but the other major language is Haryanvi and Ranghari.The majority of the population of Okara are Punjabi speaking Muslims. The main tribes and clans include: Jats, Rajputs, Shaikhs, Lodhis, Kharals, Kamyanas, Wattus, Kambohs, Khanzadas, Noons Arains and the Chaudhary are prominent. However, the Jat population is less compared to other communities. Raos, Kharals and Wattus, and Arains are major political hubs in Okara. The major politician in Okara is Rao Sikandar Iqbal who was the former Defence Minister of Pakistan, Okara city was established in the nineteenth century by the British Raj.