Murree is situated in the Rawalpindi district; Punjab province, Pakistan. It is 50 km from Islamabad, the capital, and 437.9 km from the provincial capital, Lahore. It is well-known for its spectacular beauty and is the most visited tourist destination in Pakistan and is also known as Malika-e-Kohsar or Queen of Hills.
The town is surrounded by snowcapped mountains, lakes, and sky-high hills. The city is also the hometown of many notable people such as politicians, artists, sportspeople, military officers, and so on. The article carries every information about the city, including Murree History.
| Title | Description |
| --- | --- |
| Information | |
| Location: | Pir Panjal Range within the Murree Tehsil, Rawalpindi District in Punjab, Pakistan |
| In Urdu: | مری |
| Nickname: | The White City |
| Type: | city |
| Local Language Name: | Pasto,Urdu,Punjabi, Paharai |
| Murree divided into two cantonments: | Murree Cantonment and Murree Hills Cantonment |
| Colleges: | Lawrence College Gora Gali, Cadet College Lower Topa, Cadet College Murree Pindi Point, Army Public School Murree Christian School |
| | |
| Famous Foods: | Apples |
| Total Area: | 434 sq kilometer |
| Climate: | Spring, Summer, Autumn, Winter |
| Total Number of Villages: | 92 Villages |
| River in Murree: | River Jehlum |
| local language: | Marrhi |
| Development: | 1851 |
| Number of Union councils: | 1 |
| Tehsil: | Murree |
| District: | Rawalpindi |
| Province: | Punjab, Pakistan |
| Elevation: | 2,291 m |
| Five Areas: | Phulgran, Charhan, Dewal, Kotli and Karor |
| Government MNA (NA-50): | Shahid Khaqan Abbasi (PML-N) |
| Coordinates : | 33.9042°N 73.3903°E |

Murree History
There are different traditions about the origin of its name. Some historians relate it to the word Marrhi which means in the local dialect, and others link it to the Turkish language word Marg which means a Meadow. Turkish had a significant cultural influence in this region, and there are still several words in the local language that have a Turkish origin.
There is another theory regarding the name of this town, and that relates it to the name of the Virgin Mary; Hazrat Mariam, the mother of Hazrat Essa, Jesus Christ (peace be upon them). Some people consider that she is buried at Pindi point. The British started to spell it as Murree in 1875.
Pindi Point
In the Punjabi language, Mari means the highest point or high place that refers to the Pindi Point, which is one of the highest places in the surrounding areas. There is no documented and substantial evidence that can prove its name before the British Raj in 1846. Before the British occupation, Afghan and later Sikhs were reigning in this region.
Tehsil Murree was constructed in 1850 as a sanatorium for British soldiers. It was designated as the colonial-Punjab Government's summer headquarter for two years From 1873 to 1875. The city became a popular hill station even before the partition of the sub-continent.
The British officers and their families used to visit here for vacations and access to the region was restricted to locals. Since 1947, Murree has retained its place as one of the most spectacular tourist spots.
Geography
Geographical coordinates of this city in the Himalayan foothills are 33°54′15″N (latitude) and 73°23′25″E (longitude), and its elevation above sea level is 7516.404 ft. (2,291 m). The total area of the Tehsil is 434 km2 (269.67 mi2) in length.
Murree Climate
The economy and the local life of the city heavily depends very much on its weather conditions. It has all four seasons during the year. Spring begins in March and finishes in the middle of May. During this time, the maximum temperature varies between 12°C and 20°C, and between 4°C and 10°C, at least.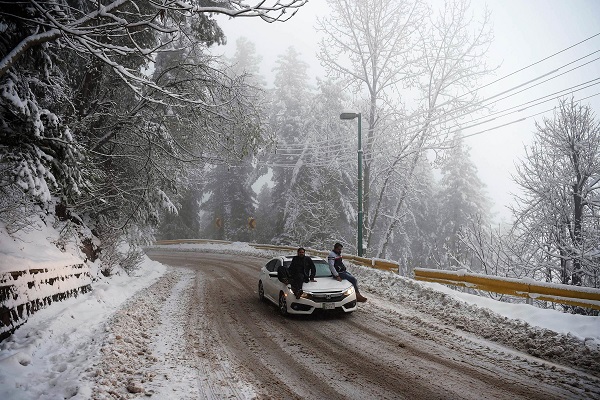 Rain and Hail Storms
In this place, this season causes abundant rain and hail storms. A splendid view is offered by the fruit trees loaded with flowers. Summer begins in mid-June and lasts until the end of August. During this season, the lowest temperature is between 13°C and 16°C, while the highest temperature is 20°C to 25°C.
It is the best season in the region, and during this season, most people visit the city. Autumn begins with September's arrival and lasts until winter starts in early December. During this season, temperatures remain mild. During autumn, a clear sky could be seen in the area when one can enjoy complete views of the mountains around without cloud hindrance.
Heavy Snowfall
In December, winter begins and generally brings heavy snowfall. During most of the season, Murree witness snowfall along with its surroundings. Mostly the temperature varies below the freezing mark. The average yearly rainfall and snowfall are 904 mm (75.0 in) and 62.6 inches, respectively.
Murree Population
The city is hometown to 25,816 people, according to the 2017 census. The population of the district is 233,471 with a population density of 608.6/km2 (378.16/mi2).
Murree Culture
The city has a blend of culture because of the Inflow of tourists. People are friendly and guide tourists about the places to visit. They offer Kashmiri Tea to their visitors. They celebrate all festivals and festivities. Urs of Sarkar Morvi, Pir Nazir Ahmed, and Muhammad Qasim Sadiq are celebrated devotedly.
Unlike other Pakistani towns, there is no popular dish here. There are many restaurants, hotels, and multinational fast-food franchises. Being a tourist spot, all types of food is available such as namkeen tikkas, chicken makhani, chicken karahi, Chicken Kashia, chicken Balti,  and barbeque dishes, etc.
Education
Education here is flourishing and it the most literate area in Pakistan with a literacy rate of 69%. Public and private sector educational institutions are increasing. Some of the institutions offering primary, secondary, and tertiary education include:
Cadet College Ghora Gali
Cadet College Murree
Chinar Army Public School & College
Convent of Jesus & Mary
Fauji Foundation Model School
Government Boys High School
Government Girls High School
Islamic Public Schools (IPS)
Lawrence College Ghora Gali Murree
Pakistan Cadet School and College Murree
Pakistan International Public School (PIPS)
St Deny's High School
The Kohsar University
Sports
People are fond of watching and playing:
Badminton
Basketball
Cricket
Football
Hokey
Polo
Table Tennis
Volleyball
Economy
The economy heavily relies on tourism. Every year 25000 – 30000 tourists visit here. The Government is exerting efforts to promote tourism in this region and targeting to earn Rs. 1.0 trillion by 2025.
Industry
Tourism is the primary industry for livelihood, and thousands of people are associated with it.
Agriculture
Murree is famous all over the world for apples. The region also produces fruits such as apricot, cherry, loquat, walnut, pear, pecan nut, and avocado.
Tourism
The city is truly a tourist paradise, and everyone's first choice all over the year. Some tourists prefer to visit here in winter to avoid the crowd and rush.  The chairlift is Murree's most prominent feature to experience. Places worth visiting include:
Ayubia
Bhurban
Ghora Gali
Murree Cantonment
Kashmir Point
Mall Road
Murree Brewery Building Remenants
Murree Hills Cantonment
Nathiagali
Patriata (New Murree)
Pindi Point
Rawat
The Mall Road
Upper Topa and Lower Topa
Murree Languages
The language spoken here is a mixture of:
Local people can also communicate through:
Punjabi
Pahari
Urdu
English
Travel
The city is only accessible by road and is connected with the outer regions through a network of roads. The Islamabad-Murree-Muzaffarabad Expressway, E-75, connects Islamabad with the city. Several transport services such as omnibuses and buses trip for this region from throughout Pakistan to bring and forth travellers and tourists.
The city is not connected with railroads because of its unique geographical terrain. The nearest railway station junction is located at Sangla Hill. There is no domestic airport here. Available air routes to the nearest airports include:  
Rawalakot Airport (RAZ), Rawalakot, 38.3 km
Muzaffarabad Airport (MFZ), Muzaffarabad, 49.2 km
Islamabad International Airport, Islamabad (ISB), 8 km
Murree Postal Code
Postal Code: 47150
Area Code:  0593