Mastung is a town situated in the Balochistan province, Pakistan, and it is the Mustang district's administrative capital. It is 45.81 km from the provincial capital, Quetta. Until 1991, the Kalat district administered the town because it was located in Sarawan, a division of Kalat.
It was designated as a new district on February 18, 1992. The name is a combination of two words of the Baloch dialect Brahvi, Mas (mountain) and Tung (hole). The region is surrounded by magnificent mountains and hole like tunnels in them to pass through. The town is situated at the bottom of the Lack Pass.
When anyone from Quetta crosses the Lack Pass, he passes through a hole-like tunnel before entering Mustang city. Mustang was also named after Khan of Kalat Mir Khudadad Khan Ahmadzai  (1857 – 1893) as Khudabad, but it never became popular. The town is well known for its national parks and apple orchards. This article has every detail about the town, including Mastung History.
| Title | Description |
| --- | --- |
| Information | |
| Location: | Pakistan |
| In Urdu : | مستونگ |
| City Council: | Government Of Balochistan |
| Type: | Capital of Mastung District |
| Local Language Name: | Brahui, Persian,Punjabi (including Hindko & Saraiki dialects), Pashto, Baluchi, Sindhi (In Hindki and Frakhi dialects) and Urdu. |
| Province: | Balochistan Pakistan |
| Coordinates : | 30.3810°N 67.7270°E |
| District: | Mastung District |
| Region: | Balochistan |
| Elevation: | 1,701 m (5,581 ft) |
| Language | |
| Official Language: | Urdu |
| Native Language: | Brahui |
| Other Languages: | Brahui,Urdu ,Engish |
| Government | |
| Type: | Government Of Balochistan |
| Area | |
| Total Area: | 5,896 km2 (2,276 sq mi) |
| Population | |
| Total Population: | 180,000 (2005) |
| Time zone | |
| Time zone: | PST (UTC+5) |
| Codes | |
| Postal code: | 88200 |
| Dialing code: | (+92 843) |
| Vehicle registration: | Three letters beginning with M and random four numbers |

Mastung History
Ruled by Muslims
Mustang is an ancient city. Its documented history dates back to the 7th century. Historians describe that even before Mahmood Ghaznavi (977 AD), this region was ruled by Muslim rulers. It is also narrated in history that before the 7th century Sultan Feroz Dhoh of Delhi was the last Muslim ruler.
This region was later captured and ruled by Hindu Rajas of Kalat, Sehwas from Rai-dynasty of Sindh. In the middle of the 15th century (1530 – 1545), Sehwas lost control, and this region was then ruled by Kamran Khan and made part of the Kandahar Sarkar.
Safavid Dynasty
From 1555 to 1595, the Safavid dynasty ruled Kandahar and its dependencies. Later the Mughal Empire took control of this region. In 1839, the British army attacked and took control of Kalat. Mehrab Khan was the Khan of Kalat (1817 – 1839).
In 1854, an agreement was made between the Khan and the British. Some concessions were obtained by the British, including permission to build railway and telegraph lines across Kalat territory. The treaty lasted until the partition of the sub-continent.
Geography
Mastung Coordinates on the political map is 29.99° N (latitude) and 83.84° E (longitude). The area is 5896 km² in length, 407 m (1335.3 ft.) above sea level.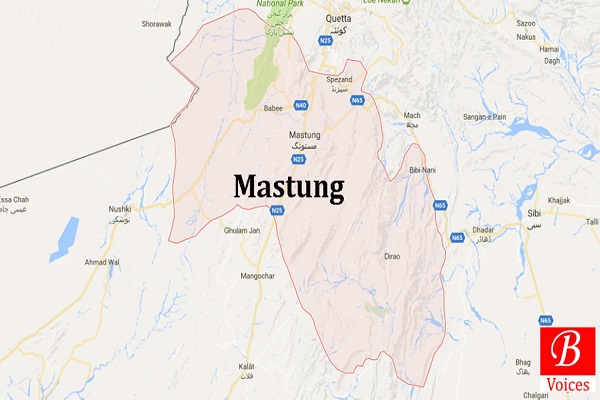 Mastung
Climate 
Due to its geographical location, the climate of the town is comparatively pleasant and observes all weather. During Summer (4.1 months), temperatures may vary from 21.11°C (70°F) to 34.44°C (94°F).
Winters (3 months) are cold when temperatures may drop to -6.11°C (21°F) and rise to 37.22°C (99°F), but typically stays between -2.22°C (28°F) and 34.44 °C (94°F). Average rainfall generally is 28mm (1.1in.)
Population
It is the dwelling place of 266461 individuals with a population density of 45/km2, according to the 2017 census.
Mastung

Culture
The town is a culturally multi-ethnic society. In addition to the local heritage of various Baloch tribes, the cultural influence of Afghanistan and Iran is observed in the region. Each ethnic group has its dialect, cuisine, folk dance, and folklore.
The most significant food include Khadi Kabab (underground barbequed lamb) and Sajji (roasted lamb or chicken filled with rice). Men and women wear traditional long and baggy shalwar-kameez. 
Education
The town is not a typically literate area, according to the study carried out (2017) by Alif Ailaan, a non-profit organization. In the course, data from 141 districts were collected and analyzed. Mustang was ranked at 74 among all 141 communities.
Most of the inhabitants are associated with the agriculture profession. Due to the traditional lifestyle, the literacy rate in the district is slowly improving. Cadet College Mastung is a Military High School for boys. It was established in 1987 to impart quality education (from grade seven to grade twelve) to the underprivileged youth of Balochistan. Since its inception, efforts are underway to educationally bring the region at par with the rest of the country.
Sports
Economy 
Agricultural goods represent a hefty chunk of sales and a source of income. The town is well known for its large supplies of apples.
Industry
Mastung is mostly an agricultural region. Some trade units deal in farming equipment and fertilizers.  
Agriculture
The land and climate support crops such as Barley, Wheat, Sugar Cane, Castor Seed, Mash, Jowar, Sesamum, Rice, Onion, and Maize. The region is also famous for Citrus, Mango, Apple, Banana, Grapes, Pomegranate, Dates, Apricot, Guava, Peach, Pear, Plum, Almond, Fig, Loquat, Chikoo, Coconut, Papaya, and Melons. 
Apple farming is prevalent in the town. In the district alone, Apple orchards produce approximately 70% of the best quality apples grown by the whole country. These fruits are not only consumed in the country but also exported abroad.    
Tourism
The region's beautiful geological formation and its height above sea level make this town a peaceful tourist destination. Locations that must be visited include:
Apple Orchards  

Mustang Valley

National Parks 
Mastung
Languages
A native of this town can speak and understand:
Balochi

Brahui

Dehwari

Pashto

Persian

Sindhi

Urdu
Travel 
National Highways N-25 and N-40 connect this town with the rest of the country. Several inter-city transport services are operating in this district. 
Railroad facility in the town links it with the rest of the country. A historic (1886) Kanak railway station (formerly known as the Great Indian Peninsula Railway) is in Mastung, Balochistan. Nearest airports to the main town are: 
Quetta International Airport (UET), 50.9 km

Sukkur Airport, Mirpur Khas (SKZ), 298.66 km

Moenjodaro Airport (MJD), 301.74 km
Mastung Postal Code
Postal Code: 73064
Area Code:  405