Mardan is situated in Khyber Pakhtunkhwa (KPK), Pakistan. It is the administrative headquarter of the Mardan district and is located 65 km from the provincial capital, Peshawar. The town is on the northern side of the River Kalpani and in the Peshawar valley and is well-known for being one of the wealthiest places in KPK.
Muslims, Hindus, Christians, and the Sikh community in the town make this place the hallmark of multicultural diversity. Younus Khan, a famous former cricketer and caption of the Pakistan National Team belongs to this town. This article contains all the information about the city, including Mardan History.
| Title | Description |
| --- | --- |
| Information | |
| Location: | Pakistan |
| City Council: | Govt of KPK |
| Type: | City and headquarters of Mardan District in Khyber Pakhtunkhwa |
| Local Language Name: | Urdu, Pashto, English |
| Province: | Khyber Pakhtunkhwa |
| Coordinates : | 34°12″N 72°03″E |
| District: | Mardan District |
| Website: | MardanJALALA |
| Region: | Khyber Pakhtunkhwa |
| Language | |
| Official Language: | Urdu |
| Native Language: | Pushto |
| Other Languages: | Urdu, Pushto, English |
| Government | |
| Government Type: | Govt of KPK |
| Capital City Police Chief: | Nasir Khan Durrani |
| Commissioner: | Kifaiat Ullah Khan |
| MNA 1: | Amir Haider Khan Hoti |
| MNA 2: | Waleed Khan Yousufzai |
| Area | |
| Total Area: | 632 km2 (244 sq mi) |
| Population | |
| Density: | 895/km2 (2,320/sq mi) |
| Total Population: | 1,460,000 (1998) |
| Time zone | |
| Time zone: | PKT (UTC+5) |
| Codes | |
| Postal code: | 23200 |
| Dialing code: | +92 937 |
| Vehicle registration: | Three letters beginning with M and random four numbers |

Mardan History
Mardan is an ancient and historic place that is full of archeological artifacts and remains like Buddist monasteries. Historians attribute the town's name to a Muslim Sufi saint, Pir Mardan Shah, who came to this region to propagate Islam. Mardan means the land of brave men.
The archeological findings in the region connect its history with the ancient civilization of the Gandhara kingdom. Alexander the great used this region as a route to reach Indus Valley in 326 BCE. Subsequently, Ashoka's grandfather (Indian Buddist ruler of Maurya Dynasty) reigned this region starting 297 to 321 BCE. Until the 7th century CE, nomadic people ruled this valley.
Around the 11th century, this region fell into Afghans' hands who invaded along with  Rajput clans, Gakkhars. In the 10th century, Turk sultan Subaktekin conquered this land by defeating Raja Jaipal. Mughal emperor, Babar, captured this region in 1505. Weakening the Mughal empire could hold control of the area. Sikhs seized power from the Mughal and remained in control until 1837, when the British defeated them.
Geography
The city is located at 34°12′4.4′′ North (latitude) and 72°01′33′′ East (longitude) on the geographic coordinate system.  The district's total area is 1,632 km2 (630 mi2) in length, and its height above sea level is 1,020 ft. (310 m.)
Mardan Climate
The town observes sweltering hot and long hot weather for approximately 4.6 months, and in summers, the temperature may rise to reach 43.5 °C. During the whole year, the temperature can vary from 39°F to 105°F.
Winters are chilly and continue for nearly three months when the temperature could drop to 0.5 °C. Rain falls in the whole year, and the yearly recorded average of rainfall is 73.66mm.
Population
The city is the residence of 358,604 people, according to the 2017 census. It is the 23rd most populous city in Pakistan and 2nd in KPK.  The population density of the district is 1,500/km2 (3,800/mi2).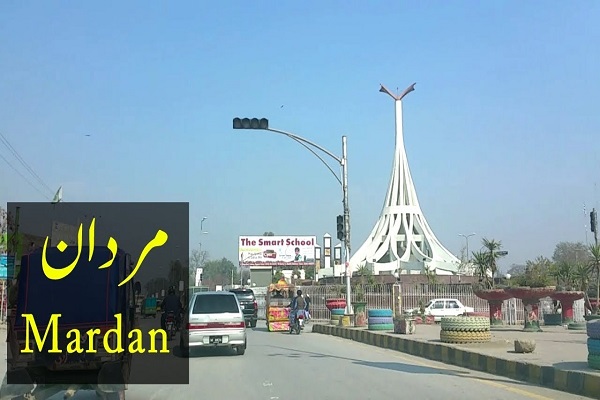 Mardan Culture
Traditional Pashtun culture is dominant in the region, primarily based on Islam and a conventional lifestyle, called Pashtunwali, of the Pashtun people. Natives are hospitable, straightforward, and brave. Men's attire usually includes shalwar-kameez, Pashtun hat (called pakul), topi (cap), white kufis (rounded cap), karkul (like Jinnah cap).
Women's attire includes traditional long dresses, chaddar, or dupatta to cover their head and hair. Women also ornament themselves with Pashtoon dresses and hand made jewelry. Attan, Khattak, Mahsud, Waziri are their traditional dances. Dishes such as chapli kabab, kabala palao, kawa, serge, tikka, special long naans, and sugi ka halwa are among the most preferred items.
Education
Education and literacy in the town are gently improving. The current literacy rate is 48%. Both; private and public sectors are establishing new educational institutes.  The number of institutions by the KPK Government include:
Primary Schools: 843
Middle Schools: 86
High And Higher Secondary School: 87
Boys Institutes: 617
Girls Institutes: 617
Following are among some well-known institutions:
Abdul Wali Khan University
ANSI School & Degree College
Government Degree College
Government Post Graduate College
Green Institute Of Education And Technology
Harris Institute
IT Trainers Institute & College System
Khyber College Of Education
Mardan Institute Of Learning Systems School And College
Mardan Institute of Science & Technology
National College of Physical Education
Orbit Schools Habib Campus
Pics Institute
Prime Institute of Medical Education
The Leaders International School & Girls College System
The Mardan Model School And College
The Peace Group Of Schools & Colleges
The Read Schools
University of Engineering & Technology
Vertex college of science and technology
Women University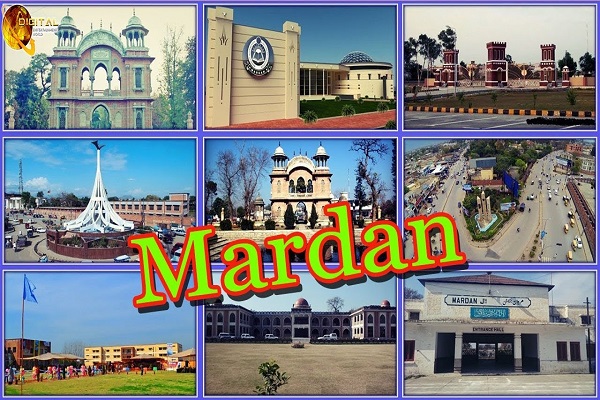 Sports
Sports culture in Mardan is flourishing. A well-constructed sports complex located near Sheikh Maltoon town provides the following facilities for:
Athletics
Badminton
Boxing
Cricket
Football
Hockey
Judo, Wushu, and Taekwondo
Swimming
Table Tennis
Economy
The economy of the district is dependent on both; agriculture and industry. The region has a great potential to exploit natural resources, and optimally utilize the mining industry. Tourism is another area contributing a reasonable portion of its share of its economic progress and GDP.
Industry
The district heavily relies on agroindustry and manufacturing and economically, and it is one of the industrialized regions of Khyber Pakhtunkhwa (KPK). Following are among the most thriving industries which are not only providing employment opportunities to the locals as a source of income and livelihood but also to the people of the nearby regions:
Arms
Ceramics
Chemical, Petroleum, Rubber & Plastic Goods
Food, Beverages & Tobacco
Ice
Marble
Metal & Metal Products
Mineral Products
Oil & Ghee
Paper & Paper Products
Plastic
Soap & Shampoo
Sugar
Textile, Wearing Apparel & Leather Products
Wood & Wood Products
Agriculture
The total cultivated area is 99977 hectares. A significant portion of the population is engaged in agribusiness for their livelihood and source of income.
The soil and climate are conducive for cultivation and crops such as wheat, rice, maize, millet, jowar, groundnut, sesamum, mung, mash, arhar, masoor, chilies, turmeric, sun hemp, fooders, fruits, vegetables, sugarcane, cotton, barley, rape & mustered, garlic, coriander, onion, potatoes, and sunflower are hugely grown here.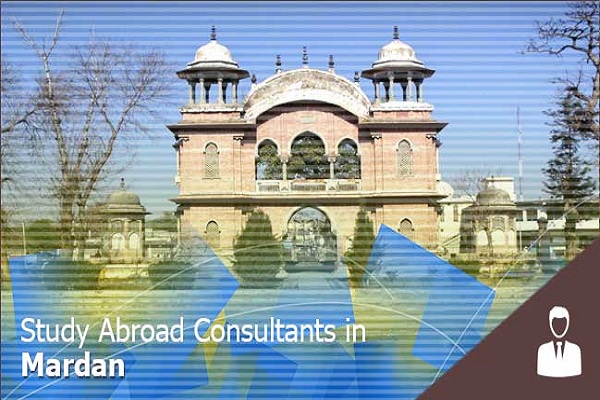 Tourism
The city and surrounding are full of worth visiting historical monuments. Tourists from all over the country and abroad witness the magnificence of:
Afridi Farm House
Behroch Waterfall and Shrine
C Sector Park
Chato Chowk
Darweyzay Waterfall
Garru Waterfalls
Ghareeb Abbad Number 2
Green Acree Park
Guides' Memorial Park
Hund Museum
Lachyane
Maqbara Attock
Mardan Museum
Old Attock bridge
Pushkalavati Museum
Seri Bahlol
Tableeghi Markaz
Takht-i-Bahi Buddhist Monastery
Topu Chowk
Rani Gat Buddhists Ruins
Takht-i-Bahi Buddhist Monastery
Mardan Languages
Locals can speak and understand:
Pashto (mother tongue)
Punjabi
Saraiki
Urdu (national language)
English
Travel
The city is linked with the other parts of the country with a network of roads and highways. By-road travelers can take National Highway (N-45), Motorway (M-1), Khyber Pakhtunkhwa Highway S-1, Mardan Ring Road, Dobian Mardan Road, and Charsadda-Mardan Road to reach the city.
Many transport operators are running conveyance services for this region from all over Pakistan. The town is connected to the outer regions with a network of railroads. Mardan Junction railway station, located on Nowshera Road, is a central stopover place for incoming and outgoing trains.
There is no domestic or international airport in the city. Air routes connect the town with the nearest cities. The closest airports to the city include:
Peshawar International Airport (PEW), Peshawar, 5394 km
Saidu Sharif Airport (SDT), Saidu Sharif, 97 km
Benazir Bhutto International Airport (ISB), Islamabad, 75 km
Mardan Postal Code
Postal Code: 23200
Area Code:  0937