Larkana, the 17th largest city of Pakistan, is situated in the north-west of Sindh. Referred to as the Eden of Sindh, Larakana is the 4th largest city in the province and is home to the historic Indus river.[1]  Larkana Larkana or Larkano is the fourth largest city located in the Northwest of Sindh Province, Pakistan. It is located in Larkana District and is a thickly populated city which is growing rapidly. In August 2000, Larkana celebrated its hundredth year of existence.[2]  Larkana or Larkano 
| Title | Description |
| --- | --- |
| Information | |
| Location: | Pakistan |
| Nickname: | Larkana |
| Old Name: | Chandka |
| In Sindhi: | لاڙڪاڻو |
| In Urdu: | لاڑکانہ |
| Type: | District, Taluqa |
| Local Language Name: | Urdu, Baluchi, Brohi, Punjabi, Pashto and Seraiki |
| Coordinates : | 27°33′30″N 68°12′40″E |
| Website: | http://larkana.pk/ |
| two former Prime Ministers of Pakistan: | Zulfikar Ali Bhutto and Benazir Bhutto |
| Distance between Larkana and Karachi: | 318.78 KM |
| Deputy Mayor of Larkana : | Anwar Ali Luhar |
| Government Type: | Municipal Corporation |
| Mayor of Larkana: | Aslam Shaikh |
| District: | Larkana District |
| Province: | Sindh |
| Area | |
| Total Area: | 7,423 km2 (2,866 sq mi) |
| Population | |
| Total Population: | 270,283 (2015) |
| Codes | |
| Postal code: | 77150 |
| Dialing code: | 74 |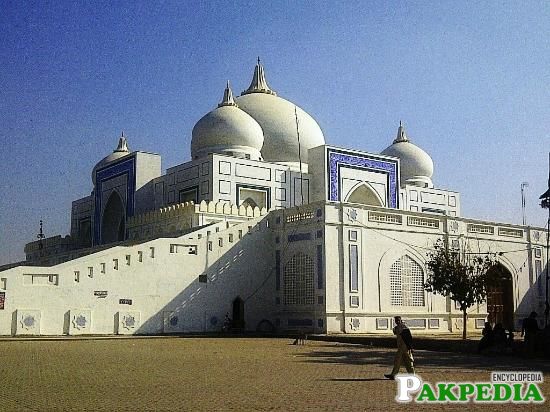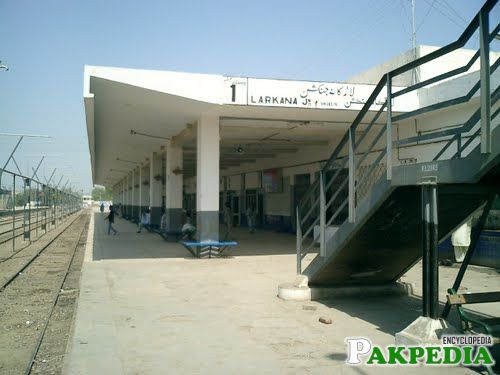 History

Larkana is as old as civilization of Mohenjo-daro that dates back five thousand years. Larkana was renowned for its production of cloth in those days. Its product of cloth was shifted from Moen-Jo-Daro to the rest of countries via water ways, in the mean time the same cloth was used for mummification in Egypt. Thus credit for unparalleled technological advancement of Moen-Jo-Daro goes to its trade of cloth. 
Aryans
Aryans had come to Sindh in 2234 B.C. and settled in different part of Sindh, and while crossing Larkana, reached Bhanbhoor. Jhokar-jo-Daro is proof of Aryan visit. Different people came in Sindh but non could eliminate the tradition of Aryans till teachings of Gotam Bodh spread in 480's B.C whose proof is found in Moen-jo-Daro that was a center of worship for Buddhism. Sikandar (i-e Alexander) attacked Sindh in 330 B.C. His forces had crossed little known village as Mahota. It was named by his forces as Maota in Greek.
Gupt Family
 After Greeks Sindh was ruled by Gupt Family from 320 CE to 525 CE. Thus, Chandias were rewarded heavily for their contribution. It was in this period that Larkana was named as Chandka. However, after demise of Jam Nizamuddin, Shah Beg Argon started ruling over Sindh. Larkano city is purely result of Construction of Cannal "Ghaari Wah". In late 16th century, Kalhoras (also referred now as ABBASI) started their rule. In their rule, Shah Baharo was a ruler of Larkano in Kalhora period Sindhi language rose to its peak, especially in the period of Mian Sarfaraz Ahmed Khan Kalhoro Sahb. After end of Kalhora rule, period of Talpur came and Nawab Wali Mohammad Khan was made Governor of Larkano
Divided Sindh
In 1843 the English occupied Sindh and divided Sindh in three parts namely Karachi, Hyderabad and Shikarpur. Larkana was the part of Shikarpur and Dadu was part of Larkana. In 1930 Dadu was made a separate district and Larkana got its present shape during Historic movement for Pakistan. Larkanians took active role in movement of Khilafat and Higrat so on the whole Larkana is always been the centre of political activity in Sindh.[3] History
Larkana
Larkana is widely occupied by Sindhis. The Sindhi speaking population outweighs the rest of the tribes that speak languages such as Urdu, Baluchi, Brohi, Punjabi, Pashto and Seraiki. Essence of the Sindhi attire, Ajrak and Sindhi topi, are commonly worn here. When you are planning a trip to Larkana, it is very important to keep the weather conditions in mind – Larkana experiences the highest of temperatures in summer as well as extremely low temperatures in winter, 53.5 °C to -2 °C respectively.[1]  Larkana 
Location
A glance of the map of Sindh reveals that Larkana, from location point of view enjoys a strategic position. After Karachi it is largest city on the west bank of river Indus in Sindh. It lies on 27o 33′ North latitude and 65o 16′ East longitutide. The city is located in upper Sindh at a distance of about 85 km south west of Sukkur. Important towns in the vicinity of Larkana include Bakrani, Dokri, Naudero, Ratodero, Shahdadkot, Badah and Miro Khan.[4]  Location 
Language

Larkana is commonly called "Larkano" in Sindhi by the local people residing there. Sindhi speaking population in Larkana outweighs the rest of the population or tribes who speak other languages such as Urdu, Baluchi, Brohi, Punjabi, Pashto and Seraiki. Although the literacy rate in Larkana is comparatively low as compared to remaining Talukas (tehsils) of the Larkana District but the language, English is also understood by some people living in urban areas of the city. All in all, Sindhi is well understood and commonly spoken by majority of the population.
Religion
Majority of the population in this city is that of Muslims i.e. 90 plus percent however, a number of Hindus can be seen practicing their rituals. Both the Muslims and the Hindus live peacefully in the city.[5]  Religion 
Clothes
People of Larkana wear Shalwar Kameez which is the national dress of Pakistan and is worn by men and women in all provinces of Pakistan. The uniqueness about the clothing style of people here is Ajrak and Sindhi topi. Men are usually seen carrying an Ajrak on their shoulders wearing it around their neck. Ajrak is a symbol of Sindhi culture; it is basically a shawl with a variety of design, consisting of block prints and tiles and is available in different colors in the city. It is worn in various occasions such as social gatherings, Eid, weddings etc. Ajrak is also a part of school uniform in some girls schools of Larkana; school going girls are usually seen wearing ajrak as a head scarf. This is basically to promote the cultural heritage of Sindh.[6]  Clothes 
Education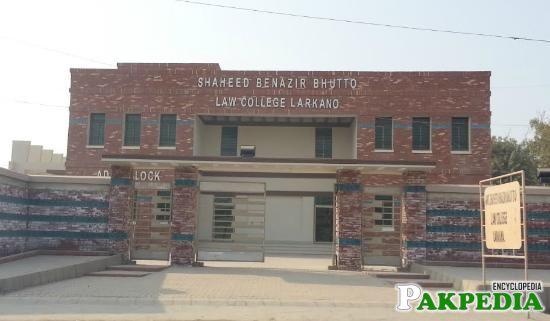 There are a number of old schools including coeducation and separate schools for boys as well as girls.There are more then 100 School in the Larkana, both Co-Education and Separate for Girls/Boys. [7]  Education Local schools and educational institutions include Cadet College Larkana, Chandka Medical College, and Sir Shahnawaz Bhutto Library.
Public Parks
Jinnah Bagh, Zulfiquar Bagh, Shahnawaz Childrens Park, New Railway Park 1 & 2, Nawa Tak Park, Kamal Ata Turk Park and Tank Chowk Park.[8]  Public Parks 
Cultural Importance
Majority of the population of the District is Muslim. The culture life of the Muslims is greatly influenced by the Islamic way of life. The pirs and murshids are held in high esteem and confidence amongst the Muslim particularly bym the illiterate masses of the rural areas. Urs ceremonies of pirs are regularly held at the their shrines. [9] Cultural Importance 
Popular Games Fruits Crops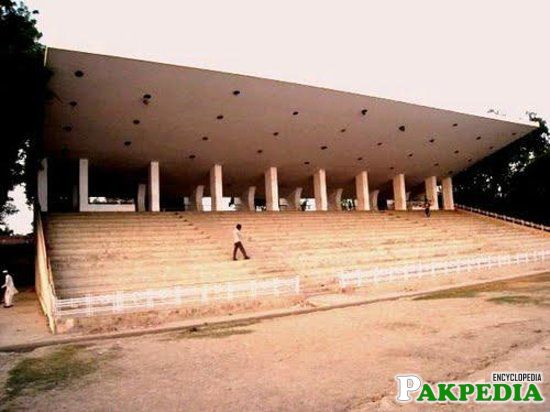 Cricket,  Snooker, Badminton, Basketball, Body building, Football, Handball,Swimming, Table Tennis, Tennis, Weightlifting.
Traditional Games
Kodi Kodi, malakhara, shooting and wanjhwatti.
Fruits Crops
Larkana is surrounded by fertile land in which all kind crops, fruits and vegetables are cultivated in crop i.e Rice, Wheat, Sugarcane, Barely, Rape, Mustard, Masoor and Matter in fruits and vegetables i.e Guava, mangoes, oranges, olives, melons, carrots, cucumber, onion and potatoes.[10]  Popular Games, Fruits, Crops 
Nearest Airport
Mohenjo daro Airport in Larkana its 28km far from City.
Railway Station
Larkana Railway Station is located in middle of the City.A railway junction, it is divided into two parts by the rail lines: the old city to the east and Lahori village and the Civil Lines (mostly official residences) to the west.[11]  Railway Station Two main train names are Bolan Mail and Qalandar Express.
Customs and Traditions

Various customs and traditions can be observed if one gets a chance to visit the city; Pirs and murshids are given due respect by masses belonging to rural areas of the city as well as a few sects from urban areas. People visit the shrines of such pirs and perform various rituals and urs ceremonies. There are a number of shrines in Larkana such as shrine of Syed Qasim Shah Bokhari, shrine of Bhutto family and many others. 
Festivals
As far as celebrating rituals and festivals are concerned, festivals such as Sindhi topi and ajrak day, folk song festival etc are celebrated throughout the year. The main aim of such events/festivals is to promote cultural heritage through display of sindhi songs, the famous being, "jiye sindh jiye sindh wara jiyan sindhi topi ajrak wara jiyan", wearing traditional dresses, singing folk songs and playing musical instruments such as yaktaro (a colorful single string instrument), dholaks and tabla in the memory of some well known sufis. Most of the men and women are also seen doing the traditional jhoomar dance at weddings and festivals. Moreover, shooting and kodi kodi are the traditional games that are very common in the area of Larkana; wrestling is usually a part of most of the festivals that take place here.
Behavior
People of Larkana are well wishers and very hard working people. The locals welcome their guests warmly and in a friendly manner. People of Larkana consider Ajrak of a great esteem and also present it as a gift to their guests which displays their affection. Sindhi rilli (embroider carpeting) are also seen in houses of many locals and many women can be seen sewing these embroidered carpets. Rilli is also presented as a gift to their guests by locals of Larkana.[12]  Behavior 
Food and Agriculture
Larkana is famous for guava fruit; Ratodero and Larkana are famous for abundance of guava orchards. A fertile land surrounds Larkana which produces all kinds of crops, fruits and some vegetables for example matter, guava, rice, maize, mustard and sugarcane. However, the unique crop of guava is sown and harvested in abundance in the area of Larkana in the entire Sindh province. A major chunk of this fruit is then exported to other countries as well. Apart from guava, lotus root (also known as "bhay" in sindhi) is very famous and eaten by locals a lot. Many visitors enjoy this vegetable dish when they visit Larkana. Sugarcane is cultivated and processed in sugar mills at Nau Dero.[13]  Food and Agriculture Various migratory birds are found on the wetlands, beside the river Indus.
Top Famous Places
Mohenjo Daro
Mohenjo Daro was one of the largest cities of the ancient civilization which was abandoned along with the decline of the Indus valley civilization. It was rediscovered after 3700 years and some notable relics found were dancing girl, priest-king, seven-stranded necklace, Buddhist stupa, and much more, that represent its history.
Garhi Khuda Buksh
Garhi Khuda Buksh is a small village located in Larkana and is also home to the Mausoleum of Bhutto family. It is a popular destination amongst supporters of the Bhutto family who visit their graves whenever they visit the city. Shah Nawaz Bhutto, Zulfiqar Ali Bhutto, Murtaza Bhutto and Benazir Bhutto are buried there.[14]  Garhi Khuda Buksh 
Shahnawaz Bhutto Public Library
This library was commenced in 1984 and is greatly valued as it provides educational facilities to the public. It is home to books by more than 8000 authors and categories and also contains an internet café. The library plans to establish a museum in the future.[15]  Shahnawaz Bhutto Public Library 
Restaurants
Larkana is rich in agricultural crops and fruits. People enjoy eating out, and restaurants are mostly occupied with tourists. Some famous restaurants include Mehran restaurant and Al Mansoor Hotel.
Shopping
With its historic background, Larkana is known to have a modern structure. Everything is available here. Larkana has various shops and markets as well as shopping malls and you will find clothing based on Ajrak patterns.
Hotels

Being one of the top tourist attractions, many hotels can be found in Larkana. You can visit Jovago's website to find some of the best deals on the most popular hotels in the city. Log on to grab exclusive deals on hotels in Larkana.[16]  Hotels