Every one might be familiar with many amazing and naturally beautiful places in Pakistan. Places like Naran, Kaghan, Chitral, Murree, Nathiagali, Shogran, and Hunza are well known and they attract hundreds and thousands of tourists every year. However, there is one place in Pakistan that is extremely beautiful and not many people know about it. This hidden gem is located in Khyber Pakhtunkhwa and it is known as Kumrat Valley. This amazingly beautiful valley is well endowed with spectacular scenery and provides an experience of a lifetime to the tourists.
| Title | Description |
| --- | --- |
| Information | |
| Location: | Pakistan |
| Type: | Valley |
| Local Language Name: | Kumrat Valley |
| Details | |
| Province: | Khyber Pakhtunkhwa |
| District: | Upper Dir District |
| Covered with: | Green Pastures, Snow ,Mountains, River and forests |
| Located in: | Upper Dir Kohistan |
| The North: | Chitral |
| The East: | Kalam Swat Valley |
| The West: | Ayun Valley Chitral |
| The South: | Lower Dir |
| Trees: | Deodar, Cheer, Kail, Fir Spruce, Chalghoza, Pines, Oak, and Alpine pastures |
| Most Common Species: | Polygonum spp, Saxifrages spp, Potentilla spp etc |
| Latitude: | 35°31'0.01 |
| Longitude: | 72°13'59.99 |
Details

Kumrat Valley is located in the Upper Dir District of Khyber Pakhtunkhwa.It is one of the most scenic valleys in Pakistan. Here is a spectacular picture, taken somewhere in the deep jungles of Kumrat Valley.The number of tourists that visit Kumrat Valley every year, is increasing gradually. However, it is still not a mainstream tourist destination.The Valley offers cool weather, amazing scenery, and some superb fresh water bodies.There are also a number of waterfalls in this stunningly beautiful place.River Panjkora flows through the Kumrat Valley and adds to the beauty of the area.Jahaz Banda Meadows is a major attraction in Kumrat Valley.[1]  Details Kumrat Valley is situated in District Upper Dir KPK Pakistan & adjacent to Swat Valley and Chital Kalash Valley. Kumrat Valley and Swat, Kohistan are connected via Badgoye Pass, while Kalash Valley is connected through Kashken Top. The Badgoye Top is also a Picnic Spot and containing Outsized and Lime Parklands.[2] Major Attraction The Kumrat Valley is the last border of Dir Kohistan. Dir Kohistan comprised of six villages' i-e Patrak, Biyar ,Barikot ,Kalkot ,Lamoti and Thall.
Geography and Climate

Kumrat valley is situated in the foothills of Hindu Kush mountains range.It is surrounded by Chitral to the north, Kalam Swat valley to the east, Ayun valley Chitral to the west & Lower Dir to the south. The landscape of the valley is featured by hilly terrain, green meadows, snow clad mountains and streams cut through the region. The weather of Kumrat valley is alpine climatic in nature and mild cool summers are common throughout the area, with an average temperature ranges from 20 °C to 25 °C. While in winter the temperature is very low due to heavy snow fall i.e. is 3 to 11 feet and the temperature ranges from -4 °C to -10 °C. The maximum rain fall is 255 mm and minimum is 100 mm. In comparison with other plain parts of Khyber Paktunkhwa, Kumrat valley enjoys a more moderate climate but weather conditions are unpredictable in monsoon season & winter due to which movement is restricted to it.[3]  Geography and Climate 
Temperature

The average temperature of Kumrat Valley during summers ranges from 20°C to 25°C. And the average temperature of Kumrat Valley during winters ranges from -4°C to -10°C.
Security
Valley is now safe & there is no security issue for tourists just respect the local traditions & avoid photography in towns.[4]  Security 
Popular Attraction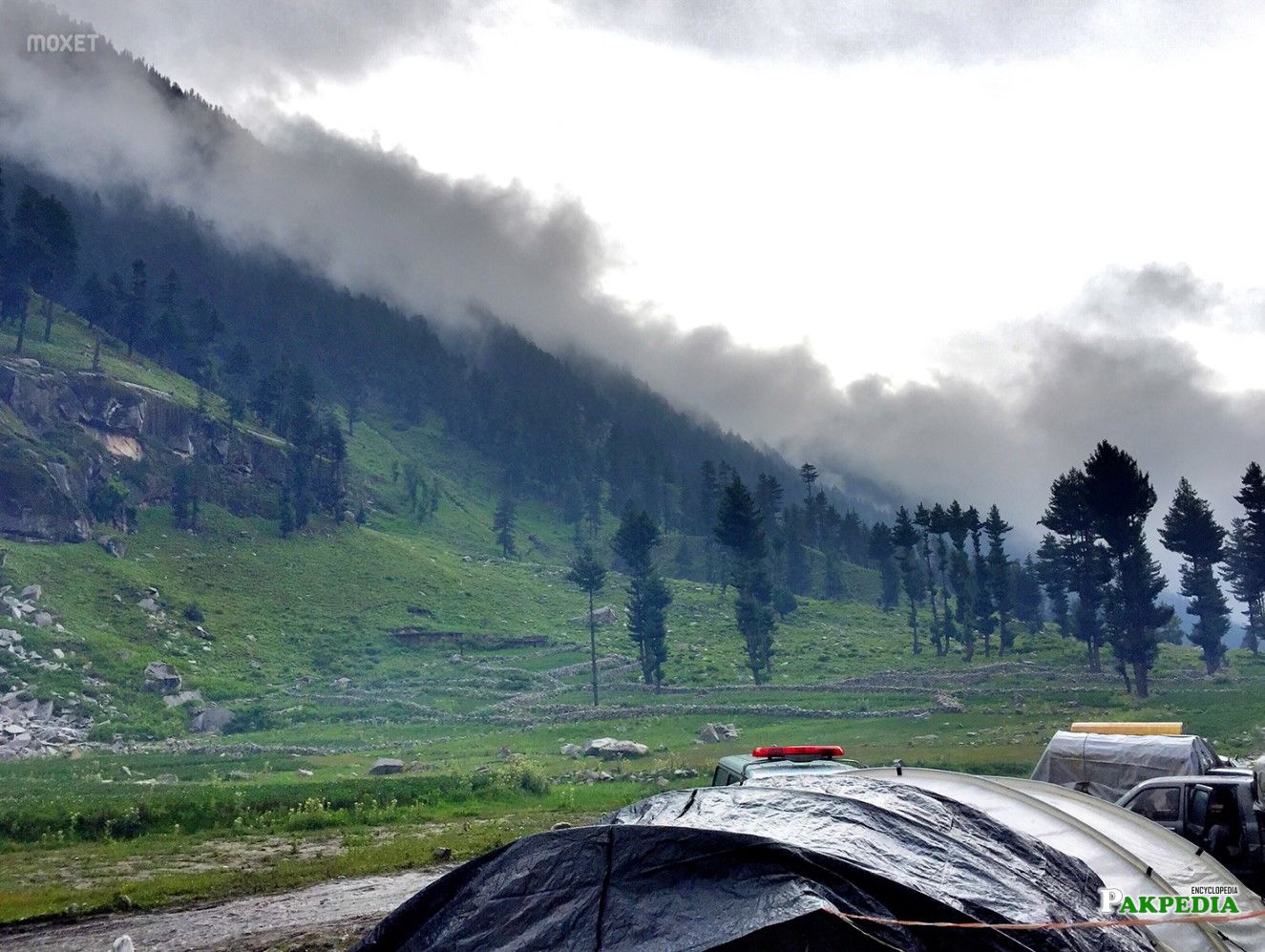 The valley provides options for mountaineering, trekking and rock climbing. Similarly, it provides a base camp for a hike to an alpine glacial Katora Lake which is located at an elevation of 11,500 ft on a trek of 3-4 hrs from the main valley. Jahaz Banda, Patrak, Kalkot, Lamutai, Seri and Thal, Panjkora River are popular attractions.[5]  Popular Attraction 
Tourists Can Do
Camping
Bonfire
Lush green fields
Snow cover mountains
Adventure
Pure nature
Unpredictable weather
Wooden forest
Trout fishing
Trekking in forest[6]  Tourists Can Do 
Less Explored

Kumrat Valley is very less explored due to many reasons as bad road condition, lack of basic facilities and disinterest of Govt and Political Leaders. There is Lush Green with many Meadows & full of trees in whole valley. The Kumrat Valley is last border of Dir Kohistan. Dir Kohistan comprised of six villages' i-e Patrak, Biyar ,Barkikot ,Kalkot ,Lamoti and Thall . The Language of the people is "GAWRI" and a little bit people speak in Pashto and Gujri. The villages of Dir Kohistan also have names in Gawri Languages as "RAJKOT" for Patrak , "JAR" for Biyar and "PEOD" for Barikot. Main River of the valley is River "PANJKORA" which flows throughout the valley and then joined the Indus River in Hazro.[7]  Less Explored 
Way to Reach to Kumrat Valley

Many tourist visit Kumrat Valley every year in months of April to September and spend their days and night in peaceful and healthy environment. The only problem tourist face there is lack of hotels and bed condition of roads towards the valley. Even though the road are not able for car to drive, but many tourist reach Kumrat Valley through jeeps and other vehicles.
DIR Chitral Road
To visit the most beautiful valley of Pakistan, you should to reach the Sweet Water Dir Upper through Dir Chitral Road. In Sweet Water you have to turn right and from here you have to reach Sharingal, a small town where Shaheed Benazir Buttho Univeristy (SBBU) is located After that you should pass from many small villages As Patrak, Biyar, Barikot, Kalkot etc.
Kalakot
After Kalkot the most beautiful area of Thall are started and traveling 1 to 2 kilometer you will reach to THALL, the head quarter of Kumrat Valley. In Thall you can purchase necessary items like food, cool drinks, etc because there is no bazar onward thall bazar. After crossing Thall bazar the green valley started and ever green view of Kumrat Valley can see as long as you travel ahead The valley is so beautiful that once you visited never be forgotten.[8] Way to Reach to Kumrat Valley 
Hotels in Kumrat Valley
Hotel Green Hills
Manger Name: Muhammad Hussain
Contact Number: +92 320 9898216
Venue: Main Bazar Thall the gateway of Kumrat Valley DIR Upper KPK Pakistan
Green Hills Hotel and restaurant is a small hotel in Thall which comprise three bed rooms with attach bath. The hotel offered food and other basic facility.Hotel is in the center of Thall Bazar and surrounded by the historical and ancient Houses of local people.
Sarina Tent Hotel
Manager Name: Abdu Razaq
Contact No: +92 320 3722191, +92 944 737809
Assistant Manager: Bakth Islam
Contact No: +92 321 6418522, +92 944 859145, +92 321 6418523
Venue: Ghotgal Kumrat valley
The Sarina Tent Hotel is a tent hotel in Kumrat valley which provide many facility to tourist in Kumrat Valley. The hotel are comprise in 30 to 50 tent which are easily hired by tourist. The hotel also provide mattress for and other necessary items for night. The most important that why tourist choose this hotel is  due to electricity, because the hotel had established solar system and fuel generator system that provide electricity to the guest. The tourist can easily recharged their cell phones and other electric apparatus.The Sarina Tent offered all types of food, fruits and cool drinks. There are a small shop had also been established for recreation of guests. The hotel also provide Barbecue of mutton in the nonchalant weather of Kumrat valley.[9] Hotels in Kumrat Valley