Altaf Gauhar also known as Muhammad Altaf Gauhar was a first Pakistani civil servant, journalist, poet, and writer.
| Title | Description |
| --- | --- |
| Personal | |
| Name: | Altaf Gauhar |
| In Urdu: | الطاف گوہر |
| Famous As: | Journalist, Poet, and Writer |
| Nationality: | Pakistani |
| Education: | Government College, Lahore |
| Religion: | Islam |
| Profession: | Civil Servant, Journalist, Poet, and Writer |
| All India Radio: | Before partition, he was a Broadcaster |
| Civil Servants: | One of Pakistan's first Civil Servants |
| Appointed As: | First Secretary of the State Bank |
| Served as: | Information Secretary |
| Government of: | Former President Ayub Khan |
| 1948: | Entered the Civil Service of Pakistan |
| 1969: | Left the Civil Service |
| Born | |
| Date: | 17 March 1923 |
| Place: | Gujranwala |
| Died | |
| Date: | 14 November 2000 |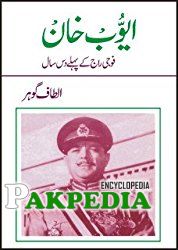 Biography
Gauhar was born at Gujranwala, the eldest of five children of a minor official, and studied at Government College, Lahore. Before partition, he was a broadcaster on All India Radio; after it, he was one of Pakistan's first civil servants. He was soon appointed first secretary of the state bank, moving to become a magistrate in East Pakistan (now Bangladesh) and later its deputy home secretary.[1]  Biography He was married, a son and two daughters.
Career
Gauhar entered the Civil Service of Pakistan in 1948 by some tinkering with the rules. He always knew which side of the bread was buttered . Starting his career as Secretary, State Bank of Pakistan he rose to be Information Secretary Govt. of Pakistan at the age of 39, in which capacity he drafted some Draconian laws to muzzle whatever little freedom the press enjoyed at that time in Pakistan.[2]  Career He also created the National Press Trust in order to propagate only the point of view of the ruling government of the day. In the process he superseded several officers senior to him including those belonging to the Indian Civil Service who opted for Pakistan.
Books
The book is supposed to be full with half-truths based on the recording of this crafty and cynical courtier.  Subsequently he wrote his biography, Ayub Khan : Pakistan's First Military Ruler, which gave a different story altogether because it was written after the death of his old mentor prompting people to question 'who is the real Ayub?'  The last official act of President Ayub Khan before handing over power was to invite Altaf Gauhar to lunch with his family and bestow on him the high civil award of Hilal-i-Quaid-i-Azam. Through some palace intrigues, President Yahya Khan assumed power on 25 March 1969. A day or two before that he had had a serious altercation with Altaf Gauhar who wanted Ayub Khan to continue. In 1969, Gauhar was initially marginalized as Director Finance Services Academy Lahore, a position much lower in rank than a Central Secretary. Subsequently he was dismissed from service and all his four civil awards were forfeited.
Extraordinary Versatility Charm and Intelligence
Altaf Gauhar who has died aged 77 was a man of extraordinary versatility, charm and intelligence. At various stages in a multi-faceted life, in his native Pakistan, Britain and elsewhere, he made each of these qualities work for him – in public life, in his journalistic and other writings, in his thinking about Islam, and in his endeavours to do what he could to improve the lot of the world's poorest.He survived prison terms and clashes at the highest policymaking level in his own country, and he had warned, from first-hand knowledge, that "unless power is treated as a trust, it will degenerate into force". But, in the end, the president of Pakistan, several ministers and other national figures were among those at his funeral in Islamabad.
Came to London
In the mid-1970s, Gauhar came to London, and with financial and philanthropic support from the Bank of Credit and Commerce International (BCCI), which later went controversially into liquidation, he set about launching a number of initiatives to highlight, mainly through responsible journalism, the problems and challenges confronting developing countries. His aim was to achieve a working partnership with the Guardian, then edited by Peter Preston.
Interview
It ran, initially weekly, for 10 years, with Gauhar featuring prominently. The Brandt Com mission was in the news, so he interviewed Willy Brandt; the Arusha Declaration was in the news, so he interviewed Julius Nyerere, and others, including Nelson Mandela.
Information Secretary
At the age of 39, after a series of senior government commercial posts, Gauhar was appointed information secretary for the rightwing president, Ayub Khan, and given unprecedented powers to manage the press, a role comparable in many ways to that of Alastair Campbell to Tony Blair (and attracting much of the same sort of obloquy from the general public). During his tenure, draconian laws governing the press were passed, something for which Gauhar later publicly apologised.
Left Civil Service
On leaving the civil service in 1969, he became editor of the quality Pakistani news-paper, Dawn, where he was twice imprisoned, latterly when Zulfikar Ali Bhutto was chief martial law administrator. It was while in jail, with no other reading matter, that Gauhar became deeply absorbed by the Koran, from which he was later to make several distinguished translations, the last one shortly before he died, when he was in great pain and undergoing chemotherapy for cancer.
Returned to Pakistan
On release from prison, he left Dawn for London. After BCCI went into liquidation, he returned to Pakistan, and more journalism. He poured his energies, his thinking and his skills into the role of editor-in-chief of the Muslim.Latterly, Gauhar restricted himself to an occasional column, but left the newspaper when its editor, ABS Jaffery, was sacked by the owner. In Pakistan, on his death, he was commemorated as "a very eminent Pakistani", a man who knew power and how it could be used or abused.
Major works
 Ayub Khan: Pakistan's First Military Ruler
Translations from the Quran
Thoughts and After Thoughts
Ayub Khan, Fauji raj ke pahle das sal
Shared horizon: Interviews with leaders of thought
Friends not Masters (apparently written by Field Marshal Ayub Khan)
Gohar Gushat
(poem/ghazal) Ghar Wapis Jab Aao Gey. It can be heard on you tube
An archive of Altaf Gauhar's articles can be found on
List of Books
Nai Bengali afsanai
Arab petrodollars
Ayub Khan, Pakistan's first military ruler
Translations from the Quran
The Rich and the Poor: Development, Negotiations, and Cooperation
Likhte rahe jinon̲ kii ḥikaayat
Regional Integration
Thoughts and after thoughts
Shared horizon
Taḥriiren̲ cand
Altaf Gauhar
The Altaf Gauhar papers[3]  List of Books