Kashmir Day or Kashmir Solidarity Day is an annual national holiday celebrated in Pakistan on 5th Feb. It is marked to demonstrate Pakistan's solidarity and support for the people of Indian-occupied Jammu & Kashmir & Kashmiri nationalists' efforts to separate from India, as well as to pay tribute to Kashmiris who had been died in the struggle.
Solidarity rallies are being conducted throughout the Pakistani-administered province of Azad Jammu & Kashmir and also by certain Mirpuri diaspora members. This article contains all the information about this day.
| Title | Description |
| --- | --- |
| Details | |
| Founded: | 5 February 1990 |
| Observed by: | Pakistan |
| Date: | 5 February |
| Frequency: | Annual |
| Kashmir Day: | Also Called Kashmir Solidarity Day |
| Azad means : | Liberated |
| Kashmir valley is metaphorical: | Referred to as "heaven on earth |
| Pakistan recognizes: | AJK as a separate state |
| Kashmir Day: | Public holiday in Pakistan and AJK. Government offices (federal and provincial), banks, educational institutions, and businesses remain closed. |
| Focuses on showing: | Pakistan's support and unity with the people of Indian-occupied Kashmir, their ongoing freedom struggle, and to pay homage to Kashmiri martyrs who lost their lives fighting for Kashmir's freedom |
| Kashmir Solidarity Day: | Public holiday in Pakistan on February 5 each year. |
| The day is marked: | Public processions, special prayers in mosques for the liberation of Kashmir, and protests |
| Kashmir Day is also: | Particular political importance to major political and religious parties in both Pakistan and AJK. |
| In Urdu: | کشمیردن |
| Location: | Pakistan |

Kashmir Day History
Qazi Hussain Ahmad of the Jamat-e-Islami Pakistan suggested Kashmir Day for the first time in 1990. Nawaz Sharif, Pakistan's then-Prime Minister, planned for a "Kashmir Solidarity Day Strike" in 1991; Sharif had risen to power with the support of the Jamaat the previous year, & the 1991 occasion was likewise a Jamaat affair.
The present 'Kashmir Solidarity/Support Day' was introduced in 2004 by Pakistan's Minister for Kashmir Affairs & Northern Areas. On 5th Feb 2021, the NY (New York) State Assembly signed a resolution requesting to New York Governor to declare this day "Kashmir American Day."
The day is intended to recognize the Kashmiri community of New York and to "advocate individual rights, including religious freedom, mobility, & expression for all Kashmiris, which are rooted in the US Constitution, via the recognition of diverse ethnic, cultural & religious identities." The Pakistani mission expressed gratitude to Nader Singh, the lawmaker of New York & the American Pakistani Lobbying Group for their contributions.
Celebration of Kashmir Day
Individuals celebrate Kashmir Day throughout Azad Jammu Kashmir and Pakistan. It is a globally recognized day celebrated by individuals all over the globe, primarily Kashmiris. The day is celebrated by public processions, prayers in Masjids for Kashmir's liberation, and rallies against the Indian rule of Kashmir.
This day is politically significant for major religious and political groups in both Pakistan & AJK. Many religious and political groups conduct conferences, rallies, seminars, and processions in which political figures, heads of religious institutions, opinion leaders, & influential public personalities address the populace and speak in support of the Kashmiri liberation cause.
These speakers and leaders are also in favor of a peaceful settlement of the Kashmir conflict. Demonstrations and long marches are staged, funded by political groups, religious groups, & other organizations, with people chanting slogans supporting the Kashmiri liberation movement and in unity with the Kashmiri people.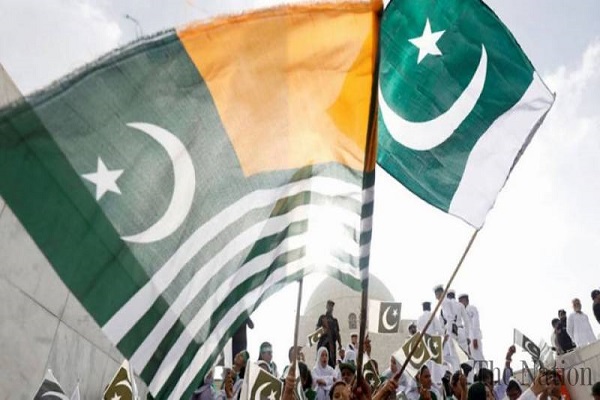 Public Holiday
In Pakistan & AJK, this day is a national holiday. Federal & provincial government offices, banks, companies, and educational institutions remain closed. Some international firms, however, continue to do business as usual on this day. While public transportation is available 24 hours a day, traffic congestion is typical in big cities. Because of Kashmir Day processions and parades, major streets and roads remain blocked.
Symbol
The Kashmir valley is referred to as 'paradise on earth.'  In modern art, the valley is depicted as engulfed by fire, representing turmoil, clamor, and disaster in heaven. This valley is also depicted to be ringed by blood-splattered barbed wire. This is an example of human rights breaches in Kashmir.
Social Media Handle
https://twitter.com/KashHistorypics