Jhelum is one of the historic, culturally rich, and militarily influential cities of province Punjab, Pakistan. It is situated on the brink of the Jhelum River in the North-East of Punjab. It borders in the East by Azad Jammu & Kashmir (AJ&K), in the West by Chakwal and Khushab, in the North by Rawalpindi, and in the South by Gujrat, Mandi Baha-ud-Din, and Sargodha.
Metropolis also spreads on both sides of the famous Grand Trunk (GT) Road. The city is also known as the "City of Soldiers" for its people's devout bravery, services, and resounding sacrifices for the military and the country. It is also known as the land of Martyrs and Warriors. It enjoys multicultural diversity because of its strategic location. This article carries every information about the city, including Jhelum History.
| Title | Description |
| --- | --- |
| Information | |
| Location: | Pakistan |
| Name : | Jhelum |
| In Urdu : | جہلم |
| City Council: | Government of Punjab |
| Type: | Pothohar Plateau of the Punjab province of Pakistan. |
| Local Language Name: | 97.5% Punjabi |
| Province: | Punjab |
| Coordinates : | 32°56'00 |
| District: | Jhelum District |
| Region: | Punjab |
| Elevation: | 233 m (768 ft) |
| Website: | www.jhelum.gop.pk |
| Union councils: | 7 |
| Language | |
| Official Language: | Urdu |
| Native Language: | Punjabi |
| Other Languages: | Urdu.Punjabi. |
| Government | |
| Type: | Government of Punjab |
| Area | |
| Total Area: | 3,587 km2 (1,385 sq mi) |
| Population | |
| Density: | 261/km2 (680/sq mi) |
| Total Population: | 1,103,000(2006) |
| Time zone | |
| Time zone: | PKT (UTC+5) |
| Codes | |
| Postal code: | 49600 |
| Dialing code: | 0544 |
| Vehicle registration: | Three letters beginning with J and random four numbers |

Jhelum History
Traditions
According to one tradition, the name was derived from the combination of two words; Jal (water) and Ham (cold), which means cold water because of its proximity to the river and its flowing cold water. In ancient times, the city was known as Jalham. 
Another tradition states that the city name is attributed to the horse-name of Alexander the Great. His horse was killed in the battle of the Hydaspes which was fought in 326 BC between Alexander and King Porus at the banks of the Jhelum River. 
Shahab ud Din Area
In the year1152, Shahab Ud-Din Ghauri made this area his resting ground while traveling for battles. He was killed and buried here as well. 
Suri Empire
After defeating the Mughals, Sher Shah Suri established the Suri Empire and built a fortress here. The decline of the Mughal Empire provided Sikhs an opportunity to invade and conquer this territory. During the last years of Sikh rule, Jhelum served as the capital of their empire. 
Later in 1847, when British power seized control of the territories, Jhelum was also subjugated by their dominance, and then in 1849, it was made a district. Later in 1867, it was established as a municipality.
Geography
It is situated at 32°56′ North latitude and 73°44′ East longitude. The district's natural terrain, plain fields, and mountain ranges and ridges surrounding the land make it geographically majestic. The general area of the city is 22.5 km2 (8.7 sq. mi) in length.  
Jhelum Climate 
The metropolis enjoys all four seasons. Summers are mostly humid and hot, and the temperature rises to 49.2 °C (120.6 °F). Winters are cold and dry, where the temperature may fall as low as −0.6 °C (30.9 °F). The average rainfall is approximately about 850 millimeters (33 in). The district is vulnerable to severe monsoon seasons as well that sometimes cause flooding throughout the district.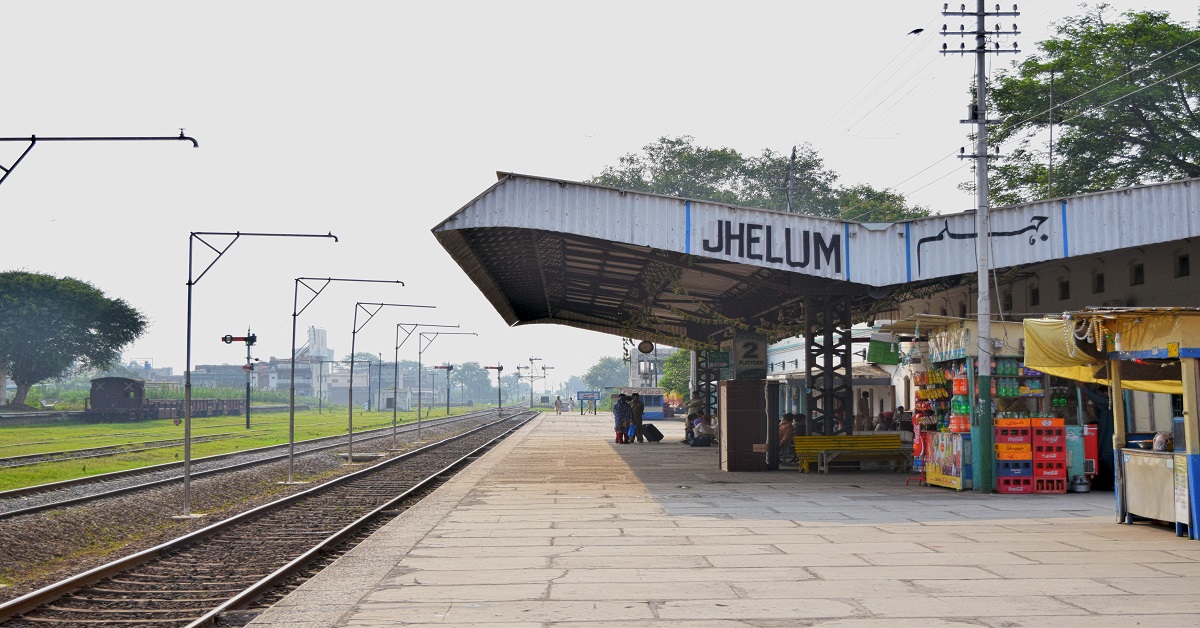 Population
According to the 2017 census, there are 1,222,650 inhabitants. Population density is 8,500/km2 that makes it the 44th largest city of Pakistan.
Culture
The Jhelum is between two culturally rich cities; Lahore and Rawalpindi. The social influence of these two cities makes it a multicultural or mix cultural city. People are simple, and the majority enjoys the charm of rural life being close to nature.
A good portion of the urban population lives in cantonments because they are military officers and their families. Women are responsible for domestic tasks, and most of them prefer to stay and work at home. The majority of working women are either doctors or teachers.
At the same time, men work in every walk of life. All kinds of retail stores and businesses are flourishing in the city. Local and franchised fast-food chains are along the street. Natives prefer to enjoy tantalizing hot and spicy traditional cuisines.
Education
Jhelum is not only rich in natural resources, industry, and agriculture, but it is also rich in intellectual capital. Throughout the city, a network of academic institutions is in place, ranging from primary education to higher education institutions.
According to the Government of Punjab, there are 803 academic institutions. Some of them are:
Schools
Air Foundation High School

Army Public School and College

Falcon House Secondary School

Beaconhouse School System

Presentation Convent School

St. Thomas' High School, Jhelum
Universities and Colleges
University of the Punjab

Jhelum Medical College

Virtual University of Pakistan, Jhelum Campus

Government College for Women

Government Degree College, Talianwala, Jhelum Fahad College

Community Model Girls Higher Secondary School Sanghoi

Government Degree College Jhelum

Government Degree College, Sohawa

Jhelum Homeopathic Medical College

Wings College of Commerce, 4-Civil Lines

Jinnah Law College near Kutcheri-Jhelum
Sports
People play all sorts of sports. However, most enjoy playing:
Cricket

Golf

Hokey

Kabbadi

Horse Riding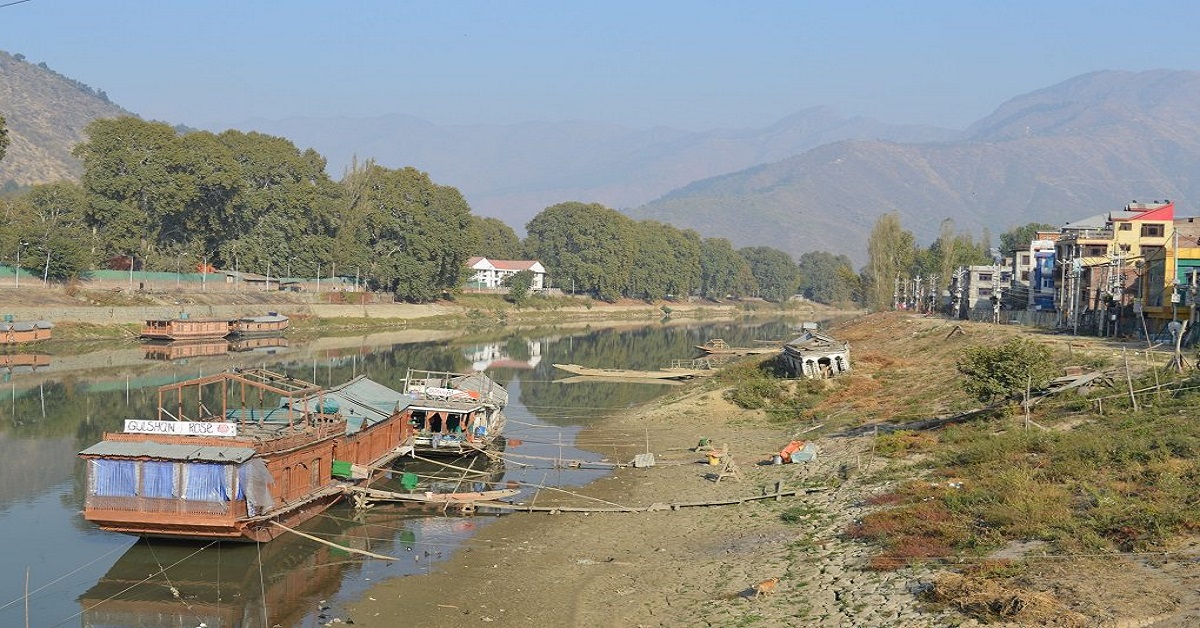 Economy
Jhelum is abundant in natural resources. Agriculture, industry, livestock, forests, ores, and minerals are hugely contributing its share to the overall economic growth of Pakistan.
Industry
Right after partition, there was only one big factory in Jhelum, but now the industry is thriving to compete with Punjab's other industrial cities. New industrial units of all sorts like cottage, small, medium, and large scale units are being established.
According to the data published by the government of Punjab, the following industrial units, 104 in total, are operational in Jhelum:
Brick Kilns 

Cement (Dandot)

Flour Mills

ICI Soda Ash

Mari Petroleum

Pakistan Tobacco Company 

Soda Ash

Textile Composite

Vegetable Ghee & Cooking Oil
Agriculture
Jhelum's soil is fertile and conducive for cultivation. A well-organized irrigation system helps the following crops grow plentiful: Wheat, Maize, Bajra, Sugarcane, Rice, Moong, Mash, Masoor, Gram, Ground Nut, and Jawar. 
Similarly, fruits and vegetables are also grown in significant quantities. That includes Guavas, Citrus, and Banana; Potato, Turnip, Bottle Gourd, Ladyfinger, Carrot, Cauliflower, Onion, Peas, Tomato, and Garlic. 
Despite modern agricultural machinery availability, people carry out their traditional farming practices and pastoral lifestyle by raising livestock. Goats, Cows, Buffaloes, and Sheep are used not only for domestic consumption but also for agriculture.     
Ores and Minerals
Rich reserves of ore and mineral resources make Jehlam distinguishing status in Pakistan. The biggest salt mine of Pakistan, Khewra, is also located here. Several local and foreign companies are operating in mineral mining and exploration in the region.
Minerals and ores like Coal, Marble, Lime Stone, Brine, Gypsum Silica, Fireclay, Rock Salt, and Bentonite (Aluminum Silicate clay) are the most prominent products of Jhelum.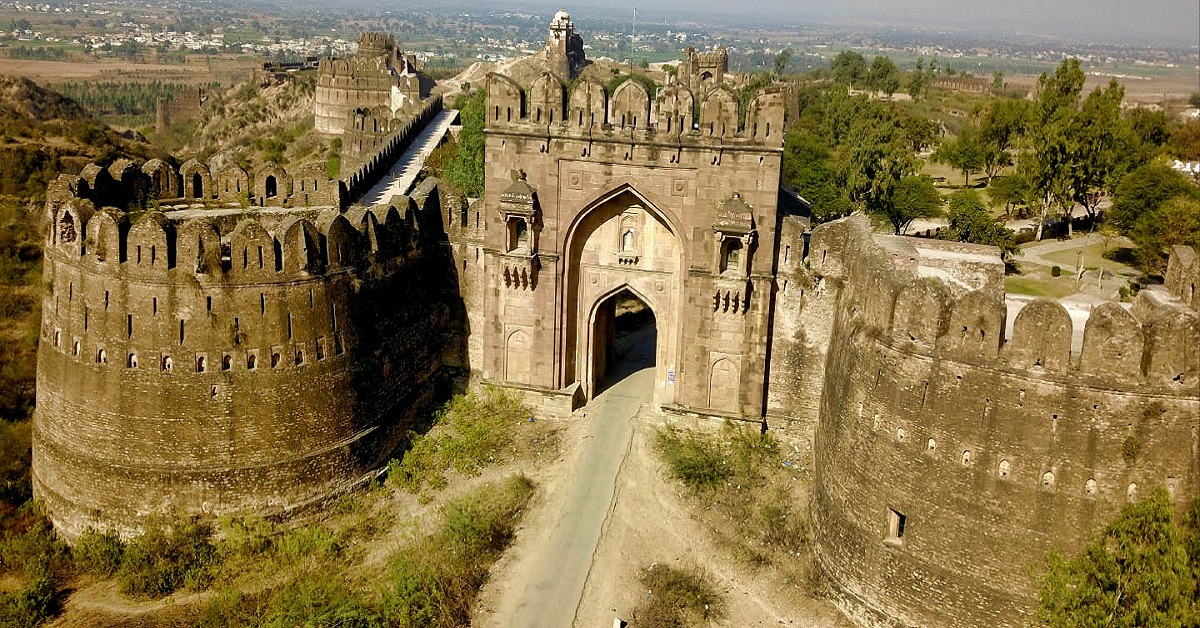 Tourism
In addition to its pristine landscape, there are several historical places for tourist attraction as well. The following places are worth visiting:
Agha Syed shrine

Altaf Park

Damri Valli Sarkar 

Hazrat Baba Sain Sarkar Shrine 

Hazrat Meeran Ali shrine

Major Akram Shaheed Park

Jhelum River Bridge

Khewra Salt Mine
Lehri Nature Park
Mangla Dam

Hazrat Baba Salman Paras Shrine

Ostrich Form Sanghoi

Rasul Barrage

Rohtas Fort

Saint John's Church 
Languages
Natives can speak and understand:
Travel 
There are many options available to reach Jhelum by road. Many bus services are operating throughout the country that arrives at the Central Bus Station. Motorway M-2 links other cities with it. One can reach via GT road as well. Travelers from all over the country widely use train service. Tourists can reach Jhelum by air as well. The nearest airports are:
Sialkot (SKT) 74.6 km

Islamabad (ISB) 95 km

Lahore (LH) 169.8 km  
Jhelum Postal Code
Postal Code: 49600
Area Code: 0544