Jamshoro  is a city and capital of Jamshoro District, Sindh, Pakistan. Jamshoro, the site of largest University residential campus in the country, situated about 18 kilometers from Hyderabad on the right bank of River Indus, was a rather desolate hilly track until 1955 when it was selected for the establishment of Sindh University Campus. The site was selected to be a University township away from the humdrum of Hyderabad city which lacked room to meet the ambitious expansion programs of the University.
Interestingly, Jamshoro is virtually the gate-way to the Indus Valley, now world-famous for its civilization and rich cultural heritage. The Ranikot Fort is located 40 km. to the north of the campus, in the northward continuation of the same hilly track which become Laki Ranges, merging with the Khirthars northwards. Amri, an important archeological site, lies about 15 km. further north. Sehwan, a well known township lies 25 km. to the north of Amri. Mancher Lake the largest fresh water lake in the region, is situated to the west north west of Sehwan. Travelling about 150 km.
| Title | Description |
| --- | --- |
| Information | |
| Location: | Sindh |
| School And Collages: | Cadet College Petaro , Pak Turk International School & College Jamshoro , The City School Jamshoro campus , The Educators Branch Jamshoro , Mehran University Public School and College Jamshoro , Army Public School Petaro , Government Boys High School Jamshoro Colony , Maria Millenium Public School Jamshoro |
| Universties: | University of Sindh, Mehran University of Engineering and Technology , Liaquat University of Medical and Health Sciences |
| Weather: | 98°F (37°C), Wind SE at 3 mph (5 km/h), 46% Humidity |
| Nickname: | Jamshoro |
| In Urdu: | جامشورو |
| Towns: | 1 |
| Local Time: | Thursday 4:16 PM |
| Type: | City |
| Local Language Name: | urdu |
| Province: | Sindh |
| Neighborhoods: | Phase – III,Blocks Hostel,MUET Lower Staff Residence,Railo Miyan,Employee Colony,Phase – II,Phase – IV,Phase – I,Mehran University Employees Co-operative Housing Society |
| Website: | www.jamshoro.com.pk |
| Country: | Pakistan |
| Population: | 80,000 approx |
| Time Zone: | PST (UTC+5) |
| Codes | |
| Postal code: | 76090 |
History

This region has been ruled by di erent dynasties, including the Soomras (1024-1351), the Summas (1335-1520), the Arghuns (1520-1650), the Kalhoras (1657-1783) and the Talpurs (1783-1843).After the independence of Pakistan, in 1947, district Jamshoro remained a part of district Dadu. This area continued to be neglected by the authorities but the gradual process of development has changed this district significantly
Details
Jamshoro district is part of Hyderabad division. It was created in 2004 after dividing Dadu district. Jamshoro district is located on very important place. Its boundaries are connected with Balochistan, Karachi, Hyderabad and Nawab Shah. The district headquarter of Jamshoro is Kotri City. While Jamshoro city is known as educational Hub. Jamshoro University is located there. The total area of district is 11517 square Kilometers. River Indus floes on his eastern side. The estimated population of district was 1177000 persons in 2001. The spoken languages are Urdu 6%, Sindhi 84%, Punjabi 4% and Pashto 3%. The town of Sann is also located in this district this is known for the residence of Ghulam Murtaza Shah Syed was known as G.M Syed. He born in 1904 in Sann and died on 25 April 1995.[1]  Details 
Aministrative Structure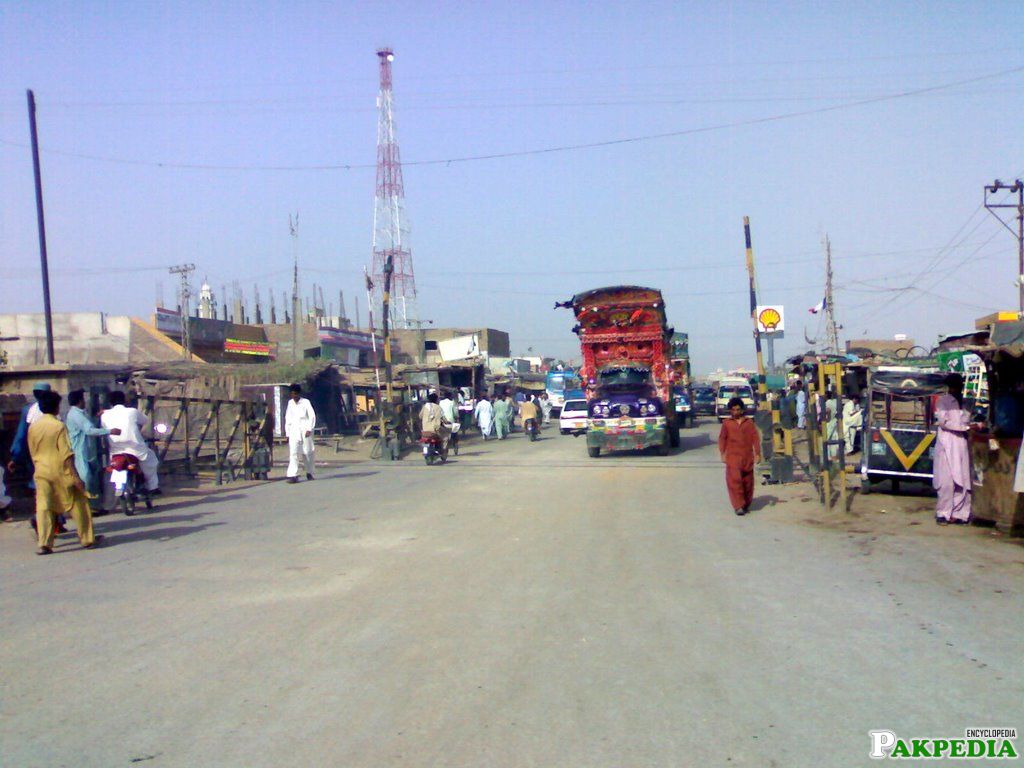 Jamshoro  district  was  split  from  Dadu  district  in  December  2004. It is situated on the west bank of River Indus. The district borders with Dadu district in north, Thatta district in south and  Karachi   in   south   west.   The   district   comprises   four   talukas   namely Kotri, Manjhand, Thana Bula Khan and Sehwan.
Agriculture
District  Jamshoro  is  slightly  hotter  than  surrounding  areas  in  summer  and  has  cool  winters.  The  district  is  rich  in minerals like limestone, gravels and marbles. The Kharif crops produced in the district are rice, cotton, sugarcane, bajra and maize. The Rabi crops are wheat, Barley, gram, pulses and oil seeds.
Industries
Two  out  of  four  talukas  have  industrial  estates  in  this  district.  The  industrial  state  in  TalukaKotri  consists  of  160  factories. This industrial estate employs a large number of people from all over the country. TalukaThanoBula Khan has an industrial state in Nooriabad along superhighway, which consists of 72 industrial units but where only 42 units are functional  and  providing  employment  to  its  inhabitants  and  outsiders.  Mining  is  also  a  source  of  income  for  the  inhabitants of this taluka.[2] Jamshoro Industry
Poverty Status
According to the report by Multidimensional Poverty in Pakistan2014-15 the Multidimensional Poverty Index is 0.297 in Jamshoro. In another report by Naveed and Nazim (2012), the intensity of poverty 0.54, the head count ratio  is 0.39,  poorest of the poor 0.23, most Vulnerable 0.16. [3] Proverty status
Irrigation

Katcha area alongside the Indus River is the main agriculture production area where vegetables are grown abundantly.
Some of the areas in Sehwantaluka are irrigated by Dadu canal. [4] jamshoro Irrigation
Livestock
The  most  kept  livestock  in  district  Jamshoro  are  cattle,  bu aloes,  sheep,  goat,  camel,  horses,  mule  and  domestic  
poultry. [5] live stock
Eelectrol Representation
Registered Voter 
Registered Voters Male
Registered Voters Female
National Assembly Seats
Provincial Assembly Seats
369,424
202,362
167,062
1 (NA-231)
3 (PS-71, PS-72, PS-73)
[6]Electoral Representation
Administrative divisions
   Kotri
Jamshoro
Sehwan Sharif
Thana Bulla Khan
Manjhand
Demographics
The population of the district of Jamshoro  increased from the figure of 582,094 in the year 1998 to 1,176,969 in the year 2011, an increase of 102.2 percent. Roughly, 95 percent of the Population of the city contains immigrants from several parts of interior Sindh who moved to the town in around the time period of 1948-2001 and to a lesser extent from the time period of 2002-2014 decades. Therefore, the city holds various diverse Sindhi clans and ethnic groups mainly from Jamshoro District,   Sukkur District, Dadu District, Larkana District, Khairpur District, Nawabshah District, Umarkot District, Matiari District,  Shikarpur District, Tharparker, Naushahro Feroze District, Badin District and Jacobabad District. The city is primarily Sindhi.
Location
Jamshoro, is located on the right bank of Indus River at the south-west position of Sindh sloping from direction North-east to south-west and is over 18 km far from the city of Hyderabad and at a distance of 150 km from the city of Karachi
Education
Local Universities
University of Sindh
Liaquat University of Medical and Health Sciences
Mehran University of Engineering and Technology
Schools and Colleges
Cadet College Petaro
The City School Jamshoro campus
Mehran University
Pak Turk International School and College Jamshoro
Detail Population of District Jamshoro Census 2017
| | | | |
| --- | --- | --- | --- |
| –  | Rural | Urban | Total |
| Population | 558955 | 434187 | 993142 |
| Male | 296145 | 227114 | 523259 |
| Female | 262809 | 207030 | 469839 |
| Transgender | 01 | 43 | 44 |
| Household | 103199 | 77723 | 180922 |
RaniKot Fort
Ranikot Fort is an ancient fort near Sann, Jamshoro District, province of Sindh, Pakistan. Ranikot Fort is also called as The Great Wall of Sindh and is considered to be the world's greatest fort with a circumference of nearly 26 kilometers (16 mi). Since the year 1993, it has been on the tentative list of UNESCO World Heritage Sites.[8]  RaniKot Fort 
Tehsils or Talukas of District Jamshoro

There are five Talukas or Tehsils in district Jamshoro they are.
Taluka Kotri
Taluka Jamshoro
Sehvan Sharif Taluka
Taluka Thana Bulla khan
Taluka Manjhand
National Assembly Seats according to 2013 General Elections
Sindh Assembly seats according to 2013 General Elections
PS 71 Jamshoro-I MPA Sikandar Ali Shoro (PPP)
PS 72 Jamshoro-II MPA Faqir Dad Khoso (PPP)
PS-73 Jamshoro / Dadu MPA Syed Abdul Nabi Shah (Independent)
District Council Jamshoro (Total UC =29)
Jamshoro Union Council
Union Council No.
Union Council Name and Area
Chairman / Vice Chairman
UC No. 1
Wahur
Noor Muhammad Dal / Habeeb ullah Panhwar
UC No. 2
Shaikh
Muhammad / Shahid Ali
UC No. 3
Bhambha
Shafique Ahmed / Rahib Ali Lashari
UC No. 4
Jafarabad
Ghulam Qadir Bhalai / Ghulam Nabi Mallah
UC No. 5
Arazi
Dost Ali Shah / Meer Ijaz Ali
UC No. 6
Talti
Noor Nabi Halipoto / Gul Muhammad Lashari
UC No. 7
Channa
Ghulam Muhammad Otho / Dilawar Hussain Jatio
UC No. 8
Bubak
Fazal Muhammad Abbasi / Amanullah
UC No. 9
Bajara
Muhammad Hassan bajari / Munir Ahmed Channa
UC No. 10
Jhangara
Syed Nawaz Ali Shah almaroof Ghulam Hussain / Muhammad Bachal
UC No. 11
Amri
Sajjad Shah / Dadan Rindh
UC No. 12
Shalmani
Meer Khan / Muhammad Urs
UC No. 13
–
–
UC No. 14
–
–
UC No. 15
Manzoorabad
Dildar Ali / Shehzad Ali
UC No. 16
Khanote
Dil Nawaz Khan / Kareem Bakhsh
UC No. 17
Unarpur
Abdul Ghani Messo / Darya Khan
UC No. 18
Toung
Dhani Bakhsh / Muhammad Zaman
UC No. 19
Thano Arab Khan
Babu Khan Brehmani / Ali Hassan Burfat
UC No. 20
Mole
Muhammad Zaman Hamlani / Nawab ud Din
UC No. 21
Sarri
Muhammad Khan Palari / Nabi Bakhsh
UC No. 22
Thano Ahmed Khan
Wishnomal / Peer Bakhsh
UC No. 23
Dhamach
Mujahid Khan / Tanveer Ahmed
UC No. 24
Mondar Khan Palari
Dor Muhammad Palari / Abdus Salam
UC No. 25
Allah Bachayo Shoro
Imdad Ali Shoro / Muhammad Bakhsh Meer Bahar
UC No. 26
Dhaboon
Nazir Ahmed / Abdur Razzaq
UC No. 27
–
–
UC No. 28
Sindh University
Ayyaz Khan / Abdul Mujeeb Abro
UC No. 29
Petaro
Ghulam Nabi Rajar / Meer Muhammad Lanjar