Not only the poetic but also the national status of Hafeez Jalandhari needs no introduction. Through poetry, his services to the country and the nation are an example of its own right and an imitation cause for young writers. It would not be wrong to say that his soul belonged to Mujahid and his heart belonged to the poet. He was a poet of poetry and ghazal. However, his greatest achievement is 'Shahnameh Islam,' which was published in four volumes. His other significant achievement is the national anthem of Pakistan. He will always be remembered for creating this anthem. This article has all the information about Jalandhari, including Hafeez Jalandhari Biography.
| Title | Description |
| --- | --- |
| Personal | |
| Name: | Hafeez Jalandhari |
| Pen name : | Abu Al-Asar |
| In Urdu: | حفیظ جالندھری |
| Famous As: | Poet |
| Nationality: | Pakistani |
| Residence: | Lahore |
| Education: | 7th Grade |
| Religion: | Islam |
| Profession: | Urdu Poet |
| Awards : | He Bagged Various Awards |
| Born | |
| Date: | 14th January 1900 |
| Place: | Jalandhar, India |
| Family | |
| Spouse: | Zeenat Begum |
| Children: | 7 daughters |
| Parents: | Shamsuddin (Father) |
| Died | |
| Date: | 21st December 1982 |
| Rest Place: | Lahore |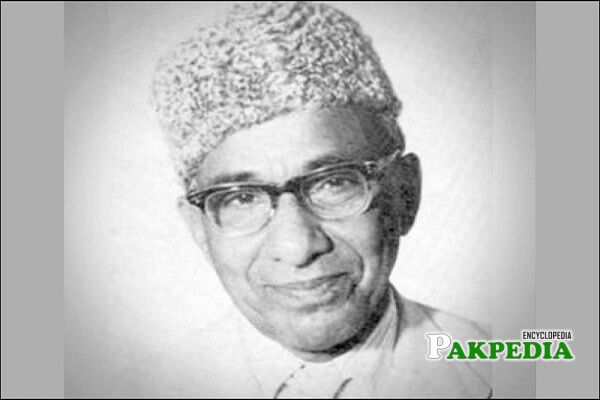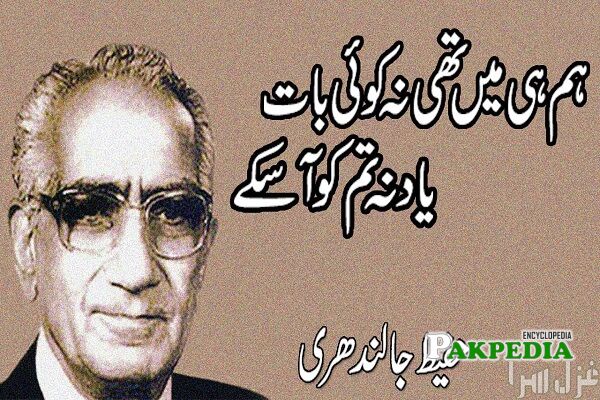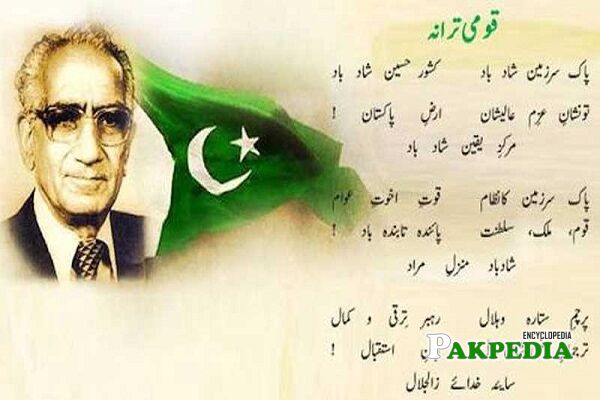 Hafeez Jalandhari Biography
Jalandhari spent more than half of his life cultivating knowledge and literature. As the originator of the national anthem, he lives and will live in the hearts of Pakistanis with full respect and love. Whether his artwork is a systematic history of Islam, Shahnameh-e-Islam, or national anthem of Pakistan, everyone left an impression on the listeners and readers. In recognition of his services, he was awarded the titles of 'Poet of Islam' and 'Poet of Pakistan.' In return for his scholarly and national services, he was also awarded 'Hilal Imtiaz' and Pride of Performance' by the government.
Hafeez date of Birth
He was born on January 14, 1900, in a Rajput family in Jalandhar Punjab (British India). After India's partition in 1947, he migrated to Punjab's city Lahore.
Education of Hafeez
He got his early education from the mosque and had the opportunity to get regular education from the school till the seventh grade. The home environment was also religious. Therefore, the religion of Islam enlightened his heart from childhood, and it was this passion that made him a poet. Adverse living conditions were faced from the beginning, and Hafeez had to face worries of employment from his childhood. 
School education remained incomplete, but his taste for poetry and speech continued to grow from an early age. He learned about the mysteries and secrets of poetry under the patronage of the famous Persian poet Maulana Ghulam Qadir Bulgrami, and his name was included in the list of the most famous poets.
Hafeez Jalandhari Family
His father Shamsuddin was a memorizer of the Quran. At the age of seventeen, Hafeez married his cousin Zeenat Begum, from whom he had seven daughters and no sons. In 1939, he remarried to a middle-aged English woman, but the marriage soon ended in divorce.
Literary Career
Early Career
His whole life was a constant struggle. Initially employed in the railways, he continued to write in various literary journals and made a name for himself. Despite his meager income, he continued to serve literature wholeheartedly. In 1921, when he published his first literary monthly magazine monthly, 'Ijaz,' Grami gave him letters for Hakim Ajmal Khan in Delhi and Maulana Sharrer in Lucknow so that he could get personal acquaintance with the regular writers of the magazine. 
From 1922 to 1929, he was the editor of standard literary magazines such as 'Nonhal,' 'Hazar Dastan,' 'Tahzeeb Niswan,' and 'Makhzan.' In addition to 'Soz-o-Saaz,' 'Naghma-e-Zar,' the collections of fiction 'Haft-e-Pekar,' and 'Chuyanti Nama' were very popular. During World War II, he was appointed Publicity Officer. He was an active member of Tehreek-e-Pakistan. In 1948, he took an active part in the ongoing activities for the independence of Kashmir. 
After the formation of Pakistan, he became the Director-General of Morals and caretaker of Kashmir Affairs in the Armed Forces of Pakistan. Established a book depot in Lahore and published books.
National Anthem
Independent nations are known for their national flag and national anthem. The selection committee of the national anthem selected Hafeez's anthem from 723 anthems. Composed to the tune of SG Chagla, this anthem evoked a tremendous national spirit (anthem aired on August 13, 1954). His service is unparalleled and a great blessing to the nation. The duration of the national anthem of Pakistan is one minute and 20 seconds. 
Quaid-i-Azam wanted the national anthem to be prepared soon but, this wish was not fulfilled in his lifetime, and the National Anthem Committee was formed in 1949 under the leadership of Liaquat Ali Khan. Its first meeting was held at the residence of Sardar Abdul Rab Nishtar. All poets and musicians were invited to compose a tune. The second meeting of the committee was held on July 4, 1949. The committee received hundreds of national anthems but did not approve any of them.
Finally, Ahmad Ghulam Ali Chagla composed a beautiful melody of the national anthem. This melody was approved in August 1949. Meanwhile, Quaid-e-Millat was martyred, so the task of composing the anthem could not be completed. Finally, according to the tune, the task of writing 'Bol' was entrusted to Jalandhari. The anthem written by him was approved on August 7, 1954.
As a Poet
After the war in 1965,  Lahore, Sialkot, and Sargodha were given flags in the name of 'Hilal Istiqlal' as a symbol of courage and bravery. He composed a beautiful national poem for this flag called 'Hilal Istiqlal,' and his national poems and anthems raised the nation's morale. He wrote military songs during World War II. He used to call himself a ghazal singer and did many new experiments in a ghazal. 
The biggest thing is that he used the Silesian language and made the surrounding events the subject of his ghazals. His ghazals became very popular in which one ghazal was sung by Queen Pakraj with the words 'Abhi Tu Mein Jawaan Hun,' and is still remembered.
Hafeez Jalandhari Death
He passed away on December 21, 1982. He was embedded in Model Town Lahore, and after some time, his body was shifted to a shrine near Minar E Pakistan. With his death, a chapter of knowledge and literature was closed, but his knowledge will continue to irrigate us.
Memorial and Honoree Postage Stamp
To give honor to his series 'Poets of Pakistan' Pakistan Post issued a memorial postage stamp in his honor in 2011.
Hafeez Jalandari Books
Naghmaa Zar
Shahnaama E Islam (4 Volumes)
Soz O Saaz
Talkhabaa E Shiren
Chiraagh E Sehar