The Jamiat Ulema-e-Islam is a political party in Pakistan.It formed a combined government in national elections in 2002 and 2008. The party has split into two separate parties: one is led by Maulana Fazal-ur-Rehman and is known as "Jamiat Ulema-e-Islam (Fazlur Rehman)", or "JUI-F", while the other is led by Maulana Sami ul Haq and is known as "Jamiat Ulema-e-Islam (Sami ul Haq)" or "JUI-S".
| Title | Description |
| --- | --- |
| Information | |
| President: | Maulana Fazl-ur-Rehman |
| Founder: | Mufti Mahmud (founded JUI) |
| Founded: | Founded 1988 |
| Headquarters: | Karachi Pakistan |
| Leader: | Maulana Fazl-ur-Rehman |
| Preceded by : | Jamiat Ulema-e-Islam |
| Ideology : | Islamism, Clericalism, Social conservatism, Religious conservatism |
| Political Position : | Far-right |
| National Affiliation : | Muttahida Majlis-e-Amal |
| Colors : | Black & White |
| Senate : | 5 / 104 |
| National Assembly : | 13 / 342 |
| Punjab Assembly : | 1 / 371 |
| Pakhtunkhwa Assembly : | 16 / 124 |
| Balochistan Assembly : | 8 / 65 |
| Gilgit-Baltistan Assembly : | 1 / 33 |
| Election Symbol: | Book |
| Website: | https://juipak.org.pk/ |
| Reserved Seats Minority: | Aasiya Nasir |
| Last Past Party Head: | Past Party Heads |
| General Seats: | 9 |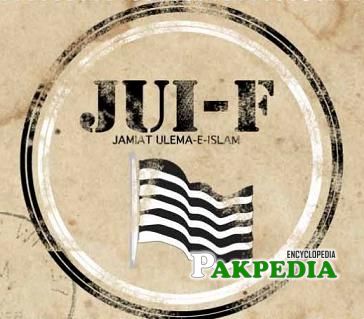 Details
It has consistently opposed liberal and progressive policies, equating them with 'imposition of western culture' which it deems inappropriate for an Islamic state. It pursues the ideal of enforcement of Shariah law in the country. JUI (F) is a religio-political party, based on the Deobandi school of thought.[1]  Details 
History
The JUI-F was formed from within the ranks of the JUI, a party that itself had taken shape from the cadres of Jamiat Ulema-i-Hind (JUH). The JUH was formed in 1919 with anti-colonial aims and was an ally of the Indian National Congress. JUI broke away from JUH over its support for the creation of Pakistan as a separate homeland for the subcontinent's Muslims.
Mufti Mahmud
In its present form, JUI was restarted in the 1960s by Mufti Mahmud, supposedly in order to stand in opposition to Ayub Khan's regime. In 1980, Mahmud was succeeded by his son Maulana Fazlur Rahman.
Maulana Fazlur Rahman
Under Rahman's chairmanship, the party joined the Movement for the Restoration of Democracy(MRD) after the then military ruler, Zia ul Haq, went back on his promise to hold a general election in the country.
Religious Schools and Seminaries
JUI-F depends more or less entirely on Deobandi mosques and madrassahs for recruitment of new members, which is fundamentally why its middle and top ranks comprise mostly of madrassah-oriented theologians. Moreover, most of the party's workers are those who have previously been trained in religious schools and seminaries.The party's organisational hierarchy is determined by seniority with respect to a member's religious education and training as opposed to his or her political muscle.
Political Meetings and to Rally
Although the party attempts to hold political meetings and to rally support in all parts of the country, its key constituencies are situated in parts of the Khyber Pakhtunkhwa and Balochistan provinces.Since the 1980s, JUI-F has continually oscillated between politics of ideology and politics of pragmatism.[2] History
Political Stance
The positions taken by JUI-F on many important issues confronting Pakistan reflect the party's ideology and policy, albeit on a rather broad level.The JUI-F has been known to call for the enforcement of Sharia law in Pakistan, which was also one of the key aims of the Muttahida Majlis-i-Amal (MMA) a six party alliance of which it was a part in the 2002 general election.
Chairman of the Parliamentary Committee
The JUI-F chief has also served as chairman of the Parliamentary Committee on Kashmir. As a member of the religious right, the party has maintained a staunch position on the issue. Rehman has stated that there is a need to prioritise Kashmir as far as foreign policy is concerned and also declared that the Pakistani government would continue to extend moral and diplomatic support to the Kashmiri people.
Regard to Womens Rights
The party's policy with regard to women's rights and the role of women in society has been a matter of contention in various circles. The JUI-F has previously boycotted parliamentary committee sessions on the domestic violence bill, terming it a "conspiracy to promote western culture" in Pakistan and threatening nationwide protests if the bill was made law.
MRD in1983
JUI-F joined the MRD in 1983 under Rahman's chairmanship and since then it has oscillated between various positions. During the 1990s, JUI-F alternated between supporting and opposing the policies of PPP– and PML-N-led governments, headed by Benazir Bhutto and Nawaz Sharif respectively.
Election Victories
The JUI is part of the Muttahida Majlis-e-Amal (MMA), an alliance of religious parties that won 11.3% of the popular vote and 53 out of 272 elected members in the 2002 elections.In the 2008 Pakistani general election, only the JUI-F participated because the other major component party of the MMA, the Jamaat-e-Islami, boycotted the elections to protest issues of the eligibility of President Pervez Musharraf and the restoration of the judiciary.Unlike the 2002 elections when the MMA swept national and provincial assemblies, in 2008 the JUI-F only won 6 general seats in the National Assembly, which garnered them 1 additional seat in the Women Reserved section, raising the total to 7 NA seats. In the provincial assemblies, it won 14 seats in the NWFP Assembly, but could only muster 2 seats in the 371-seat Punjab Assembly. The party received strong support in Pakistan's western regions.[3]  Election Victories 
Key People
Maulana Gul Naseeb Khan
Maulana Mohammad Khan Sherani
Maulana Abdul Ghafoor Haideri
Participation in Elections
1970
1988
1990
1993
1997
2002
2008
Past Party Heads
Maulana Shabbir Ahmed Usmani
Maulana Ahmed Ali Lahori
Maulana Mufti Mahmood
Seats Distribution
| Seat Type | No. of Seats |
| --- | --- |
| General | 9 |
| Reserved | 3 |
| Minority | 1 |
| Total: | 13 |
General Seats
Constituency
Name
Party
Address (Permanent/Local)
Phone
NA-7
Charsadda-I
Maulana Muhammad Gohar Shah
JUI-F
Gohar Abad, Babara, Tehsil & District Charsadda  G-206, Parliament Lodges, Islamabad.
+92 300 9019821
NA-22
Battagram
Qari Mohammad Yousif
JUI-F
Shangli Bala, Tehsil & District Battagram  G-104, Parliament Lodges, Islamabad.
+92 300 5319912
NA-24
D.I.Khan
Maulana Fazal Ur Rehman
JUI-F
Shahbaz Khel, Abdul Khel, Tehsil Paharpur, D.I.Khan  G-209, Parliament Lodges, Islamabad
+92 300 8506684
NA-26
Bannu
Mr Akram Khan Durrani
JUI-F
Mewa Khel ,Surrani ,Tehsil & District Bannu  Durrani House, Park Road, Chatta Bakhtawar, Islamabad.
+92 346 6060060
NA-42
Tribal Area-VII
Mr Muhammad Jamal ud Din
JUI-F
Manitoi, Tehsil Tiarza, South Waziristan Agency  J-09, Parliament Lodges, Islamabad.
+92 300 9090986
NA-261 
Pishin-cum-Ziarat
Moulvi Agha Muhammad
JUI-F
Killi Muhammad Raza, Dist.&Tehsil Pashin.  G-205 Parliament Lodges, Islamabad.
N/A
NA-263 
Loralai
Molana Ameer Zaman
JUI-F
Hashmi Muhallah Ward No. 4 Loralai. (Dob 1952).  H-10, Parliament Lodges, Islamabad.
0300-3863225
NA-264 
Zhob-cum-Killa-Sherani Saifullah
Moulana Mohammad Khan Sherani
JUI-F
Killi Mir Alikhel District Sherani  J-107, Parliament Lodges, Islamabad.
0333-5233887
NA-269 
Khuzdar
Molana Qamar ud Din
JUI-F
Gazgi, Khuzdar, Markazi Jamia Masjid, Khuzdar  J-01, Parliament Lodges, Islamabad
0333-7983542
Reserved Seats For Women
Khyber Pukhtunkhwa
| Constituency | Name | Party | Address (Permanent/Local) | Phone |
| --- | --- | --- | --- | --- |
| 1 | Shahida Akhtar Ali | JUI-F | Hasham Cottage, Hashmi Street No.1, Bilal Town, Kakul Road, Abbottabad.  G-208, Parliament Lodges, Islamabad | N/A |
| 2 | Naeema Kishwar Khan | JUI-F | Gujar Garhi,Mardan  J-105, Parliament Lodges, Islamabad. | +92 300 5737029, +92 332 4444291, mkishwarkhan@gmail.com |
Balochistan
| | | | | |
| --- | --- | --- | --- | --- |
| 1 | Mrs. Aliya Kamran | JUI-F | Kamran Murtaza, H.No.524, G-9/3, Main Ibn-e-Sina Road, Opp: F-9 Park, Islamabad  F-407, Parliament Lodges, Islamabad. | N/A |
Reserved Seats Minority
| Constituency | Name | Party | Address (Permanent/Local) | Phone |
| --- | --- | --- | --- | --- |
| 1 | Aasiya Nasir | JUI-F | Nasir House, Arbab Karam Khan Road, Quetta.  F/212, Parliament Lodges, Islamabad. | N/A |
Contact Information
Address: Jamia Madnia, Kareem Park, Ravi Road, Lahore. 
Contact Number: +92 42 7720944