The Pakistan Awami Tehreek, also called PAT, is a Pakistani political party established by religious scholar Muhammad Tahir ul Qadri, who participated in general elections in 1990 & 2002. The party is striving for democratic political values in Pakistan.
The party's primary focus is towards the betterment of individuals on cultural, religious, and social footings to aware them of their duties and rights to present a scientific, rational, and realistic image of Islam. The article carries every detail, including Pakistan Awami Tehreek Leaders.
| Title | Description |
| --- | --- |
| Information | |
| Founder: | Dr. Muhammad Tahir-ul-Qadri |
| Founded: | 25 May 1989 |
| Headquarters: | Lahore Pakistan |
| Leader: | Dr. Muhammad Tahir-ul-Qadri |
| President : | Dr. Raheeq Ahmad Abbasi |
| Vice-President : | Ch. Mazhar Iqbal |
| Secretary-General : | Khurram Nawaz Gandapur |
| Ideology : | Moderate Islamism, Islamic democracy, Islamic socialism |
| Political Position : | Centrism Fiscal (Centre-left Social, Centre-right) |
| Flag Color: | Red, White, Green |
| Took Part in: | General Elections in 1990 and 2002 |
| Seven Priorities: | Education, Economy, Poverty, Health, Justice, Peace, Technology |
| Long March: | 14 January 2013 – 17 January 2013 |
| Lahore Clash: | 17 June 2014 |
| Phone #: | +92 42 111140140 |
| Working for : | Democratic Political Values in the Country |
| Website: | http://www.pat.com.pk |
| Twitter: | https://twitter.com/PatOfficialPK |

Pakistan Awami Tehreek Leaders
Dr. Muhammad Tahir-ul-Qadri-Founder

Qazi Zahid Hussain-President

Khurram Nawaz Gandapur-Secretary-General

Basharat Aziz Jaspal-President

Rehan Asad Maqbool-General Secretary

Qazi Shafeeq-ur-Rehman-President

Syed Mehmood Ahmad-General Secretary

Fayyaz Ahmed-President

Saifullah Khan-General Secretary
Manifesto
PAT presented a manifesto consisting of one-hundred and eighty-six pages entitled 'putting people 1st', that outlined 7-priorities:
1. Economy
2. Education
3. Health
4. Poverty
5. Peace
6. Technology
7. Justice
Political History
Dr. Tahir-ul-Qadri, the PAT chief, announced Pakistan Awami Tehreek's establishment in a public gathering on 25th May 1989 at Mochi Gate of Lahore. He has worked as the opposition leader from 1983 to 1993 and tried to mention the Government's mistakes and suggested ways for upgrading the situation of economic, educational, and political fields.
Tehreek-e-Nifas-e-Fiqh-e-Jafria and PAT signed the 'Communique of Unity' for the promotion of religious and social harmony. In another move, PAT introduced for the 1st time in Pakistan's political history the idea of a 'working-relationship' between 3-national political parties Tehreek-e-Istaqlaal, TNFJ, and PAT.
He gave a detailed working strategy for interest-free banking encompassing all types of international and national transactions appreciated and recognized by all society segments, including banking and industrial professionals.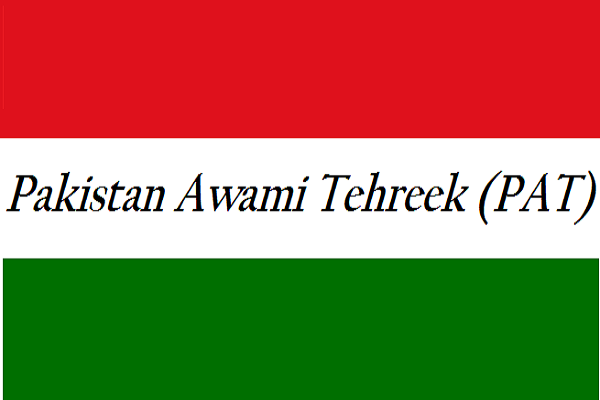 1990 Elections 
Pakistan Awami Tehreek fielded contestants throughout Pakistan in general elections that were held 1-year after its foundation. The party failed to win any single-seat, but polls worked out to promote its message throughout Pakistan.  
1993 Elections 
PAT's leadership made efforts to unite political and religious leaders before the 1993 elections to offer a substitutive direction to the nation. However, all political parties joined several political alliances made by invisible hands. Observing a sharp political division.
After in-depth contemplation, PAT's General Counsel concluded that the existing system of elections wouldn't perform as the bridge to achieve the target of resolution. Thus, it announced to boycott the political activities and took steps to develop an awareness in individuals caught in feudalism and capitalism clutches.
Pakistan Awami Tehreek introduced the 'Mass-Educational' project at the local level, and under this project, several educational institutes were established. 
Pakistan Awami-Ittihad
The Government of PML-N, in its 2nd stint from 1997-1999, began the exploitation of its political rivals. Cases of political nature were filed against them. The Govt tried via legislation to declare PM Nawaz Shareef unaccountable and powerful. On 8th Aug 1998, the Shariat bill was passed.
Seventeen political forces gathered on the PAT platform under its chief Tahir-ul-Qadri's leadership to eliminate political exploitation. Pakistan People's Party (PPP) also joined this political alliance. Initially, these political forces emphasized the plan of 'Go-Nawaz-Go.'
However, they later issued a fourteen-point Islamic Social-Order on 18th March 1998 to establish an Islamic-Welfare state. This political alliance, however, couldn't last long and got disbanded in 1999.
2002 Elections 
PAT participated in the 2nd general elections held in 2002. Only its chief Tahir-ul-Qadri succeeded in getting elected to Pakistan National Assembly from Constituency NA-127 in Lahore. Based on integrity and competence, the Pakistan Awami Tehreek distributed the party's tickets among party workers who belonged to the middle class.
Still, they failed in winning elections due to their ineligibility to meet the expectations and demands of Pakistan's politics.  
Resignation from NA
On 5th Oct 2004, chief of PAT Dr. Mohammad Tahir-ul-Qadri gave resignation from NA seat in the protest against military ruler Pervaiz Musharraf for taking charge of President and COAS (Chief of Army Staff) that was 1st resignation in Parliamentary history of Pakistan.
Qadri issued a resignation statement consisting of eighty-five pages and presented it in NA as the national document that unveiled secret power-play and conspiracies. After his resignation, he assigned his party workers the mass awareness task and went abroad to continue his research. 
On 29th Nov 2004, he declared his resignation from membership of the National Assembly. Explaining his resignation causes, he stated institutional inabilities, blackmailing, political corruption, undemocratic system, false promises of the president, accountability failures, global problems, including US-Pakistan relationships.
Moreover, sabotage of NA, US global-domination, international terrorism, Iraq war, Israeli aggression, Delhi-Islamabad relationships including Afghanistan-Pakistan relationships, and Kashmir dispute. 
2008 Elections 
PAT's General Council described the 2008 General elections as deficient in transparency and fairness. Thus, it announced to boycott these polls.
Addressing the meeting of Majlis-e-Shura of MQI in January 2011, the party's chief stated that the prevailing Pakistani political system protects three percent ruling elite, and ninety-seven percent who are poor have turned into slaves of the corrupt and biased political system.
On 6th Oct 2011, Pakistan Supreme Court ordered an operation on Karachi's violence after Pakistan Chief Justice Iftikhar Chaudhry took Suo moto notice in response to Dr. Tahir's appeal. 
2013 Long March 
Tahir led a historical long-march on 13th Jan from Lahore to Islamabad to highlight the need and importance of electoral reforms before the 2013 General elections.
A peaceful and disciplined sit-in was arranged in front of the Parliament House. However, it ended after an agreement between the Government and PAT assuring electoral reforms by Government.  
2013 Elections
Despite issuing a written agreement assuring the introduction of electoral reforms and conduct elections according to constitutional and legal requirements, the govt back out of its agreement. An election-commission that was formed unconstitutionally presided over the 2013 elections.
So, the PAT's general council declared a boycott of the 2013 General elections. All parties displayed their unity on the stance of Qadri. 
Lahore Clash
On 17th Jun 2014, Model Town Operation between the party activists and Punjab police resulted in the deaths of many unarmed protestors by firing of the police.
The operation lasted for around eleven hours when an anti-encroachment team of police initiated a process for removing barriers from the street in front of Minhaj-ul-Quran's offices and residence of Qadri in Model Town.
2014 March 
Dr. Mohammad Tahir-ul-Qadri led a historical long march on 14th Aug 2014 from Lahore to Islamabad to get justice for model town martyrs and send the Govt home. Their sit-in continued for seventy days in front of the Parliament House.
After Army Chief Gen Raheel Shareef's intervention, Model Town FIR was registered against 9-key figures of Government, including CM and PM. The sit-in ended on 21st Oct 2014.
Contact Information
Office Address: 365 M, Model Town, Lahore, Pakistan
E-mail: [email protected]
Phone Number: +92 (42) 111-140-140 / +92 (42) 3516-9111 
Social Media Handles
https://twitter.com/PatOfficialPK