The Jamaat-e-Islami is a social conservative and Islamist political party, advocating for an Islamic and democratic form of government in Pakistan. JI is head quartered in Mansoorah district, Lahore. JI was founded on 26 Aug 1941 in Lahore by Muslim theologian and socio-political philosopher Abul Ala Maududi.The party is led by an Emir and currently Syed Munawar Hasan is tenuring as Emir of JI.
| Title | Description |
| --- | --- |
| Information | |
| Party Name: | Jamaat-e-Islami Pakistan |
| In Urdu: | جماعتِ اسلامی پاکستان |
| Founder: | Sayyid Abul A'la Maududi |
| Founded: | 26 August 1941 |
| Headquarters: | Mansoorah, Lahore, Pakistan |
| Leader: | Khurshid Ahmed, Mian Muhammad Aslam, Rashid Naseem, Asad ullah Bhutto, Hafiz Muhammad Idress, Professor Muhammad Ibrahim, Dr. Fareed Ahmed Paracha |
| Ameer : | Siraj ul Haq |
| General Secretary : | Liaqat Baloch |
| Provincial Ameer: | Dr.Meraj ul Huda Siddiqui (Sindh), Mushtaq Ahmed Khan (KPK), Mian Maqsood Ahmed (Punjab), Molana Abdul Haq Hashmi (Balochistan) |
| Ideology: | Islamism, Religious nationalism, Social conservatism, Religious conservatism, Pan-Islamism, Islamic democracy |
| Political Position : | Right-wing to Far-right |
| National Affiliation : | Muttahida Majlis-e-Amal |
| International Affiliation : | Jamaat-e-Islami Hind Bangladesh Jamaat-e-Islami Jamaat-e-Islami Kashmir |
| Colors : | Green, white, blue |
| Senate : | 1 / 104 |
| National Assembly : | 4 / 342 |
| Punjab Assembly : | 1 / 371 |
| Pakhtunkhwa Assembly : | 7 / 124 |
| Website: | http://jamaat.org/ur/ |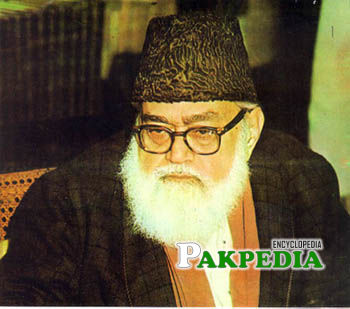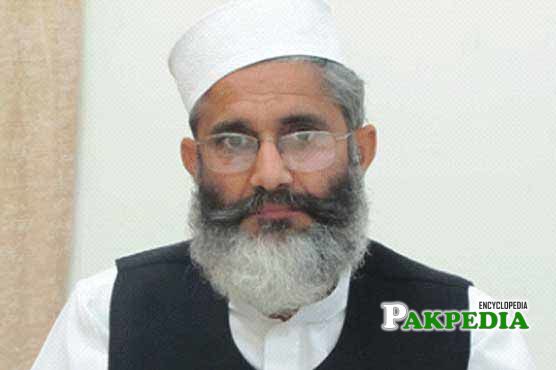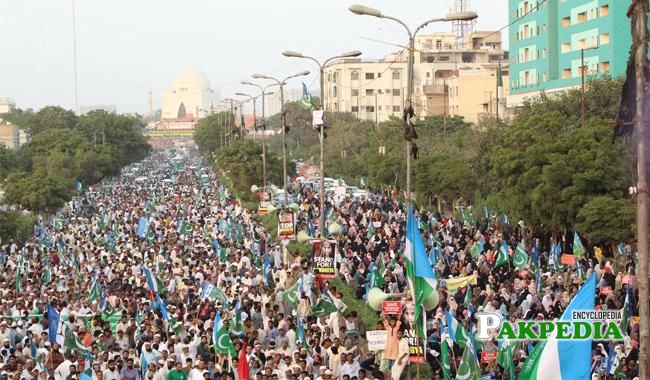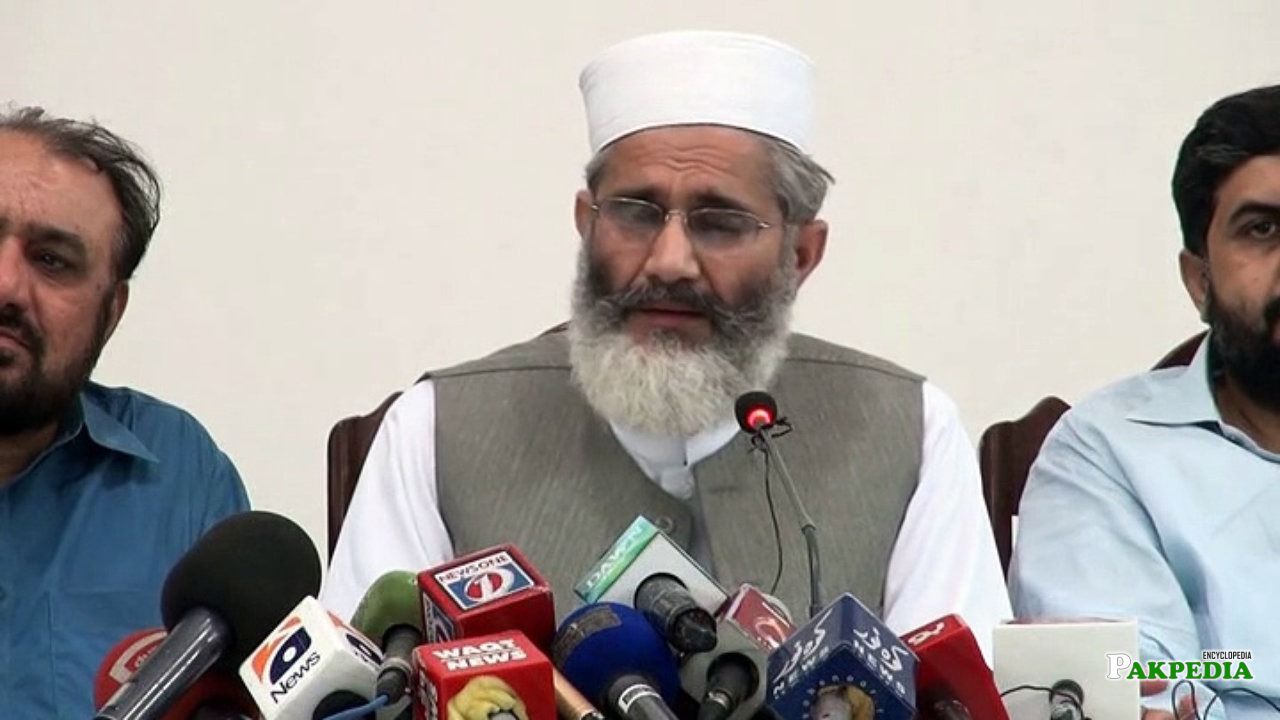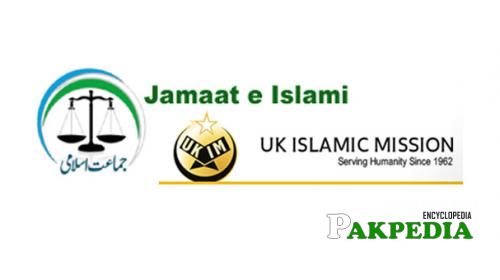 Details
Founded during British control in India, the JI moved its organization after the Indian partition to the newly created state of Pakistan, initially setting up its organizational mass in West-Pakistan.The members who remained in India regrouped to form an independent organization called Jamaat-e-Islami Hind. During the Bangladesh Liberation War, the JI opposed the independence of Bangladesh, but established itself there as an independent political party, the Bangladesh Jamaat-e-Islami after 1975. The JI maintains close ties with international Muslim groups such as the Muslim Brotherhood. The JI is a vanguard party, its members form an elite with "affiliates" and then "sympathisers" beneath them.The Jamaat's objectives is establishment of an Islamic state, governed by Sharia law. The JI opposes Western Ideologies such as capitalism, socialism and secularism, and practices such as bank interest and liberalist social mores, but the party advocates democracy as an integral part of Islamic political ideals.
History
The Jamaat-e-Islami was founded at Islamia Park, Lahoreon 26 Aug 1941 as a movement to promote Socio-Political Islam.75 people were present at its first meeting. Before the foundation of Jamaat, Sayyid Abul A'la Maududi was known for his writings about the role of Islam in South Asia. A proponent of the ideological state, Maududi played an important and contentious role during the era of Pakistan Movement.His ideology has since been influential amongest Islamist groups around the world, most famously the Muslim Brotherhood in Egypt.
All India Muslim League Passed
Abul Ala Maududi adopted Islamist ideology after analyzing many factors including the Khilafat Movement, the end of the Ottoman Caliphate by Mustafa Kemal Ataturk, the leadership crisis in the Muslim world,Indian Nationalism's influence over Muslims, and the attitude of the Indian National Congress and Hindus. At last in 1940 (when the All India Muslim League passed the Pakistan Resolution) he propagated among Muslims that they are not just a nation and that their destination is not only the establishment of a national government, but also as a preacher and missionary nation.
Wrote Articles
Maududi wrote articles about political issues. He gave detailed discussions about nationalism and countered the propaganda of congressional scholars, who were saying that all the people of the sub-continent were one nation, and tried to gather everyone under the leadership of Congress against the British government. Maududi condemned them by saying that these nationalists were asking for the independence he considered even worse than British rule. He considered them equal to Robert Clive and Arthur Wellesley and Muslims who were following them were not less than Mir Jafar and Mir Sadiq. The situation and circumstances were different, but he believed the nature of the rivalry and treason were the same thing. He not only rejected them but countered them by saying that Nationalism and Communism are not different than the Shuddhi Movement. He said that there was no difference in results and that one should resist all of them. Due to such views of Maududi, Mohammad Iqbal said in one meeting to leave Congress' scholars for Maududi.
Maududi Rejected
Husain Ahmad Madani supported Nationalism and gave his reason from the Constitution of Medina. Maududi rejected his views and argued that the Charter is not about setting combined government, combined council, combined courts, combined party, combined society, combined education or majority based political system.
Joint Secretary of All India Muslim League
Zafar Ahmed Ansari, who was Joint Secretary of All India Muslim League, analysed the articles related to nationalism and concluded that it was not just a discussion but it strikes the ideology of Congress and Jamiat Ulema-e-Hind.Maududi believed the Indian Congress to be a hypocritical organization and was a vociferous critic of Pandit Jawaharlal Nehru. He argued that Nehru openly opposed religion and was an enemy of any division on basis of faith. He said that Nehru evaluated that Muslims were spiritually weak and was running a scheme to merge Muslims into the Hindu faith.[1] History
Political struggle
Jamaat started activities in Pakistan by voluntarily service in relief camps for refugees. Jamaat increased the social work, started gathering skins of sacrificial animals on Eid-ul-Azha and opened many hospitals and clinics. In 1953 JI led a campaign against the Ahmadiyya community in Pakistan resulting in the Lahore riots of 1953 and selective declaration of martial law. Maududi was arrested by the military deployment headed by Lieutenant General Azam Khan, which also included Rahimuddin Khan, and sentenced to death on the charge of writing a seditious pamphlet about the Ahmadiyya issue. He turned down the opportunity to file a petition for mercy, expressing a preference for death rather than seeking clemency. Strong public pressure ultimately convinced the government to commute his death sentence to life imprisonment. Eventually, his sentence was annulled.
Activists of Jamaat
As a result of the demand for an Islamic state many activists of Jamaat were sent to prison. Despite all this Jamaat continued its struggle until Chaudhry Muhammad Ali made the Constitution of Pakistan of 1956 which was near to the ideology of Jamaat. Jamaat ran a strong movement in favor of a separate voting system for different religious communities in the days of Suhrawardy's government, but Hussain Shaheed Suhrawardy arranged a session of the National Assembly at Dhaka and by making an alliance with Republicans passed the bill for a mixed voting system.
Jamaat Formed
Jamaat formed an alliance with the Muslim League, headed by Abdul Qayyum Khan, and with the Nizam-e-Islami party, led by Chudhary Muhammad Ali in 1958. They criticized activities of Iskander Mirza. Due to the activities of this alliance, the reputation of Iskander Mirza was strongly damaged and seeing no future he decided to enforce martial law in the country.
Martial Law of 1958
After martial law of 1958 Muhammad Ayub Khan met with Maulana Maududi and advised him not to take part in politics. But when Ayub Khan left a ban over political parties, Jamaat was first to be active. In the presidential elections of 1964-65 Jamaat supported Fatima Jinnah. In 1965 during theIndo-Pak war, Jamaat helped the government in appealing to people for jihad, helping war victims and getting financial and moral support from Arab countries. The leadership of Jamaat presented patriotic speeches from Radio Pakistan and representatives of Jamaat headed to central Asia for back up of central Asians. Jamaat was the major spirit in the Pakistan Democratic Movement (PDM) against Ayub Khan. When Zulfikar Ali Bhutto and Maulana Bhashani raised the slogan of Socialism during this movement Jamaat resisted it.
Pakistani General Election 1970
In the manifesto for Pakistani general election, 1970 Jamaat supported Provincial freedom (not up to six points) and declared Quran and Sunnah as source of law. Separating judiciary from administration and guarantee of basic rights of minorities was also included in manifesto. A strong relation with Muslim world was purposed in foreign policy. Jamaat was against the nationalization but in favor of seizing the illegal property. Maximum ownership of land was set to be 100 Acres and 200 Acres for rainy and canal areas respectively so that the uneven economic condition can be controlled. The program of economic justice was purposed instead of economic equality and promised equal employment opportunities for jobless people. Bonus Share Scheme was announced so that factory worker can own shares of the company. But just before the elections Nawabzada Nasrullah Khanbroke the alliance which cost to Jamaat-e-Islami who was competing Pakistan Peoples Party and Awami League having socialism and provincial slogans and announcing drastic changes. Jamaat only won 4 seats of National and 4 of Provincial Assembly.
Separation Movement of East Pakistan
Jamaat-e-Islami struggled until the last moment against the separation movement of East Pakistan by the Awami League. Islami Jamiat-e-Talaba organized the Al-Badar force and fought against the separatist army Mukti Bahini. In Bangladesh Jamaat is still facing vengeance. On health grounds, Maududi excused to lead the movement in 1972 and requested the top elected body of the movement Majlis-e-Shoura to select someone else to perform the duties of "Ameer". In October 1972 Mian Tufail Mohammad was elected as Ameer. Zulfiqar Ali Bhutto's government Vice Ameer of Jamaat Dr. Nazir Ahmed was assassinated and many activist including members of Islami Jamiat-e-Talaba was sent to prison. Many members were politically victimized. Even after that Peoples party failed to get power in universities and colleges and youth start becoming critics of Bhutto. That struggle gave birth to many leaders who are now in the frontline of mainstream parties.
2000000 New Entrants
By 1976 Jamaat's street power multiplied by 2,000,000 new entrants when it swore to organize marches to Islamabad for implementing Sharia. In 1977, Maududi cobbled together a grand alliance of rightist parties and launched a "civil disobedience campaign", leading to his arrest. So powerful had Jamaat become in the Islamist ranks by then that the Sunni government of Saudi Arabia intervened to secure Maududi's release by dangling the specter of "revolution" in Pakistan. Jamaat also played a vital role in the Pakistan National Alliance's struggle against Zulfikar Ali Bhutto's government during 1977.
Started a movement
Jamaat initially supported General Zia-ul-Haq as did other parties of the PNA but, when then general postponed elections several times Mian Tufail Mohammad pressured him for elections. Abdul Ghafoor Ahmed kept on criticizing General Zia for his dictatorial policies. Islami Jamiat-e-Talaba started a movement against the government for banning student unions. Pro-Jamaat labor unions also raised up against the government, but unlike many other parties Jamaat did not participate in the Pakistan Peoples Party's Movement for the Restoration of Democracy. Jamaat-e-Islami played a key role in Jihad against Soviet War in Afghanistan. One of the strongest reasons for working with General Zia was Zia's and Jamaat's involvement in Afghan Jihad against Soviet Union. In 1987 Mian Tufail declined further service in the post because of a long ailment, and Qazi Hussain Ahmad was elected to the top position.
Boycott Pakistani General Election 1997
After General Zia's death Jamaat joined an Right-wing alliance Islami Jamhoori Ittehad (IJI) withPakistan Muslim League. During Nawaz Sharif government Jamaat refused to join cabinet. Jamaat announced that Peoples Party and Muslim League are equal evils and tried to rise as a third power in Pakistani general election, 1993 but won only 3 seats in the National assembly. Jamaat boycott Pakistani general election, 1997. Due to this Jamaat lost representation in Assemblies but their importance remained as a pressure group. During Indian Prime Minister Atal Bihari Vajpayee's arrival at Lahore Jamaat protested and thousands of workers was arrested by the police.
Jamaat Welcomed
Jamaat welcomed General Pervez Musharraf at first but turned against him once Musharraf started Secular reforms and joined War on terrorism. In 2002, Jamaat formed an alliance with other religious parties naming Muttahida Majlis-e-Amal (MMA) and got 53 seats out of 272 elected member's seats. This alliance took majority in Khyber Pakhtunkhwa Province. Jamaat constantly criticized war on terror and arranged public protest against the decision and denounced President Musharraf for "betraying" the Taliban and siding with the U.S. against them. Jamaat also denounces the presence of American troops and agencies in Pakistan. 
Womens Protection Bill
Jamaat opposed the Women's Protection Bill in 2006. Samia Raheel Qazi, MP and daughter of Qazi Hussain Ahmed stated, "We have been against the bill from the start. The Hudood Ordinance was devised by a highly qualified group of Ulema (Islamic scholars), and is beyond question". Jamaat-e-Islami believes that the bill did not need scrapping, but needed to be applied in a fairer way, and understood properly by judges. Jamaat-e-Islami's senior Minister of Khyber Pakhtunkhwa Province Siraj ul Haq resigned from his ministry against the drone attack on madrassa in Bajour Agency. Jamaat was also against the operation of Lal Masjid and Qazi Hussain Ahmad gave his resignation from the National Assembly when visiting the camp of victims of the Operation. Jamaat participated actively in the struggle of restoration of Judges.
Boycotted Pakistani General Election 2008
Jamaat-e-Islami and Pakistan Tehreek-e-Insaf boycotted Pakistani general election, 2008 held under President General Musharraf. Getting re-elected for four times (1992, 1994, 1999, 2003), in 2008, Qazi Hussain Ahmad excused to be elected once more and members of Jamaat elected Syed Munawar Hassan as the new Ameer.
Dawah
It is generally believed that we want to establish a Divine Government.The word Divine Government in itself is a bit vague, but some people willfully present it in a more misleading manner. Either people believe or they are made to believe so that by Divine Government, we mean nothing but a political system, which can replace the present one. Since those who will run it will be Muslim, so either it means or cleverly it is given, this meaning that our object is to get Government only and then follows a rather religious taunt that we are only world seekers, while, the hereafter should be the target. And that Government should not be sought on the other hand, it is given as a reward for a religious way of life by Allah himself. Some quarters say, it is due to lack of understanding and others quite coyly. Of course, if they cannot mislead us they certainly can a major chunk of the population. Should someone read our literature with open mind, he is bound to find that we do not stand for a political change only but we want to introduce that universal revolution in the individual and collective life of man which Islam calls for. And for which Allah Almighty sent whole lot of His Prophets under whose leadership Muslims always had striven.
Three Points of our Dawah
If we may put forth these three points of our manifesto, they will run like this;
That we invite generally, those who are already Muslims, to the obedience of Allah
We call upon everyone who may embrace Islam: To get rid of hypocrisy and contradiction that is; one should be true to his claim.
We call upon you to come forward and end the influence of the proponents of falsehood, the sinful, and non practicing Muslims, from prevalent system of life, and in place, transfer the leadership from both theoretical and practical point of views, to those who are true believers and pious ones.
These three points, albeit, are quite clear, yet since long they have been shrouded in confusion. That is why, not to speak of the non Muslims, even before Muslims, they need to be explained.
Our Dawah
Our Dawah is that the Muslims must realize their responsibilities as such. What are these responsibilities?. They are not merely to follow the Muslim rules and rites with regard to marriage, divorce and inheritance. The most important and cardinal demand Islam makes from its followers is that they should stand by the truth, the truth they have professed; the very purpose to make them a specific people, according to Quran is to bear witness to the truth(The Quran).
Continue mission
In fact, all the Prophets were raised for this purpose, and after the death of every Prophet his people were required to discharge the same duty to continue his mission. Now it is the bounden duty of the Muslims being the followers of last of the Prophet (PBUH), to preach and practice,the way the Prophet (PBUH) himself performed it. Jamaat-e-Islami has been setup to discharge this very duty; individuals, no doubt, are engaged in the propagation of the good and reformation in a limited circle. Jamaat-e-Islami wants to extend this work to the whole spectrum of life collectively. And wants that Ummah should perform this duty of standing by truth which has been so exhorted by the last of the Prophets himself. In fact, verbally and practically duty of standing by truth can only be carried out, when a state based, on these principles, is established which by Islamizing the whole life, administers, justice, introduces good governance, reformation, brings peace ensuring the welfare of its people
Apart from this, through pious character of its rulers, noble politics, correct foreign policy, war for a noble cause, and through faithful compromise, sets an example that the Deen (Islam) which in its very basis is guarantor of human welfare and its practice is key to the good of whole human race. It is this divine government the Jamaat-e-Islami pleads and such a government can bear witness through its performance to the fact that Allah has pleased to prescribe Islam as a way of life for all mankind which was handed down to us by prophet of Islam on the occasion of his last sermon. He asked the audience, " Have I conveyed the message of truth to you?" Reply came, "yes" then he said, "O Allah", bear witness to this".
Basic Points of Jamaat-Manifesto
To get this objective Jamaat-e-Islami calls upon the Muslims:
To go obedient to Allah Almighty
And free their lives from contradictions, hypocrisy and dichotomy of word and action and thus live like a true Muslim.
Calls upon you to come forward and end the influence of proponents of falsehood, the sinful, and non practising Muslims from prevalent system of life and in place, transfer the leadership from both theoretical and practical point of views, to those who are true believers and pious ones.
This third object can be achieved only when a group of pious Muslims is organized in their ranks who is free from hypocrisy and meets high standard of ethics. Not only this, he should be unique man of all those capabilities which are must to run the system of life.
General Policy of Jamaat-e-Islami
Jamaat-e-Islami will see, every action it takes, whether it is in line with the injunctions of Islam or not and go beyond it, so far as permissible.
To get its objective Jamaat will not resort to those means and methods which are in conflict with truth and honesty, or anything which may result in mischief.
Jamaat will try to bring revolution and reformation through constitutional ways i.e. preaching and propagation of its views and by moulding the minds, through character building, and by making the public opinion which conforms to its principles and policy.
Key People
Sayyid Abul A'la Maududi – Founder Ameer 
Mian Tufail Mohammad – 2nd Ameer 
Qazi Hussain Ahmad – 3rd Ameer 
Khurram Murad- Ex Naib Ameer and Ameer 
Syed Munawar Hasan – Present Ameer 
Liaqat Baloch- Qayyam Jamaat 
Khurshid Ahmad (Islamic scholar) – Naib Ameer 
Dr. Mohammad Kamal- Naib Ameer 
Siraj ul Haq – Naib Ameer 
Organizations
Jamaat-e-Islami has wings and unions for doctors, teachers, lawyers, farmers, workers and women. Its most famous organization is Islami Jamiat-e-Talaba (IJT), which is a Students' union. The youth wing is working with the name of Shabab e Milli Pakistan.
Seats Distribution
| Seat Type | No. of Seats |
| --- | --- |
| General | 3 |
| Reserved | 1 |
| Minority | 0 |
| Total: | 4 |
General Seats
Constituency
Name
Party
Address (Permanent/Local)
Phone
NA-28
Bunair
Mr Sher Akbar Khan
JI
Nadar Khan Hujra , village Rega, Distt Buner  H-304, Parliament Lodges, Islamabad.
+92 333 9691133
NA-33
Upper Dir-cum-Lower Dir (old Upper Dir)
Sahibzada Tariq Ullah
JI
Rehankot Bala, Upper Dir  44 Government Hostel
+92 301 8597333, [email protected]
NA-34
Lower Dir
Sahibzada Muhammad Yaqub
JI
Village Rehan Pur, Tehsil Balambat, District Lower Dir  H-412, Parliament Lodges, Islamabad.
+92 300 9007777
Reserved Seats for Women
Khyber Pukhtunkhwa 1
| Constituency | Name | Party | Address (Permanent/Local) | Phone |
| --- | --- | --- | --- | --- |
| 1 | Aisha | JI | Mohallah Said Rahman Wala, Tando Dag, Patwar Odigram, Tehsil Babuzai, District Swat.  | N/A |
Contact Information
Punjab Province
Address:Jamaat E Islami Punjab Mansoora Multan Road, Lahore
Contact Number: +92 42 35437877-8 
Fax: +92 42 35427685
Sindh Province
Address:Quba Auditorium Block NO13 Federal B Area . Karachi
Contact Number: +92 21 6344607 
Fax: +92 21 6344621
Balochistan Province
Address:Al-Falah Hose, Al-Gillani Road, Quetta
Contact Number:+92 81 2840358 
Fax: +92 81 2829327
KPK Province
Address:Markaz Islami, Sardar Garhi G.T Road, Peshawar
Contact Number: +92 91 2262407
Fax: +92 91 2264817