The Awami National Party is a Pashtun-Nationalist, rationalist, and left-wing Pakistan based political party. Abdul Wali Khan founded this party in 1986. Bacha Khan's grandson Asfandyar Wali Khan is currently serving as president of the party, and Mian Iftikhar Hussein is working as Secretary-General.
The political position of ANP is considered the left-wing party advocating for democratic socialism, economic egalitarianism, secularism, and public-sector government. From 2008 to 2013 ANP had the largest Pakistani Pashtun-nationalist party influencing Pashtun occupied regions and around KPK.
They ruled KPK from 2008 to 2013 but got defeated by PTI (Pakistan Tehreek-e-Insaf) in 2013 assembly election. The article covers every information regarding the party, including Awami National Party History.
| Title | Description |
| --- | --- |
| Government Seats in 2014 Election | |
| Party Name: | Awami National Party |
| In Urdu: | عوامی نيشنل پارٹی |
| Pashto Name of Party: | ملي عوامي ګوند |
| Information | |
| Founder: | Abdul Wali Khan |
| Founded: | 1986 |
| Headquarters: | Baacha Khan Markaz Peshawar, Pakistan |
| Leader: | Afrasiab Khattak, Bushra Gohar, Mian Iftikhar. Haider Hoti |
| President : | Bakht Zaman |
| General Secretary : | Mian Iftikhar Hussain |
| Split from : | National Awami Party |
| Student Wing : | Pakhtun Students Federation |
| Youth Wing : | National Youth Organization |
| Ideology : | Democratic socialism Pashtun nationalism Secularism |
| Balochistan Assembly : | 1 / 65 |
| Colours: | Red |
| Senate : | 6 / 104 |
| National Assembly : | 2 / 342 |
| Khyber Pakhtunkhwa Assembly : | 5 / 124 |
| Website: | http://awaminationalparty.org/main/ |

Struggles of Bacha Khan
The source of inspiration for the Awami National Party's political struggle is the life of Fakhr-e-Afghan Bacha Khan. He had been adhered to the guiding principles of pacifism, non-violence and pluralism throughout his life and spent his life fighting for freedom, injustice, exploitation, oppression, inequality and oppression.
He fought to liberate the people of South Asia, especially his Pakhtuns, from foreign colonialism and rid them of the curses of poverty, ignorance, outdated traditions and prejudices, internal strife, and political inaction. In Khan's view, politics and public service were two sides of the same coin.
Keeping the same spirit alive, the ANP considers politics and public service as two indivisible parts of the same activity, like its predecessors (the National People's Party) and the NDP (National Democratic Party).
Awami National Party History
The political career of Pashtun leader Khan Abdul Wali was based on Pashtun nationalism. He inherited this tradition of Pashtun nationalism from his father Bacha Khan real name (Khan Abdul Ghaffar). Though this party was established after India's partition, several party leaders still favoured united India and opposed partition and establishment of Pakistan.
A majority of leaders in this party were right hands of India National Congress before partition. Wali joined NAP (National Awami Party) in 1956, at that time a Bengali Socialist Hameed Khan was leading the party. 
Division of ANP
The party was divided into two parts in 1965 and Wali became president of new Moscow division. The party members participated in parliamentary elections of 1979 via the platform of National Awami Party and Pakistan People's Party making a grand alliance with Zulfiqar Bhutto in 1970. This alliance, however, collapsed and the members then joined PNA (Pakistan National Alliance).
Alliance with JUI and Ban on Political Activities
In 1972 the party was in a position of forming coalition provincial-governments with JUI (Jamiat Ulema-e-Islam) in Baluchistan and Khyber Pakhtunkhwa. These governments collapsed soon, and Wali imprisoned again. The political activities of his party were banned when Pakistan Supreme Court maintained President Bhutto's claim that NAP was plotting against Pakistan.
Subsequently, General Zia-ul-Haq withdrew accusations against NAP. Wali was released and joined the National Democratic Party. He eventually founded the Awami National Party. In the meanwhile, Prime Minister Bhutto was jailed and hanged in April 1979.
Awami National Party Establishment
The ANP is dependent on Pashtuns of Northern-Baluchistan and KPK as its base and was founded in 1986 by merging many left-wing political parties including National Democratic Party and Awami Tehreek. The National Democratic Party (NDP) merged with many progressive nationalist and political groups to establish ANP.
Wali, the influential Pashtun leader, was made its 1st President. From 1986-1988 ANP remained a member of MRD (Movement of Restoration of Democracy).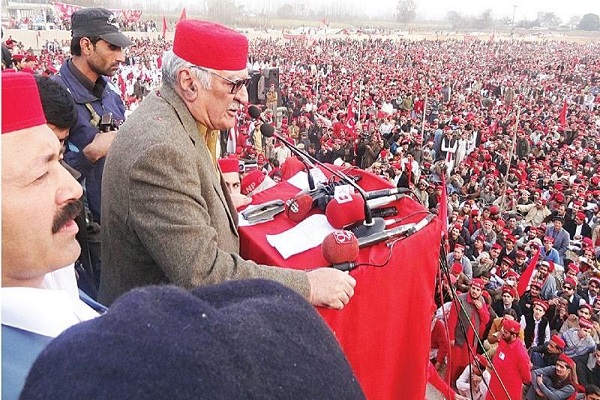 The collapse of an Alliance with PPP
Since its establishment and forged an alliance government with Pakistan People's Party in KPK and for Central Government in Islamabad and Sindh after 1988 general elections, the party has been an ally of PPP. However, this coalition dissolved in April 1989, following opinion differences between these two parties, after PM Benazir Bhutto directed military operation that failed brutally.
Later, ANP became an ally of PML (Pakistan Muslim League) in June 1989. This alliance was short-lived with majority activists joining PPP. 
Alliance with PML
After Nawaz Shareef's elections in 1990 ANP again allied with its former opponents PML. This time the alliance turned successful and survived till 1998. Later it fell apart because of opinion differences on Kalabagh Dam and issue of renaming North-West Frontier Province to KPK.
In 1990 elections it won 6-seats, and in national elections, 1993 ANP won 3-seats in Pakistan National Assembly. Then it joined 'Grand Domestic Alliance' and campaigned against governmental policies of Nawaz Shareef.
Member of ARD
When Parvez Musharraf overthrew Nawaz's Government, the party remained an active part of ARD (Alliance for Restoration of Democracy) until 9/11 attacks in the USA. It left the alliance over backing up North Atlantic Treaty Organization's (NATO) ouster of Taliban Government.
The party's reputation got damaged during this period when senior leader Azam Khan and the ex-federal minister were arrested. 
2008 General Elections
In general elections 2008, the party dominated MMA (Muttahida Majlis-e-Amal) a party created due to an alliance of Islamic-Movements in 2002. ANP also succeeded in winning provincial seats in Sindh and Baluchistan for 1st time in fifteen years.
It made an alliance with PPP to form government in all 3-provinces. The ANP has a strong influence in Pashtun occupied regions of Pakistan, especially in Mardan, and it also dominated Nowshera, Swabi, Charsadda, and Mardan. 
Visits of Asfandayar Wali to the USA
Asfandyar Wali visited the USA in May 2008 and along with his delegation organized top-level meetings with U.S officials. According to a source, the delegation was part of the visitors' program that brings high-level/influential people from several nations to meetings with military officials and US civil and civil society members. It was Wali's 2nd such tour to the USA.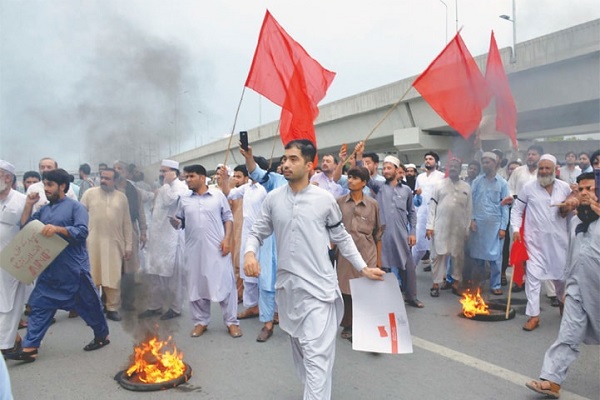 Attacks on ANP Rallies
In previous years many ANP members have been murdered. Most attacks happened in Peshawar and Karachi areas. On 13th July 2012 rally of ANP was targeted by a bomb blast in Quetta. According to investigations, a bicycle placed behind the stage was probably its cause. Six people were killed, and twelve got injured in this attack. The party accused PTI's chairperson Imran Khan.
During the general election of 2018 political rally of ANP was subjected to the suicide bomb attack on 10th July 2018, 14 rally participants were killed, and sixty-five got injured. Harron Bilour, an ANP candidate of KPK Assembly, was also killed in this attack, Haroon's father Basheer Ahmed was also martyred in a suicide bombing-attack in 2012. 
Awami National Party Ideology
The party promotes Pashtun nationalism, economic egalitarianism, secularism, and democratic socialism. The party has a huge support of the Pashtun population. Since 2000, pro-Pashtun ideology and liberal socialism has become the party's integral party supporting regional autonomy and increased expression of Pashtun culture.
Participation in Protest again Musharraf
ANP joined 'All-Parties Democratic Movement' and resigned along with all parties except PPP from the Parliament in Oct 2007 to protest against Musharraf's military regime. Taliban supporters targeted it in 2007 & 2008. 
Awami National Party Objectives
The ANP stands firm with a clear stance against violence and all forms of extremism. The party collectively believes that dialogue is the best way to solve all problems.

The ANP is committed to strengthening democracy, promoting political awareness and access to justice. The party is striving for a peaceful and progressive society.

The ANP rejects all self-imposed discriminatory laws and conflicting principles and believes in providing equal rights and opportunities for all citizens, regardless of their nationality, group, gender, religion, race, class or creed. It guarantees full protection for women, the elderly and the disabled, transgender people, religious and ethnic minorities.

The ANP believes that every citizen has the right to hold all public officials' office, including the Prime Minister and the President. Similarly, every citizen of Pakistan has the right to equal rights and opportunities in the political, economic and social spheres.

The party will co-operate morally and politically with all federal units. 

The ANP believes the inequitable distribution of water resources and strongly opposes unfair distribution among the provinces, especially about the distribution of water in the Indus River, and will take fundamental steps in this regard.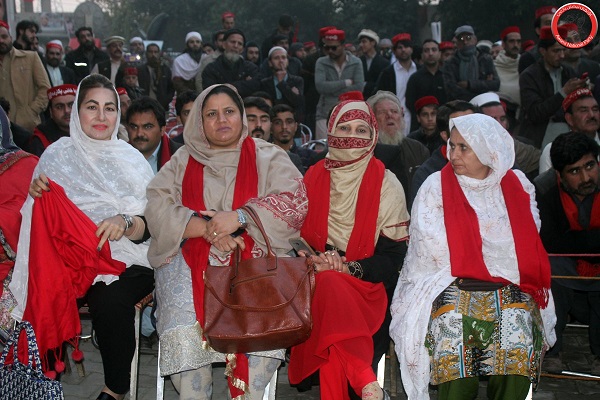 Awami National Party Leaders
Presidents
Abdul Wali Khan-1986 to 1990 

Ajmal Khattak-1991 to 1999 

Asfandyar Wali-1999 to 2002 

Ehsan Wyne-2002 to 2003 

Asfandyar Wali-2003 to 2007 

Asfandyar Wali 2007 to 2011 

Asfandyar Wali 2011 to present 
Others
Basheer Jaan

Zahid Khan

Qazi Anwar

Malik Sartaj Khan

Afzal Khan

Shahi Syed

Ameer Haidar Khan

Ghulam Ahmad Bilour

Basheer Ahmed Bilour

Mian Iftikhar

Haji Mohammad Adeel

Baaz Muhammad Khan
Social Media Handles