Sindh Taraqi Pasand Party also known as Jeay Sindh Taraqi Pasand Party, is a political party in the Sindh province of Pakistan. Dr. Qadir Magsi is the chairman of Sindh Taraqi Pasand Party.STPP specially struggling against despotism, theocratic,fascist terrorism,and economic exploitation of smaller constituent units with a special focus on Sindh and Sindhi people.
| Title | Description |
| --- | --- |
| Information | |
| Party Name: | Sindh Taraqi Pasand Party |
| In Urdu: | سندھ ترقی پسند پارٹی |
| In Sindhi: | سنڌ ترقي پسند پارٽي |
| Chairman: | Dr. Qadir Magsi |
| Founded: | 21 January 2011 |
| Engaged in Socio- Political Activism: | Last Two Decades |
| Struggling Against: | Despotism, Theocratic & Fascist Terrorism, and Economic Exploitation of Smaller Constituent Units |
| Special Focus: | Sindh and Sindhi people |
| STP is Open for All Citizens of Pakistan: | Men and Women of 18 Years and Above |
| Email: | stpparty@gmail.com |
| Phone #: | +92 22 2670138 |
| Website : | http://www.stpparty.org |
| Facebook: | https://www.facebook.com/pg/stpparti/ |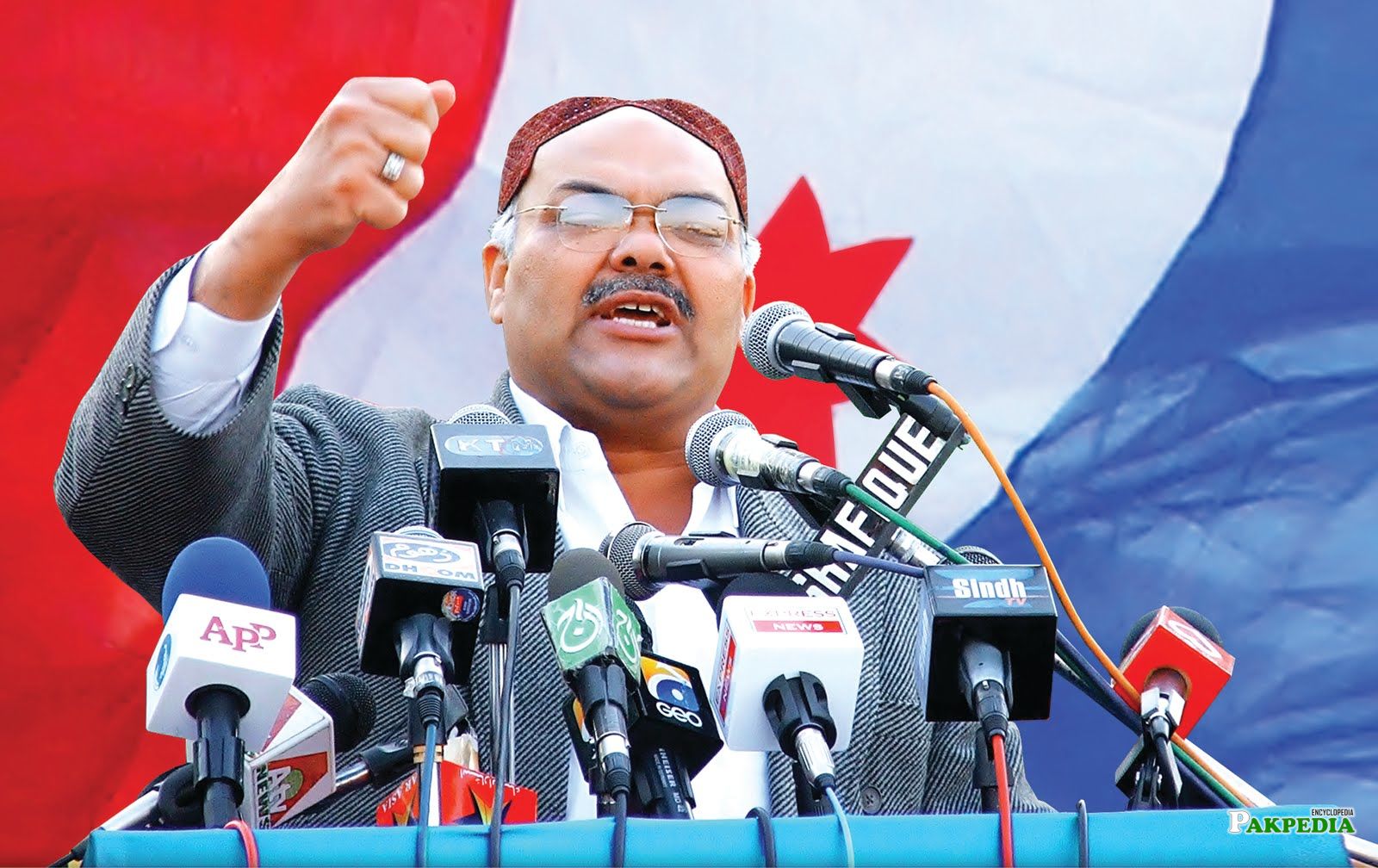 bDetailsb
Sindh, a historic nation-state prior to British occupation, joined the federation of Pakistan on the basis of 1940 Lahore Resolution; where-in it was promised by the Muslim League that all constituent states would be autonomous and sovereign. However, in collusion with domestic bourgeoisie, civil & military bureaucracy and feudal aristocracy, Pakistan could not be transformed into a genuine federation during the last six decades. Military dictatorships followed by weak democratic governments have been playing a game of musical chairs, to deprive the people of small nations/ provinces of the right to own & utilize their resources for socio-economic development of people in an autonomous manner. Millions of illegal aliens and up – country economic migrants have been allowed to permanently settle in Sindh under state patronage, thereby threatening the demographic balance; and, pushing Sindhi people into a vicious circle of poverty.
bElection Commission of Pakistanb
Sindh Taraqi Pasand Party (STP) has been engaged in progressive nationalist political activism since last two decades, by struggling against despotism, theocratic & fascist terrorism, and socio – economic exploitation of Sindh and Sindhi people. With a membership of more than 125,000 and an organizational coverage in all districts of Sindh, the STP is now poised to play a pivotal role in parliamentary politics; by contesting elections and rendering socio – economic & political services essentially to the poor and middle class people of Sindh and Pakistan. The party has been approved by the Election Commission of Pakistan under the Political Parties Act – 2002 and plans to contest the next General Elections.
bSpecific Objectivesb
The STP aims at working towards the accomplishment of following main objectives:
Transforming Pakistan into a genuine federal & democratic state, with maximum autonomy for constituent nations/ provinces as per the 1940 Lahore Resolution.
Addressing the liberty, prosperity and security needs of Sindhi people by ensuring their control over economic & natural resources and political power in Sindh.
Striving for the highest levels of socio – economic justice and good governance in accordance with the tenets of social democracy.
Controlling the extra-ordinary influx of illegal aliens and economic migrants in Sindh through proper legislation and taxation measures.
Promoting Sindhi language, culture and heritage for preserving historical identity of Sindh.
The STP program includes democracy, federalism, modern nationalism, mixed economy with strong social development interventions, non – discrimination, secular governance and inclusive development.
bOrganizational Structureb
The STP has developed a full – fledged organization comparable to the mainstream political parties; which includes a General Council/ Congress of 650 members; a Central Executive Committee of 125 members; a Sindh Council of 60 members; a Central Committee of 21 members; Divisional organizers for 8 STP Divisions; and a Central Body of 7 office bearers. The STP Local Organization includes 22 District Bodies; 9 Town Bodies in Karachi; 99 Taluka Bodies and 657 Union Council Bodies in rural districts. In addition, there are STP units at village level in the union councils. STP Fronts and Wings include the following:
Khidmat – e – Sindh Foundation (KSF) – Registered Society for Community Service especially in health, education and disaster management sectors.
Taraqi Pasand Nari Tehreek (Women Development Front)
Taraqi Pasand Hari Sangat (Peasant/ Tenant Wing)
Taraqi Pasand Mazdoor Federation (Labor Front)
Sindh Taraqi Pasand Students' Federation (Student Wing)
Taraqi Pasand Cultural Forum (Authorship, Arts & Sports)
Taraqi Pasand Lawyers Forum (Legal Front)
The STP fronts/ wings have a large membership among farm and non – farm labor; tenants & peasant proprietors; women; students, writers & artists and lawyers. The fronts also have district, town/ taluka bodies which work in coordination with the party organization at all levels.[1] Details
bDr Qadir Magsi Chairmanb
Dr Qadir Magsi is most popular political person of Sindh, he is a Sindhi  nationalist, and Chairman of Sindh Taraqi Pasand Party (STP). He is the man of his word, and power to fight with enemies of Sindh. Dr Qadir Magsi have already meet many Pakistani political personalities like Shaheed Benazir Bhutto (Pakistan Peoples Party ppp), Nawaz Sharif (Muslim Leag Nawaz), Asif Ali Zardari, Marvi Memon, Rasool Bux Palijo ( Pakistan Awami Tehreek), Ayaz Latif Palijo, Jalal Mahmood Shah (Sindh United Party) etc.
bAnnounces Rallies Conferences Long Marchb
Sindh Taraqi Pasand Party (STP) is a symbol of resistance in Sindh, Sindhi people has blessed Dr Qadir Magsi with many popular and respectable names like Che Guevara. Dr Qadir Magsi always announces rallies, conferences, long march on different hygienic issues or the policies by the Pakistani Establishment, Suppose Kala Bag Dam, Deviding Sindh, or Chief Justice Iftekhar Mohammad Choudhry, or the provisional Autonomy. Dr Qadir Magsi believes in parliament politics so he always demand rights of provinces which were as stated in 1940 Lahore Resolution.[2] Dr Qadir Magsi Chairman
Party Candidates
Mian abdul waheed
Mian abdul waheed
Rana mohammad saeed khan
Mohammad abu bakar watto
Shahab advocate
Chodhary tanveer ahmed kamboh
Ghulam abbas cheema
Doctor rafeeq ahmed ghuncha
Khizar hayaat khan
Asif iqbal
Mohammad muzammil
Mohammad muzammil
Rao wajid ali khan
Rao wajid ali khan
Mohammad sadiq
Muhammad arshad taqi
Malik mohammad shareef mohana
Malik mohammad zaman
Zahid seddiq ansari
Zahir ahmed zia waraich[3] Political Candidates
bContact Informationb
Address:Taraqi Pasand House, Qasim-a-bad, Hyderabad Sindh
Email: stpparty@gmail.com
Phone #: +92 300 3028588, +92 22 2670138