Abdul Razzaq is a former Pakistani all-round cricketer who is a right-arm fast-medium bowler and right-arm batsman. He is among the list of top allrounders that not only Pakistan but the world has ever seen. His contributions to cricket are unforgettable. He has won many matches single-handedly for his teams, both with bat and ball. His outstanding performance came into all years of his international as well as domestic career. Razzaq has batted at all positions in international cricket. This article has all the information about Razzak, including Abdul Razzaq Biography.
| Title | Description |
| --- | --- |
| Personal | |
| Name: | Abdul Razzaq |
| In Urdu: | عبدالرازقق |
| Famous As: | Bang Bang Razzaq |
| Nationality: | Pakistan |
| Residence: | Lahore |
| Education: | Not Known |
| Religion: | Islam |
| Profession: | Cricketer |
| Height: | 5 ft 11 in (1.80 m) |
| Born | |
| Date: | 2nd December 1979 |
| Place: | Lahore |
| Family | |
| Spouse: | Ayesha Razzaq |
| Children: | 1 son 1 daughter |
| Parents: | Not Known |
| Siblings : | Muhammad Afzaal, Muhammad Faisal, Saima Shahid, Muhammad Ashfaq |
| Career | |
| National Side: | Pakistan |
| Team Role: | All-rounder |
| Bowling Style: | Right arm fast-medium |
| Batting Style: | Right hand bat |
| Matches: | 46 in Test, 265 in ODI, 32 in T20I, 122 in FC |
| Wickets : | 100in Test, 269in ODI, 20 in T20I, 355 in FC |
| Bowling Average: | 36.94 in Test, 31.8 in ODI ,19.75 in T20I, 31.41 in FC |
| Batting Average: | 28.61 in Test, 29.70in ODI , 20.68n T20I, 32.23 in FC |
| 5 wickets in Innings : | 1 in Test, 3 in ODI , 0 in T20I, 13 in FC |
| 10 wickets in Match: | 0 in Test, n/a in ODI, n/a inT20I , 2 in FC |
| Best Bowling: | 5/35 in Test, 6/35 in ODI, 3/13 in T20I, 7/51 in FC |
| Catches/Stumpings: | 15/- in Test, 35/-in ODi, 2/-in T20I, 33/-in FC |
| Balls Bowled: | 7,008 in Test, 10,941 in ODI ,339 in T20I, 19,191 in FC |
| Runs Scored: | 1,946 in Test, 5080 in ODI, 393in T20I, 5,318in FC |
| Test Debut: | 5 November 1999 v Australia |
| Test Last: | 1 December 2007 v West Indies |
| ODI Debut: | 1 November 1996 v Zimbabwe |
| ODI Last: | 18 November 2011 v Sri Lanka |
| ODI Shirt Number: | 57 |
| T20 Debut : | 28 August 2006 v England |
| T20 Last: | 15 November 2013 v South Africa |
| T20 Shirt no.: | 10 |
| 100s / 50s: | 3/7 in Test, 3/23 in ODI, 0/0in T20I, 8/28 in FC |
| Top Score: | 134 in Test, 112 in ODI, 46*T20I, 203* in FC |
| Domestic team: | Sialkot Stallion(2010), Hampshire(2010), |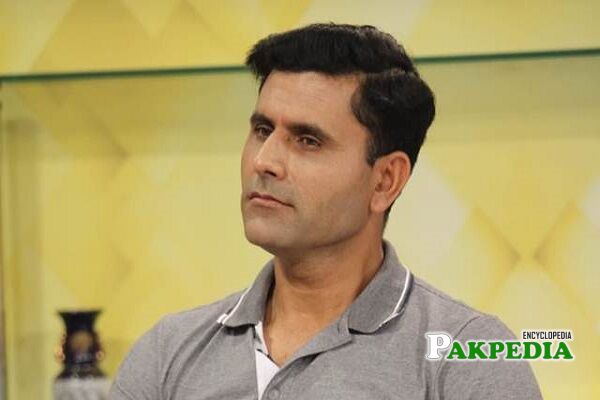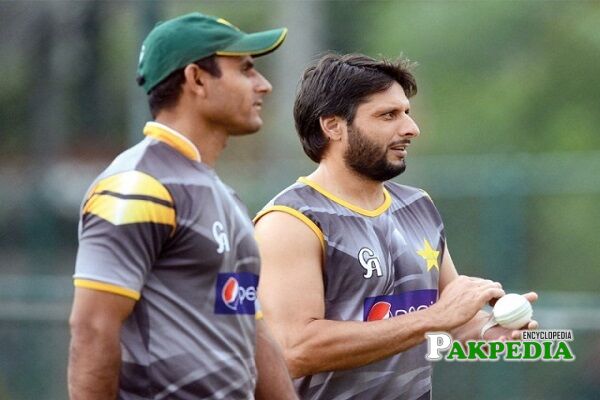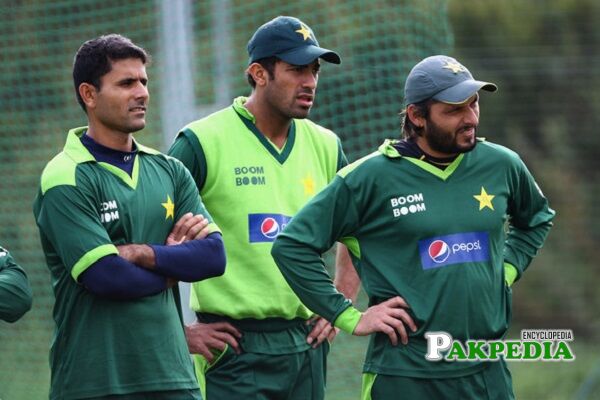 Abdul Razzaq Biography
Razzaq has represented Pakistan in all three formats, and his performances are remarkable in each cricket form. His stats show how good a player he has been. In his Test career, he has been part of the national team for 46 matches. Razzaq has made a total of 1946 test runs and 100 wickets. He has an average of 28.61 and 3.94 with bat and ball, respectively. He has registered three centuries and seven fifties in the longer format and has claimed a five-wicket haul.
He has appeared in 265 One Day Internationals for Pakistan and has achieved 5080 runs along with taking 269 wickets in 50-Over international matches, averaging 29.70 and 31.83 with bat and ball. He has made three centuries as well as 23 half-centuries. Besides this, he has claimed three fifers in ODIs. Razaaq has also been part of several T20s for Pakistan. In his 32 T20 matches, and has 393 runs and 20 wickets.
Razzaq date of Birth
He was born on 02nd December 1979 at Lahore, Punjab.
Abdul Razzaq Family
He is from the Awan family of Punjab, having three brothers and a sister. Razzaq is married to Ayesha and has children. Currently, he resides in his hometown at Lahore. He has a daughter and a son.
Cricket Career
Initial Career
Abdul Razzak started his international cricket at the age of just 17. He came into the national team as a young and talented fast bowler who could move the ball both ways. Along with his outstanding bowling abilities, he could bat as well. His all-round skills helped him cement his place in the Pakistan team. He had to wait for three years to make his first test appearance.
Domestic Career
Like his international cricket performances, Razzak has been a phenomenal domestic player. He has represented various teams around the world besides the national team. He has played for Asia XI, ICL Pakistan XI, Hyderabad Heroes, Duronto Rajshahi, Hampshire, Lahore Lions, Khan Research Laboratories, Lahore Badshahs, PIA, Melbourne Renegades, Surrey, Middlesex, Zarai Taraqiati Bank Limited, Worcestershire and the rest.  
He started his first-class cricket career from the 1996-97 season to 2014. In his 123 first-class games, Razzaq has smashed a total of 5371 runs at an average of 32.55. With the ball, he has taken 355 wickets with a bowling average of 31.42. He has eight centuries and 29 half-centuries in this form of domestic cricket. Besides this, he has a couple of ten-wickets-haul as well as 13 fifers in first-class. His highest first-class score is unbeaten 203 runs. 
Performance
Abdul Razzaq had a long List-A career, he featured in 345 matches of the format and scored a mammoth total of 6851 runs, at a batting average of 30.04. He also dismissed 385 batsmen averaging 30.36 with the ball. In that span, he managed to register three centuries as well as 38 half-centuries along with that he also managed to take four five-wicket hauls. It proves how good an allrounder he has been in all forms of the game.
Razzaq is equally useful in all formats, he played a total of 142 local T20 games and made 2578 runs, with a batting average of 27.13. He also bowled superbly in the shorter version of the game and took 135 wickets with 23.20 bowling average. His spectacular T20 record also consists up of a hundred and nine fifties. He has won many games at county cricket league, Indian Cricket League, and other tournaments.
International Career and Achievements
Abdul Razzaq has been a top-rated player among cricket fans around the world. He started his international career at a very young age of 17, and as someone says, "he came and conquered." As he came in international cricket, he proved his skills at the big platform, performed whenever his team needed him. Whether his bowling or batting, he always did well with both. His swinging deliveries were complicated to pick for any batsman, so he would mostly take the new ball. 
His bottom hand batting style made him a hard hitter of the cricket ball and made him a nightmare for pace bowlers. Razzaq has won many matches with bat and ball. On many occasions, he showed how to win a lost game. He was a match-winner.
Test Career Highlights
He has achieved some great performances in the longer format of the game. The first time he earned his test call in the year 2000. As a young lad and a good learner helped him improve his game. On 29th November 2000, in a match against England at Faisalabad, Razzaq played on of his best test innings. In the second innings of the game, he made a superb Test century and made an unbeaten 100 runs and took three wickets. The match got drawn, but his outstanding batting and bowling performance rewarded him with the player of the match award.
Later, 29th August 2001, he made another century at Multan against Bangladesh and helped Pakistan win the match by an innings. In another match on 09th January 2002 Razzaq scored a hundred and took four wickets in the game against Bangladesh, Pakistan won that match, and he got the player of the match award. In a test match played against archrival India on 29th January 2006, when the game started  Pakistan were batting Irfan Pathan opened the bowling for the Indian side. He dismissed the Pakistani top order with a superb hattrick. 
Pakistan team came under immense pressure; then, it was wicket-keeper Kamran Akmal and Abdul Razzaq, who batted with patience and managed the Pakistan team to score a competitive score of 245 runs. Pakistan came back strongly and surprisingly won the match by a massive 241 runs. He played a crucial role in the game as he took seven wickets and scored a total of 135 runs in the game.
These are just some of his many top performances that made Razzaq one of the top allrounders of the Pakistan team even though he did exceptionally well but could not play any international tests after 2006. He became the youngest bowler to have a test match hattrick, which he did in 2000 against Sri-Lanka.
One Day International Career
Like tests, he has been a phenomenal allrounder in ODIs too. Who can forget his match-winning century against South Africa. On 31st October 2010, at Abu Dhabi cricket ground, Pakistan needed 287 runs to win at a time Pakistan was 136/5, Razzaq came at number seven. He kept his nerves under control and smashed an outstanding hundred; at one time, the score was 257/9, but he remained confident and helped Pakistan win the match. He made an unbeaten 109 off 72 balls with ten massive sixes and seven fours and claimed a wicket, which got him the player of the match award.
Carlton and United Series 2000
Razzaq got famous after his performance in the year 2000 Carlton and United Series, which got him player of the series award. In a match against India in that series, he scored a half-century and took five wickets and became ninth Pakistani to do so. In the same series, he hit the legend medium-fast bowler of Australia Glenn Magrath for 20 runs in an over, including five fours.
Other Performances
On another occasion, on 11th December 2002 at Port Elizabeth in a match against South Africa, he scored a brilliant century and played a vital role in the victory for Pakistan. There are many match-winning performances by him in ODIs, on 30th September 2004, when Pakistan's top order could not sustain long at the crease against Zimbabwean bowling. Then, he and Shahid Afridi stood firm and helped Pakistan reaching a handsome total of 292 runs at seven wickets. 
Razzaq made a magnificent unbeaten 107 runs, and Afridi scored a half-century in the match. In the end, Pakistan won the game, and he came as the game player. He played an incredible inning of 89 runs off just 40 balls striking at a rate of over 220 when Pakistan was chasing 308 runs, though Pakistan could not win the match but lost it by five runs and Razzaq came out as the player of the game. Besides this, he played plenty of matches winning innings with bat and won many challenging games for Pakistan.
With his bowling, he also did some excellent performances and won his team many matches. In a game against Sri-Lanka, Razzaq bowled superbly at the end and defended a couple of runs in last overs and got the player of the match award. On another occasion, he took six wickets against Bangladesh and won the match with his bowling.
World Cups
He remained a genuine match-winner for his team, whether you need him in bowling or with the bat he always delivered. His performances speak of his abilities and show his class. He was part of the 1999 WC and played his role in getting Pakistan to the final tournament. He became part of the world cup 2011 held in India, Sri-Lanka, and Bangladesh. In a match against Australia in the tournament, he made 20 off 24 balls and won the game to break the losing them in world-cups as Pakistan had lost 34 WC matches before it.
T20 International Career
He played in all three formats because his presence in the side filled a slot of both a batsman and a bowler. He was part of Pakistan's T20 World Cup in 2009 and performed well, especially with the ball to take Pakistan to the victory in the tournament. In 2009 Abdul Razzaq, along with Nasir Jamshed, set up the highest third-wicket partnership of 162 runs, which is the highest ever for 3rd wicket in T20s.
In a T20 played on 20th February between Pakistan and England, he played well with both bat and ball as he bowled his four overs and conceded just 17 runs and made 46 runs with the bat declared him as the player of the match. On 30th December 2010, he smashed an innings of 34 off just 11 balls and took three wickets for 13 runs against New-Zealand, In the end, Pakistan won the match, and he named for the player of the match award.
In a match against Australia, when the Australian team needed ten runs to win in the last over, the captain gave the ball to Razzaq, who did not bowl a single ball before that in the match. His experience in dealing with such situations helped him as he only gave nine runs, and the game was tied.
Breaks from international cricket and comebacks
Razzaq got injured several times in his international career and made comebacks. When he got dropped for T20 WC 2007, he announced his retirement and went to play in the Indian cricket league, soon he returned to International cricket and was selected for the 2009 T20 World-Cup.
Current position
Razzaq has been a unique find for the Pakistan team he has achieved throughout his cricket career, whether he played for the national side or in any other league or domestic team. Currently, he is doing coaching at the domestic level. He is part of Quetta Gladiators coaching staff in the Pakistan Super League to help the young talent improve their skills.
Social Media Handles
His social media accounts include