The history of Jammu and Kashmir started a long time ago. J&K is an Indian union territory that comprises the southern half of the larger Kashmir territory, which has been a conflict between Pakistan and India since 1947 & between China and India since 1962.
In the north and west, the Line of Control (LOC) separates Jammu & Kashmir from the Pakistani-controlled areas of Azad Kashmir & Gilgit-Baltistan. It is located to the north of the Indian states of Punjab and Himachal Pradesh and to the west of Ladakh, which is also disputed as a section of Kashmir and is managed by the Indian government as a union territory.
| | |
| --- | --- |
|                    Title |                       Description |
| Name: | History of Jammu and Kashmir |
| Location: | India |
| Area: | 42,241 km2 |
| Capital: | Srinagar and Jammu |
| Lieutenant General: | Manoj Sinha |
| Highest Elevation: | Nun Peak (7,135 m) |
| Lowest Elevation: | Chenab River (247 m) |
| Districts: | 20 |
| Website: | https://www.jk.gov.in/jammukashmir/ |

Terminology of J&K
The state of Jammu & Kashmir is called for the two areas it encompasses: Jammu & Kashmir Valley. The Pakistani government and Pakistani reports refer to J&K as IOK (Indian-occupied Kashmir) or IHK (Indian-held Kashmir).
In response, the Indian government and Indian sources refer to Pakistan-controlled areas as POK (Pakistan-occupied Kashmir) or PHK (Pakistan-held Kashmir). Neutral sources frequently use the terms "Indian-administered & Indian-controlled Kashmir."
History of Jammu and Kashmir
Article 370 of the Indian Constitution granted special status to Jammu & Kashmir. They, unlike other Indian states, held their own flag, administrative autonomy, and constitution. Other Indian citizens were not permitted to buy land or property here.
Jammu and Kashmir area was divided into three regions: the Hindu-dominated Jammu territory, the Muslim-dominated Kashmir Valley, & the Buddhist-majority Ladakh.  violence and unrest prevailed in the Kashmir Valley, and an insurgency raged in protests over rights and autonomy following an unsettled state election held in 1987.
The Jammu and Kashmir flag is red and white, representing 3 regions of the state, while the supreme court of Azad Jammu and Kashmir is one of the significant costs containing judges and Chief justice. The Chief Minister of Jammu and Kashmir is Mufti Mohammad Sayeed.
Victory of BJP
The BJP (Bharatiya Janata Party) won the Indian general election in 2014 and, after five years, joined their election manifesto 2019, removing Article 370 of the Indian Constitution to bring Jammu & Kashmir on par with other states.
Passed a Resolution
In Aug 2019, both houses of India's Parliament voted for a resolution repealing Article 370. Simultaneously, a reorganization act was approved, dividing the state into two union regions, Ladakh and Jammu & Kashmir. The reorganization went into effect on 31st Oct 2019.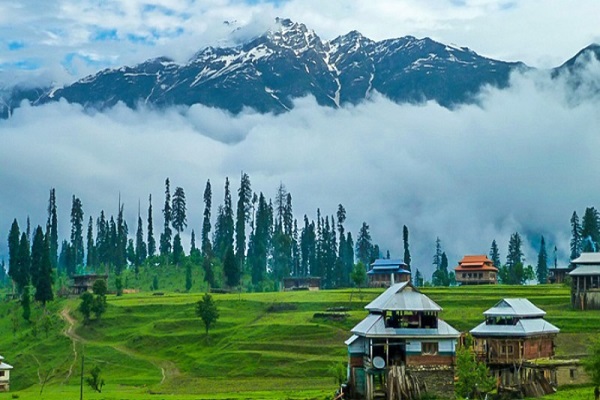 Demography
Kashmir Valley, Chenab Valley, Tawi Valley, Poonch Valley, Lidder Valley, and Sind Valley are among the valleys located in J&K. The Kashmir valley is a hundred kilometres wide & 5,992.4 square miles in area. The Himalayas separate Kashmir from the Tibetan plateau. In contrast, the Pir Panjal range, which surrounds the valley from the south and west, segregates it from the Indo-Gangetic Plain's Punjab Plain.
Mode of Transport
Road
The 'Jammu-Srinagar National Highway', a section of the NH44, is the principal road linking the two capitals in the territory. Other National Highways (NHS) in the territory include 144, 144A, 444, 501, 701 & 701A.
Railway
The Northern Railways' Jammu-Baramulla line that is under construction is the only railway track in the area. When completed, the railway will connect the two zones of Jammu & Kashmir and give rail access to Kashmir from other country areas.
Air
It has two main airports in the territory's two capitals: Jammu Airport in Jammu & Sheikh-ul-Alam Airport in Srinagar, also the territory's only international airport. Regular flights are available from these airports to Delhi, Bangalore, Mumbai, Chandigarh, & other major cities in the country.
Jammu and Kashmir Population
According to the census conducted in 2011, the total population of Azad Jammu and Kashmir is 12,267,013. The gender ratio is 889 females for every 1000 males. 7.6 per cent of the population is planned caste, and 10.9 per cent is scheduled tribe, primarily Gujjar, Gaddi and Bakerwal. The SCs are largely located in Jammu.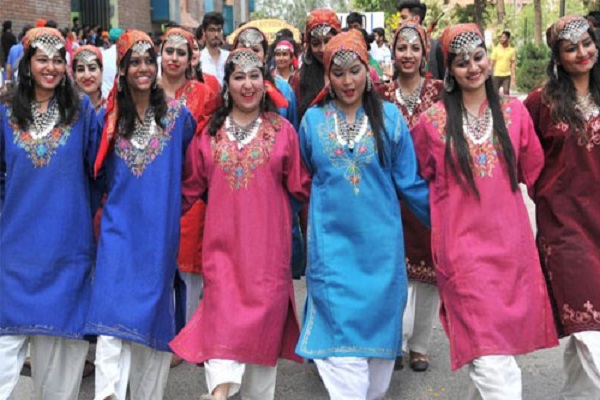 Religion
The majority are Muslim, with a sizable Hindu minority. The Kashmir Division is primarily Muslim (96.41 per cent), with a minor Hindu (2.45 per cent) and Sikh (0.81 per cent) population. The Jammu Division is primarily Hindu (66 per cent) with a sizable Muslim population (30 per cent).
Muslims predominate in Jammu's Rajouri, Doda, Poonch, Kishtwar, & Ramban districts, whereas Hindus predominate in Kathua, Jammu, Udhampur, and Samba. The Hindu and Muslim populations of the Reasi district are nearly equal.
Languages Spoken
According to the census held in 2011, the Kashmiri language is the most widely spoken and is the mother tongue of almost 52 per cent of the population. Other significant languages include Gojri (9.1 per cent), Pahari (7.8 per cent) and Dogri (20 per cent).
The remaining people speak Punjabi, Siraji, Bhaderwahi, Purkhi, Bauti and other languages. Urdu is also extensively spoken and understood, particularly in Kashmir, where it serves as the lingua franca with Kashmiri and as a medium of instruction alongside English. In contrast, Hindi is understood and taught in southern Jammu.
Literacy Rate
The literacy rate was 67.17 per cent according to the 2011 census, with male literacy at 75 per cent and female literacy at 56.43 per cent. Various universities are developed there, including the University of Azad Jammu and Kashmir Muzaffarabad.
Tourist Destinations
Srinagar, Gulmarg, Mughal Gardens, Pahalgam, Jammu and Patnitop, are all popular tourist destinations. Thousands of Hindu devotees visit the sacred shrines of Amarnath and Vaishno Devi every year, which has a substantial impact on the regional economy.
The Kashmir valley is among India's most popular tourist destinations. One of India's most famous ski resort locations, Gulmarg also has the world's highest golf course. The state's economy, particularly tourism, has benefited from the reduction in violence.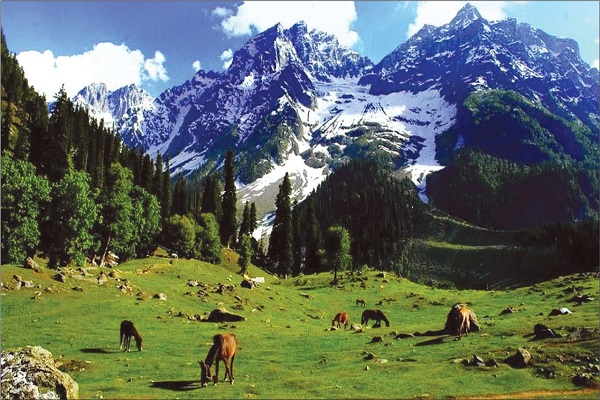 Media
The TRAI (Telecom Regulatory Authority of India) governs all key aspects of media & telecommunications. Furthermore, in 2020 its administration issued a media policy that allows government personnel to reprimand journalists and media organizations for broadcasting "false news," It is applicable for the following five years.
The policy was criticized for reducing individuals to "passive listeners of the news the government intended to transmit." The PCI (Press Council of India) expressed dissatisfaction about the policy's provisions on false news, claiming that they "interfere with the independent working of the press." The region's major periodicals are Rising Kashmir, Greater Kashmir, Kashmir Monitor, Elite Kashmir, and Daily Excelsior.
The economy of Jammu and Kashmir
The economy is mostly centred on services and agriculture. In 2020–21, Jammu and its GDP was predicted to be 1.76 lakh crore. Cold-water fisheries and Sericulture are well-known in the Kashmir Valley. Kashmir Willow, a type of wood from region Kashmir, produces good quality cricket bats.
Their major agricultural exports are apples, cherries, pears, plums, walnuts, and saffron. The traditional handicrafts sector employs over 340 thousand craftspeople and has the capacity to produce export goods.
Frequently Asked Questions
Q: Which river does not flow from Jammu and Kashmir?
A: Ravi River doesn't flow from J&K.
Q: How many languages are spoken in Jammu?
A: The Kashmiri language is widely used here. Others include Pahari, Gojri, Punjabi, Dogri and a few more.
Q: How many armies are in Jamu and Kashmir?
A: As per the estimations, the total number is approximately 600,000.
Q: Who is the current governor of Azad Jammu and Kashmir?
A: Masood Khan is the current governor, and Sardar Abdul Qayyum Niazi is the current PM.
Q: Is Jammu Kashmir a state now?
A: According to article 370 of the Indian constitution, it was given a special status.
Q: What is the old name of Jammu Kashmir?
A: It was called Princely State of Kashmir and Jammu.
Q: Is J&K part of India or Pakistan?
A: Kashmir is partitioned with a line of control. The Azad Kashmir is given to Pakistan, while Jammu Kashmir is a part of India. Since the partition, the Kashmir issue has never been resolved.
Social Media Handle
https://www.facebook.com/TodayInKashmir/