The diplomatic relations between China and Pakistan were established on 21st May 1951. Pakistan was one of the first countries to end relationships with the republic of china and recognized the People's republic of China. Since then the two countries have given special status to the relations. Right from the start of diplomatic relations, both the countries have agreed to take the connections forward. With each passing day, new strength and energy are added by both sides.It was because of such a relationship that many issues between China and Pakistan were resolved soon at the start of the journey. First, the boundary issues were resolved in 1963, military support started in 1966, a strategic alliance was formed in 1972, and an economical operation in 1979. 
| Title | Description |
| --- | --- |
| Information | |
| Location: | Islamabad, Pakistan |
| Nickname: | Chinese Embassy |
| Type: | Foreign Embassy |
| Local Language Name: | پاکستان میں چین کے سفارت خانے |
| Website: | http://pk.chineseembassy.org/eng/ |
| Details | |
| City: | Islamabad, Pakistan |
| Telephone: | (+92) 51-849 6156 & (+92) 51-849 6178 |
| Email: | [email protected] |
| Website: | http://pk.chineseembassy.org/eng/ |
| Head of Mission: | Sun Weidong, Ambassador |
| Working Time: | Monday to Friday, 8:30 am to 12:00 am,and 2:30 pm to 4:30 pm(except holidays) |
| Visa section: | 051-8496178 |
| Protocol section: | 051-8496141 |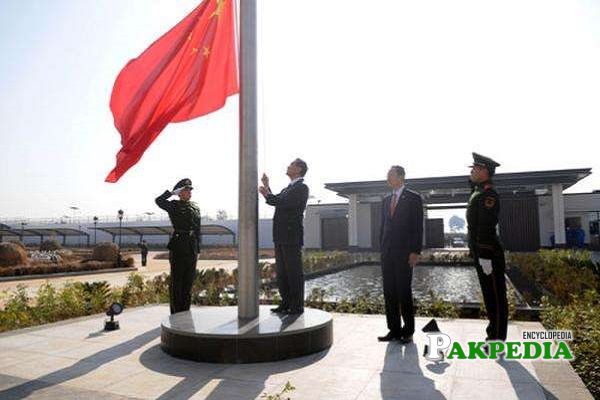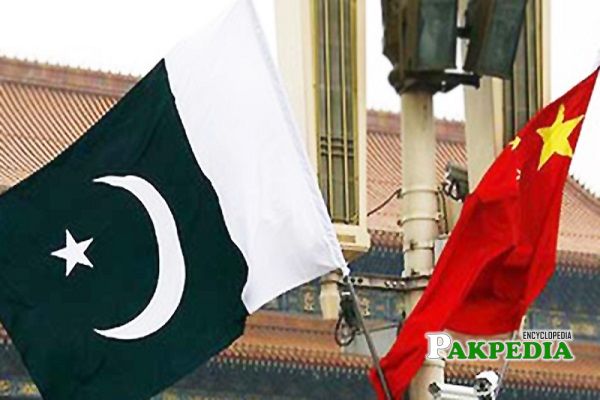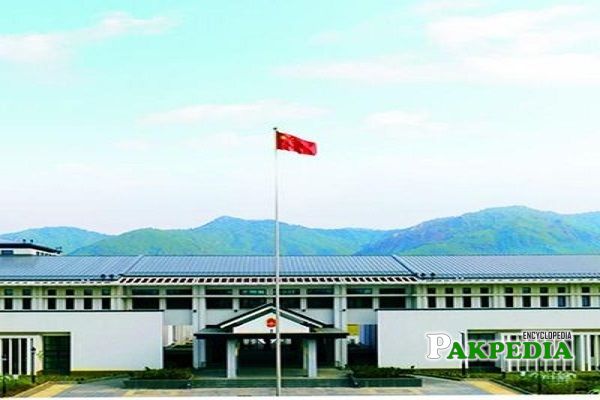 Diplomatic Relations
After the establishment of a diplomatic relationship in 1951, a treaty of friendship was signed in 1956 between Hussain Shaheed Suharwardi and Zhou Enlai. The escalating border tension between India and China lead to the Sino-Indian war in 1962, China and Pakistan aligned together to counter India. After that Pakistan also resolved its issue by signing Trans-Karakoram Tract for a better diplomatic relationship.
The example of this friendly relation was seen in the warm welcome of Zhou Enlai in all of his four visits to Pakistan. In 1976, When Zhou Enlai died, Pakistani ambassador to china rushed to Chinese ministry without any appointment and cried in front of the Chinese diplomats and showed his grief over the departure of Zhou Enlai. Later, in 2004, a road in Islamabad leading to the Chinese embassy was named Zhou Enlai road. A similar warm welcome was given to Mao Zedong, Then Chinese leader who received his last foreign visit at the age of 83.
China Embassy Visa
China also has a consulate in Karachi to provide visa relaxation to the people. The Visa policy is designed to offer visas for different purposes. They are categorized into different types. That includes;
D Visas are providing to people who want to reside in China. Such a visa is called D Visa.  Another type of Visa.
J2 is issued to a correspondent for coverage in China. 
People who are foreign and accompanying spouses or children are given J1 visa.  
C Visas are issued to crew, members of international train, flight, or ship service.
F Visa is offered to people who go to China for business, lecturership, or cultural exchange. It is issued for less than 6 months. 
For exploration and tourism, L Visa is issued. This visa can be given to family visits or personal matters as well. 
For employment or academic purpose, China offers a Z visa.
CPEC China Pak Economic Corridor
CPEC connects China and Pakistan to central Asia by a highway passing through Kashghar,  Khunjrab, and Gawadar. Gawadar port will become a trade centre for China. Currently, the routes used by China to reach Central Asan countries take a distance of 16000 km. The export is done through ships and takes two to three months making the ships vulnerable to pirates. The routs made in China will make the export less costly and also save time. It also plans to build a Market for the already established enterprise in Pakistan. 
These enterprises include Haier, a home appliance company, Huawei, a mobile company, Textile and garments companies, Fertilizers and agriculture, and many more. For this purpose, the construction of the industrial zones, Industrial Parks, and friendly Economic environment is planned to be created in CPEC.
Important Events
1950:  Pakistan became the first non-communist country to recognize China
1963:  Trans-Karakoram Tract was signed to end the Border dispute.
1986:  Nuclear Operation agreement was signed
1999:  300 megawatt completed in Punjab by the help of China
2002:  construction of Gawadar deep see started
2003:  110 million housing contract was signed
2010:  Chinese donation of $260 million for flood-affected people
2013:  Management of Gwadar is handed over to China
2013:  Approval of China-Pak Economic Corridor
Award to Chinese Ambassador
In 2009, President Asif Ali Zardari awarded the Chinese ambassador, Luo Zhaohui in a ceremony in the president house. The award was given in recognition of the services and promoting the diplomatic relationship between China and Pakistan. The Ambassador accepted the award by thanking the president and called himself privileged to work in Pakistan and represent his country.
Consulate General of China
| | |
| --- | --- |
|  Title |  Description |
|  Name |  Consulate General of People's Republic of China |
|  Address |  ST20, Clifton Karachi, Pakistan |
|  Contact |  0092-21-35874168 |
|  Email |  [email protected] |
Unfortunate Attack on Chinese Consulate
The Chinese Consulate located in Clifton Karachi was attacked on 23 November 2018, killing 4 people. 4 people were killed including two policemen and two civilians. All Chinese diplomats were safe and secure. The attackers tried to enter inside the Consulate by using high explosives but were resisted by the policemen. According to the investigation, the attack was planned in Afghanistan and conducted with the help of Indian spy. The main purpose of the attack was to sabotage CPEC.