Elahi Developers have always been a mark of excellence and Eden Valley, Another successful project of Elahi Developers, Has proven to be a fine example. Based on five, seven, ten and fifteen Marlas' plots this society is ideal for community living.The beautifully maintained spacious green belts and parks are the symbol of green and healty living.Faisalabad International Hospital and Gafoor Bashir Hospital are located in close vicinity. Madina Town and D Ground are near by. Beacoun house School System, The City School and Root School System are nearest educational institutions.
| Title | Description |
| --- | --- |
| Information | |
| Location: | Faisalabad Pakistan |
| Nickname: | Eden Valley |
| Full Name: | Eden Valley Faisalabad |
| Type: | Residential Solution |
| Website: | http://elahidevelopers.com/eden-valley/ |
| Faisalabad also Known As: | Manchester City of Pakistan |
| Country : | Pakistan |
| Province: | Punjab |
| Developers: | Elahi |
| Best Architected Focusing: | Latest Real Estate Trends in Pakistan |
| Location: | North-East of Faisalabad |
| Surrounding Societies: | Model City Phase 1, Hassan Villas, Officer Colony and Eden Garden Faisalabad |
| Plots: | 5, 7, 10 and 15 Marla, |
| Current Prices of Plots: | 4,00,000 per Marla to 6,00,000 per Marla |
| Facilities: | Complete Residential Solution |
Faisalabad Pakistan

Eden Valley Faisalabad offers state of art residential solution to the people of Faisalabad also known as Manchester City of Pakistan for its industrial and textile work. The fulfill the residential needs of people of Faisalabad and adjoining areas, Elahi Developers comes with a modern community project that offers a secure gated community towards the North-East of Faisalabad City.[1] Elahi Developers Eden Valley is a master of best architected focusing the latest real estate trends in Pakistan.[2]  Faisalabad Pakistan 
Location
The idyllic site of Eden Valley Faisalabad attracts people as the site is located towards North-East of Faisalabad. Eden Valley is located in front of Eden Garden Faisalabad. You can reach Eden Valley from Canal Road Faisalabad located towards west and Lower Canal Road located towards East.The surrounding societies include Model City Phase 1, Hassan Villas, Officer Colony and Eden Garden Faisalabad.
Attractions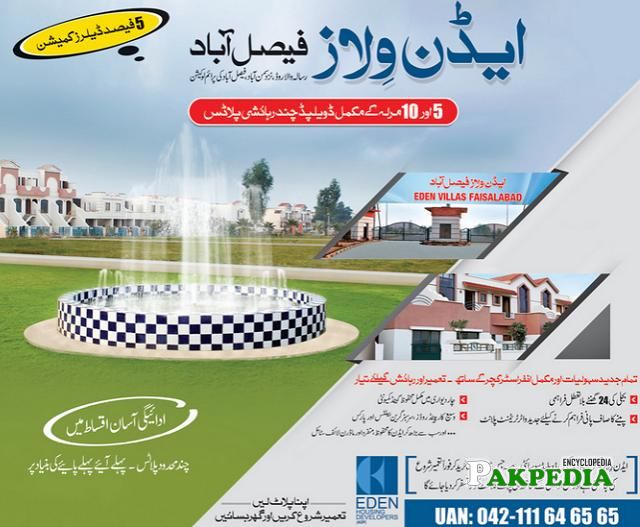 Eden Valley Faisalabad is a project of developed residential plots of different sizes. Eden Valley Faisalabad developers offer various plots to facilitate small, medium and large family size. Following developed plots are available at Eden Valley Faisalabad.
5 Marla
7 Marla
10 Marla
15 Marla
Facilities
Parks
Beautified the Valley with spacious parks enriched with natural beauty. Parks in Eden Valley are specially designed keeping in mind the health and joy needs of both adults and children. Lush green grass, beautiful flowers, trees and plants around, giving a pleasure to walk around or site to relax in calm and naturally rich environment. The Parks are facilitated with playing area for children having slides, rides and swings. These are making the parks entertaining and relaxing points for the whole family.
Mosques
Keeping in mind the religious values, Eden Valley is enriched with beautiful mosques, which not only a place to pray but with beautiful architecture design, making them a worth seeing place. Beautifully designed and facilitated with all the basic and luxurious needs, these are our master pieces. The mosques are located on different places in the valley keeping in mind the easy access to the local community.
Monuments
The roads are decorated with beautiful & unique monuments, which are adding beauty and attraction to the roads. These beautifully designed architecture master pieces, making it pleasure to see and walk around.
Cricket and Fitness Center
Elahi Developers not only providing the luxurious living to our valued customer, we also care about their health and fitness. Eden Cricket & Fitness Center has proven to be a fine example of that. This sports complex is providing football, cricket, swimming, boxing practice and gym facilities for the whole family.Special time is allocated to females for swimming and gym, so they can gain benefit from these facilities to maintain their health and fitness with full privacy and security.[3] Facilities
Commercial Market
Keeping in view the commercial needed of the people living around; a beautiful commercial market is established in the town to facilitate the community. Where people can find all the necessities of life they need to buy.[4]  Commercial Market 
Eden Valley Faisalabad Plots Prices
Eden Valley Faisalabad is a already developed residential site with so many families are residing there. Eden Valley Faisalabad Plots are available in re-sale by the owners of plots, while the current prices of plots start from 4,00,000 per Marla to 6,00,000 per Marla depending upon the location and size of plot.
Eden Valley Faisalabad Silent Features

Eden Valley Faisalabad offers a complete residential solution including complete and sustainable infrastructure and amenities of basic to modern life style. The gated community is protected by boundary wall, while the entire valley is divided into blocks for plots numbering and for allocation of resources. Each of the blocks has its own resources like parks, street lights, mosque and other amenities of life. The valley includes: 
Block A 
Block B 
Block C 
Block D 
Block E 
Block F 
To fulfill the needs of residents, a full fledge market will provide necessary grocery items.
Recent Development
The design developers have launched a new project at Eden Valley Faisalabad named as Club Residencia and Club Commercial. The project offers real estate investment opportunities on installment plan.
Contact Information
Address:Eden Valley, East Canal Road. Faisalabad. Pakistan
Telephone:+92 41 85 20376
Cell #:+92 300 6667595 +92 302 8387576
Email:info@elahidevelopers.com
Facebook:https://www.facebook.com/elahidevelopers