Chaman (also spelt Chaman) (Pashto/Urdu:  چمن ) is the capital of Qilla Abdullah District, Balochistan, Pakistan. It is situated south of the Chaman border crossing with neighbouring Spin Boldak in Kandahar Province of Afghanistan.Chaman is a border town situated in the North Western border between Afghanistan and Pakistan. It is an important town of Balochistan province. Chaman connects Pakistan with neighboring Spin Boldak in Kandahar Province of Afghanistan.[1] Chuman- dawn.com Chaman was an important town during the English times. Many explorers writers and spy's from the English times have crossed this border and wrote their memories.
About
| Title | Description |
| --- | --- |
| Information | |
| Location: | Pakistan |
| In Urdu : | چمن |
| City Council: | Government Of Balochistan |
| Type: | Capital of Qilla Abdullah District |
| Local Language Name: | China, Vietnam |
| Province: | Balochistan Pakistan |
| Coordinates : | 30°55′20″N 66°26′41″E |
| District: | Qilla Abdullah District |
| Region: | Balochistan |
| Elevation: | 1,338 m (4,390 ft) |
| Union councils: | 13 |
| Language | |
| Official Language: | Urdu |
| Native Language: | Balochi |
| Other Languages: | Urdu,Balochi,English |
| Government | |
| Government Type: | Government Of Balochistan |
| District Administrator: | Municipal Administration |
| Population | |
| Total Population: | 180,161 (2015) |
| Time zone | |
| Time zone: | PST (UTC+5) |
| Codes | |
| Postal code: | 86000 |
| Dialing code: | 826 |
| Vehicle registration: | Three letters beginning with C and random four numbers |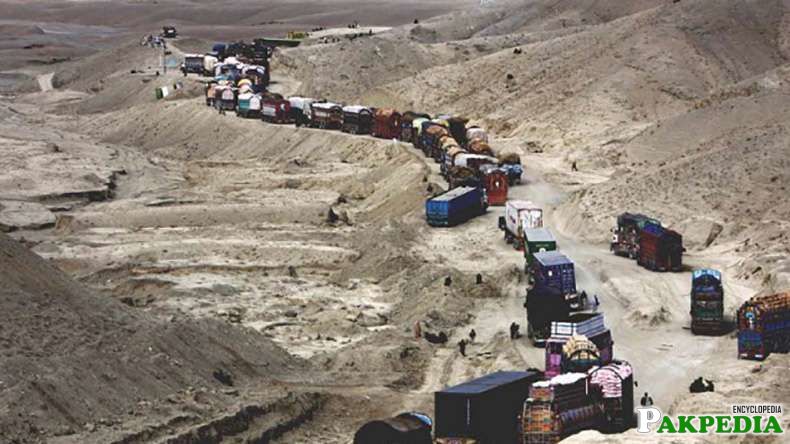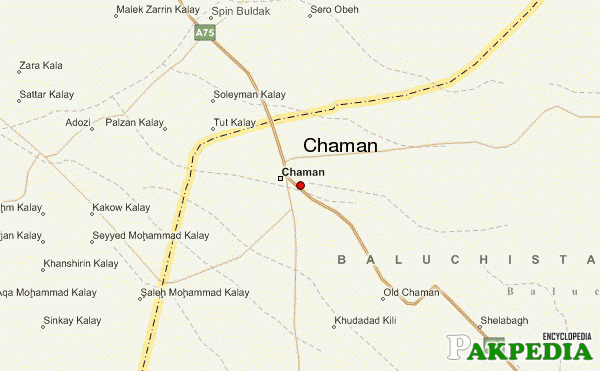 History
Chaman was an important town during the English times. Many explorers writers and spy's from the English times have crossed this border and wrote their memories.Pakistan has closed its border with Afghanistan indefinitely after a group of Afghan demonstrators attacked the Friendship Gate at Chaman and set the Pakistani flag on fire, it emerged on Friday.The incident that took place on Thursday evening has resulted in suspension in the movement of trucks involved in trade shipments between the two countries and carrying supplies for Nato forces in Afghanistan.
Sports

Chaman has been known for its football since the 1940s, and is home to Afghan FC, which plays in the Pakistan Premier League. The Jamal Nasir Shaheed Stadium is located in the town. four players from Afghan FC currently play for the Pakistan national football team, including the captain, Jadid Khan Pathan. Also Chaman have many popular soccer players Like Muhammad Essa, former Pakistan Team Captain, Kaleem Ullah recently playing a league in America, Mehmood Khan, Dawood Khan both are brothers, Himat Khan, Hayat Ullah International, belong to Muslim Fcc, one of the oldest player Haji Qayyum urf-e- Khadako presently coaching to Pak Army football Club Chaman. Chaman City Have lots of Football teams here are their names.
Cricket Clubs
Citizen cricket club Chaman.
Amanullah Academy Chaman.
Afghan Cricket Club Chaman.
Lahore Badshah Cricket Club Chaman.
Baldia Cricket Club Chaman.
Ismail Khan Noorzai Cricket Club Chaman.
Bacha Khan Shaheed Cricket club Murda karez Chaman
Super Challenger Cricket Club Chaman
Afghan War
Chaman is used by NATO forces as a major supply route into Afghanistan since 2000 till now.[2] Pakistan – VOA News On August 30, 2009, an attack on a NATO convoy destroyed 20 fuel tankers and other supply trucks. The attackers reportedly fired rockets and small arms before destroying the trucks.[3] The News- International:Afghanistan Former President Amanullah Khan escapes to Europe by the route of Chaman.Thousand of Afghan Refugees came to Pakistan, using Chaman.
routes.
Transport
Chaman has a major railway station which accommodates passengers coming from Kandahar as well as other parts of Afghanistan. The slow passenger train runs between Chaman and Quetta several days a week. In 2008, it was proposed to extend this railway through Afghanistan to central Asia.[4] Transport – Transport
Trade
The city is a famous trade point in Balochistan. Traders from Afghanistan and Iran come to import and export goods in the bazaars of Chamman. Famous ghazal king Mehdi Hassan sang a ghazal about the town. The lyrics are chalte ho to chamamn ko chaliyeh kehta hai ka baharan hai. which means " If you want to travel lets visit Chamman its spring time there." [5] Trade – Trade
Khojak Pass
This Pass will lead you directly to the Chaman Border of Afghanistan, 153 km from Quetta. The scenic beauty is simply enthralling. The border journey is to be materialized through Khojak Sheela, a 4 km long tunnel, at an elevation of more than 1945 meters above sea level.[6] Khojak Pass – Khojak Pass
Border of Chaman
The only border Chaman marks is the boundary between two tribes – the Pathans and the Balochis. But the axis of that division lies at right angles to the frontier recognised on the map.
Even the home secretary in Quetta – the second-most senior civil servant in the province – admits the frontier, effectively created as the western boundary of British India, is a farce: "It is an imaginary border. You Britishers built us good railways but gave us some lousy boundaries." [7] Border of Chaman