Syed Mustafa Kamal is considered as the game-changer of the Karachi politics.  He is the founder of the Pak Sar Zameen Party. In the past, he was associated with MQM. He has remained as the mayor of Karachi and Senator. He was the one who changed Karachi into the city of life. This article has all the information about Kamal, including Syed Mustafa Kamal Biography.
| Title | Description |
| --- | --- |
| Personal | |
| Name: | Syed Mustafa Kamal |
| In Urdu: | سید مصطفی کمال |
| Famous As: | Politician |
| Nationality: | Pakistani |
| Residence: | Karachi |
| Education: | MBA |
| Alma Mater: | University of Wales |
| Religion: | Islam |
| Profession: | Politician |
| Born | |
| Date: | 27th December 1971 |
| Place: | Karachi |
| Family | |
| Spouse: | Married |
| Children: | 2 Children |
| Parents: | Anis Ahmed and Jamila Khatoon |
| In Office | |
| Role: | Chairman of Pak Sarzameen Party |
| Constituency: | NA-253 (Karachi Central-I) |
| Dates: | 23rd March 2016 |
| Prime Minister: | Nawaz Sharif |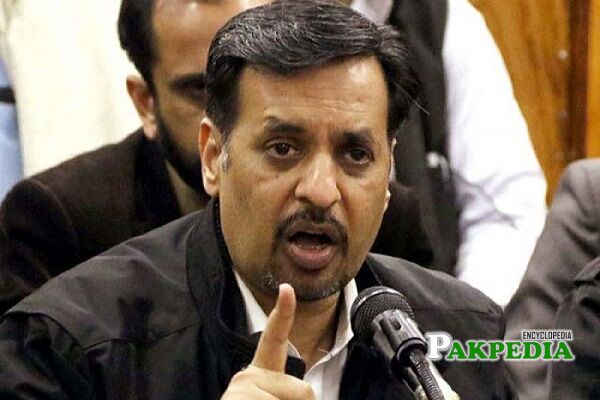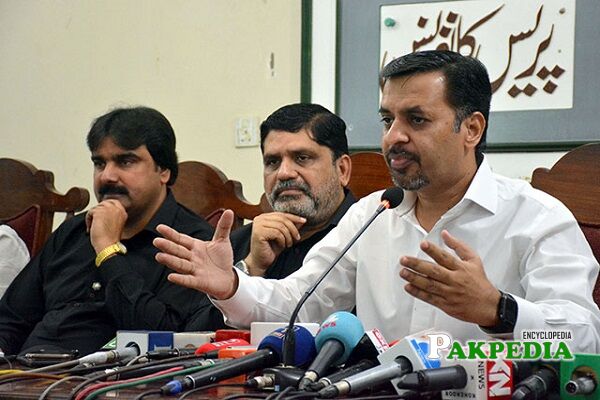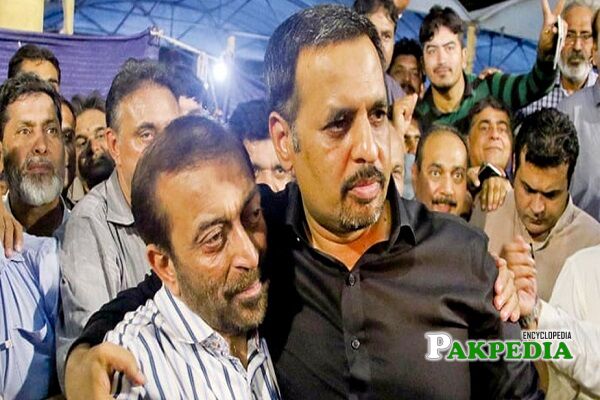 Syed Mustafa Kamal Biography
Kamal is known as an important figure in the politics of Sindh. His importance increased after he came back to Pakistan and held a press conference against Altaf Hussain. He has served as the mayor of Karachi. It was considered one of the most prolific age of development in Sindh. He was lucky to be associated with MQM who gave them an environment to rise as a politician from slums. In 2013, he left Pakistan for Dubai due to unknown reasons. 
Before his departure, he was a senator but later gave his resignation. After 3 years, he came back to Pakistan and held a press conference against Altaf Hussain. It was said that his press conference broke the chains of fear in Karachi.
Mustafa Kamal Age
He was born on 27 December, 1971 in Karachi. Currently, he is still living there.
Syed Kamal Family
He belongs to a Muhajir Family, who migrated to Pakistan after the partition. He was born to Anis Ahmad and Jamila Khatoon. Kamal has two children
Education of Mustafa Kamal
Kamal studied in Malaysia and received an associate diploma in business. He also received a degree in Marketing from the University of Wales UK.
Political Career
He is one of those politicians who have got opportunities and cashed it on time. Lucky to be associated with MQM, a guy from the slums working as a telephone operator was never considered to be the mayor of Karachi, Senator and provincial minister, and later having his political party. Syed Mustafa was elected as a member of the provincial assembly in 2002 from PS-17 Karachi. In 2003, he became the IT minister of Sindh. He served this for two years from 2003 to 2005. It was his first experience as a minister and helped him groom politically.  
In 2005, He also became the Mayor of Karachi while part of the Haq Parast group that was supported by MQM. The credit of his success truly goes to MQM that promoted people from the middle class to the top level. Under his office, Karachi saw the developments that changed it completely.  He truly turned the city into the city of lights; He served as the mayor for 5 years. In 2008 It was speculated that he was named as the second-best mayor in the world but later the news turned to be untrue. However, he won the World Mayor Prize in 2010. During his tenure, he formed Khidmat e Khalq foundation, and Parliamentary wing Haq Parast.
In 2011, he was elected as a member of the senate. Just after two years in 2013, he left Pakistan mysteriously and resigned from his seat. It was reported that he left the party after having differences with Altaf Hussain. After leaving Pakistan, he joined the business of Malak Riaz
Press Conference Against Altaf Hussain
In March 2016, Syed Mustafa Kamal suddenly announced his come back to Pakistan and immediately held a press conference against Altaf Husain. He accused him of having links with Raw and making terror in Karachi. He briefly talked about his experience with MQM and the terror activities that happened in Karachi. Along with this, he announced the establishment of a new party with Anees Qaim Khani, his friend.
Analysts say his decisions helped the people come out of the fear circle made by Altaf Hussain and his gangs in Karachi. The party, Pak Sar Zameen Party started only with two people; Kamal and Anees but soon many members of MQM joined him including, Advocate Anees Khan, Dr. Sagheer Ahmad, Waseem Aftab, Raza Haroon and many more. Anees Qaim Khani was made the president of the Party, Raza Haroon the secretary-general and Ifthikhar Alam, the spokesperson.
Despite the sudden rise to his party, he could not establish his party that could compete with the other political rivals. The party still hopes for a better future. In 2018 general elections, he contested from one national assembly and two provincial assemblies. However, he lost the election and could not secure even one seat.
Cases against Syed Kamal
China-Cutting case
An FIR was registered against Kamal and 24 PSP workers. The Anti Corruption Establishment said he was involved in illegal allotment of 82 acres of land in 2009 in Mahmoodabad. He said the plots were allotted to the affected people of the Line Area Project. He made it clear that he had no links with China Cutting Case 
Illegal Allotment Case
Mustafa Kamal was also accused of illegal allotment case by7 NAB. According to NAB, state-owned land in Clifton was allotted illegally. The case did not develop further.
Stance so far
After the establishment of his party, he clearly stated no to do politics based on ethnicity like MQM. He challenged the population census in the Supreme Court saying that the figures are lower than the real figures.  He also asked for the increase in the seats of national and provincial assembly based on new data provided by Nadra. In the campaign before the 2018 election, it was said that he continued to use the ethnic card for his betterment. He also had an appeal to Army Chief to grant one time amnesty to the youth of Karachi similar to Baluchistan.
Social Media Accounts
His social media accounts include