Bahawalnagar city is located in southern Punjab, Pakistan. It is one of the five tehsils of Bahawalnagar district, and the administrative headquarter of it. The district is one of the most significant communities in Pakistan. The metropolitan has been organized into 31 union councils.
In the neighboring region, Pakpatun, Okara, Vihari are located in the north, whereas Multan and Bhawalpur are in the west. The town is 309 km from the provincial capital, Lahore. River Sutlej (9.6 km) was considered as a marker of its northern border.
Eastern frontier completely borders with Indian state Ferozpur. The town is strategically and militarily important. This article has every detail about the district, including Bahawalnagar History.
| Title | Description |
| --- | --- |
| Information | |
| Location: | Pakistan |
| In Urdu : | بہاولنگر |
| City Council: | Government of Punjab |
| Type: | Capital city of Bahawalnagar District |
| Local Language Name: | Punjabi,Urdu |
| Province: | Punjab |
| Coordinates : | 29°59′34″N 73°15′13″E |
| District: | Bahawalnagar District |
| Region: | Punjab |
| Elevation: | 535 ft (163 m) |
| Language | |
| Official Language: | Urdu |
| Native Language: | Punjabi |
| Other Languages: | Urdu,Punjabi,English |
| Government | |
| Type: | Government of Punjab |
| Area | |
| Total Area: | 8,878 km2 (3,428 sq mi) |
| Population | |
| Total Population: | 144,127 (2012) |
| Time zone | |
| Time zone: | PKT (UTC+5) |
| Summer (DST): | +6 (UTC) |
| Codes | |
| Postal code: | 62300 |
| Dialing code: | 63 |
| Vehicle registration: | Three letters beginning with B and random four numbers |

Bahawalnagar History
Bahawalnagar is a historical region. Historical findings and relics suggest that this region was ruled by many dynasties of earlier civilizations such as Mohenjo-Daro and Harappa. Its old name was Rojhan Waali Basti. In 1904, the Nawab of Bhawalpur, Muhammad Bahawal Khan V (1883–1907),  named this region as Bahawalnagar.
From 1723 to 1947, it was part of the Bhawalpur district. Even before the partition of the sub-continent, this region was heavily populated with Muslims. Due to the teachings of Sufis, Islam became the dominant religion. The people of this region opted to join Pakistan when asked by the British empire.
When Pakistan came into being, vast numbers of people migrated from India and settled here. Up until 1956, its pre-partitioned status as a state was retained. When the one-unit scheme was implemented in 1956, this region was annexed with Punjab province. Later it was designated as a district.
Geography
The geographical coordinates of this region on the political map are 29.59°N (latitude), 73.15°E (longitude), and 163m above sea level. Its total area is 2,001 km2  in length.
Bahawalnagar Climate
This region is one of the hottest districts of Punjab. Summers are sweltering when (April – October) temperature may rise as high as 50°C. Winters are short and chilly when (November – February) temperature may drop as low as  -1°C. The town also experiences an average of 45mm rainfall during the year.
Population
The region is the 54th largest according to the 2017 census. The city is a permanent residence of 161,033 people with a population density of 407.4/km2.
Bahawalnagar Culture
It is a multicultural society. Joya, Watto, Araen, Rajpoot, Syed, Shaikh, Qureshi, Rehmani, and Malik are among the dominant communities. Almost all communities religiously celebrate special occasions such as Urs of Hazrat Khwaja Noor Muhammad Maharvi and Hazrat Essa Khan Baba.
Christians and Hindus are also settled in the region for centuries. They follow their traditional customs and celebrate all of their religious festivities.
Traditional Lassi is a favorite drink in this region, and guests are served with it. Local people enjoy eating hot and spicy food. There are many famous food streets in the town. Mutton Karahi, fried fish, til-wala naan, chicken roast, and egg-burger are the most famous food items.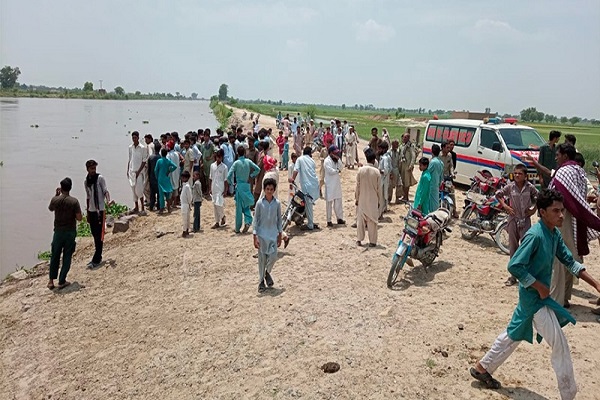 Education
According to the statistics published by the government of Punjab, the numbers of schools and colleges are as follows:
Primary Schools (473)
Boys Institutes (315)
Girls Institutes (248)
Middle Schools (52)
High And Higher Secondary School (38)
Co-Educational Institutes (0)
Following is the list of some educational institutions:
Govt Degree College for Boys Maroot Fortabbas
Govt Degree College for Special Education
Govt Degree College For Women Daharanwala
Govt Institute of Commerce Chishtian
Govt Institute of Commerce Fort Abbas
Govt Institute of Commerce Haroonabad
Govt Institute of Commerce Minchinabad
Govt Institute of Commerce for Women
Islamia University Campus
Leads Group of Colleges
Punjab Group of Colleges Bahawalnagar
Virtual University Campus
Sports
Favorite sports include:
Cricket
Football
Hokey
Tennis
Industry
Major industries providing work opportunities and source of income for people include:
Oil mills
Textile Spinning
Flour mills
Sugar mills
Paper and Board
Tea blending
cotton ginning & pressing
Rice mills
Marble
People are also engaged in the cottage industry and livestock.
Agriculture
The majority of the population is in agriculture. Most of the land is desert-like—crops such as cotton, rice, wheat, and sorghum, and mostly cultivated. A well-established irrigation system has been instrumental in transforming the village into a city.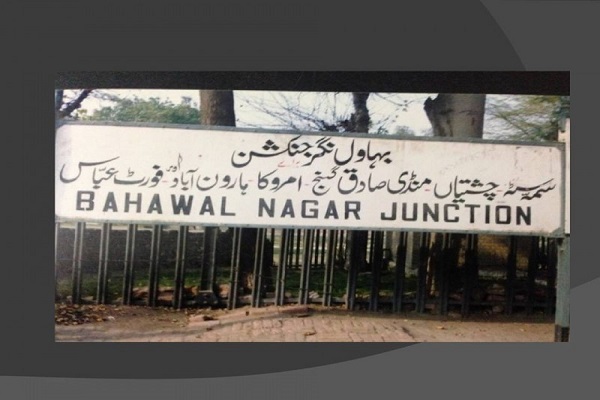 Tourism
The rural lifestyle and geographically beautiful terrain make Bahawalnagar worth visiting. The best season to visit this region is winter. The city and district host some worth visiting tourist spots such as:
Bahawalnagar Railway Station
Dubai Palace
Fort Abbas
Fort Jaam Garh
Fort Marot
Local Zoo
Meer Garh Fort
Satluj Park Bahawalnagar
Languages
People can speak and understand:
Punjabi
Saraiki
Riyasti
Urdu
English
Travel
The city is linked with the rest of the neighboring regions by roads and a National Highway (N-5). Many transport facilities are available throughout the country to reach here. Railroads connect Bahawalnagar's historical (1887-88) railway station with the outside world. The city can also be reached by air via Bahawalnagar Airport (WGB).
Nearby airports include:
Faisalabad International Airport (LYP), 155.81km
Bahawalpur Airport (BHV), 165.46 km
Multan International Airport (MUX), 179.41 km
Bahawalnagar Postal Code
Postal Code: 62300
Area Code:  063