Ayubia National Park was established in 1984 in an east corner of Khyber Pakhtunkhwa, province of Pakistan. In 1998 it was expanded form its original size of 1684ha or 16.84km2 to 3312ha. Since then it has been managed by the Khyber Pakhtunkhwa Wildlife Department. The purpose of establishing it was to conserve the temperate forests. Originally, the park stood at an area of 857acre, but in 1998 it was expanded to cover an area of 1685acr.[1] Ayubia National Park – Pakistan 
| Title | Description |
| --- | --- |
| Information | |
| Location: | Pakistan |
| Name: | Ayubia |
| In Urdu: | ایوبیہ |
| Type: | Ayubia was named after Muhammad Ayub Khan |
| Province: | Khyber Pakhtunkhwa |
| Coordinates : | 33°51′54.83″N 73°8′19.57″E |
| District: | Abbottabad |
| Website: | http://kptourism.com/ayubia |
| Elevation: | 8,000 ft (2,438 m) |
| Union councils: | 115 |
| Language | |
| Official Language: | Urdu |
| Native Language: | Pashto |
| Other Languages: | Urdu.Pashto.Enhlish |
| Area | |
| Total Area: | 33.12 km2 (13 sq mi) |
| Time zone | |
| Time zone: | (UTC+05:00) |
| Summer (DST): | (UTC+6) |
| Codes | |
| Postal code: | 22310 |
| Dialing code: | +297 |
| Vehicle registration: | Three letters beginning with A and random four numbers |
Details
History
Ayubia is beautiful visiting place in Pakistan. Ayubia is located in district Abbottabad. Ayubia was declared national park in 1884. It was named after President Ayub Khan, who belonged to Haripur District of Hazara. Most peoples are going to visit ayubia. Ayubia is full of beautiful mountains and different kinds of trees which shows the beauty of Pakistan.[2] President Ayub Khan – Palistan Chair lefts and zigzag road makes very interesting view points for visitors. Monkeys and other kind of animals can be found in Ayubia. Ayubia is also near to murree. You can visit Ayubia and murree at same day.Ayubia is full of trees. There are some restaurant  in Ayubia you can enjoy delicious  Pakistani dishes. You can stay in hotels in murree There are many Hotels in murree. Chair lifts increase the enjoyment in Ayubia. Water is very cold in Ayubia. When I was gone our driver bring water and that water was so cold. It was difficult  to drink the water. One thing which fascinated me was beautiful trees. I really like the trees. Ayubia is standing at some 26 kilometers from the tourist hotbed of Murree Hill Station, over 100,000 tourists flock to Ayubia National Park and the places around every year. It is well known for its picnic spots. There are a number of rest houses and small hotels at the base station of the Chairlift[3] Ayubia is full of trees – ayubi a- pakistan.
 
Climate

In summer, climate of this area is hot and becomes harsh in winters. In May and June, weather remains mildly hot. With the monsoon in late June and early August, the cold sets in. gradually the severity of cold in winters increases until the west winds bring rains. These rains eventually turn into snow. In the later part of winters, this park remains capped with the snow.[4] In summer, climate – ayubia-national-park 
Plants in Ayubia Park

There are 104 species of plants in Ayubia Park. Cedrus deodara, Yew, Blue Pine, Horse Chestnut, Silver Fir and Oak are the main floral species. In the park, 21 plants belonged to 19 families that known because of their medical properties. Many of the plants here are used for treatments of stomach ulcers, jaundice, internal infections, snakebite, Chambal, diabetes and many others. Some of the plants here are known to have anti-carcinogenic effects.[5] 21 plants belonged – Pakistan  
Wildlife

This park provides refuge to the elusive leopard and the ebony bear. Bird visually examining is excellent here.[6] Only 30 individuals – stations/ayub Some of the bird species pass through the park on migration. The population of the Koklass Pheasant and the recherche Kalij Pheasant are the highest kenned for Pakistan. Only 30 individuals of the Kalij Pheasant are kenned to subsist in the park.
Mammals
Mammals in the park include "Asiatic leopard (V), Ebony bear (T), Yellow throated marten (R), Kashmir hill fox (C), Red Flying squirrel (C), Himalayan palm civet (R), Masked civet (R) and Rhesus Macaque (C).[7] Mammals the park include – Pakistan   
Birds

Birds in the park are–Golden eagle, Himalayan Griffon vulture, Honey buzzard, Peregrine falcon, Kestrel, Indian sparrow hawk, Hill pigeon, Spotted dove and Collared dove[8] Golden eagle – Ayubia 
Ayubia Chair Lift

The chairlifts at Ayubia will be  replaced after nearly five decades of operation.
According to the Galiyat Development Authority (GDA), the government has allocated Rs500 million for the project under the Annual Development Programme 2011-12.
Official sources said that the GDA has contracted out the project to a private company. The bid was won for Rs98 million for a period of five years.[9] The chairlifts at Ayubia – Palistan 
Hotels In Ayubia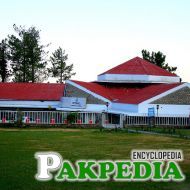 Pakistan Tourism Development Corporation has built a hotel in Ayubia named PTDC Motel. PTDC Motel is located near the famous Ayubia Chairlift having comfortable rooms and an ideal resting place. So some other hotels are available in Murree and Nathiagali.
Ayubia Weather

Weather condition in Ayubia is differ season wise. In summers weather is cold, but harsh in the winters. In late July and early August, monsoons rains come and convert the weather to increase cold gradually until the west winds bring more rains, which eventually turn into snow.[10] August, monsoons rains –   Ayubia Pakistan  During snowing season Ayubia National Park remains snow-capped until summer season start. In winter season temperature of the area falls in negative. Ayubia weather forecast vary season to season.
Darwaza Ayubia

Darwaza is a village near Ayubia, situated in the Abbottabad district Union Council Palak, Khyber Pakhtunkhwa, Pakistan. The population of Darwaza is about 5000.
Chamb
Chamb is a small Mohalla of Village Darwaza which is at a distance of about 2 km from Kuza Gali. Chamb is linked to main Ayubia/[Nathia Gali Road through a link Road from Khaira Gali, Jandala to Darwaza. The population of Chamb is around 1000 and the main places of Chamb are Butti, Kohri, Purana Chamb, Upper Chamb and Lower Chamb. Chamb is considered to be one of the most literate area of Village Darwaza although there is no school in Chamb. About 60 percent of the population of Chamb is associated with hotel industry. Chamb consists of two main Clans—Totyals and Terwals. Totyals are about 80 percent of the population of Chamb.
Ander Kote
Ander Kote is a village near Riyali with a population of about 1000 people. There is a primary school in Ander Kote for boys. Main Clans of Ander Kote are Nayyal and Hajyals.
Bagla
Bagla is a mohalla near Jandala with deobandi Sunni Majority population. Bagla is situated very close to Madrassa Wali Dukhtaran-e-Islam Academy Panyali. Bagla is on the way of Khaira Gali Darwaza Road.
Bantan
Bantan is considered to be the main hub or in other words, the capital of Darwaza. The population of Bantan is less than 1000 people but this mohalla is very much known for sectarian and political fighting and tussles.[11]  Darwaza Ayubia 
Ayubia National Park

Ayubia National Park is a protected area of 3,312 hectares (8,184 acres) located in Abbottabad District, Khyber Pakhtunkhwa, Pakistan. It was declared a national park in 1984. The area supports temperate coniferous forest and temperate broad-leaf and mixed forest with an average elevation of 8,000 feet (2,400 m) above the sea level.
Seven Major Villages and Four Small Towns
Ayubia National Park is surrounded by seven major villages and four small towns of Thandiani, Nathia Gali, Ayubia and Khanspur. The park has been developed as a resort complex from a combination of four mini resorts of Khaira Gali, Changla Gali, Khanspur and Ghora Dhaka in Galiyat. Currently, it is managed by the Wildlife and Parks Department of Government of Khyber Pakhtunkhwa.[12]  Ayubia National Park