Allama Iqbal is a Pakistani National Poet, Barrister, philosopher, writer, and politician. He was born on November 9, 1877, in Sialkot, Punjab during British Rule in India. He was one of the finest poets of Pakistan who wrote a number of poems on culture, religion and is considered to be one of the Sufi poets of Asia.
Allama Muhammad Iqbal was a follower of Self Philosophy and his poetry contains the majority of poems on Self (Philosophy). He was a unique lawyer who was involved in solving a century of criminal and non-criminal cases.
Furthermore, as a politician, he was tangled in the ideology of Pakistan and one of the best companions of Mohammad Ali Jinnah whose efforts resulted in the formation of Pakistan in 1947. This article summarizes all the information about him, including Allama Iqbal Biography.
| Title | Description |
| --- | --- |
| Personal | |
| Name: | Allama Iqbal |
| Other names: | Poet of the East |
| In Urdu: | محمدعلامہ اقبال |
| Famous As: | Urdu poetry, Persian poetry, Law |
| | |
| Region: | British Raj |
| Education: | Bachelor of Arts in philosophy, English literature, and Arabic in 1897, Masters of Arts, Doctor of Philosophy degree from the Ludwig Maximilian University of Munich. |
| Religion: | Islam |
| Profession: | Poet, Philosopher, Politician |
| Notable ideas: | Two-nation theory, Conception of Pakistan. |
| Era : | 20th-century philosophy |
| Notable work: | Asrar-e-Khudi, Rumuz-e-Bekhudi, Payam-e-Mashriq, Zabur-e-Ajam, Javed Nama |
| | |
| Born | |
| Date: | 9th November 1877 |
| Place: | Sialkot, Punjab, British India |
| Family | |
| Spouse: | First Wife Karim Bibi, Second Wife Sardar Begum, Third Wife Mukhtar Begum |
| Children: | Miraj Begum,Aftab Iqbal,Javed Iqbal |
| Parents: | Shaikh Nur Muhammad,Imam Bibi |
| Siblings : | Taleb Bibi,Karim Bibi, Fatima Bibi, Zainab Bibi |
| Died | |
| Date: | 21st April 1938 |
| Rest Place: | Lahore, Punjab, British India |

Allama Iqbal Biography
The family of Iqbal was Kashmiri Pandit who accepted Islam as their religion in the fifteenth century. His father sent Allama Mohammad Iqbal to madrassa for reading Qur'an while his mother Imam Bibi always used to help the needy. Iqbal as a barrister solved hundreds of cases in court afterward his interest was changed to poetry.
Furthermore, he wrote many books in many languages while portraying the culture, religion, and freedom of Muslims. His poetry also encouraged the Muslim leader to form Pakistan in 1947. He was also involved in politics and wrote a number of poems on Muslim's situation before independence while encouraging them to build their own state under Islamic rules.
He also served as a professor in many colleges and universities where he presented the idea to Muslim students and continued his struggles to portray the message to Muslims for being a separate nation. Iqbal also presented a historical speech in Ala Abad where he openly presented the idea of a separate nation for Muslims which resulted in the practical struggles of great leaders including Mohammad Ali Jinnah and many others as well as struggled till the formation of Pakistan in 1947.
Iqbal Date of Birth
He was born on November 9, 1877, in Sialkot, Punjab during British Rule in Indi.
Education of Iqbal
Iqbal was sent to a madrassa to learn the the instructions of Qur'an where he learned the Arabic language from his teacher. He was matriculated from Sialkot in the year of 1893 while did FA from Scotch Mission College in 1895. Moreover, he did his bachelor's in philosophy at Government College University.
Furthermore, he did a master's in Arabic and English Literature in 1897. He was awarded the degree of Master in Philosophy by the University of Punjab where he topped the university in philosophy. Iqbal wrote on a number of scholarly works on politics, religion, and philosophy including, Asrar – e – Khudi, Bang –e- Dara, Rumuz –E- Be Khudi, and many others.
After graduation, he went to England in order to get admission to Cambridge University where he got admission and graduated in Arts in 1906. In addition to that, he traveled to Germany in order to get a doctrine in philosophy. He was enrolled in Munich University, Germany where he was awarded the Ph.D. degree in Philosophy in 1908.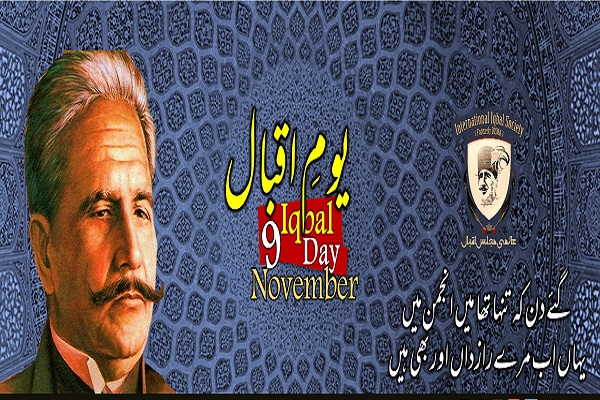 Allama Iqbal Family
Allama Mohammad Iqbal married Karim Bibi in 1895 when he was eighteen years old. He had two children from Karim Bibi who were named Aftab Iqbal and Miraj Begum. Karim Bibi and Iqbal were separated in 1913 and Iqbal supported her financially till her death.
Iqbal got married for the second time to Mukhtar Begum in 1914, after the death of his mother. He had a son from Mukhtar Begum who along with his mother died soon after his birth.
Iqbal married for 3rd time with Sardar Begum and had two children who were named Javed Iqbal and Muneera Bano. Javed Iqbal was born in 1924 and served as the Justice of the Supreme Court of Pakistan, died in 2015. Furthermore, Muneera Bano was the daughter of Iqbal from Sardar Begum who was born in 1930.
Career
Initial Start
He started his career as a lawyer before the independence of Pakistan and solved about one hundred criminal and non-criminal cases. He was considered to be one of the intelligent lawyers of the time. Writing many poems in the Persian language convinced him to continue it as a profession.
Furthermore, he started his career as an Arabic teacher in Oriental College in 1899 and was then appointed as the professor of philosophy while returning from Germany, he joined Government College Lahore as a professor of Arabic and English Literature in 1908.
At the same time, he started practicing law but devoted himself to literary works after quitting practicing law. He became Anjuman – e – Himayat – e – Islam's member and became its general secretary in 1919.
He was influenced by western philosophers including Bergson, Bietzche, and Gothe while the philosophy and poetry of Rumi influenced Iqbal which resulted in Iqbal's many literary works. His poetry was translated into many languages including English and many other languages.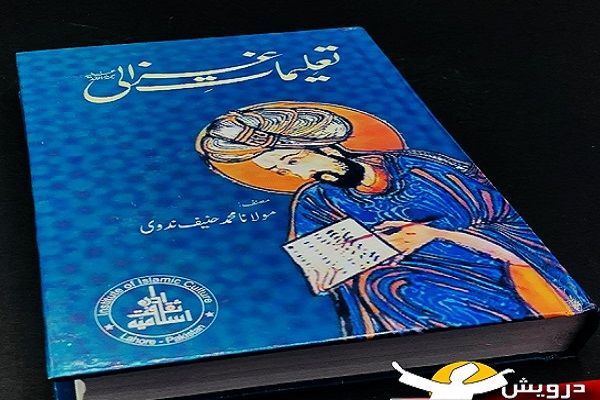 Political Career
Iqbal started his political career after returning from the United Kingdom in 1908. He became a joint secretary of the All-Indian Muslim League and did not support the involvement of the subcontinent in World War I. He opposed the British idea of fighting the World War.
Being a friend of Mohammad Ali Jinnah, a Muslim's Leader, he joined Khilafat Movement and formed Jamia Milli Islami in Ali Garh. He supported Pakistan Movement and joined Mohammad Ali Jinnah, Agha Khan, and Abdul Sattar Ranjoor. He was one of the honest companions of Mohammad Ali Jinnah who supported the Pakistan Movement till his death.
In 1930, Iqbal was elected as the president of the Muslim League. He presented the ideology of Pakistan in his speech in 1930 and 1932 as well as he also knew that Jinnah would give it a practical structure through his efforts. He supported Muslims and wanted a separate Muslim State which resulted in the Resolution of Pakistan in 1940.
His speeches for independence and the separate state of Muslims resulted in Two Nation Theory which resulted in the formation of Pakistan. He is now considered to be the founder of the Two-Nation Theory. In Allahabad Speech, Iqbal openly explained the ideology and belief of Muslims which was followed by the leaders of the time and resulted in the formation of Pakistan on August 14, 1947.
Allahabad Speech
Iqbal wrote many books on the cultural and religious agenda of Muslims but he openly presented the idea of a separate nation of Muslims which was later known as Two Nation Theory. In the speech at Allahabad, Iqbal stated that Muslims and Hindus are two separate nations and laid emphasis on Muslims for the formation of Pakistan.
He advocated that Jinnah is the only person who has the ability to tackle British and Hindus through legal channels as Jinnah spent a number of years in Law practices in England and came back to fight the battle on behalf of Muslims. He differentiated the belief, culture, and unity of Muslims and Hindus in his speeches at many universities and colleges.
After the historical speeches of Iqbal in 1930 and 1932, he was made the leader of the Muslim League. He followed Jinnah and advocated the objectives of Pakistan which were then shaped as the objective resolution of Pakistan. He criticized the people who became obstacles in the formation of a separate and laid emphasis on religious ideals and legal concepts of Muslims.
Writings
Allama Iqbal wrote a number of prose and poetry books in many languages including English, Persian, and Urdu. Among all of his literary works, Rumuz –e– Bekhudi is the famous one, published in 1917 which proves the Islamic code of conduct as a perfect way of Life for the viability of a nation. He states that one is not able to realize self outside the circle of society.
His writings include most of the poetry in the Persian language while some of the famous books are written by Iqbal in Urdu which includes Bal –e- Jibril, Zarb –e- Kaleem and Bang –e- Dara. Some of his other most famous literary works are given below.
The Reconstruction of Religious Thoughts in Islam –       English Prose
The Development of Metaphysics in Persia –       English Prose
Javed Nama –       Persian Poetry
Payam –e- Mashriq –       Persian Poetry
Asrar –e- Khudi           –       Persian Poetry
Zabur –e- Ajam           –       Persian Poetry
Aejuman –e- Hijaz –       Persian Poetry
Rumuz –e- Bekhudi –       Persian Poetry
Pas Cheh Beyad Kard Aqwam –e- Sharq – Persian Poetry
Bal –e- Jibril –       Urdu Poetry
Bang –e- Dara –       Urdu Poetry
Zarb –e- Kaleem –       Urdu Poetry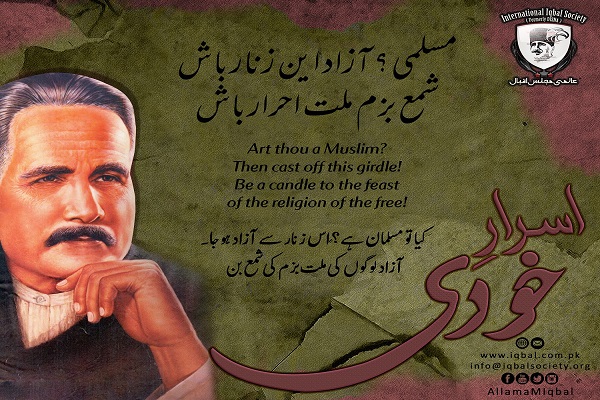 Allama Iqbal Death
Allama Muhammad Iqbal bared the disease of the throat in the early days which led to his death on 21st April 1938. His tomb is situated in front of Badshahi Masjid of Lahore.
Legacy
He is one of the pioneer poets and ideologists of Pakistan who awaken the Muslims and made them understand the ideology of Pakistan which resulted in the formation of Pakistan.
Shair –e– Mashriq (Poet of the East)
Iqbal was presented as Poet of the East by the media and many other academic institutions. The Vice-Chancellor of Quaid –e- Azam University stated to the scholars and other intellects during a seminar that Iqbal was not only the Poet of East rather he is a universal poet whose poetry is applicable in every era.
Iqbal Day
He is considered to be the ideological founder of Pakistan and his birth day, 9 November used to be celebrated as a national holiday "Iqbal's Day" till 2018. Furthermore, a number of educational institutions are named after him in the history of his legacy. Some of the attributions are given below.
Allama Iqbal Medical College
Iqbal Memorial Institute
Allama Iqbal Open University
Allama Iqbal International Airport
Iqbal Stadium
Allama Iqbal town
Gulshan –e- Iqbal Town
Allama Iqbal Hall, Nishtar Medical College
Allama Iqbal Documentary
A documentary movie was made and released in 1978 by the government of India while praising the literary works of Iqbal. His struggles, philosophy, and political career are also presented in the movie.
In the literary event of Bharat Bhavan, Govt. of Madhya Pradesh (India), poets are awarded Iqbal Samman every year for their contribution of poetry to the Urdu language in order to honor the writings of Iqbal.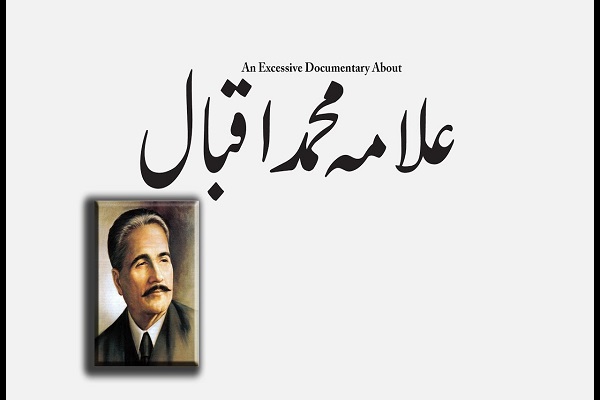 Social Media Handle
https://www.facebook.com/AllamaMIqbal/