Atif Aslam is a playback singer and an actor. His voice reigns in people's hearts. He is also known for his command in the Vocal Belting technique. Apart from Hindi and Urdu, he also sang in Balochi and Bengali. After giving many hits in the music industry, he tried his acting skills in a Pakistani film 'Bol'. He belongs to a Punjabi family.
He started his music career in 2003, and since then he is giving one after another super hit songs. Unlike other celebrities, Atif has no relationship scandals and is living a blissful life with his spouse Sara and two sons. This article has all the information about him, incorporating Atif Aslam Biography.
| Title | Description |
| --- | --- |
| Personal | |
| Name: | Atif Aslam |
| In Urdu: | عاطف اسلم |
| Full Name: | Muhammad Atif Aslam |
| Famous As: | Singer |
| Nationality: | Pakistani |
| Residence: | Lahore |
| Education: | Bachelor in Computer Science |
| Religion: | Islam |
| Profession: | Singer and Actor |
| Years Active: | 2004-present |
| Debut Movie: | Bol |
| Debut Album: | Jal Pari |
| Height: | 5 feet 10 inches |
| Website: | http://www.aadeez.com/ |
| Awards : | He Bagged Various Awards |
| Born | |
| Date: | 12th March 1983 |
| Place: | Wazirabad |
| Family | |
| Ethnicity: | Punjabi |
| Spouse: | Sara Bharwana |
| Children: | 2 Son |
| Parents: | Muhammad Aslam and Rehana Shaheen |
| Siblings : | Shahbaz Aslam, Shahzad Aslam and Shehraz Aslam |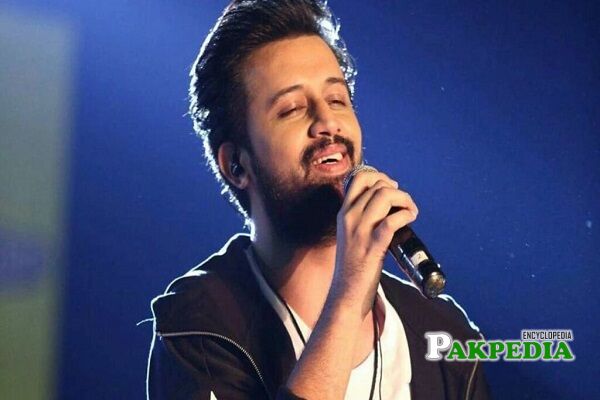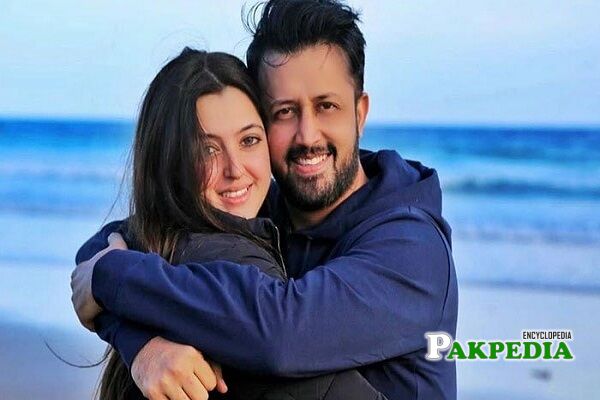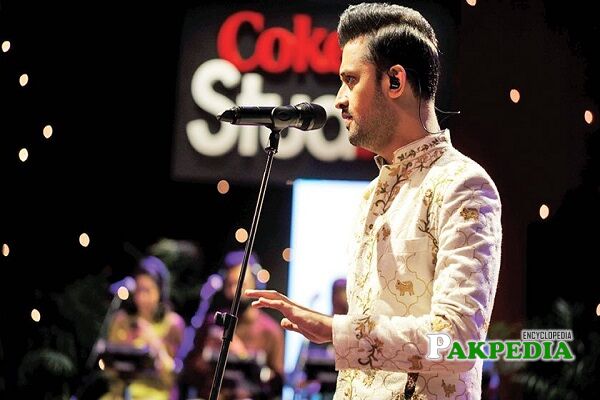 Atif Aslam Biography
This Pakistani singer rules the hearts of people with his beautiful voice and charming personality. His voice reigns not only in Pakistan but also in India. The renowned musician of the Indian music industry Arijit Singh is often compared with Pakistani talent Atif because of similarity in a singing style. Many Indian actors, playback singers, and music directors are a fan of his voice and singing style. Because of his achievements, he was awarded a Civilian Award 'Tamgha E Imtiaz' in 2008. For being Pakistan's best singer, he was awarded 'The Dubai Walk of Fame Star' in 2019.
Atif date of birth
Atif opened his eyes on 12th March 1983 in a Punjabi family in 'Wazirabad', a city of Punjab.
Education of Atif
Atif started his early education in Lahore's 'Kimberley Hall School'. In 1991 he left Lahore and settled in Rawalpindi. There he took admission in 'St. Paul's Cambridge School' situated in Satellite Town to complete his studies. In 1995 he returned back to Lahore, and to continue his studies, he took admission in 'DPS( Divisional Public School)'. He did inter from 'Faiza Inter College' Lahore while Atif did Bachelor's in Computer Science from Punjab College.
Atif Aslam Family
His spouse Sara Bharwana is an educationist. The couple married in Lahore on 29th March 2013. In 2014 the couple became parents to a boy named Ahad, and in 2019 they were again blessed with a boy.
Music Career
Lollywood Career
His friends motivated him to make his career in singing. Nusrat Ali Khan was his first inspiration in starting days of career. To start his career, he made a band 'Jal', and in 2003 he released the song 'Adaat' with Gohar Mumtaaz. This song's original version was written by Gohar Mumtaz, and Atif sang it.
He was just 17 at the recording of 'Adaat' and used his pocket money to record this song. In 2003 this song was released by the 'Jal' band on the internet, and it became an anthem of the youth. He separated himself from the 'Jal' band on 17th July 2014 and released 'Jal Pari' as his first album.
This album became super hit. This album's other songs Ehsaas, Maahi Ve, Bheegi Yadain' became major hits not only in Pakistan but also in other countries of the subcontinent. After the success of 'Jal Pari', he released two solo albums Mere Kahani and Doorie.
Bollywood Career
Inclusion of his song 'Wo Lamhay' in Bollywood film'Zahar proved his first success in Bollywood. Famous Bollywood director Mahesh Bhaat added song in his film after taking Atif's consent. The songs he recorded for Indian cinema are very popular. The Indian music industry considers him the best playback singer.
Charming Indian actor Ranbeer Kapoor gave the credit of success of his film 'Ajab Prem Ke Ghazab Kahani' and many other Indian films to Atif Aslam. He is of the view that the soundtracks of these movies in Atif's voice made these movies successful.
Hollywood Career
From his second album 'Doorie' four songs were featured in two Hollywood films. His popular songs, i.e., Adaat from 1st album 'Jal Pari' and two songs Ehsas and Yaqeen from 'Doorie' were featured in Ramiin Bahrani's international award-winning film 'Man Push Cart' released in 2005.
His Hollywood success continued when in 2010 his two more songs Mola and Doorie were included in Spanish Beauty' the Hindi version of a Mexican Movie 'La Mujer De Mi Hermano'. Ricardo De Montreuil was director of this film. In Mira Nair's film 'The Reluctant Fundamentalist' he sang his two songs 'Bol Kay Lab Azad Hain' and 'Mori Arj Suno'.
TV Career
In 2011 he showed his acting skills in a Pakistani film 'Bol'. Bol was his debut in acting. A singing show 'Sur Kshetra' was recorded in Dubai, Indians, and Pakistanis participated in this show to compete with each other. Atif was part of this show as the captain of the Pakistani team.
Pakistani contestant Nabeel Shaukat from Atif's team won this contest. He was seen hosting the Lux Style Awards held on 19th April 2019. PepsiCo emceed a talent program 'Pepsi Battle of the Bands' from July 2017 to September 2017 in which Atif, along with Fawad Khan, Meesha Shafi, and Shahi Hassan, performed the duties of a judge.
On 1st November 2017, his Qawwali 'Tajdar E Haram' reached '100 Million' views on video sharing platform Youtube. It was the first Pakistani video to achieve this record. Originally this Qawwali was sung by legendary Qawwals Sabri Brothers, and then in 2015, this Qawwali was released in Atif's voice and style in Coke studio. Viewers from 186 countries viewed it and made it Atif's first video to reach such a large number of viewers.
Atif Aslam Shows
Bollywood Songs
Wo Lamhay
Adat
Teray Bin
Pehle Nazar Main
Ba Khuda Tum He Ho
Tera Honay Lga Hun
Tu Janay Naa
O Meray Khuda
Tere Lye
Kon Hun Main
Aa Bh Jaa Sanam
Tere Lye
Kon Hun Mein
Prince Theme
Rona Chaddta
Ley Ja Tu Mjhe
Piyaa O Ray Piyaa
Tu Muhabbat Hai
A Bh Ja Meray Meharmaan
Hai Naa
Dil Na Jane Kyun
Be Intehaan
Allah Duhae Hai
Jeenay Lga Hun
Bairiya
Rang Joo Lagyo
Mein Rang Sharbatoon Kaa
Janam Janam
Tera Nam Dun
Nahe Wo Samnay
Tu Chahye
Jenaa Jenaa
Mar Jaein
Teray Sang Yara
Toota Jo Kbhi Taraa
Khair Mngda
Hoor
Barish
Musafir
Darasal
Mein agar
Janay Day
Dil Diyaan Gallan
O Sathi
Sehmi Hai Dharkan
Selfish
Paniyoon Sa
Dil Mere Na Sunay
Tum
O Mere Laila
Chaltay Chaltay
Dekhtay Dekhtay
Tera Hwa
Tere Lye
Auliya
Other Songs
Meray Pas Pas
Qomi Taranah
Us Raah Per
Season Two Title Song of Pepsi Battle of the Bands
Yad Tehari
Meray Watan
Eitbaar
Deewana Bana Rkha Hai
Yar Na Vichday
Mjhe Dil Say Na Bhulana
Songs Used in Hollywood
Adat
Ehsas
Yaqeen
Doorie
Mola
Bol Kay Lab Azaad Hain
Mori Arajj Suno
Lollywood Songs
Hona Tha Payaar
Kaho
Dil Karay
Dil Ye Dancer Ho Gaya
Thaam Loo
In Dinoon
Anjanaa
List of Album
Jal Parii
Doorie
Mere Kahani
List of Coke Studio Songs
Waasta Payar Da
Hmain Kia Hwa
Mai Nee Main
Kinara
Jal Pari
Dholnaa
Chrakha Nolakha
Raba Sacheya
Channa
Sohni Dhartii
Phr Se Game Utha Dain
Taaj Dar E Haram
Man Aamadeeh Am
Kadi Aoo Ne
Wo He Khuda Hai
Mubaarik Mubaarik
Aye Kch Abr
Atif Aslam Movies
Bol
Social Media Handle
His social media accounts include