A wealthy Pakistani businessman and a philanthropist, Haji Abdul Razzak Yaqoob was born in 1944, the year his parents migrated from Surat in India to Karachi, Pakistan. He was the owner of ARY Group and had the honour to be known to provide financial assistance to the government of Pakistan in times of need.Haji Yaqoob came to Dubai from Pakistan in 1969 to recover some money owed to his father from a friend. But he realised that Dubai was a place of opportunities and decided to stay on. It was in Dubai that Haji Yaqoob created his wealth after running his business on a simple maiz-kursi (table & chair) format.[1] Pakistani businessman – and a philanthropist
| Title | Description |
| --- | --- |
| Personal | |
| Name: | Abdul Razzak Yaqoob |
| Native Name: | Haji Abdul Razzak Yaqoob |
| Local Language Name : | عبد الرزاق يعقوب |
| Famous As: | Founder and Chairman of ARY Group of television media companies |
| Nationality: | Pakistan |
| Residence: | Dubai, United Arab Emirates |
| Religion: | Islam |
| Profession: | Businessman |
| Born | |
| Date: | 7 May 1944 |
| Place: | Surat, Gujrat, British India |
| Family | |
| Children: | Shabana Abdul Razzak (Daughter), Sarwat Abdul Razzak (Daughter), Huma Abdul Razzak (Daughter), Amina Abdul Razzak (Daughter), Farhana Abdul Razzak (Daughter) |
| Siblings : | Haji Jan Muhammad (Brother), Haji Muhammad Iqbal (Brother), Haji Abdul Rauf (Brother) |
| Relatives: | Salman Iqbal |
| Died | |
| Date: | 21 February 2014 |
| Rest Place: | London, UK |
| Career | |
| Company Name: | ARY Group |
| Type: | Holding company |
| Industry : | Media Consumer Goods Education Financial Services Real Estate |
| Founded : | 1972 Fikri Market, Deira, Dubai, United Arab Emirates |
| Headquarters : | United Arab Emirates |
| Owners : | Originally 4 brothers owned the ARY Group |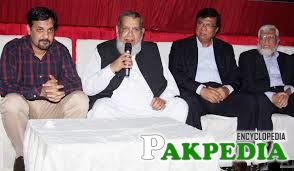 About
Early Career
In 1972, Haji Yakoob established ARY and opened its first outlet in Fikri market Deira. He also started importing watches, perfumes and cigarettes. Two years later, when his brother, Mohammed Iqbal, joined him, the group branched out into dealing with food and Textiles. Besides catering to the local market, they also began exporting food-stuff to Iran. Haji Yaqoob's current business included a Gold and Silver trading segment.Haji Abdul Razzak Yaqoob was also head of the World Memon Organization (WMO). The WMO is a charity organisation that runs schools and hospitals for the poor, gives scholarships to deserving students and also provides financial support to underprivileged people around the world in addition to building mosques. He was currently involved in setting up a university in Dubai.[2] Abdul Razzak head  World – Memon Organization
ARY Digital
ARY Digital is the subsidiary of the ARY Group established in 1970. The ARY Group of companies is a Dubai-based holding company founded by Haji Abdul Razzak Yaqoob (ARY) who was the chairman of the group. ARY Group is owned by the four brothers Haji Jan Mohammad, late Haji Abdul Razzak Yaqoob, Haji Mohammad Iqbal and Haji Abdul Rauf. The ARY channel started operations in the year 2000 when the group acquired a private television channel which catered to the Southeast Asian community in UK, and named it ARY Digital. Realizing the potential, when Government of Pakistan allowed licenses for private satellite television channels, ARY Digital stepped into Pakistan market. Salman Iqbal was given the reigns of the international operations as Global CEO and President and his uncle Haji Abdul Rauf started making the base for the network in Pakistan.[3]  ARY Digital is the subsidiary – of the ARY Group
Companies
Subsidiary companies under the ARY Group:
ARY Gold
ARY Digital Network – A network of 5 television channels available via satellite in Pakistan and internationally
ARY Essenza Jewellery
ARY Jewellers
ARY Speed Remit – A debit card called "Sahulat Card"
ARY Communications
ARY Telecom
ARY Films
ARY Call Center
ARY Radio (UK)
H.M Ismail & Company
Ayesha Electrical Industries
New Delite Industries
Fatima Bai Hospital
ARY Properties – Construction in Dubai
ARY Cash & Carry – Jewellery shops, Cash & Carry's
Security Investment Bank Limited>> (SIBL)
ARY Sahulat Bazar
Qtv Tutor – An Islamic Education Distance Learning School
Business Point of View
Haji Abdul Razzaq was all praise for the rulers of Dubai and the government. He believed that Dubai was the best place to do business due to the policies of the government and the support from the Ruling Family. He attributed his success to the open business policies of the government. He broached the topic of setting up a Dubai Metals and Commodities Centre (DMCC), as it was his dream to have something like that in the emirate. He presented the idea to His Highness Shaikh Mohammad Bin Rashid Al Maktoum, Vice-President and Prime Minister of the UAE and Ruler of Dubai, and to his surprise he liked it and made it happen.[4] He broached the topic of — setting up a Dubai
Death
He died on 21 February 2014 in London, UK after a protracted illness. Abdul Razzak Yaqoob is survived by his wife and 5 daughters.