Standard Chartered Bank CEO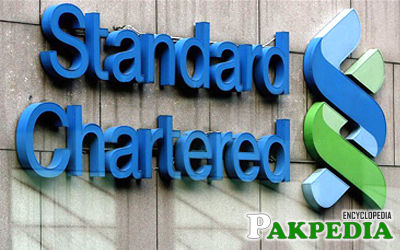 Standard Chartered Bank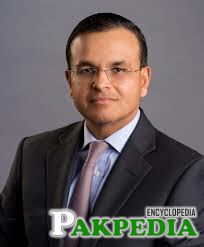 Standard Chartered Bank Director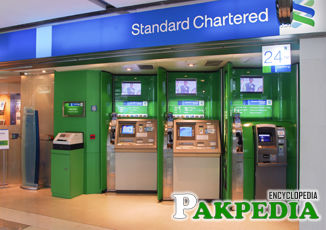 Standard Chartered Bank Machine
Standard Chartered Bank Award
About
History
Standard Chartered Bank (Pakistan) Ltd. is the oldest and largest international bank in Pakistan. It is also the first international bank to be awarded Islamic banking licence and the first to open an Islamic banking branch. 2013 marked Standard Chartered's 150th anniversary in Pakistan. The Bank, which started as the Chartered Bank opened its first office in Karachi in March 1863.
[1]
  150th anniversary -  Standard Chartered Bank Pakistan
The Banks serves both Retail and Corporate and Institutional Banking customers. Retail Banking provides credit cards, personal loans, mortgages, deposit taking and wealth management services to individuals and small to medium sized enterprises. Corporate and Institutional Banking provides clients with services in trade finance, cash management, lending, securities services, foreign exchange, debt capital markets and corporate finance. It also offers a complete suite of Islamic banking solutions under its Standard Chartered Saadiq brand.
[2]
 Standard Chartered's -  Pakistan
Standard Chartered was assigned a rating of AAA/ A1+ by PACRA. In 2012 and 2013 it won the award for Best Bank in Pakistan by The Asset Triple A for two consecutive years.
Standard Chartered Mobile Banking
Login to Standard Chartered Mobile Banking with your existing Internet Banking username and password and bank anytime, anywhere. With Mobile Banking you can:
[3]
 Mobile Banking -  Standard Chartered
   Transfer funds and pay bills
   Check your account balance and transaction history
   Find the nearest ATM or bank branch
   No new passwords to remember
   User-friendly interface
Online Banking
Its easy to get started. If you have Standard Chartered bank account, you just need a "user id" and "password". Click here to register online and create your user id and password. Standard Chartered Credit Card customers can apply for Online Banking by calling us at our 24 hour Phone Banking at 111 002 002.
[4]
 Standard Chartered bank account -  Online Banking
Credit Card Services
   View your last three Credit Card statements.
   Pay credit card bills.
   Set up standing orders for recurring Credit Card bill payments.
Online Banking Billers
Billers currently being offered for online bill payment via Online Banking / Standard Chartered Mobile App services are:
[5]
 Billers currently -  online bill payment
Utility Companies
   K-Electric
   SSGC
   SNGPL
   LESCO
   GEPCO
   HESCO
   IESCO
   PESCO
   QESCO
   FESCO
   MEPCO
   Karachi Water Supply Board (KWSB)
   Multan Water And Sanitation Agency (MWASA)
   Lahore Water And Sewerage Authority (LWASA)
   Rawalpindi Water And Sewerage Authority (RWASA)
   Gujranwala Water and Sanitation Authority (GWASA)
   Baluchistan Water And Sanitation Agency (BWASA)
   City District Government Karachi / Karachi Municipal Corporation (CDGK / KMC)
Mobile Companies
   Ufone Prepaid
   Ufone Postpaid
   Telenor Prepaid
   Telenor Postpaid
   Warid Prepaid
   Warid Postpaid
   Zong Prepaid
   Zong Postpaid
   Mobilink Prepaid
   Mobilink Postpaid
Broadband Telecom
   PTCL Landline
   PTCL Corporate/Defaulter
   PTCL EVO Prepaid
   PTCL EVO Postpaid
   PTCL Vfone
   Wateen
   Wi-Tribe
   Qubee Consumer
   Qubee Distributor
   World Call
Insurance
   EFU
   Jublee Life Insurance
Mutual Fund
   Askari Investment Management
   MCB Arif Habib[6] Standard Chartered -  Mutual Fund
Cash Deposit Machine
Your dealings in cash are set to become a cakewalk. The Cash Deposit Machine (CDM) is a self-service terminal that lets you make deposits and payment transactions by cash. All successful transactions are immediately credited and customers will be issued an advice slip confirming the transaction. To use the CDM, customers need to have either his / her Standard Chartered Bank Card (ATM or Credit Card) or know his / her card number (ATM or Credit Card).
[7]
 Cash Deposit Machine -  CDM
Services
Services available on the CDM:
   Cash Deposit
   Cash Deposit to Account
   Credit Card Payment
   Cheque Deposit to Account*
* Services available within select branches only
ATM Services
Enjoy fast and convenient banking round-the-clock With our ATM card, you can bank 24 hours a day – 365 days a year. Enjoy a host of banking services including cash withdrawals, funds transfer, balance enquiries, statement & cheque book requests, PIN changing facility and more.
[8]
 ATM card, you can -  Bank 24 hours a day
Services
   Withdraw cash 24 hours a day 7 days a week.
   Pay credit card bills.
   Pay utility bills.
   Buy prepaid mobile vouchers.  Click here to view how to purchase mobile vouchers.
   Get a 'mini-statement' of your account whenever required.
   Request for a cheque book.
   Request statement of account. This will be generated and mailed to you.
   Funds Transfer:
   Transfer funds from one account to another account within Standard Chartered.  Transfer funds from one account to another account (Inter Bank Funds Transfer) in any other participating member bank.
   To ensure safety, our ATM allows you to change your PIN whenever needed.
Transfer Funds Other Banks
Inter Bank Fund Transfer (IBFT) facility is available on Standard Chartered ATMs which allows you to transfer funds from your Standard Chartered Bank savings or current account to an account in any other Participating Bank. The maximum transfer limit per day is PKR 250,000* and the funds will be transferred instantly upon confirmation of a successful transaction. This service comes to you absolutely free of charge. * PKR 250000 limit is not applicable for all customers. To request for IBFT limit increase please call phone bank at 111002002 / 080066666 Please follow the steps below to use the IBFT Service:
[9]
 Fund Transfer -  Other Banks