Standard Chartered Bank (SCB) is one of the largest and oldest banks in Pakistan and is also the 1st International bank to get a license for Islamic Banking and 1st to launch an Islamic-Banking branch. The bank is serving both Corporate and Retail & Institutional-Banking Customers.
Institutional and Corporate Banking provides customers with services in transactional banking, securities services, lending, foreign exchange, corporate finance, and debit-capital markets. Retail Banking provides credit cards, mortgages, personal loans, wealth management services, and deposit-taking to people.
The bank also provides complete banking solutions via its 'Standard Chartered Saadiq brand.' The bank has employed more than twenty-eight thousand employees in Pakistan in a network of fifty-three branches in ten Pakistani cities. The article carries every information about the Bank, including Standard Chartered Bank History.
| Title | Description |
| --- | --- |
| Details | |
| Type: | Private |
| Traded As: | KSE: SCBPL |
| Industry: | Banking Global Markets |
| Founded: | 2006 |
| Headquarter: | Principal Office Karachi Pakistan |
| Key People: | Shahzad Dada CEO, Dawar Hassan COO, SCBPL |
| Product: | Loans, Credit Cards, Savings, Consumer Banking etc. |
| Revenue: | (PKR) |
| Motto: | Your Spirit Our Strength |
| Parent organizations: | Standard Chartered, Standard Chartered Bank |
| CEO: | Mohsin Ali Nathani (Sep 2010–) |
| Standard Chartered Bank: | the oldest and largest international bank in Pakistan |
| Chartered Bank opened its first office: | Karachi in March 1863 |
| Banks serves : | both Retail and Corporate and Institutional Banking customers |
| Standard Chartered Bank: | First international bank to be awarded an Islamic banking licence |
| Mobile Banking : | Log in to Standard Chartered Mobile Banking |
| Online Banking : | calling us at our 24-hour Phone Banking at 111 002 002. |
| Credit Card Services : | View your last three Credit Card statements. |

Standard Chartered Bank History
This bank's history can be traced back to 1863, when Chartered Bank of China, Australia, and India 1st founded its services and banking activities in Karachi. SCB acquired Union Bank of Pakistan in 2006.
On 30th Dec 2006 SCB merged the Union Bank with its subsidiary SCB Pakistan to establish the 6th largest Pakistan bank. In 2013 the bank celebrated its 150th anniversary. 
Vision
The bank has a principal role in stimulating social and economic development via services it provides and emerging as a force for the best. The success of its business is dependent on this. 
Mission
To generate extraordinary value for its customers, staff, and investors via market directorship in offering innovative Shariah solutions and compliant products and living and following its core values. 
Core Values
1.    Courage
2.   Creativity
3.   Responsibility
4.   Trustworthiness
5.   International Performance
Board of Directors
Mr Rehan Sheikh-Executive Director/CEO

Mrs Spenta Kandawalla-Independent Non-Executive Director & Chairman HR and Remuneration Committee and Chairman Audit Committee

Mr Adam-Non-Executive Director

Mr Muhammad Abdel-Non-Executive Director

Mr Taufeeq Habib-Non-Executive Director and Chairman of Board Risk Committee

Mr Ian Anderson-Non-Executive Director and Chairman of Board of Directors
SCB's Products and Services
Consumer Banking
This banking merges in-depth knowledge with International companies of innovatory products and services to offer need-based monetary solutions that reward and recognize banking relationships. The offerings of the Consumer Banking segment are:
1. SME Banking
2. Preferred Banking
3. Priority Banking
4. Personal Banking
5. Private Banking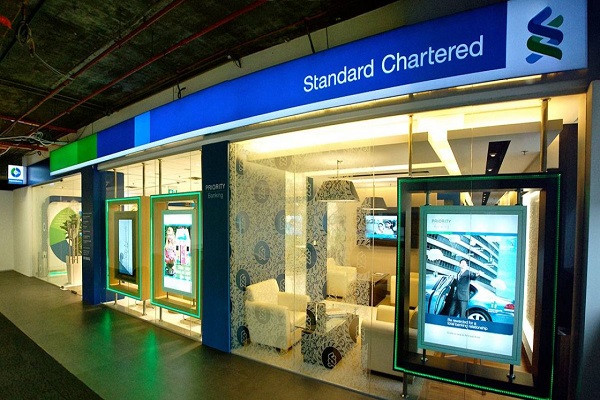 Wholesale Banking
The bank's Wholesale Banking offers institutional and corporate customers with cash management, foreign exchange, trade finance, capital raising, corporate monetary solutions, and risk management. It has a diverse history of more than one-hundred and fifty years operating in Middle-East, Africa, and Asia.
The wholesale banking staff is known for its unparalleled experience, a focused approach to the business activities, client-focused and award securing solutions. Wholesale Banking-Business include:
Corporate Finance

Financial Markets

Transaction Banking

Principal Finance
Code of Conduct
The employees should act with integrity and independence in their dealings.

If any employee faces any conflict, he or she should inform the immediate boss or supervisor.

Deal with the conflicts with a practical, open and transparent way. 

Employees shouldn't involve in any outside organization or business without seeking permission from the CEO.

Employees should avoid political activities.

The staff members should behave with each other and with supervisors politely and decently.

The staff at the bank should protect the bank's confidential information.

The team should follow the bank's policies and rules and regulations.

The employees should reject gifts in any form.

The team should handle complaints in a practical, fast, fair, and friendly manner.
Awards and Recognitions
Global Sustainability
The bank is supporting sustainable growth and concentration in 3-key areas:
1- Sustainable Economic-Growth
As a leading financial institution of the world, the banks foster economic and social development in commercial markets and is committed to extending access to monetary services, offering products that would open up worldwide investment and trade, and advancing trustworthy finance.
2- Being a Trust-worthy and Responsible Organization
The bank strives to become a reliable bank, strengthened by effective and powerful processes throughout the organization. The bank administration is committed to reducing its environmental impact, fighting financial crime, investing in its people, and adopting core values across the markets where banks operate. 
3- Investing in Local and International Communities
The bank supports education and health programs. Its global programs include eradicating avoidable blindness, Seeing in Believing, empowering adolescent females with skills, and educating the youth financially to generate financial awareness and knowledge. 
Bank Timings
Monday-Thursday
 9:00am-5:00pm (Prayer or Lunch break–1:30pm-2:00pm)
Friday
 9:00am-5:00 pm (Prayer or Lunch break–1:00pm-2:30pm)
Saturday (Only Selected Branches)
9:00am-1:30 pm
Corporate Information
Status of Company:
NTN: 2731134-1
Registration Number: 00000013051/20060707
Bank's Symbol assigned by the Stock Exchanges: SCBPL
Auditors: M/s EY Ford Rhodes Chartered-Accountants
Head Office
Standard Chartered Bank Ltd, P.o. Box # 5556 I.I Chundrigar Road, Karachi-74000 Pakistan
Fax: 021-32414914
Telephone Number: 021-32450000 
Share Registrar
M/s CDC Share Registrar Services Ltd (CDCSRSL)
 CDC House, Block-B, SMCHS, Main Shahra-e-Faisal, Karachi-74400.
 Toll-Free: 0800-23275
 E-mail: [email protected]
Fax: 021-34326053
Associated Companies: None
Social Media Handles