South Waziristan Agency is the mountainous region of Pakistan's North-Western zone and is bordered by Afghanistan. It is encompassed on an area of Six-Thousand six-hundred and twenty square-kilometers. South-Waziristan is FATA's largest Agency and is divided administratively into 2-subdivisions:
The lower form of 'Wana' & Sarwaki, Ladha. Though there are 5-tribes in this region, Ahmadzai Wazir and Mahsud are two prominent tribes. Burki is another famous tribe but is smaller in numbers. These tribes are subdivided into several small clans and share similar or common characteristics. This article contains all the information about the agency, including South Waziristan Agency Geography.
| Title | Description |
| --- | --- |
| Information | |
| Province: | Federally Administered Tribal Areas (FATA) |
| Administration HQ: | Wanna |
| Area: | 6,619 km2 (2,556 sq mi) |
| Population : | 679,185 (2017) |
| Density: | 100/km2 (270/sq mi) |
| Time zone : | PST (UTC+5) |
| Main language: | Pashto |
| Established : | 1893 |
| Mountainous region: | Covers some 11,585 km² (4,473 mi²) |
| Mining: | Coal mines |
| Occupation: | The majority of Wazirs Mahsuds, Dotani, nd Suleiman Khalil |
| Administration: | Administration functioning since 1895 |
| On 4 June 2007: | Pakistan's Take new Waziristan strategy. |
| Location: | The southern part of Waziristan, Pakistan |
| Name: | South Waziristan Agency |
| In Urdu : | جنوبی وزیرستان ایجنسی |
| Country: | Pakistan |
| Nickname: | South Waziristan |
| Type: | Tribal Agency |
| Local Language Name: | Pashto (99.6%) & English & Urdu |
| Coordinates : | 32.3202° N, 69.8597° E |

South Waziristan Agency Geography
The area of the Agency mostly comprises of complex and rugged ridges and hills. Regular mountains are not present in this area. This land elevates slowly from East and South to West and North. Preghal is dominating the West along the Afghanistan border.
Its height is Three-thousand five-hundred and fifteen meters, and the Central Plains of the Agency are Tiarza, Spin, Zalai, and Shakki, Wanna, and Zarmelan. The Tank Zam and Gomal river are 2-main rivers in this Agency. Some main rivulets are Shahur, Shinkai, Shuza, Toi Khwla, Siplatoi, Shakti, and Khaisora.
The remaining others are mountain streams that could become impassable and dangerous during massive rains that frequently occur during July & August. The junction of Baddar Toi and Tauda China form 'Tank-Zam.'
Administration
Since 1895 agency's civil administration has been working under the political agent who handles all revenue and civil-criminal cases according to Customary Law and FCR (Frontier Crimes Regulations). Administratively, three subdivisions of the Agency are Wanna, Sarwakai, and Ladha.
Currently, South Waziristan is sub-divided into 8-tehsils:
Wana Tehsil
Toi Khulla Tehsil
Tiara Tehsil
Serwekai Tehsil
Sararogha Tehsil
Makin Tehsil
Ladha Tehsil
Birmil Tehsil
Mining
Agency has hardly any significant mine that is worth mentioning. In disputed zones of Neeli Kach, Tehsil-Wanna coal mines had been discovered. Copper is available in Kamar and Preghal. Chromite is present in the Sarah Khuara area near 'Dre Nashter.'
South Waziristan Agency Climate
The weather is scorching in months of summer and extremely cold in winter months. In high altitude places, the temperature goes below the freezing point in winter. The summer season begins in May and ends in September. Generally, June is the warmest month with a temperature rising above 30 °C.
Winter starts in Oct and ends in April. Dec, Jan, and Feb are the coldest months with minimum and maximum temperatures -2 and 10°C, respectively. Though this Agency is not in the monsoon zone, many showers of rain are received at higher-altitudes.
The climate of the Agency is arid and receives minimum precipitation. Afghanistan borders its Western area, and more showers are received here than the Eastern site touching D.I. Khan districts and Tank due to higher altitude.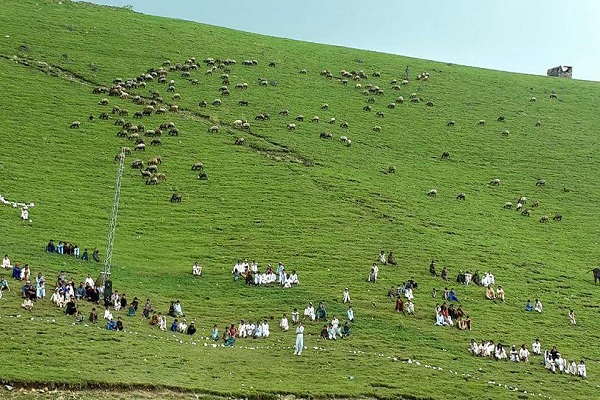 South Waziristan Agency History
Establishment of Graeco-Indo Kingdom
Situated in proximity to ancient Harappa and Indus Valley-Civilization, the zone was conquered as part of the widely distributed Satrapy by 1st Persian-Empire before 500 B.C.
The ethnic group Macedonians under Alexander III of Macedon marched on an area around 330-B.C., the Greco-Bactrian Kingdom establishing the Graeco-Indo Kingdom following a division with 'Seleucid-Empire' to West. Later it came under the Maurya Empire.
Spread of Islam
The Shaka arrived in 97-B.C. before Indo-Parthians of Arsacid Empire governed under Gondophares, the prominent king to almost A.D. 75. The few centuries-A.D introduced nominal Kidarite, Ephthalite, Kushan, and Sasanian Persian Empire, the last one got defeated by Rashidun Caliphate, which introduced Religion Islam in 7th century East-Iranian borderlands.
Islam was further spread in the East region under the Persian dynasty Saffraid that under Ya'qūb-i Layth-i Saffārī pressed a long way into Khyber-hinterlands.
Hold of Ghaznavid, Babar, and Ghorid
The coming centuries saw control of Ghaznavid, Babar, and Ghorid. Later the Pashtun tribes residing in and in the mountain range Hindu-Kush fought encroaching 'British-India' Punjab's north-west. The area then remained under British-India's rule after the 'Durand-Line' agreement until Pakistan was founded.
Appointment of Political Agents
After taking over control from Sikhs, The Deputy-Commissioner of Banu and Dera Ismail Khan had handled all political affairs in Waziristan. These regions didn't control British rule until Nov 1893, when Afghanistan Amir signed an agreement rejecting all the claims to those areas.
In 1894 after an assault on Bounded Commission at Wanna and eventually big military-operations in 1894 to 1895, a political-agent was appointed permanently for South-Waziristan having head offices at Wana, and another agent was designated for Tochi area having head offices at Miramshah.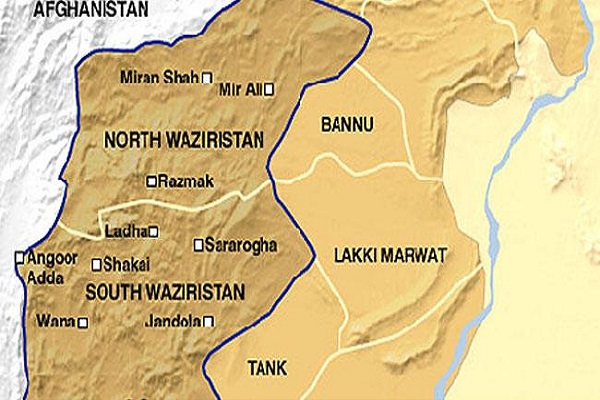 Creation of Resident Post
In 1908 Resident post was created in Waziristan with a political agent being a sub-ordinate to the Resident. With the Indian government's withdrawal, the proper military forces drew out, and local militia created in 1900 replaced them.
In 1904, large disturbances happened, resulting in the assassination of Militia-Commandant and Political-agent at Sarwakai. Later, the plan to murder British officials, conquer the Wanna-fort, and give it to Mulla Powinda, Waziristan's self-styled ruler, got discovered. The Commandant and Political-agent dismissed and disarmed all Mehsuds from the Military.
Demography
Pashto is predominantly spoken by 97.3 percent of the population. Many residents also speak the Urmuri dialect in Kaniguram town. The two principal tribes of this Agency are Mehsud and Ahmadzai Wazir, and other important tribal-populations include Taji, Khomia, Ghilji, Sulaimankhel, Dostana, and Ormur.
Bettani tribe resides on the southeast corner, while tribe Ghilji resides on the South-West border. The Sulainmankhel and Dotani tribes mainly live in Gulkuch and Toi Khwla.
Dressing & Ornaments
Men of the area wear Chaddar, Shalwar, and a turban-smock. Smock color is generally grey or white and occasionally have embroidery on the chest with cotton or silk. They wear big and baggy shalwars. Wealthy and Maliks wear white-colored cotton smocks and a chaddar on shoulders, and educated and young men wear a modern and stylish dress.
Females wear colored dresses. Married females put on dark red or dark blue smocks made of coarse-cotton. The married females wear a giant frock called 'Ganr Khat.' Un-married ones wear simple kameez and shalwar. Married and unmarried can be differentiated by this frock.
Trends are changing currently, and they embrace new and advanced cultures too. In Waziristan, trends are gradually emerging, but people who had migrated to different Pakistani Urban regions have modified the fashion and style and adopt the new cultures.
Food
The people here eat maize and wheat bread. They also like rice prepared with mutton and chai. Pulao with roasted-meat is served at some special events. The main dish is 'Sohbat' of Mehsud tribes. Popular food of Suleman Khel and Dotani tribe is 'Korrat,' Barbecue of Goa, and half white-rice mixed with ghee.
Occupation
The majority of Mehsuds, Suleimankhail, and Dotani of South-Waziristan have a Pastoral lifestyle. Wazirs breed sheep and cows and earn their income from the sheep. Suleimankhail rear sheep and horses, and some move to Punjab's different areas in the summer season, and most people travel to Iran to make money.
A larger number of Mehsud's are hired in the Military as levies & Khassadars in scouts and militia. Mehsud also drives trucks and buses in Dera Ismail Khan. The Agency trades or produces Chilghozas, potatoes, wool, charcoal, and some locally cultivated fruits.
Places of Interest
The 'Wanna' tehsil is important and enjoyable, just like Razak. Most of the population consists of Ahmadzai Wazirs. The area comprises of vast plains with broad valleys, surrounded by hills from all sides. It is an agricultural and industrial center. Angur Ada, Azamwarsak, Sararogha, Makin, Ladha, Karama, Osspass, and Khaisur are essential sites in the Agency.
Burki tribe is inhabiting Kaniguram. Some Mehsuds are also living here. According to population, Burki is the largest habitat in South Waziristan at Seven-thousand feet above the sea level. The tribesmen are known for manufacturing knives, and small arms liked for their performance and finished by foreigners and tourists.