Abdul Razak Dawood is an inspiration for many people who started from zero, and today he is the owner of billions of rupees. He is an industrialist who, after completing his education from Columbia, came to Pakistan and became Lawrencepur Woolen Mills's Managing Director.
In the 1970s, he became associated with Descon Company, and today, he is serving as its CEO. Razzak has also served as Imran Khan's Advisor for Investment, Commerce, and Textile. This article has all the information about him, including Abdul Razak Dawood Biography.
| Title | Description |
| --- | --- |
| Personal | |
| Name: | Abdul Razak Dawood |
| In Urdu: | عبدالرزاق داؤد |
| Famous As: | Businessman |
| Nationality: | Pakistani |
| Education: | Maters Degree |
| Religion: | Islam |
| Profession: | Businessman, Industrialist |
| Family | |
| Relatives: | Nephew of late Ahmad Dawood |
| Career | |
| Company Name: | Descon group |
| | |
| Employees number: | 30,000 |
| Employees nationalities: | Descon's employees include over 30 nationalities working in Pakistan and The Middle East. |
| Net Worth: | 52.6 billion |
| Years Active: | 1977 |
| Title : | Descon Engineering |

Abdul Razak Dawood Biography
Abdul Razak is a Pakistani businessman, Indisutrialist, and politician who started his career in 1968, and today he is one of the wealthiest businessmen in Pakistan. Like every other business person, he too faced hardships in the start that didn't stop him from achieving his goals.
Previously he worked as State Bank of Pakistan's Director. Moreover, he is the owner of Descon company, a multi-national company situated in Lahore that offers construction, Engineering, and Procurement services.
His uncle Ahmad Dawood was a Pakistani Philanthropist, Industrialist, and pioneer merchant who is known for being the owner of Dawood Group, Karachi based Investment company. His uncle surely became the most significant motivation that urged him to follow his dreams.
Razak Date of Birth
He was born in the 1940s and spent 19 years of his life abroad. Later in 1968, he came to Pakistan and started his business.
Education of Razak
He holds a Master's degree in Business Administration earned from Columbia University, the most renowned university in New York. He obtained his Bachelor's degree from UK's New castle University.
Abdul Razak Dawood Family
He belongs to a talented and well-known family. His uncle Ahmad Dawood is the biggest name when it comes to investment and philanthropist. Ahmad Dawood is the owner of Dawood industries, founded in 1968. Abdul Razak is married.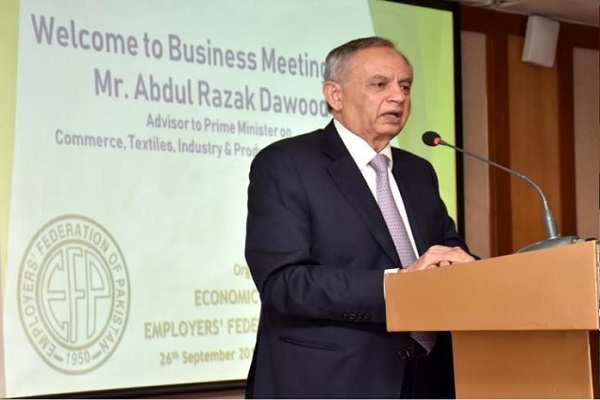 Career
Initial Career
When he returned to Pakistan, all his family members started thinking about which position Razak should be hired. In the end, he was chosen to be Lawrencepur Woolen Mills's Managing Director. He started loving his work, and his passion increased. Various opportunities came his way, and he started handling them with confidence and responsibility.
Ladies Brand
He originated a ladies brand with the name 'Layla' that was clearly rejected by notable clothing brands. However, he didn't lose hope. He advertised his brand in 80,000 rupees, and it worked. The advertisement became successful. For the next 4 months, he sticks to the same budget but later increased it on his father's demand.
Lawrencepur Woolen Mill
He once described his experience working in the mill. According to him, Marketing is one of the toughest jobs to perform. He added that he walks in Anarkali Bazar and his father, where he used to listen to the customer's demand and shopkeeper's need. However, he instantly adjusted himself to the environment.
Descon Company
Descon is a Pakistani multi-National company that has headquarter in Lahore. It offers construction, Engineering, and Procurement services. The company came into being on 15th December 1977. To start the company, 3.2 Million Rupees were used, and today it generates revenues in Billions.
In 1981 the company received their first biggest order from Attock Refinery, and the next year they collaborated with Saudi Company. With time the company expanded its sectors, and today, it is being operated in many countries, including South Africa. UAE, Kuwait, etc. Abdul Razak is the founder and CEO of the company.
As an Educationist
He has always shown his interest in education. It started developing when he was made the visiting faculty member in the University of Punjab for the MBA Program. From 1975 to 1981 he taught MBA students. Later his interest grew when he became Lahore's notable university LUMS's Founder.
He also served as the University's Managing Committie chairman.
Other Services
A few of his services that he previously performed includes
He remained Industries, Production and commerce's Federal Minister for 4 years.
Abdul Razak Dawood worked on a Board of different corporate giants, for instance, State Bank, ICI Pakistan, PIA, KSB Pumps, United Refrigeration, etc.
He functioned as a professor in many notable universities in Pakistan, including the University of Punjab; he also remained the university's Senate candidate.
Razak also served on Shaukat Khanum's Board of Directors.
He is an active philanthropist who donates in many sectors.
As PM's Advisor
In 2018 a news circulated on social media that Abdul Razak has been chosen for Imran Kahn's new advisor that turned out to be true. He served as an advisor for Investment, Commerce, Production, Industry, and Textile. In 2020 Imran Khan removed Abdul Razak from the post.
Social Media Handles
His social media account include
https://twitter.com/razak_dawood