Sarim is a Pakistani entrepreneur and Chairman who runs his non-profitable organization 'Sarim Burney Welfare-Trust' and performs the duties of this Trust chairperson. Since its establishment, Trust has helped many poor and victim, children, women, and men.
The Trust helps every Pakistani suffering from distress and needs help. This article has every detail about him, including Sarim Burney Biography.
| Title | Description |
| --- | --- |
| Personal | |
| Name: | Sarim Burney |
| In Urdu: | صارم برنی |
| Famous As: | Social Activist |
| Nationality: | Pakistani |
| Residence: | Karachi |
| Religion: | Islam |
| Profession: | He is a Chairman of Sarim Burney Welfare Trust |
| Website: | https://www.facebook.com/syedsarimburney |
| Awards : | He got many awards uptil now |
| Family | |
| Spouse: | Aliya burney |
| Children: | Syeda Burney and Waris Burney |
| Parents: | Syed Mukhtar Ahmad burney |
| Siblings : | Ansar Burney |

Sarim Burney Biography
There are a few people who keep themselves aside and donate their lives for humanity. Burney is one of them; he has established his Trust, the name Sarim Burney Welfare-Trust and is helping needy and helpless people via this platform. He is not alone in this journey of serving humanity, but his wife Aliya Burney also fully accompanies him in this good cause.
They provide accommodation to homeless individuals and fulfill the marriage responsibility of poor, homeless, or widow females. The couple is humble, loving, and is spending his life to better their fellow beings. His services for humanity earned him prestigious laurels, including 'Pride of Pakistan' at the 2017 Twelfth Corporate-Ambassador Awards and 'National Human Rights Award awarded by then-President Mamnoon Hussein.
Sarim Burney Family
He married Aliya in 1995, and the couple is parents to one daughter and three sons. Aliya is also a social activist and is working along with her husband for Burni Welfare Trust.
She performs her duties as Vice-Chairperson of trust and deals with females living there in a motherly manner. NHF awarded her the title 'Inspirational Women of Pakistan' in 2016 at Karachi Arts Council.
Social-Activist
He belongs to an affluent and influential family and always owned a golden-heart and affectionate personality. He was not fond of worldly things and life but felt peace in living for his people.
Sarim began this journey of philanthropy as a teenager and became part of several organizations to serve humanity. It fostered his passion for serving and helping the underprivileged and oppressed beings.
Sarim Burney Trust
He is serving as a social activist and is working as chairman of his non-profitable Trusts for oppressed individuals without discriminating them based on creed, religion, and caste. Its objectives are to gather the whole community from every field of life under one umbrella to uplift and betterment the entire nation.
It resists all types of inhumanity, cruelty, injustices, and women and child abuse. The organization is working to achieve social justice and civil-liberty for all sections of society. A lawyer's squad has been formed under Burney's visionary leadership, realizing the difficulties and needs of poor communities and providing them legal remedies and morale boost.
Message by Burney-The Founder
In a message he stated that I wish to make a society in which we would not need NGO's or shelter homes because these centers are made as a result of immorality, injustice, and insensitivity. I desire to make such a community where children would not abandon their parents alone, especially when parents direly need their children.
I dream of creating a nation that would respect women, and women would feel secure in their houses and outside their homes. In a society where people wouldn't exploit their fellows for their benefits, we will raise as a nation and become a prosperous and welfare state then shelter homes would be vacant.
And for the accomplishment of my goals and dreams, I would work hard. I am highly grateful to Allah for selecting me for this good cause. I welcome all of you to join Sarim Burney Welfare Trust as a volunteer, sponsor, or partner. We can work more efficiently in collaboration with each other than working alone.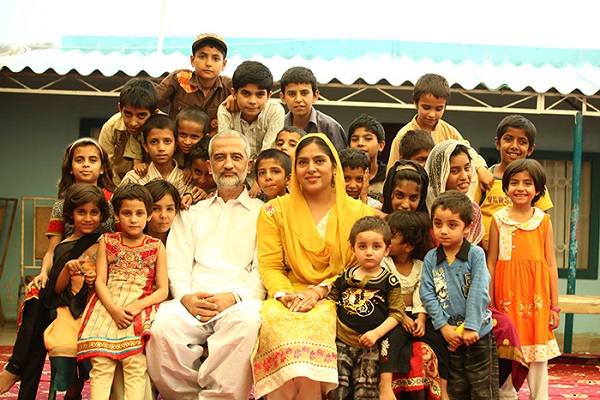 Success Stories
Muhammad Ilyas
Ilyas, an honest person with having a disability in his one arm, found himself in trouble after getting accused in the false case. Sindh Police arrested him and kept him imprisoned for a year. Legal Aid-Committees of Burney Trust work on such matters, particularly concentrating on releasing those poor individuals from jail who don't have resources, references, and money to fight for their release.
Ilyas was working hard as a Television mechanic to earn his livelihood respectfully. But unfortunately, he got stuck in a false case and allegation. He doesn't have the resources to save himself. Sarim's Trust Art of Sindh Prison-Oversight Committee occasionally visits public jails/prisons to check the jail environment, ensuring the prisoners' rights are secured.
During such a visit Trust member discovered the case of Ilyas, Legal Committee then took over the control of this case and filed an appeal for review of allegations against Ilyas. Trust bear all expenses of legal aid and lawyer. Determination of Legal-Aid Committee turned fruitful, and Ilyas got freedom.
Rafi Maseeh
Rafi approached Burney to get his help in having justice for his murdered son and witnessed his son dying at the center of the road. A police mobile headed to arrest the assaulter but couldn't save the child. The murderer used his influence and got freedom from jail.
Rafi's justice-seeking attempts turned fruitless. Being disappointed by Pakistani Justice Courts, he approached Burney's Legal-Aid department. This legal aid department provided outstanding services to Rafi. After receiving full support, he stood up with courage and demanded justice.
After a painful and challenging journey of fifteen years, Rafi got justice, and Supreme Court sentenced the attacker to death. The murderer appealed for bail, but his efforts didn't turn fruitful as the legal aid department energetically fought this case.
Rehana Parveen
In search of a profitable and honest job abroad, Rehana got stuck in a dangerous scam. She went to Oman searching for work, but her Kafeel made her stuck in labor exploitation and human trafficking. Her husband asked for help from SBIT by writing an application to its ICR&A (International Center for Rescue & Advocacy) center telling the situation.
The ICR&A swiftly responded and approached Pakistani nationals in Oman, and explained the situation to them. After a lot of struggle and efforts, Perveen got rescued and safely came back to Pakistan.
Social Media Handles
His social media account include
https://www.facebook.com/SarimBurneyOfficial/