Sharmeen Obaid Chinoy is a famous Pakistani journalist, film maker and activist. She was born on 12th November 1978.Sharmeen is one of the most famous personalities of  Pakistan . She is basically a film maker .She is making films inside and outside Pakistan . She has almost won all awards around the world due to her superb work. She is considered as the voice of women. She is very well educated lady. Sharmeen is the only Pakistani who has won Oscar award also known as Academy Awards. She is famous for making short films on the issues which are not highlighted but there is much need to highlight them. She was raised in Karachi but later moved to United States and studied there. Then after coming back to Pakistan she has started her career as film maker and never looked back. She has started her career back in 2002.[1] Sharmeen Obaid Chinoy introduction
| Title | Description |
| --- | --- |
| Personal | |
| Name: | Sharmeen Obaid-Chinoy |
| Famous As: | Journalist, Filmmaker and Activis |
| Nationality: | Paksitani |
| Education: | Stanford University |
| Religion: | Islam |
| Profession: | Filmmaker, journalist |
| Years active : | 2000–present |
| Known for: | By bringing the voices of the ordinary people faced with extraordinary challenges to television screens around the world, I hope to affect change in one community at a time. |
| Height: | 5 ft 7 inches |
| Film Making Debut : | Film Making Debut: Terror's Children |
| Eye color: | Black |
| Hair color: | Black |
| Zodiac Sign: : | Scorpio |
| Website: | http://sharmeenobaidfilms.com/ |
| Awards : | 2007 One World Media,2010 Emmy Awards,Livingston Award, 2012 Academy Award ,New York Indian Film Festival, SAARC Film Awards, Glamour Awards,Lux style Award, Government of Pakistan, 2013 Crystal Award, Emmy Awards ,2016 Academy Award |
| Born | |
| Date: | 12 November 1978 |
| Place: | Karachi, Sindh, Pakistan |
| Family | |
| Spouse: | Fahd Kamal Chinoy |
| Children: | Daughter |
| Parents: | Mother's name is Saba Obaid,Father Sheikh Obaid (late) |
| Siblings : | Mahjabeen Obaid. |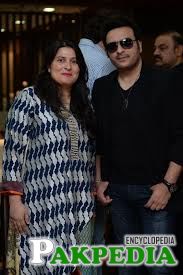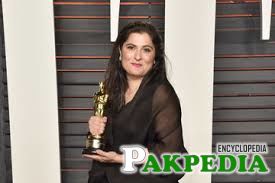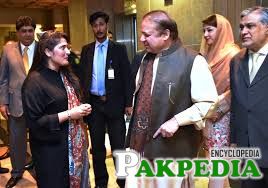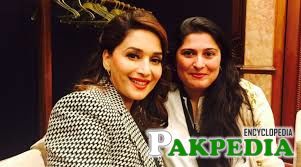 Early Life and Background

Obaid-Chinoy was born on 12 November 1978 in Karachi,  Sindh ,  Pakistan . Her father, Sheikh Obaid, was a businessman, who died in 2010, and her mother, Saba Obaid, is a social worker. She has a younger sister, Mahjabeen Obaid. Obaid-Chinoy attended Karachi Grammar School, followed by Convent of Jesus and Mary in Karachi. According to her, she wasn't inclined toward academics though received good grades. Obaid-Chinoy then moved to the United States for higher education. Upon moving, she studied at the Smith College, from where she completed her bachelor's degree in journalism in 2002. After graduating from the Smith College, she enrolled herself at the Stanford University for a double master's degree in International Policy Studies and Communication, which she received in 2004, during this period, she developed a long-lasting passion for filmmaking, and made two award-winning short films simultaneously.
Education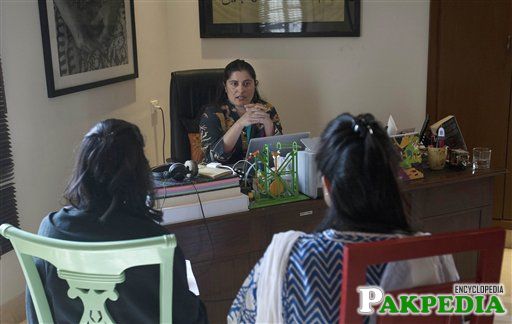 Sharmeen was a bright student throughout her career. She has got her early education from Karachi Grammar School. She has done A-levels from Karachi Grammar. She has graduated from Smith College Northampton. Then she took admission to Stanford University for further studies and completed her Masters degree in Journalism in 2004. She has made two movies during her stay at Stanford University and luckily both films have won awards.
Parents
Her father Sheikh Obaid (late) was a famous businessman of Karachi. Her mother's name is Saba Obaid. Her mother's social circle is very vast. There was news circulating that her mother Saba Obaid owns company in Panama and it is revealed in famous Panama Papers. Sharmeen clarifies it and said that this is propaganda against our family.
Married Life
She is proudly married to a famous businessman Fahad Kamal Chinoy. She feels very lucky to have Fahad as her husband. Firstly she was married to Tariq Aman Chinnoy but divorced after sometime.
Children
Sharmeen is blessed with a daughter named Amelia Chinoy.
Siblings
Sharmeen has one sister. Her name is Mahjabeen Obaid.
Career in Film Making

Sharmeen started her career back in 2002 while she was studying Journalism at Stanford University. Her first movie was "Terror's Children" [2] Terror children for The New York Times. In 2003 and 2004 she made two films. Both films have won awards. After this she has never looked back and kept on making movies. The details of her other movies are[3] Career in film making
Reinventing the Taliban                      Released in 2003
On a Razor's Edge                            Released in 2004
Women of the Holy Kingdom              Released in 2005
Pakistan's Double Game                    Released in 2005
Highway of Tears                               Released in 2006
City of Guilt                                       Released in 2006
Cold Comfort                                      Released in 2006
The New Apartheid                              Released in 2006
Assimilation No, Integration Yes           Released in 2006
Afghanistan Unveiled                           Released in 2007
Birth of a Nation                                  Released in 2007
Iraq the Lost Generation                       Released in 2008
Pakistan's Lost Generation                   Released in 2009
Transgender: Pakistan's Open Secret     Released in 2010
Saving Face                                         Released in 2012
Humaira: The Dream Catcher                 Released in 2013
Seeds of Change                                   Released in 2014
Aghaz e Safar                                        Released in 2014
3 Bahadur                                                 Released in 2015
A Girl in the River: The Price of Forgiveness Released in 2015
Song of Lahore                                           Released in 2015
3 Bahadur: The Revenge of Baba Balaam
Only Oscar Winner of Pakistan Saving Face
Saving Face is a documentary movie made by Sharmeen in 2012.Story was about acid attacks on women in  Pakistan . The film was basically inspired from story of Fakhra Younus. Fakhra committed suicide in 2012.This movie has won 2012 Academy Award for Best Documentary Short Subject making movie's director first Oscar Award Winner of  Pakistan . Film was distributed by famous HBO Documentary Films. This film has also assisted in the trial and conviction of one perpetrator of acid violence.[4] Only oscar winner of Pakistan
Another Oscar for Sharmeen A Girl in the River The Price of Forgiveness
This is a short film based on the story of honor killings in  Pakistan . This is one of the most disgusting issues in our country. It was produced by Tina Brown and Sheila Nevins. Movie was shortlisted with other 10 documentaries from 74 entries. Its story based on the life of eighteen year old girl who survived an honor killing attempted by her father and uncle. It was distributed by famous HBO Films.[5] Another Oscar of Sharmeen
Awards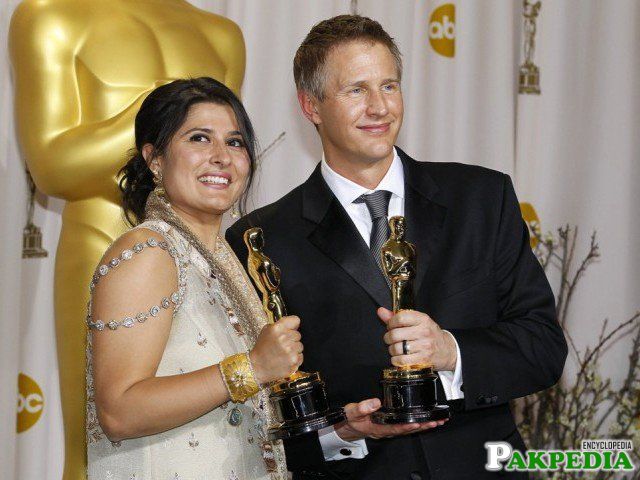 Sharmeen is the most known name of modern showbiz industry of Pakistan  in Hollywood. She holds a number of feathers(Awards) in her cap. Most prominent awards won by this very talented and aspiring lady include Academy (Oscar) awards as well. Some prominent accolades of Sharmeen include the following:
One World Media Awards (2007)
Oscar Award (2012 & 2016)                             Best Documentary (Short Film Saving Face & A Girl in the                                                                                  River)
Government of Pakistan (2012)                       Tamgha-i-Imtiaz
Lux Style Awards (2012)                                  Lux Style Achievement Awards
Upcoming Projects
She is working on number of wonderful projects. Her famous documentary series "Sulagta Sitar" is going to release at the end of 2016.[6] Upcomming Project
As Ambassador
Sharmeen is also serving as ambassador for blood safety for Pakistan's National Blood Safety Program.