Mir Sadiq Sanjrani also famous as Sadiq Sanjrani is a Pakistani politician from Chaghi, Balchistan. He is an independent(IND) candidate from  Balochistan, Pakistan. Sadiq was nominated as a Member of the Senate of Pakistan and successfully win the senate seat. Later Sadiq participate in Chairman fo the Senate election and elected as 8th and current Chairman of the Senate of Pakistan. Sadiq sanjrani is the youngest-ever Chairman of the Senate at the age of 39.
| Title | Description |
| --- | --- |
| Personal | |
| Name: | Muhammad Sadiq Sanjrani |
| In Urdu: | محمد صادق سنجرانی |
| Famous As: | Politician |
| Nationality: | Pakistani |
| Religion: | Islam |
| Profession: | Politics |
| Candidate: | Independent(IND) |
| Province : | Balochistan |
| Elected as: | Senate of Pakistan |
| Seat Description: | General |
| Election: | 3 March 2018 |
| In Office | |
| Role: | Member of the Senate of Pakistan |
| Dates: | March 2018 |
| Prime Minister: | Shahid Khaqan Abbasi |
| President: | Mamnoon Hussain |
| Elected as: | Senate Chairman |
| Got Votes: | 57 |
| Opposition Leader : | Raja Zafarul Haq |
| Bagged 46 : | Votes |
| Took oath from: | Sardar Yaqoob |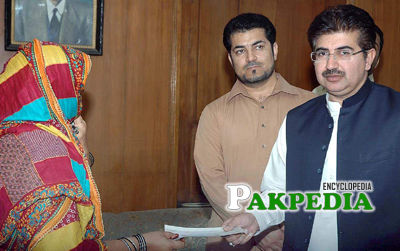 Biography
Sadiq Sanjrani was born on April 14, 1978 in Balochistan's Nok Kundi town in Chagai district. The senator received his primary education from Nok Kundi. Sadiq got the Master's degree in Arts from Balochistan University. Sanjrani's father, Khan Mohammad Asif Sanjrani, is a tribal leader and a member of Chagai's District Council. The senator is the eldest of five brothers. His brother Aijaz Sanjrani was the advisor to the revenue department Balochistan (tenure of Sanaullah Zehri as CM). He continued to serve on the position after the incumbent chief minister took office. Another brother of the senator, Muhammad Razik Sanjrani, former MD of the Saindak Copper Gold Project (SCGP).
Career
Sadiq Sanjrani is the chief executive of the Pakistan Testing Service (PTS), Sanjrani Mining Company, and director/chairman of HR committee of the National Industrial Parks Development and Management Company
Political Career
Sadiq Sanjrani belongs to political family of Balochistan. In 1998, Sanjrani was appointed as the then-prime minister  Nawaz Sharif's coordinator. Yousaf Raza Gilani, after taking over as prime minister in 2008, He was appointed as the head of Prime Minister's Complaint Cell at the Prime Minister's Secretariat. He served as the head of the complaint cell for five years.
Senator
Sadiq Sanjrani was elected to the Senate of Pakistan as an independent candidate on the general seat from Balochistan in Pakistani Senate election 3 March 2018.
Nominated As Chairman of Senate
Mir Sadiq Sanjrani has been nominated by Balochistan Chief Minister Abdul Qudoos Bizenjo as a candidate for the coveted position of the Senate chairman. The Pakistan Peoples Party (PPP) and Pakistan Tehreek-e-Insaf (PTI) have rallied behind the nomination. In 1998, Sanjrani was appointed as the then-prime minister Nawaz Sharif's coordinator. In his first press conference as an elected senator with Chief Minister Bizenjo, Sanjrani had expressed his wish to witness the appointment of a senator from his province as the chairman of the Upper House of Parliament.
PPP and PTI support to Sadiq Sanjrani
The Pakistan Peoples Party (PPP) on Sunday 11th March 2018 announced its support for Sadiq Sanjrani, an independent Senator-elect from Balochistan, for the slot of Senate chairman. Speaking to media here, PPP Chairman Bilawal Bhutto said that it would field Saleem Mandviwalla for the deputy chairman seat in the election scheduled to take place on Monday. The PTI also threw its weight behind Sanjrani, Following the meeting, the PTI spokesperson informed the media that the party would support Sanjrani for Senate chairman. [1] support to sadiq sanjrani
Elected as Senate Chairman
Senator Sadiq Sanjrani has been elected as he got 57 votes from the 103 polls that were cast in Senate election 2018. Sanjrani, then took oath from Sardar Yaqoob and assumed his office.  Afterwards,  newly elected chairman announced to start the process for election of deputy chairman. Sadiq Sanjrani elected first ever Chairman from Balochistan in history.