Pakistani Attire Ludhiana is a clothing shop owned by a young female who lives in India's city, Ludhiana. She is importing Pakistani clothes, including Shalwar Qameez, dress material, Kurtis etc., for the last 7 years and is receiving immense love across the border. The shop came to attention after one of the shop pictures went viral on social media.
Apart from Indians, Pakistani people also appreciated the idea of selling Pakistani clothes in India. Her love for Pakistani clothes motivated her to start this business that is running successfully. This article summarizes all the information about the shop, including Pakistani Attire Ludhiana History.
| | |
| --- | --- |
|                      Title |                       Description |
| Name: | Pakistani Attire Ludhiana |
| Location: | Ludhiana, India |
| Type: | Public |
| Address: | BRS Nagar of Ludhiana |
| Deals In: | Shalwar Qameez, Kurtis, Doapatta, Fabric etc |
| Owner: | Puneet Chabra |
| Founded: | The 2010s |
| Social Media Handle: | https://www.facebook.com/pakistaniattire/ |

Pakistani Attire Ludhiana History
It all started in the early 2010s when she came with the idea to start selling Pakistani clothes in India. Since Indians have been great fans of Pakistani Shalwar Qameez, Kurtis etc., surprisingly, she never received any backlash on this idea, not even from her family. According to the owner Puneet Kaur, Pakistanis and Indians are not different.
According to her, Pakistanis with whom she deals have always been kind throughout her journey. The shop that is situated at BRS Nagar of Ludhiana deals with different Pakistani clothing pieces, and people wholeheartedly purchase them without any grudges.
Pakistani Attire Ludhiana Owner
Puneet Chabra, the owner of this brand, talked to the media and discussed how she came with this idea. Her Pakistani friend, who often displays Pakistani suits in different exhibitions, motivated her to start their own boutique. Her idea became successful, and today, she is selling Pakistani clothes not only in India, across the globe too.
According to her, Pakistani clothes are pleasing and alluring in terms of fabric, quality and colours. Once people start wearing them, there is no way back. They can't resist coming again to the shop. People from Canada, Newzealand, United States also order from her shop.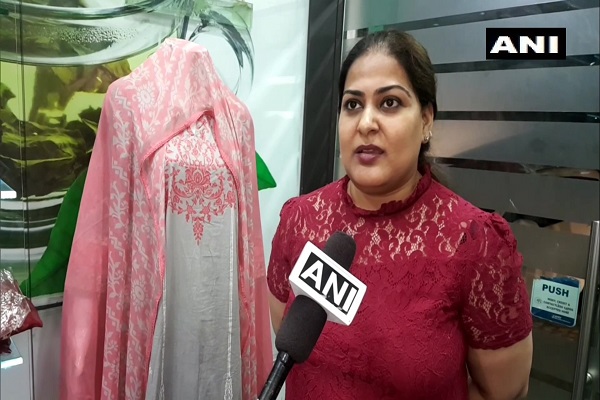 Reaction of People
The pictures of her shop went viral on social media a few days ago and people couldn't stop appreciating her idea. Where people were surprised with this idea of a young female, they also appreciated her and sent her good wishes. The picture for the first time released on India Pakistan Heritage Club after which it started appearing everywhere on the media platforms.
Social Media Handle
https://www.facebook.com/pakistaniattire/
https://www.instagram.com/attirepakistani/