Mian Amer Mahmood is a renowned Pakistani educationist and a business entrepreneur, who owns and operates the largest educational network in Pakistan. He is also the owner of a large Media Group comprising both Electronic and Print Media. He has been the first elected Mayor (Nazim) of the City District Government, Lahore. 
      
| Title | Description |
| --- | --- |
| Personal | |
| Name: | Mian Amir Mehmood |
| In Urdu: | میاں عامر محمود |
| Famous As: | Businessman, Politician |
| Nationality: | Pakistani |
| Residence: | Model Town, Lahore |
| Education: | MBA( cs) |
| Institution: | Punjab University |
| Religion: | Islam |
| Profession: | Business, Poitics |
| Born | |
| Date: | 25 July 1960 |
| Place: | Lahore |
| Family | |
| Ethnicity: | Arain |
| Parents: | Mian Zahoor ul Haq |
| Career | |
| Company Name: | Punjab group of colleges, Dunya news, UCP, |
| Net Worth: | ₨2 billion (US$19 million) |
| Years Active: | 1987 |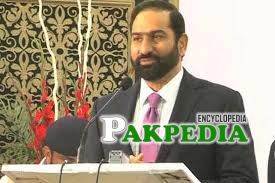 Biography

Mian Amir Mehmood was born on 25th of Jully,1960 in Model Town Lahore. His father name is Mian Zahoor-ul Haq (late). In 1985, he completed his MBA from Punjab University. 
Attributes
Pakistani legislator and educationist Main Amir Mehmood which is made possible by his cooperation. His whole life was filled with hardships and these hardships started with his early life. Mian Amir is a person with entrepreneur thinking and level of great output with efficiency and effectiveness. He works hard to accomplish his goals regardless of circumstances he faces. He does not just work with dedication, but he was also recognized for it. [1] attributes
Business ventures

 Mian Amer Mahmood chose to venture into the education sector of Pakistan.  
In 2013 his educational network runs 450 schools under the banner of Allied Schools, 25 under Resource Academia, 234 branches of Punjab Group of Colleges (PGC) and 3 chartered and accredited universities with about 250,000 students. The Group has to its credit about 1,000,000 Alumni.
Mian Amer Mahmood launched Punjab College of Commerce in 1985 followed by Punjab Law College in 1987 and Punjab College of Business Administration in 1989.
In 1993, he established Punjab Institute of Computer Sciences, followed by Muhammad Ali Jinnah University in 1996. 
In 2002, 2003 and 2010 he launched the University of Central Punjab, Resource Academia School System and Allied Schools respectively.
Politicial career

His business career also coincided with his social and political services, which began with his election as a City Councilor in 1987. He was re-elected in 1991 in a landslide victory in the Local Bodies elections. Mahmood was first elected as a City councilor in 1987. He was re-elected in 1991 and won the local bodies elections. Later in 2001, he was elected Mayor of Lahore after winning the majority vote. He was re-elected for a subsequent term of four years, which he successfully completed in 2009. During his mayor-ship, he signed an agreement of sisterhood with four cities that include Isfahan in 2004 and Mashhad in 2006, both cities of Iran. In 2005 Amer Mahmood stated that he was in efforts to declare Glasgow as a twin city of Lahore, later on 6 May 2006 mayor reported that Glasgow City Council will announce Lahore as sister city soon. Which 14 September 2006 he has signed the twin city memorandum with the Glasgow's Lord Provost Liz Cameron in the meeting in Glasgow. Later in February 2007 Mayor of Lahore, Amer Mahmood also signed the sister cities memorandum with Chicago city's mayor Richard M. Daley and declared both as twin cities. During the tenure of Mahmood Glasgow city provided Lahore with training facilities and fire fighting vehicles in 2008. 
Launch of Dunya TV

The next stage of Mian Amer Mahmood's career is marked by an interesting turn with the launch of 2 high-tech HD Ready Satellite TV Channel. Dunya Television Network was launched in December 2008. Within a short span of three years, it became a top ranking news channel in Pakistan. It was followed by the launch of an Urdu newspaper Roznama Dunya, from 6 major cities of the country simultaneously in 2012. [2] Business ventures  
Portfolio

As a successful entrepreneur, Mian Amer Mahmood currently holds the following portfolios: [3] portfolios  
Chairman: University of Central Punjab, Lahore Board of Governors (Chartered by Government of the Punjab.),University of Central Punjab, Lahore. (Chartered by the Government of Punjab and accredited by the Higher Education Commission), Capital University of Science and Technology (Chartered by the Federal Government), Punjab Group of Colleges (Punjab Group of Colleges is the largest network of educational institutions in Pakistan with a student body of approximately 250,000.)
Chief Executive: Educational Excellence Limited: A public limited Company, which owns and manages Colleges imparting professional education in the fields of Law, Business Administration, Commerce and Computer Science as well as providing high quality educational infrastructure at Resource Academia School System, National Communications Services (SMC) (Pvt) Ltd,  National Education Network (Pvt.) Ltd: A Company which franchises Primary, Secondary and Higher Secondary Schools by the name of Allied Schools, Media Division (News & Entertainment Channels) and Dunya
Trustee: First Pakistani member from the private sector, Board of Trustees, Asian Institute of Technology (AIT), Thailand (Est. 1959 by SEATO Member countries) from 1995 to 1998.
Mayor (Zila Nazim): For Two continuous terms from 2001 – 2009.
Chairman PBA

New office holders have been elected in Pakistan Broadcasters Association (PBA) annual elections held in October 2017 and Board of Directors have appointed Dunya Media Group's Chairman Mian Amir Mehmood as PBA Chairman. Additionally, Salman Iqbal has been appointed Senior Vice Chairman while Sultan Ali Lakhani was designated as Vice Chairman and Mir Ibrahim Rahman as General Secretary.While, Shakeel Masud Hussain was appointed as Joint Secretary and Muhammad Aslam Kazi as Finance Secretary. [4] PBA 
Chairman PBBF

A general body meeting of the Pakistan Bodybuilding Federation (PBBF) was held in Lahore in July 2013 to elect new office-bearers of the federation. Chief Operating Officer Hafiz Salman Butt announced the result after the election.According to results, Chief Executive Dunya News Mian Amir Mehmood was unopposed elected chairman of Pakistan Bodybuilding Federation. The other office-bearers are: Mian Muhammad Alsm, president, Amjad Ameen Butt, secretary and Ali Aslam, treasurer. [5] PBBF  
Achievements and Credits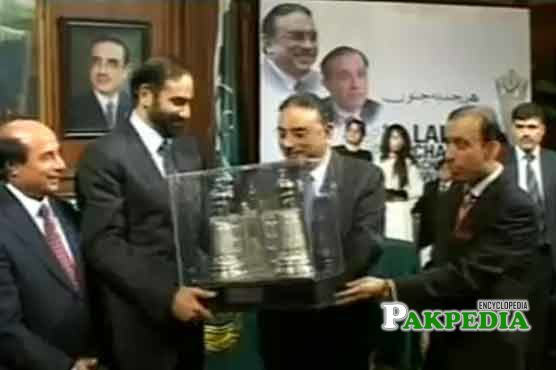 He is the first ever member of the Board of Trustees, of the Asian Institute of Technology (AIT), Thailand Established in 1959 by SEATO Member countries from Pakistan.
For his services as Mayor of the city of Lahore, he was declared "The Son of Lahore", by the President of Pakistan at a ceremony held at the Lahore Chamber of Commerce and Industry in 2012.
In recognition of his valuable services towards the education, political and media sectors of the country, he was honoured with the Hilal e Imtiaz, a highly prestigious national award, by the President of Pakistan.
Social Services
Mian Amer launched Dunya Foundation which has successfully achieved its objectives and works for the welfare and uplifting of the society. DUNYA FOUNDATION is a non-political and non-profit organization and its goals are to promote education and serve humanity by:
Providing free books, stationery and other necessities of students to the underprivileged students. Providing free and affordable education to the students, who have the will to study but cannot bear the expenses.
Awarding Scholarships to the needy and competent students. Awarding Scholarships and prizes to the students attaining top positions in the Board Examinations.
Inculcating in the students a sense of responsibility, duty and dignity of labour.
Motivating the students to uphold their identity as honourable citizens of Pakistan.
Propagating the ideology of Islam and Pakistan among students.
Besides promoting education, Dunya Foundation has also been active in: Providing shelter to vulnerable homeless people, elderly, victims of natural disasters and the disabled.
Establishing Income Support Programs. Helping and working in collaboration with other non-profit organizations. [6] Social services
Controversy

In Feb,2012 Gulberg Police registered a case of murder against Mian Amer Mehmood, the chief executive of Dunya News and chairman of the Punjab Group of Colleges, and 63 other officials of the Punjab Group of Colleges. The case was registered on the complaint of Muhammad Nawaz Warraich, a resident of Canal View, against Mian Amer, Dr Sohail Afzal, Tahir Aagha, Major (r) Saleem and 60 other unidentified people. 
Claim
Warraich claimed in his complaint that his two daughters Farah Nawaz and Zainab Nawaz were students of the Punjab Group of Colleges and on January 9, he dropped them both off to attend a cultural show organised by the college administration where both sustained serious injuries along with dozens of other girls in a stampede. He said Farah later died at Services Hospital while Zainab was discharged after treatment. He said in his complaint that the people he had named were responsible for the death of his daughter, so police registered a case against them. [7] controversy
Landmarks Achieved
Establishment of Punjab College at Canal Bank, Lahore 1985
Establishment of Islamic Commerce Educational Society 1986
Establishment Punjab Law Colleges 1988
Punjab College at Faisalabad and Rawalpindi 1988
Punjab College of Business Administration, Lahore 1991
Punjab Institute of Computer Science, Lahore 1993
Punjab College at Islamabad 1996
Punjab College at Gujranwala 1997
Punjab College for Women 1998
Mohammad Ali Jinnah University, Karachi 1998
Mohammad Ali Jinnah University, Islamabad 1998
Punjab College of Information Technology 2000
Tower Technologies (Pvt.) Limited starts operations 2001
University of Central Punjab 2002
Resource Academia School System 2003
Punjab College at Sialkot 2004
Punjab Colleges of Science 2005
Punjab College at Rahim Yar Khan 2006
Dunya News Network goes on air 2008
New Campus of University of Central Punjab at Johar Town, Lahore 2010
New Campus of Mohammad Ali Jinnah University in Islamabad 2010
National Educational Network (Franchised Educational Network) 2010
Newspaper Dunya Roznama 2012