Packages 'Group of Companies' as one of Pakistan's oldest and widely known business groups, always tries to improve the standard of living in Pakistan. Whether it's paper goods, packaged milk, education, or insurance, packages are always invested in meeting their customers' needs while setting up quality standards.
Packages Mall is a shopping center where one can enjoy the convenience and comfort of eating, shopping, entertainment, and activities all in one place. They offer quality products up to the user's expectations. This article has all the information about the mall, including Packages Mall History.
| Title | Description |
| --- | --- |
| Details | |
| Type: | Shopping Mall |
| Name: | Packages Mall |
| In Urdu: | پیکیجز مال |
| Phone: | +92 335 4525707 |
| Address: | Lahore |
| Website: | http://packagesmall.com |
| Parking Spaces: | 2000+ Spaces Special Parking for Women Drivers |
| Special Needs Access: | Reserved Parking Accessibility & Assistance |
| Hours: | 10AM–12AM Daily |
| Loaded with Surprises: | Special Offers, Events, Festivals, and Activities |
| Cell No: | +92 321 4106 223 |

Packages Mall History
Packages Limited was established on 4th Feb 1956. This Group has repeatedly changed the Pakistan-based industry. Packages, a successful game-changer in the country's business sector, has strived to revolutionize the retail experience of Pakistan by introducing a globally recognized shopping mall to the citizens of Lahore.
This mall will set a new standard for the retail industry in the country by integrating entertainment, shopping, and food under one roof, as well as world-class amenities for visitors' convenience.
Packages Mall Location
The Mall is located right next to DHA (Defense Housing Authority) and would also be easily accessible from Ferozepur Road. The mall would house over two hundred plus brands under one roof. So, offering customers a peaceful shopping experience.
Specific Features
They also have a kid's area, over 200 stores, a multiplex cinema, hypermarket, food court, cafes, adventure zone, and a soft play zone for children. Female and male prayer rooms are available on each floor. Packages Mall offers a variety of comfortable and modern amenities. It is spread over an area of approximately thirty acres and has many entrances and exits.
There is both covered and open parking for over seventeen hundred vehicles. They plan to do something for everybody. Packages Mall has everything under one roof.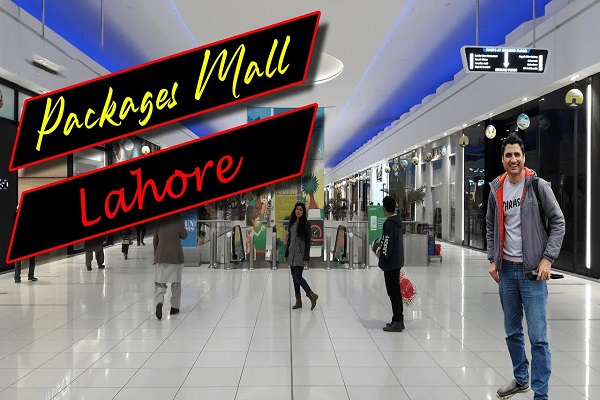 Packages Mall Services
Driver's Lounge
Covered Parking at Ground Floor
ATM Machines
Free WIFI
Banks
First Aid
Baby Changing Rooms
Prayer Rooms
Wheel Chairs
Car Maintenance/ Oil Change by Havoline
Baby Chairs provided in Food Court
Kiddie Carts
Handicap Toilets
Onsite Security Available for 24 hours
Customer Service Counter on all Main Entrances
Optician
Pharmacy
Exit Lanes/Multiple Entry
Lounge for Drivers
Canteen for Drivers
Kids Cinema
Entertainment Offered at Packages
Topsy Turvy
Super Space
Funco
Cinepax
Bounce
Bacha Party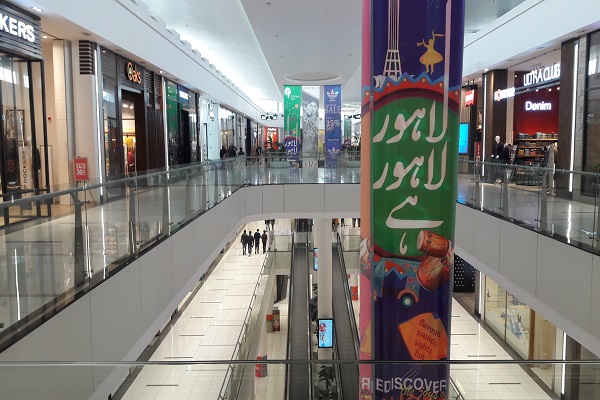 Food Court
Baskin Robbins
Manolo Gelato
Jade Express
Baskin Robbins
Platter Junction
CP Five Star
Mangal Arabian Kitchen
Papa John's
Bombay Chowpatty
McDonald's
Burger Lab
Timmy's
Besteiro
Butler's
Second Cup
Arcadian
Salt n Pepper
Bundu Khan
Pantry by Polo Lounge
Cinnabon
Coffee Bean and Tea Leaf
New York Coffee
Howdy
Pizza Hut
Salto
Subway
Rice Bowl
OPTP
China Town
Hardees
Simply Sufi
Chacha Jee
KFC
Jade Express
Shopping Categories
Art & Handi Crafts
Banks & Insurance
Clothing
Footwear and Accessories
Featured Shops
Furniture & Home Décor
Gadgets and Stuff
Health & Fitness
Kids Wear
Groceries
Jewelry & Watches
Swimwear
Men Apparel
Luggage & Leather
Perfumes & Cosmetics
Sports Wear
Scents and Cosmetics
Women Fashionista
Packages Mall Brands
Servaid
Jafferjees
Samsonite
Women's Secret
BLS
Unze London
Aldo
Ndure
Mocciani
Logo
HOBO By HUB
Marie Claire
Sputnik
Social Media Handles
https://www.facebook.com/PackagesMall/
https://www.instagram.com/packagesmallofficial/
https://twitter.com/ThePackagesMall
Contact Information
UAN: 111-MY-MALL (111-696-255)
E-mail: [email protected]
E-mail: [email protected]
E-mail: [email protected]
E-mail: [email protected]