The 1st restaurant of McDonald's Pakistan started giving its services to people in Lahore in 1998. Inhabitants of Lahore welcomed this launch with great enthusiasm as they are famous for their penchant and vigor for high-quality food.
Just after a week of opening in Lahore the restaurant opened its 2nd branch in Karachi. Since then, McDonald's is offering superior service, outstanding value, and great taste to its customers. In every city of Pakistan McDonald's offering quality-based food. This article has all the information including McDonald's Pakistan History.
| Title | Description |
| --- | --- |
| Details | |
| Alternative names: | McDonald's |
| In Urdu: | میکڈونلڈ |
| Type: | Public |
| Traded As: | NYSE: MCD |
| ISIN: | US5801351017 |
| Industry: | Restaurants |
| Genre: | Fast Food Restaurant |
| Founded: | May 15, 1940 |
| Operated By: | Richard and Maurice McDonald |
| Corporation: | April 15, 1955 |
| Corporated By: | Ray Kroc |
| Head Quarters: | Oak brook Illinois, US (moving to Chicago in 2018) |
| Number of Location: | About 36,900 (December 31, 2016) |
| Area Served: | Worldwide |
| Key People: | Andrew J. McKenna (Chairman) Steve Easterbrook (President and CEO) |
| Products: | Hamburgers, Chicken, French Fries, Soft Drinks, Milkshakes, Salad, desserts, Coffee, Breakfast and Wraps |
| Revenue: | US$24.622 billion (2016) |
| Operating Income: | US$7.745 billion (2016) |
| Net Income: | US$4.686 billion (2016) |
| Total Assets: | US$31.024 billion (2016) |
| Total Equity: | US$2.2043 billion (2016) |
| Number of Employees: | 375,000 (2016) |
| Website: | https://www.mcdonalds.com.pk/ |

McDonald's Pakistan History
Today a larger number of Pakistani population trusts McDonald's as it provides the masses with high standard food, value for spent money, and quick service. McDonald's is strongly committed to pay back to the locality where it functions. For the first time, it originated in Lahore city after which in every city its branches started developing. Despite many years, it is still considered a favorite place for hangout and in order to enjoy a great meal.
Mcdonald's Pakistan Owner
The owner of this amazing food chain is Sultan Ali Lakhani, a renowned Pakistani businessman who is also an owner of Lakson Group. He also remained a Pakistani politician and served as a Senator in the past. He was born in India before the partition but later his family shifted to Karachi.
Values at McDonald's
Commitment to customers
Preference for customers experience
Moral values and ethics
CRS (Corporate Social Responsibility)
As a responsible and dedicated corporate citizen, this food chain strongly believes in providing encouragement and support to individuals who are in dire need of these. All the outlets contribute to the communities in which they are operating and annually set up several sporting, charity, and educational programs to help people.
It has an active approach to sponsorships and charities as it believes these help support and inspire Pakistani people, particularly the underprivileged community, to have a better lifestyle.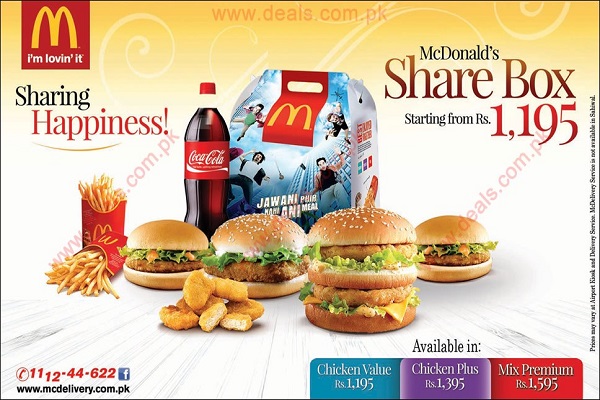 McDonald's Pakistan Menu
Value Meals
Value McArabia Meal
Chicken Chapli Meal
Double Chicken Chapli Meal
Bun Kabab Meal
Mini McRoyale Meal
Spicy Chicken Burger with Cheese
Breakfast
Egg McMuffin Meal
Omelette McMuffin Meal
Chicken Sausage McMuffin
Hot Cakes
Chicken Muffin Meal
Big Breakfast
Egg N' Sausage Wrap
Egg N' Hashbrowns Wraps
Desserts
Vanilla Cone
Choco Cone
McFlurry Oreo
Hot Fudge Sundae
Strawberry Sundae
Apple Pie
McSwirl Pina Colada
McSwirl Purple Grape
McSwirl Mocha Cappuccino
McSwirl Tropical Orange
McSwirl Strawberry
McSwirl Green Apple
Cold Drinks
Vanilla Shake
Chocolate Shake
Strawberry Shake
Orange Juice
Milo
Coke
Sprite
Fanta
Coke Zero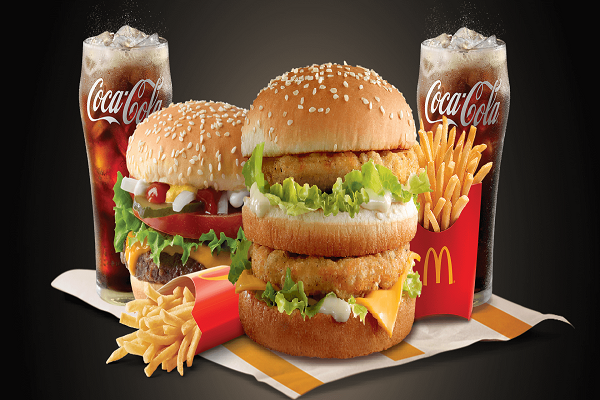 Hot Drinks
Green Tea
Mochaccino
Hot Chocolate
Latte
Cappuccino
Nestle Cardamom Tea
Long Black Coffee
Tea
Burgers
Big Mac
McChicken
Cheese Burger
Double Cheese Burger
McRoyale
Spicy McCrispy
Bun Kabab
McArabia
Mini McArabia
Crispy Chicken
Chicken Chapli Burger
Spicy Chicken Burger
Filet-o-Fish
Chicken McNuggets
Quarter Pounder with Cheese
Happy Meals
Vanilla Shake
Strawberry Shake
Orange Juice
Milo
Chocolate Shake
Beef Burger
Chicken Burger
Cheese Burger
Fries
Chicken McNuggets
Open Door Initiative 2021
McDonald's believes in quality and customer satisfaction, allowing its customers to visit the kitchen to check its quality.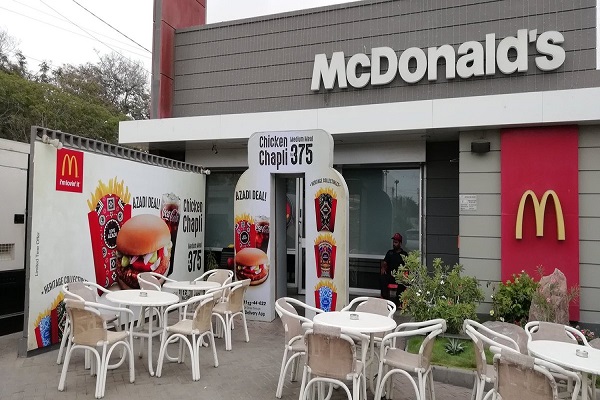 McDonald's Pakistan Terms & Conditions
These are some terms & conditions for the customers who want to visit the kitchen:
Children should come with their guardians/parents.
During visits customers aren't permitted to drink, smoke, eat.
Follow the visit timings.
Maximum ten people are allowed to visit at a time.
Video and pictures are not allowed on kitchen premises.
To avoid any mishap, avoid wearing slippery shoes and high heels in the kitchen.
The administration wouldn't be responsible for the safety of personal items.
Quality Products
Sandwiches
Halal beef is used in the preparation of beef sandwiches, and no additives or preservatives are added. Deboning of chicken used in sandwiches is carefully done, and only the breast meat is used with sauces and seasoned batter. The 'Spicy McCrispy Chicken Deluxe' is made of muscle cuts only.
Relevant organizations and authorities check the quality and hygienic standards of halal meat. The buns used are purchased from suppliers who prepare buns from high-quality wheat. Strict safety and quality controls are implemented in the bun production process.
Fresh Vegetables
Best and fresh vegetables, containing high nutrients are used to maintain high quality and hygienic standards.
Use of High-Quality Milk
Fresh milk from local and regional suppliers is used to prepare widely loved McDonald's shakes, sundaes, cheese, and cheese. Throughout the supply chain, quality control steps are followed, i.e., handling milk, transportation, and processing to ensure high-quality end product.
Crispy and High-Quality Fries
Fries prepared at McDonald's are crispy and so different from ordinary fries. The secret behind this unique taste is the use of high-quality potatoes supplied from trustworthy suppliers. For frying potatoes, 100% vegetable oil having no flavors or fats is used and after cooking only a small amount of salt is added.
McDonald's Pakistan App
They have launched their own app that is accessible on Google Play. The App has many exciting offers for the customers that people can easily avail themselves with each food delivery. Through this App, customers can place their orders easily.
Social Media Handles
https://www.instagram.com/mcdonaldspakistan/