J. Junaid Jamshed is a brand which started his journey in 2002 by launching his first store in Tariq Road, Karachi and firstly the Brand J. was only offering Men's ready to wear apparels to Pakistani Industry. Soon it earned the heights of success as it was one of its kinds in Karachi during that time, but now, in the Pakistan, no one is like this brand as it offers the best apparels with the latest design and ethnic wear. In 2011, Men Clothing Brand Junaid Jamshed took an initial step into fashion industry and started to offer Women, Kids (Boys & Girls) Apparels to the fashion industry of Pakistan. [1] J. Brand Junaid Jamsheed
| Title | Description |
| --- | --- |
| Details | |
| Founded: | 2004 |
| Location: | Pakistan |
| Customer Services: | Delivery Information ,Return Policy ,Size Guide |
| Email: | [email protected] |
| Partner Name of J.brand,CEO: | Sohail Hamid Khan |
| Products and Services : | Men's Wear,Women's Wear,Children Wear,Perfumes,Accessories,Groom's Wear. |
| Men: | Kameez Shalwar Kurta Heavy Embellished Kurta Foot Wear Bottom Waist Coat Shawl UnStitched |
| Makeup: | Face Eyes Lips |
| Women: | Stitched Un-Stitched Kurti Stoles / Shawl Womens Trouser Footwear Abbayas Jewellery |
| Frangrances: | For Men For Women |
| Environment: | At J., whether it's a customer or an employee we are dealing with, we treat them like a family member. Our outlets with their friendly staff make shopping a pleasure. Our working environment is positive, supportive and those who perform well are bestowed with awards and certificates to acknowledge their effort and elevate their motivational level. |
| Performance: | J. is a market leader when it comes to traditional wear. We try to incorporate all those dated embellishments and designs like Gota Kinari and Block Prints in our collection in a manner that they seem part of the latest trends. Our team consists of skilled artisans and professional fashion designers. |
| Phone: | For online order inquiry +92 21 3878 1662 |
| Address: | Plot # 615/616. I-CC/2, P.E.C.H.S. Karachi, Pakistan. |
| Website: | http://www.junaidjamshed.com |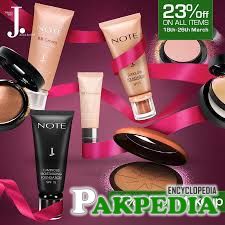 History
Along with his partner Sohail Hamid Khan, J. was launched in 2000, with the idea of creating custom-made khaddi shalwar kameez suits for men. The design philosophy for J. was simple; his own sense of style reflected in every article the brand designed. The risk began paying dividends and within a few years, J. expanded its portfolio to include a women"s line as well, supplemented by the launch of Almirah, a high-end ensemble brand. Initially, his involvement with both brands was extensive, with each design and print personally reviewed and approved. However, given the rapid expansion that J. experienced, professional textile designers were hired and Jamshed"s role became more strategic in nature. He is quick to point out that the one thing every J. store will always have are clothes in earth tones and whites, as these are the shades that appeal to him the most. Initially, only men's wear was available at the store, but later on clothing for women, children,teens, as well as formal wear including groom's wear was also added to the product list as expansion continued. In 2011, we took another bold initiative and gave a new look to all our outlets as part of our "New Outlook, New Outlet' strategy. This broke the monotonous theme of our outlets by making them more modern and different from others.[2] History of Junaid Jamsheed
Corporate Philosophy
The main idea behind launching J. (J dot) was to reintroduce traditional clothes in Pakistan with a blend of modernism. For this purpose, we initiated with reworking on our Eastern dresses,
especially Qameez Shalwar and made them contemporary with the latest elaborations available.The experimentation with this rare combination resulted in an increased interest of people toward modified Eastern ensembles, which will always be in vogue.
Performance
J. is a market leader when it comes to traditional wear. We try to incorporate all those dated embellishments and designs like Gota Kinari and Block Prints in our collection in a manner that
they seem part of the latest trends. Our team consists of skilled artisans and professional fashion designers. This is the reason that when they mix the old with the new, the outcome is seamless and timeless designs that are highly appreciated by our customers.
Brand Personality

J. can be defined as a fashion retail brand that is rich, elegant and stylish in traditional ensembles. It keeps adding seasonal clothes, machine prints, intricate embroidery and modern cuts to its already extensive collection on a regular basis. For our unique and flamboyant designs for men and women, we depend on a team of highly skilled fashion professionals who come from the country's renowned fashion institutes. They start out by studying the latest trends, carrying out research on how these trends can be adopted, selecting the colors and styles that can make the collection extraordinary and then finalizing both casual and formal designs for every season.[3] Brand Personality
Innovation
Though the philosophy behind establishing J.Was ti revive our traditional Qameez Shalwar. the aspect of adding a modern touch to them is what makes this brand exclusive. This rare combination of blending tradition with the latest fashion trends is itself innovative as it give rise to astonishingly amazing designs. This makes the brand a trend setter in the fashion industry. For impeccable finesse. we use state-of-the-art technology for weaving our own fabric Handlooms are used for Khaadi and Jacquard fabric while power looms are used for the plait fabric. All dyeing, printing and weaving is done by us.
Naming the Brand
Junaid Jamshed recounts, "We sat together and I said we should do something that doesn't look exactly like Amir Adnan. Then he asked me what should it look like? I said look at me! It should look Junaid Jamshed. He replied saying why don't we use the same name. I started laughing and said who's going to wear clothes, which are called Junaid Jamshed, and he said everybody would! Sohail and I are very similar in height and even look like each other – our age difference is only 13 days… he used to say that Junaid bhai wear this and then I used to wear it. So whatever really suited me, he would say let's make it and that's how we started. We started out with making clothes targeted to males. The first year was incredible – everybody liked it and the rest is history."[4] Naming the brand
His Personal Style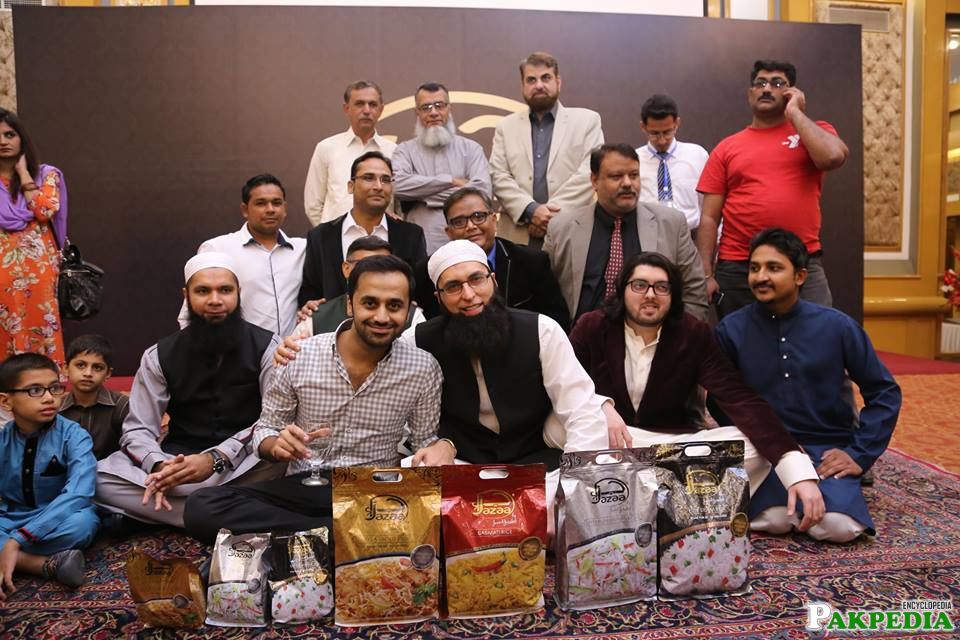 We normally see Junaid Jamshed dressed in a particular manner, as do many Islamic scholars who are associated with a particular style of dressing.
Commenting on his personal style, Jamshed said, "The association you are talking about, it is everything. The most important association we have, is with our PROPHET (PBUH) and no other association matters thereafter. To those for whom this association is important, they want to emulate the person. I remember when I was 10 years old, in 1976 and the Indian team came in Pakistan. Zaheer Abbas was extremely popular. He used to wear a scarf or a handkerchief around his neck and we all started doing the same.
Degree of involvement with the brand

There seems to be a general misconception that Junaid Jamshed was not actually involved with the brand itself but just the face. When questioned on this he smiled and replied
"I am very happy to know that I am not considered to be actively involved in the brand.. I am just a face- but that's not really the case. When we started the venture we used to get the Khaddi ourselves and bring it in the factory and install and assemble it. Later we got some people to do this for us. In the initial period of 5 to 6 years, I used to hold the bags of my clothes and literally walk on the streets of different cities; Islamabad, Karachi, Peshawar less in Karachi but more outside where we didn't have any shops and no one knew we were doing something like that. Sohail and I would walk into the stores and ask if they would keep our clothes. Some shop owners would cooperate, but most of the people wouldn't. I remember those initial days well. Now Allah has blessed the brand and it has become a well-known brand. We have a professional team to now manage the brand. Currently, Sohail and I aren't as actively involved but designs still go through us. We still need to look into some things but now a team manages the production and we have designers from different institutes."
Expanding Into Womens Wear
The brand is now more popular with ladies and has expanded its product range to children as well.
"Initially it was my idea as we realized that we were doing well. My partner Sohail was a little conservative and wanted to just concentrate on men and become the best label in this segment. I remember Tanveer Jamshed and his brand Tee Jays. I don't even know if he used to design women's wear – I remember it more as an exclusively men's label. I had this in my heart that unless and until we get into making women's wear we will not be able to call ourselves a proper design group. I suggested this to Sohail who said it's like jumping into the sea and it would be a lot to handle. I told him that we would learn with time. The rest of the world is doing it so it won't be a big deal. Another thing I want to share is that I never ever think of our brand lesser than any label in the world. You have to put the right systems in place and make sure they work. This is the difference between us and the other countries- they design a particular system to work on. Nothing can be done by a single personality. Take the example of Bill Gates, he is not running Microsoft alone. He has made a system for his operations. In our part of the world, we rely more on personalities, which eventually has to fail. Our Prophet (PBUH) also made a system. Medina was a comprehensive system that He (PBUH) made and after his death Islam spread throughout the world. Others have taken this into account, but we haven't Unfortunately, whoever comes here comes with a self-centered perception. It's important to make a system and so we did."[5] Expanding  into womens wear
Products and Services

The diverse collection of men's wear at J.ranges from formal to semi forma to casual wear. All these ensembles are adorned with the right amount of embellishments, embroidery and/or cuts, depending on the event they are made for. On top of that, the fabric is hand-woven, comfortable and available in eye-catching colors and designs to suit your taste and style.[6] Products and Services J.Brand
Our men's collection includes:
• J. Kurta Bunnat 
• Qameez Shalwar 
• Waistcoat 
• Unstitched Fabric 
• Sherwani, Turban, Khussa and other accessories for the groom 
• Shoes
Products and Services
Dazzling and impressive is what defines J.'s women's wear. They are inspired by the latest fashion trends yet have a traditional tinge of our Eastern style. Available in striking colors, these
ensembles are perfect for any occasion.
Our women's collection includes:
• Kurti Collection
• Lawn (Stitched and Unstitched)
• Silk Collection
• Hand-Woven Collection
• Nearang (Stitched and Unstitched)
• Trouser
• Jewelry
• Stoles
• Shoes
Childrens Wear
J. not only makes clothes for men and women, it also has an exemplary children's collection.This collection is further divided into Teens, Boys & Girls, and Infants, and each category offers
vibrant age-appropriate ensembles for Him and Her with contemporary designs and styles[7] Children Wear J.brand .
Grooms Wear
Our traditional men's Sherwanis, Turbans, Khussas and Shawls are the epitome of sophistication and modern designs. Their styles, colors and the detail work outshine everything else and make the groom the center of attention, which is his right.
Perfumes
A wide array of perfumes is also available at J., which can be worn by anyone. They vary from light fresh flowery fragrances to heavy musk, which are extremely delightful and pleasant. They are a treat for the senses and are appreciated by our customers.
Accessories
J. also accessorizes its men and women's wear with fashionable shoes, jewelry and bags to make the outfits suitable for any occasion
J. Junaid Jamsheed Winter Clearence Sale
J. | Junaid Jamshed Soully East Brand is introducing the Winter Clearance Sale upto 50% OFF on all items including in stores and online shop. In winter clearance sale, the discount upto 50% OFF is offering in all outlets across Pakistan and starts today – 19th January and valid till 29th January 2017 so, 10 days are enough to shop your favourite and one and only clothing brand J. | Junaid Jamshed. Men | Women | Kids | Fragrances, everything is included in sale but let me enhance your happiness by telling you the most featured products.
In Men wardrobe, the products are Unstitched Collection, Kameez Shalwar, Kurta, Embellished Kurta, Men's Scarf, Sweaters, Waistcoat, Shawl, Shalwar and Footwear. In Women Section, the products range are Stitched & Unstitched Collection, Ready to Wear Kurti, Ladies Trousers, Abayas, Stoles and Shawls, and all the exclusive collections are included in women section.  In Boys & Girls section, all the latest collections include, and the sale is not yet finished, but complete range of Fragrances and Makeup products include. It is also offering the embellish range of Groom Collection such as Sherwani, Khussa, Turban, Inner Suits and Heavy Embroidered Kurtas. In short, the entire J. Outlets and online shop are opened in front of you with the entire ranges just visit and get leveraging from the Winter Clearance Sale upto 50% OFF, today![8] J.Junaid Jamsheed Winter Clearence
After his death what will happen to Junaid Jamsheds fashion empire
When Junaid Jamshed passed away on December 7, he left behind an extensive legacy: a wealth of music, an exhaustive and controversial history as an evangelist and a divided set of fans.Some have been reminiscing about his music, others recalling his sermons and amidst all these conflicting eulogies, there are the aficionados who frequent his J. stores.
By no length of the imagination can the J. – Junaid Jamshed – entourage of outlets be considered the savviest contenders in the local high-street. Although the brand has a hold over good quality fabric it has lately showed a predilection for a mish-mash of multi-colors that isn't always aesthetically pleasing.
And yet, there's no denying J.'s growing strength. The brand, at present, has a whopping 100 stores, stocking unstitched women's fabric, prêt for men, women and children, perfumes and a recently launched makeup range. According to the official website, 57 of these stores are scattered about the country while the rest are international standpoints, dotted about the U.S.A., the Middle East and even 'down under' in Melbourne, Australia.In the clustered PR wars that perpetually rage through the high street, one often takes note of a Khaadi or a Sapphire spreading its wings, but in the meantime, J. has been expanding quietly and much more impressively than its competitors.
"Most other brands have franchises abroad," points out J.'s CEO Sohail Hamid, "while we own all our stores." That's quite an achievement – one lauds local retailers for expanding but most of them merely strike deal with international franchisees. The fact that the brand owns all its stores is indicative of its retail strength.[9] After his death what will happen to junaid jamsheed