Abrar Ul Haq is a Pakistani Singer, songwriter, philanthropist and politician. It is quite correct to say that Abrar has command over multitasking. First, he ruled the hearts of people as a musician, and now he is winning people's hearts as a philanthropist. In 2006 Haq gave a start to his Political Career. This article has all the information about Abrar, including Abrar Ul Haq Biography and Abrar Ul Haq Songs.
| Title | Description |
| --- | --- |
| Personal | |
| Name: | Abrar-Ul-Haq |
| In Urdu: | ابرار الحق |
| Famous As: | Singer |
| Nationality: | Pakistani |
| Education: | Masters |
| Alma Mater: | Quaid-e-Azam University |
| Religion: | Islam |
| Profession: | Singer, Song Writer and Politician |
| Years Active: | 1995-present |
| Height: | 5'6 |
| Website: | http://abrar-ul-haq.com/ |
| Awards : | He Bagged Various Awards |
| Born | |
| Date: | 21st July 1969 |
| Place: | Faisalabad |
| Family | |
| Ethnicity: | Asian |
| Spouse: | Hareem Abrar |
| Children: | Two daughters (Hamna Abrar & Inaya Abrar) and One son (Muhammad Taha) |
| Parents: | Not Known |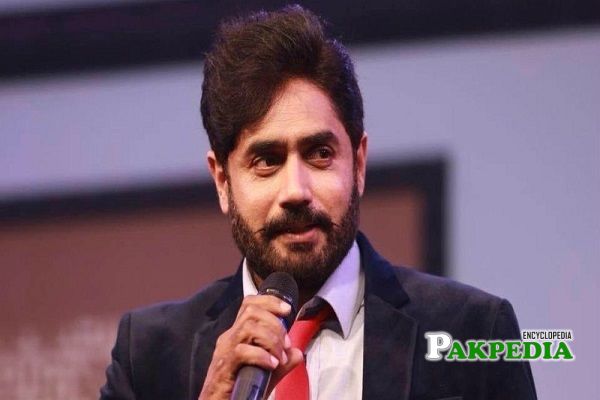 Abrar Ul Haq Biography
Abrar knows very well how to make the best use of his life. In addition to fulfilling his musical passion, he also played his full role in the service of humanity. Sensing a lack of education and health facilities in distant areas, he started working for those areas. The Pakistani government realized his services, and the president awarded him with Tamgha E Imtiaz for his services to humans and in Music on 23rd March 2005. In 2006 he received Sitara E Eisaar for his humanitarian work during the devastating earthquake of 8th October 2008 in Pakistan. He also served as Humanitarian Ambassador of the Organization of Islamic Cooperation.
Abrar date of birth
He was born on 21st July 1969 in Faisalabad.
Education of Abrar
He did Bachelors from 'Sir Syed College' in Rawalpindi. Then he took admission in Quaid-e-Azam University' Islamabad to do a Masters degree in Social Sciences. After completing his education, Abrar joined Aitchison College as a geography teacher. But he wasn't satisfied with this job and felt his passion for singing, so he started making his first album.
Abrar Ul Haq Family
In 2005 he tied the knot with Hareem Abrar. The couple has a son Mohammad Taha and two daughters Inaya and Hamna.
Music Career
As soon as Abrar realized that he is passionate about singing, he began working on the first album. In 1995 'Billo Day Ghar,' which was his first album of career proved a blockbuster. People appreciated it immensely. The success of the first album encouraged him to make a second album 'Marjani' in 1998. In 1999 he released his 3rd album Bay Jaa Cycle Tayy'.Asan Jaana mall o mall, Nachaan Mein Udhay Nal Nal, were his third and fourth albums, respectively. Afterward, Haq kept on mesmerizing viewers with his powerful voice until today.
As aPhilanthropist
Being a philanthropist, he established 'Sahara', a charitable organization. Sahara is a short form of ' Services Aimed at Health and Awakening in Remote Areas.' The purpose behind this organization to foster facilities of education and health in distant areas. In Narowal, he established 'Sugra Shafii Medical Complex. In 2019, he announced his next project of Sahara, i.e., the establishment of a cancer hospital in Narowal.
Political Career
In 2006 he started a non-religious, non-profit, and non-political association named 'Youth Parliament' to promote the development of Youth. The vision of this organization was to make the Pakistani Youth aware of their role in society. In 2011 Haq joined a political party PTI ( Pakistan Tehrek E Insaf). In 2012 his party made him president of Youth Wing. In 2013 he was appointed as Foreign Affairs Secretary. In the same year, he also fought for a seat in National Assembly (Narowal) as a candidate of Pakistan Tehreek E Insaf. He became 16th chairman of 'Hilal Ahmar' on 15th November 2019. Hilal Ahmar is another name for 'Pakistan Red Crescent Society,' which provides disaster relief and emergency assistance throughout the country.
Abrar Ul Haq Songs
List of Albums
Bilo De Ghr
Maajajani
Beh Jaa Cycle tey
Main Gaddi Aap Chalaawan Ga
Asan Jana Mal O Mal
Nachaan Main Odhey Naal
Nara Sada Ishq Ay
Sub Rang Ap (S.A.W) sey
Bilo Returns ithy  Rakh
Studio Releases
Sar Jlayn Gey Roshni  Hogi
Awein Naw Kr Zulam Ke Ik Din Muk Jana
Ser Uthaa Kay
Ki Karan Dey O
Sohniye e Heeriye
Ishq Daa Rung
Ho gya ni Pyar
Pani Da Bulbala
Qaseeda Burdaa Shareef
Beqarar
Facebook Utte
Hum Dekhain Gay
Mere Rashk-e-Qamar
Balay Balay
Diamond Ring
Rahiyaa Sohniya
Bhaabhi with Jaidev Kumar and Shipra Goyal
Billo
Chamkeli
Television Shows
Music Show
Ramazan Transmission
Darja E Shararat
Social Media Handles
Abrar Social Media accounts include