K2, Chinese Qogir Feng, also called Mount Godwin Austen, called locally Dapsang or Chogori, the world's second highest peak (28,251 feet ), second only to Mount Everest. K2 is located in the Karakoram Range and lies partly in a Chinese-administered enclave of the Kashmir region within the Uygur Autonomous Region of Xinjiang of China and partly in the Gilgit-Baltistan portion of Kashmir under the administration of Pakistan. [1] K2, Chinese Qogir Feng
| Title | Description |
| --- | --- |
| Information | |
| Location: | China-Pakistan border |
| In Urdu: | کے ٹو |
| Nickname: | Mount Godwin-Austen or Chhogori |
| Type: | Mountain |
| Above from sea level: | 8,611 metres (28,251 ft) |
| Local Language Name: | n/a |
| Mount Everest: | 8,611 metres (28,251 ft) |
| Coordinates : | 35°52?57?N 76°30?48?E |
| Native Name : | چھوغوری‎ |
| Fatalities: | 77 |
| Summits: | 300 |
| Known as: | Savage Mountain |
| Details | |
| Elevation: | 8,611 metres (28,251 ft)? Ranked 2nd |
| Prominence: | 4,017 m (13,179 ft)? Ranked 22nd |
| Isolation: | 1,316 kilometres (818 mi) |
| Listing: | Eight-thousander Country high point Seven Second Summits Ultra |
| Parent Range: | Karakoram |
| First Ascent: | 31 July 1954 Achille Compagnoni Lino Lacedelli |
| Easiest Route: | Abruzzi Spur |
| Itinerary: | Skardu – Askoli – Joula – Paju – Urdukas – Goro II – Concordia – K2 Base camp – Goro – I – Bardumal – Askoli |
| 50th Anniversary: | The first ascent of K2, arguably the deadliest mountain on Earth, had its 50th anniversary in 2004 |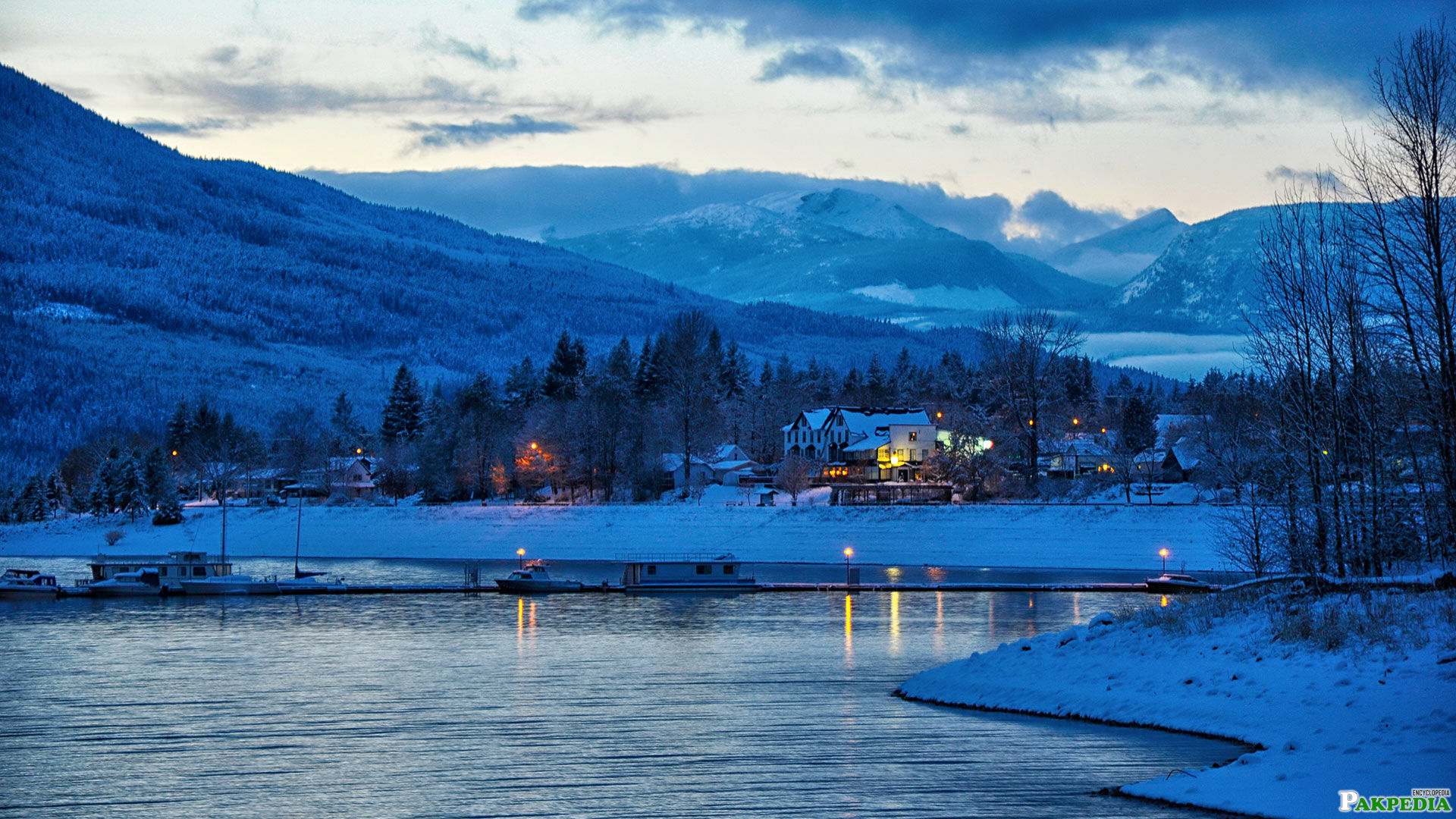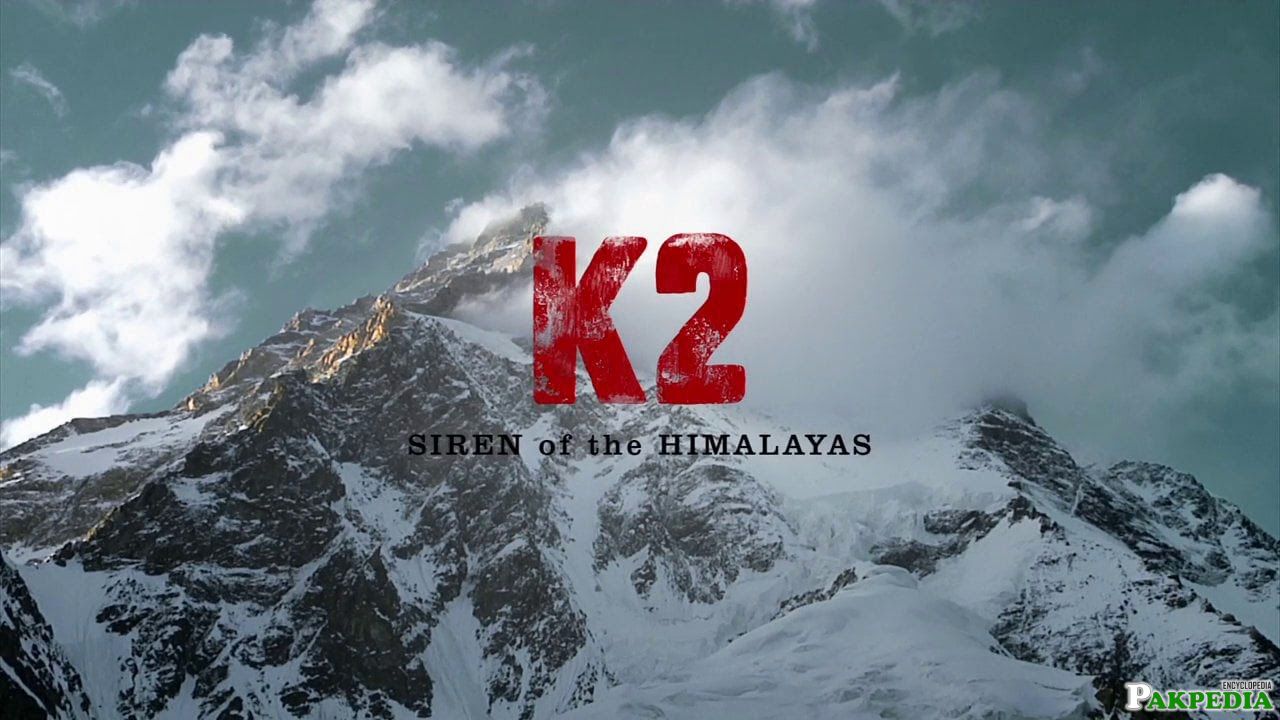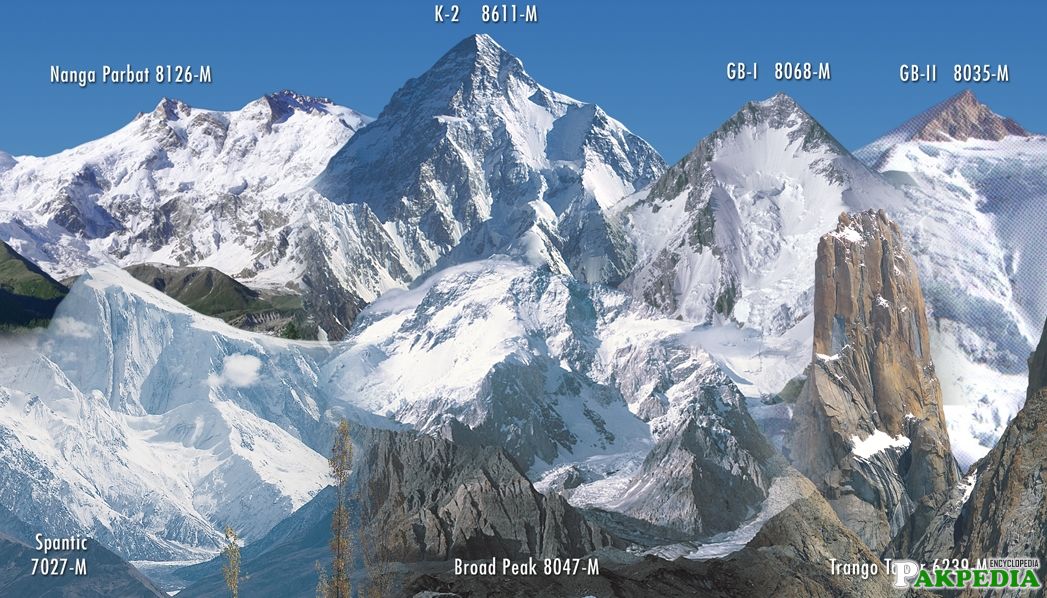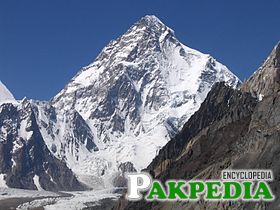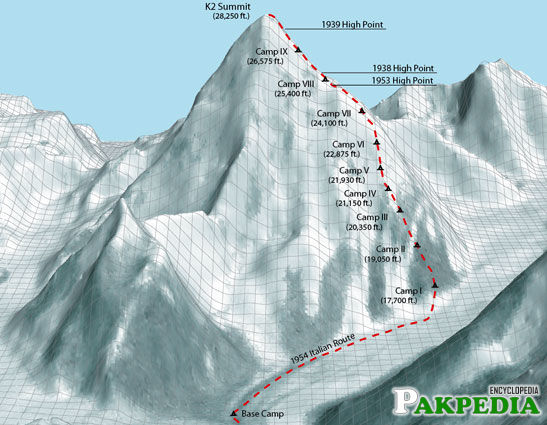 K2 Some Background and History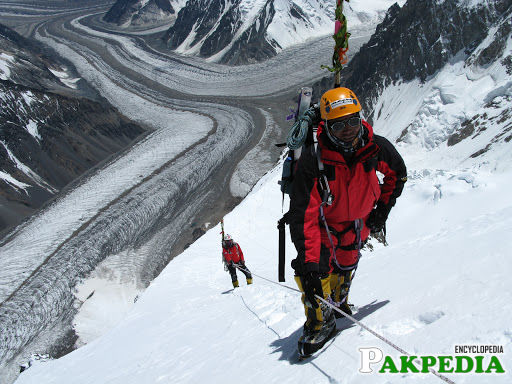 The local name of K2 is Chogori, which in Balti language means the king of mountains. This name is little known outside of Pakistan. It is, therefore, desirable that – K2 be used.
K2 as seen from Concordia
Awesome Killer and Savage Mountain
K2 has variously been described as the "awesome", "killer" and "savage" mountain. This is because of it's massiveness in size and the numerous unsuccessful attempts made on it by various expeditions, including many American expeditions, who have made quite a few unsuccessful attempts.
Rocky Mountain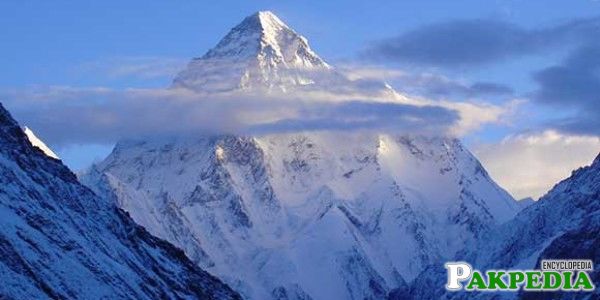 K2 is a rocky mountain up to 6000 meters, beyond which it becomes an ocean of snow. The K2 peak is situated on the Pak-China border in the mighty Karakoram range. The traditional route to its base camp goes from Skardu, which is linked with Islamabad by a good road. From Skardu the route goes via Shigar-Dassu-Askole up to Concordia over the Baltoro glacier. The exact height of the peak is 8,611 meters/28,251 ft.
Survey
It was in 1856, when the British were enforcing their control over India, provoking the 1857-War-of-lndependence, that a young Lieutenant of the Royal Engineers, T.G. Montgomerie, was quietly busy in surveying the mountains of Kashmir. During this survey he saw, in the far distance, a tall and conspicuous mountain in the direction of the Karakorams and immediately named it K1 ('K' stands for Karakorams). Later on, it turned out to be the beautiful mountain of Hushe valley in Khaplu area of Baltistan, called Masherbrum by locals. He also saw another tall and dominating summit behind K1 and named it K2, which turned out to be "Chogori". The name K2, however, still stands. [2] K2: Some background and History
K2 The Second Highest Mountain in The World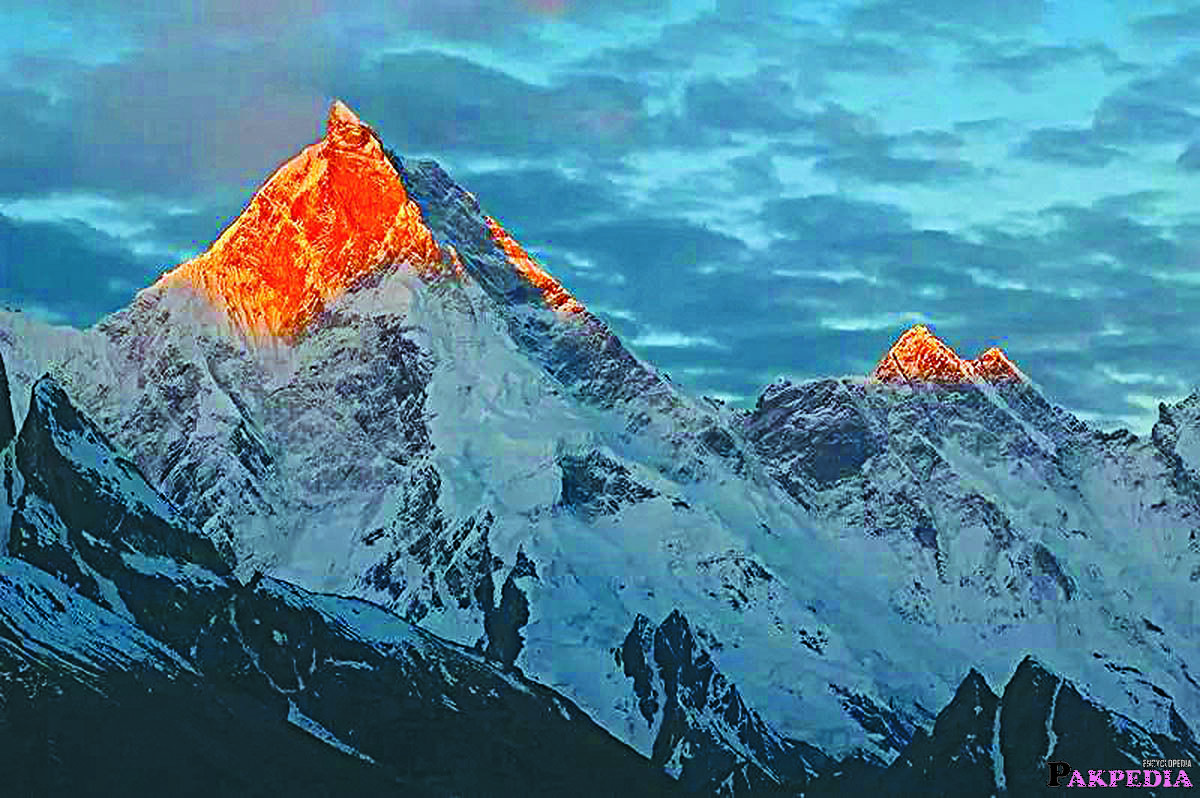 K2 or the Karakorum 2 is the 2nd highest mountain of the world. It is situated in the Pakistan-China border at Karakorum range. Its height is 8611 meters. You can only climb it successfully, if you are not just a professional rock climber but also the ice climber.
The best time to climb K2 is June to August. It will take two months to reach at its peak successfully. You will need four camps to stay there. First time, Col. TG. Montgomerie discovered this peak and took its measurement in 1856. Many people, who decided to reach its peak could not survive. It is considered as the most dangerous and tough rock to climb. [3] K2, The Second Highest Mountain in The World
Why K2 Will Never Become Everest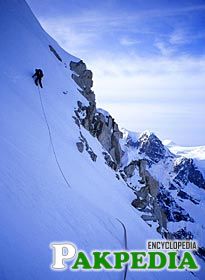 With 112 permits issued for K2 the summer of 2016, the press will soon go wild with articles saying "K2 is the New Everest." Never mind the fact that in the year ever, K2 saw about 50 summits and in a "normal" year, Everest will greet over 500 on the summit.
Highest Mountain in the World
With my 2014 summit of K2 and 36th major expeditions including four on Everest and two on Lhotse, my honest assessment is that K2 is not Everest. As anyone who has read my blog for the past decade can attest, I have utmost respect for Everest and her climbers. After all, it is the highest mountain in the world! But K2 is totally different. And it starts steep and ends steep!
With all due respect to Everest, there is little actual "climbing" by the normal routes. By that I mean using your hands and feet to maintain balance and move higher, other than on aluminum ladders. It is mostly walking on moderate snow slopes attached to a fixed line. There are exceptions in spots such as Steps on the North, the mid part of the Southeast Ridge on the South and on the rarely climbed more technical routes, mainly from the North.
That said, Everest is not easy and should never be taken lightly as evidenced by the 5 deaths this year that, by most counts, could have been prevented. And in 2014, 18 Sherpas were killed from an ice serac release onto the Khumbu Icefall.Even tho K2 is lower than Everest by about 800 feet, the climbing presents an entirely different level of difficulty, complexity and needs for skills. Each climber must has proven, long term skills in rock, ice, snow. Falter on one, you gamble with your life.The fixed ropes are mostly a placebo, some showing the route but others not strong enough to stop a fall.
Rock Climb
You actually rock climb using hands and feet, look for hand holds, literally use your upper body to ascend using a jumar. You use the front points of your crampons, not for traction on a snow slope, but to secure your body to a vertical ice or rock wall. It is a game of tiny edges, of inches. Your body is supported by your feet, your hands prevent you from falling backwards. If you slip on loose rocks and are not properly secured, you will fall and die. There is no recovery opportunity. Climb K2 is about as serious as one can get and at severe altitude. [4] K2 is a Technical High Altitude Climb, Limiting the Attraction
K2 The Bitter Legacy

The first ascent of K2, arguably the deadliest mountain on Earth, had its 50th anniversary in 2004. In Italy, the half-century-old triumph of the countrymen who first stood atop the 28,250-foot summit remains a source of intense national pride. But simmering beneath the official glory is a legacy of backstabbing and betrayal that would ultimately drive one climber to change the course of mountaineering history forever.
The exhausted climber scanned the frozen slope above him as darkness began to engulf the mountain. "Lino! Achille! Where are you?" he cried. The only answer was silence. It was July 30, 1954. At the end of a marathon day of load-hauling, Walter Bonatti and his gritty companion, the Hunza porter Amir Mahdi, had reached an altitude of 26,575 feet on Pakistan's K2, the world's second highest mountain.
K2 Summit
At that moment, the K2 summit—arguably the greatest mountaineering prize of the day—lay tantalizingly close to the grasp of a large Italian team. Just four years before, with the French first ascent of Nepal's Annapurna in 1950, what would come to be called the golden age of Himalayan mountaineering had been launched. By the mid 1960s, all 14 of the world's peaks that surpass the benchmark altitude of 8,000 meters (26,240 feet) would be climbed for the first time. [5] The first ascent of K2,
K2 Trek Itinerary stages
K2 Base Camp Trek
One of the main trekking of the Park, probably the most famous, is the K2 trek.From Skardu, hiking up the Baltoro glacier, with the logistic support of the local tour operators providing food and tents, it is possible to reach the K2 base camp, in 7/8 days. Six stops are in common with the trek 1 Gondogolo La, trek 2 K2 base camp, trek 3 Gasherbrum base camp (see trek 1,2,3).
Itinerary
Skardu – Askoli – Joula – Paju – Urdukas – Goro II – Concordia – K2 Base camp – Goro – I – Bardumal – Askoli [6] K2 Trek Itinerary stages
Getting There

Everything in Pakistan starts from the capitol of Islamabad. There are numerous hotels to stay at in Islamabad, but a couple used by climbers are the Envoy, Shalimar and Royal Inn. You will need to get trekking permits there. Then off to Skardu by plane if weather is good, or by the famous Karakoram highway ( the old silk route) if weather is bad. Hotels are a bit more scarce in Skardu, but the Skardu Shangri La resort, and Masherbrum Hotel are also frequently used by climbers enroute. If you fly to Skardu you will also see the 9th highest mountain in the world- Nanga Parabat. If you go by land – it is a 2 day trip with a stopover usually near Gilgit ( the romantic area thought of as Shangri La and near Hunza- the people noted for living longer than any others in the world). Be prepared for delays here as this is a rather primitive area. This is one trip where I would feel more comfortable as part of a larger group, as stories of robbery abound all along this notorious highway. 
Skardu
Skardu is the gateway to the high peaks of northern Pakistan and will serve as a base of operations. From Skardu you will need to jeep as far as possible towards Askolie, the last village before reaching K-2. Beyond Askolie is complete wilderness and glaciers. From Askolie the normal route will take about 2-3 days to the Paiyu campsite (3666m) near the base of Paiyu Peak (6660m). The next day the trek is usually to Urdukas to cross Baltoro Glacier. Then next day trek to Gore, which is about an 8 hour trek. Then another 5 hour trek to Concordia. It is usually a 4-5 day trek to reach Concordia. Finally, trek to Broad Peak Base Camp and trek to K-2 Base Camp.
Permits and Fees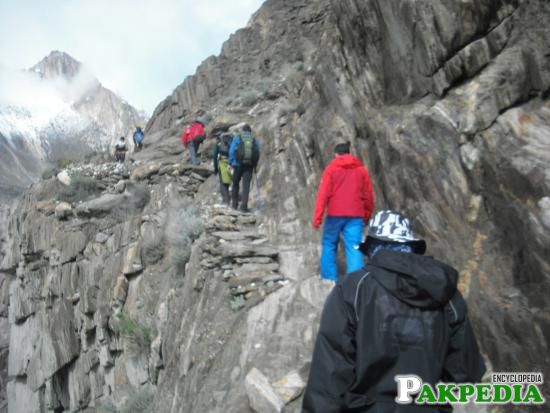 There is a lot of red tape in getting permits and paying fees. This is normally handled by your tour operator.You will need to spend some time in Islamabad at the start of your trek to get your trekking permit. I would recommend being part of a group on this trek as weather and remoteness present conditions where support is crucial.
As of 2013 climbing permits cost $7200 for up to 7 climbers and are $1,700 for each additional member. In addition to the peak fee, you will need to put up a $6,000 rescue bond (refundable), and a $200 environmental fee. You will be required to travel with a Pakistani Army Liaison Officer, and will also be responsible for his fee, equipment, and expenses. All Permits must be secured by November of the previous year.
Royality Fees 2013
Following are royalty rates for scaling peaks of various height in Pakistan:
Height of Peaks Royalty in US$ (1-7) for each additional member exceeding 7 per team an additional fee at the Following rate will be charged.
1 K-2 8611m 12,000 $ 3,000 
2 8001-8500m 9,000 $ 3,000 
3 7501-8000m 4,000 $ 1,000 
4 7001-7500m 2,500 $ 500 
5 6000-7000m 1,500 $ 300 
(These rated are subject to periodic revision). Additional fee will be charged it the number of party is for more than one peak the additional number is to pay for the other peak also.
Costs for porters, guides, permits and fees are subject to change. Check with your tour operator for latest pricing. As a guide, for a group of 7 team members in 2013 consider about $3000-$4000 per person for a trek to base camp, and about $8000-$10,000 for a climb. These amounts will of course vary, based on the number in your group and the inclination of the government. 
When to Climb
June through September are prime times to make this trek. Allow at least 3 weeks to do the trek described here. But in remote places such as this its always a good idea to be flexible and allow several extra days for unforeseen situations.[7]  When to Climb 
Scenery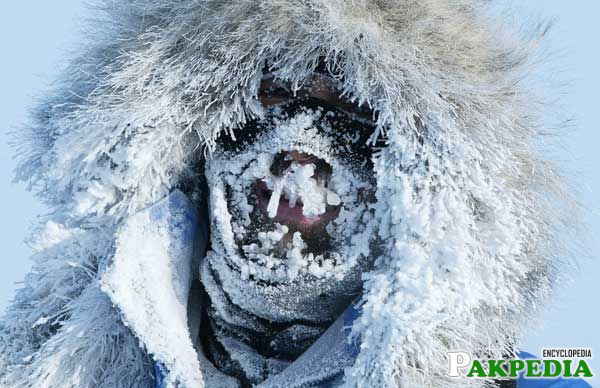 This has got to be one of the most beautiful mountain areas in the world. Not only are there high mountains, but also spectacular views of some of the best vertical needles in the world. The trek on the Baltoro Glacier provides awesome mountain scenery of Masherbrum (7750m),Uli Biaho Tower (6190m), Trango Towers (6300m) Grand Cathedral (5228m) and Mustagh Tower (7284). From Concordia you can see K-2 as well as Broad Peak (8044m), Gasherbrum Group, Golden Throne (7365m) and Chogolisa (7686m).[8]  Scenery 
Women of K-2

First 11 women to have summited on K2:
Polish climber Wanda Rutkiewicz 1986
French climber Liliane Barrard 1986
British climber Julie Tullis 1986
French alpinist Chantal Mauduit 
British climber and mother Alison Hargreaves 
Edurne Pasaban from Spain. 
Nives Meroi from Italy. 
Nives had attempted K2 twice (1994 and 2003 through the north side). She typically travels light, without oxygen or high-altitude porters. 
Japanese first female K2 Climber Yuka Komatsu,reached the summit on August 1 2006.
Oh Eun-Sun South Korea 20 July 2007 SE Ridge (Abruzzi Spur)
Cecilie Skog Norway 5 pm, 1 August 2008 SE Ridge (Abruzzi Spur)
Go Mi-Sun (Mi-Young) South Korea 5:30 pm, 1 August 2008 SE Ridge (Abruzzi Spur) 
In 1986 Polish climber Wanda Rutkiewicz became the first women ever to reach the top of K2 and was followed to the summit that same year by French climber Liliane Barrard and British climber Julie Tullis, both of whom died on their descent. Then in 1992, the summer that Wanda Rutkiewicz perished on Kangchenjunga, French alpinist Chantal Mauduit summitted K2, and survived, only to die six years later on another 8000 meter peak.In 1995 British climber and mother Alison Hargreaves reached the top but was killed shortly after starting her descent.
Miscellaneous Information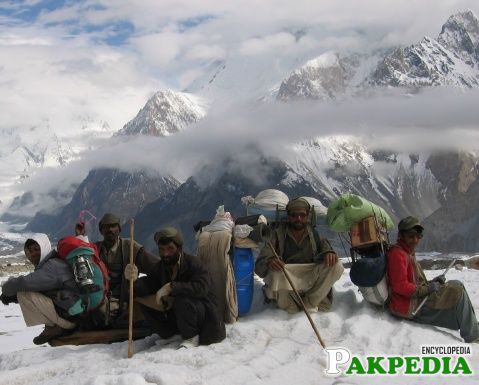 The main thing to think about before any attempt on K-2 is obviously am I "qualified" to attempt this mountain. Long after the glamour and mystique of this mountain are gone, and you find yourself facing the vertical limit with snow blowing in your face, your legs wobbling and your body shaking from cold… is not the time to be asking yourself that question. If you are trekking to K-2 it is going to be a strenuous trip… be prepared.[9]  Miscellaneous Information