Syed Babar Ali is a Pakistan-based philanthropist, businessman, and ex-caretaker of Pakistan's Finance Minister. He founded Milk Pak Ltd (now called Nestle Pakistan), Packages Ltd, LUMS (Lahore University of Management Sciences). 'Syed Babar Ali School of Science & Engineering' was named after him.
He is a board member of renowned educational institutes including Kinnaird College, Lahore School of Economics and Aitchison College. He also served at different ministries including Ministry of Economic Affairs, Finance, and planning in caretaker set-up in 1993. The article contains all the information about him, including Syed Babar Ali Biography.
| Title | Description |
| --- | --- |
| Personal | |
| Name: | Syed Babar Ali |
| In Urdu: | سید بابر علی |
| Famous As: | Businessman |
| Nationality: | Pakistani |
| Education: | Graduation from PU |
| Religion: | Islam |
| Profession: | Owner of Business school |
| Website: | https://sbasse.lums.edu.pk/ |
| Awards : | He received many awards |
| Born | |
| Date: | 30th June 1926 |
| Place: | Lahore |
| Family | |
| Ethnicity: | Syed |
| Spouse: | Parvin Ali |
| Parents: | Syed Maratib Ali and Mubarak begum |
| Siblings : | Syed Wajid Ali, Kishwar Abid Hussain, Syeda Surayya Sultana, Syeda Fakhra Sultana, Syed Afzaal Ali, Syed Amjad Ali, Syeda Sarwat, Syeda Sitwat, |
| Career | |
| Company Name: | Lums, Ali Institute of Education for the training of primary and secondary school teachers, |
| Net Worth: | 46 million |
| Years Active: | Before partition |
| Title : | Packages group |

Syed Babar Ali Biography
The world knows Babar Ali as master of a business empire and a talented educationist. He is an institute in Pakistan and founded some most successful and profit-making companies in Pakistan. But his most significant contribution to Pakistan is the establishment of LUMS (Lahore University of Management & Science).
The reason behind establishing LUMS was that Ali believed that education was the most immediate need of Pakistan and so in 1986 he founded LUMS. He received awards and honours from Government of Netherlands, Sweden, and received an Honorary LLD (Doctor of Laws) degree from McGill University, Canada. Despite all his achievements and abilities, he is a self-effacing and humble personality. 
Babar Date of Birth
He opened his eyes on 15th June 1926 in Lahore, Pakistan.
Education of Babar
He attended Aitchison College and then completed his graduation from Michigan University. He also spent some time at Harvard School of Business and learnt business skills there and set up an ideal business education institute that later transformed in LUMS. 
Syed Babar Ali Family
His father Syed Maratib Ali was a businessman who had shops in Inner Lahore, also called the Walled City of Lahore. He was a topmost contractor of British-Indian Armed Forces and used to supply them with items and materials used in the unit.
His mother was a member of an eminent landlord family, and his maternal grandmother belonged to Afghan regal family. Babar has two elder brothers Syed Wajid Ali and Syed Amjad Ali who concentrated on Babar's upbringing. They used to take him to business meetings, indirectly teaching him how to make ties and make deals.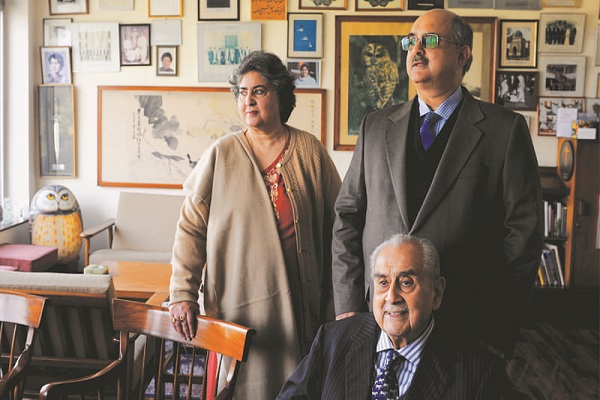 Syed Babar Ali Wife
Babar tied the knot with Parveen Ali in a wedding ceremony held at Ambassador's home in Washington DC in 1955. Parveen was there as a tourist from Pakistan. Then Vice-President Richard Nixon attended this wedding, and it was photographed for 'Time-Life Magazine.' 
Career
Initial Career
He returned to Pakistan in Dec 1947 to join his family business. Being associated with his family business for eleven years, he got an idea and received massive support from all family members. He moved to Sweden and started a joint business project with Akerlund and Rausing, a leading packaging company that in later years began Tetra Pak. 
Effect of Nationalization
In 1970 nationalization of Zulfiqar Bhutto affected his companies, and out of six, only one company Packages Ltd remained operational. He contributed to his services to NFC (National Fertilizer Company) as its chairperson and assisted in setting up Pakistan's 1st fertilizer company. 
Chairperson of Different Industries
He is chairperson of Coca-Cola Beverages Pakistan Ltd, Siemens Pakistan Engineering-Company Ltd, and Sanofi S.A Pakistan Ltd. He favours joint ventures, and almost all of his business projects are joint ventures with multinational companies. 
Ali Institute of Education
He established 'Ali Institute of Education' for providing training to primary & Secondary teaching staff of the school. 
Babar Ali Foundation
In 1985 he established Babar Ali Foundation, and this foundation is contributing to the educational sector by funding a million dollars annually for health and education in Pakistan. 
Services as Minister
He served at different ministries including Ministry of Economic Affairs, Finance, and planning in caretaker set-up in 1993.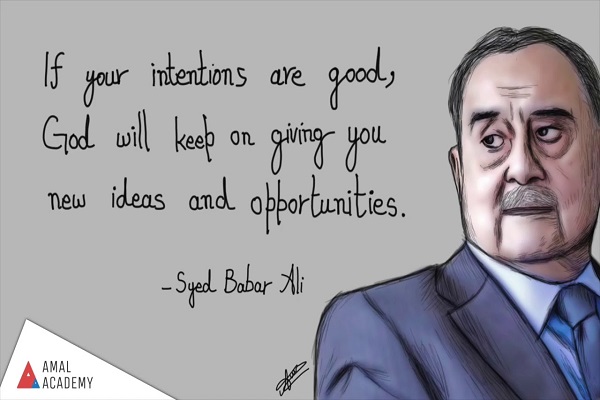 Services for WWF
He fostered WWF cause (World-Wide Fund for Nature), where he worked at several posts both Internationally and in Pakistan from 1972-1996. From 1996-1999 he served as WWF's Intl President. 
Syed Babar Ali LUMS
He started planning for establishing LUMS without any land or funding from the Pakistani government. At this time, Pakistan's economy was shifting towards privatization, so fundraising for a high-standard educational institute was crucial. He got funds from the USA in the 1970s to establish a school.
Later he expanded the university to include an engineering school, a law school, and an undergraduate program. Since 1986 LUMS has passed out four-thousand graduates. All of these graduates are enjoying lucrative careers in Western countries.
Being an elite institute LUMS is not accessible to many Pakistanis, so it's offering fully funded admissions and scholarships helping almost two-hundred and fifty students. 
Membership
He is a board member of renowned educational institutes including Kinnaird College, Lahore School of Economics and Aitchison College. Additionally, he is co-chair of South-Asia Center for the Nepal based Policy Studies and a founding member of South-Asia Initiative of the 'Harvard University.'
He is also serving as a Shalamar Hospital member in Lahore, and LRBT (Layton Rehmat-Ullah Benevolent Trust in Karachi).
Positions Held by Babar
Nestle Pakistan Ltd-Non-Executive Director

Tri-Pack Films Ltd-Chairperson

IGI Holdings Ltd-Chairperson

Gurmani Foundation-Chairperson

Sanofi-Aventis Pakistan Ltd-Chairperson

Coca-Cola Beverages Pakistan Ltd-Chairperson

Babar Ali Foundation-Chairperson

Acumen Fund Pakistan-Chairperson

Harvard South-Asia Institute-Member

Shalamar Hospital-Member

The LRBT (Layton Rahmatulla Benevolent Trust)-Member

Aitchison College-Director

Lahore School of Economics-Director

Ali Institute of Education- Chairperson

Kinnaird College for Women-Director

Tetra Pak Pakistan Ltd- Chairperson

WWF (World-Wide Fund for Nature Pakistan)-President Emeritus

Bayer CropScience Pakistan Private Limited-Director

Industrial Technical and Educational Institution- Chairperson
Holdings of Babar
Name Equities % Valuation (USD)
Nestle 1,195,211 2.64     

49,412,975

IGI Holdings 27,048,613 19 32,799,419
Syed Babar: Connections
Packages Ltd

Thal Ltd

NBP (National Bank of Pakistan)

Atlas Battery Ltd

Murree Brewery Company Ltd

IGI Holdings Ltd

IGI Life-Insurance Ltd

Wazeer Ali Industries Limited

Descon Oxychem Ltd

Nestle Pakistan Ltd

Sanofi-Aventis Pakistan Ltd

Cherat Cement Company Ltd

Mahaweli Reach Hotels PLC

Print Care PLC

Dolphin Hotels PLC

Hotel Sigiriya PLC

Serendib Hotels PLC
Autobiography